Arizona Biltmore (Waldorf Astoria Resort)
Hyatt Regency Scottsdale Resort & Spa At Gainey Ranch
Aloft Phoenix Airport
---
For my final night in Phoenix I booked the Aloft Phoenix Airport. There were several other properties I had been interested in, but in the end the $59 rate at the Aloft was too good to pass up, and I needed the stay credit to reach 50 nights with Starwood this year.
I arrived at the hotel late in the evening, and had to laugh at the burnt-out signage, given that the "Aloft" lettering was out, and instead it just displayed "W Hotels Hotel." I tend to prefer Alofts to most W Hotels, so this would have been quite the downgrade! 😉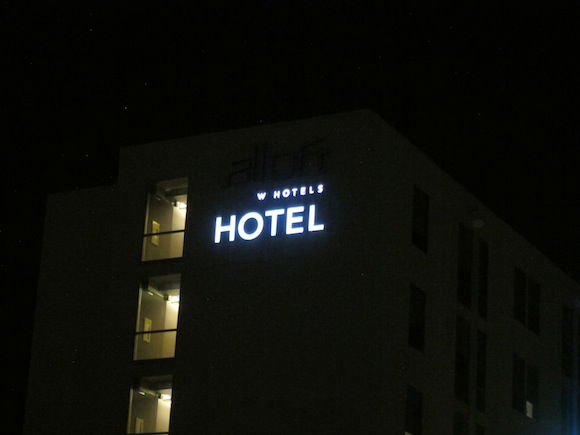 Hotel signage
The lobby and check-in area were empty, and my reservation was processed quickly. I was offered a Platinum amenity of either 250 Starpoints or breakfast, and assigned a room on the sixth floor.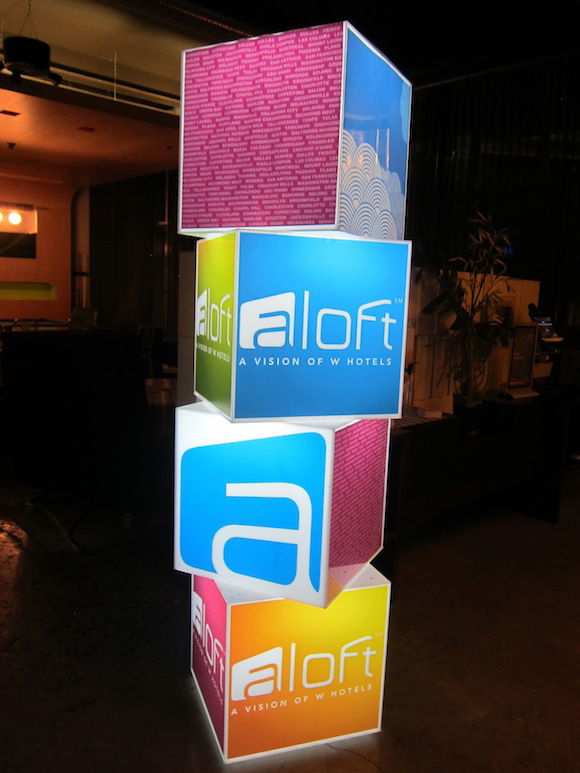 Aloft branding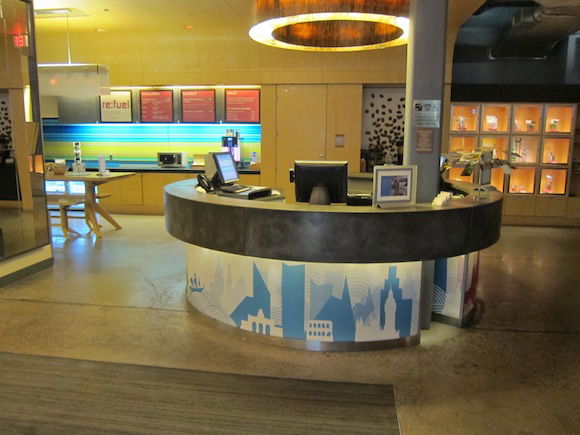 Check-in desk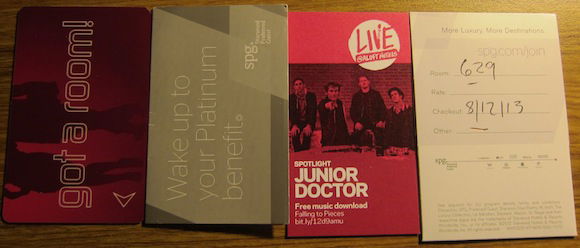 Key card and inserts
The elevator and hallway were nearly identical to those at the Aloft San Francisco, and everything felt very clean and new.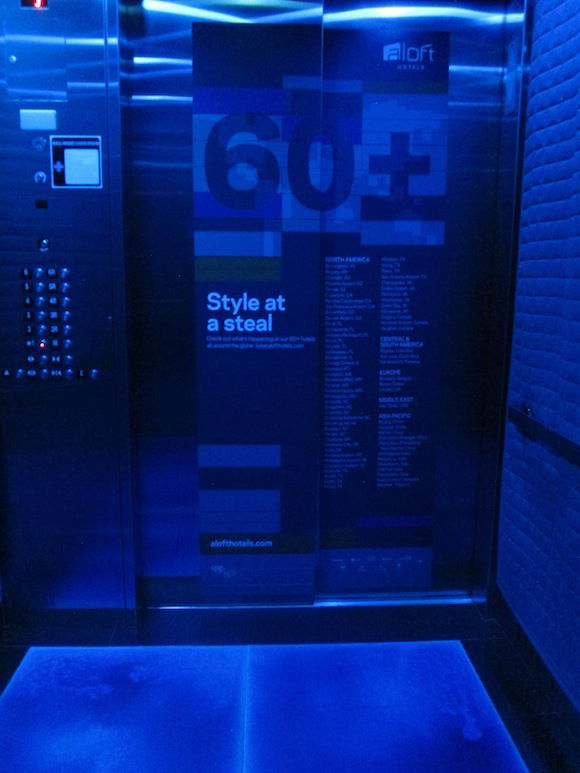 Elevator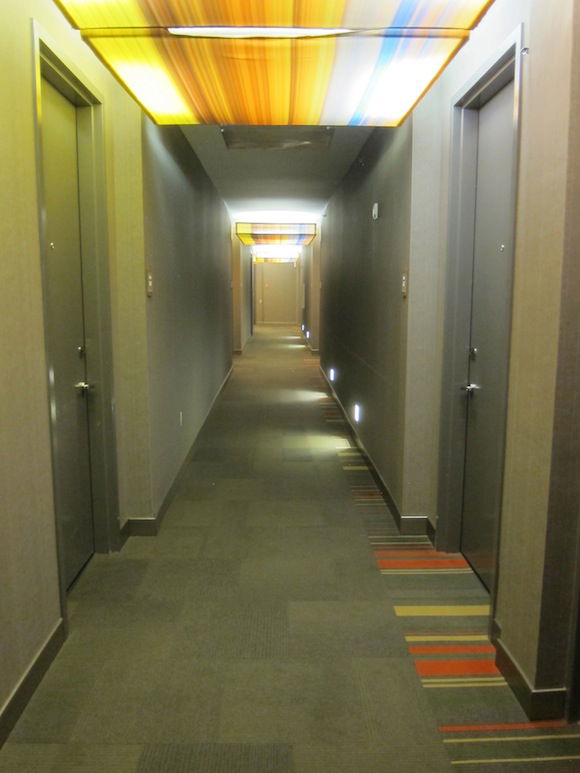 Hallway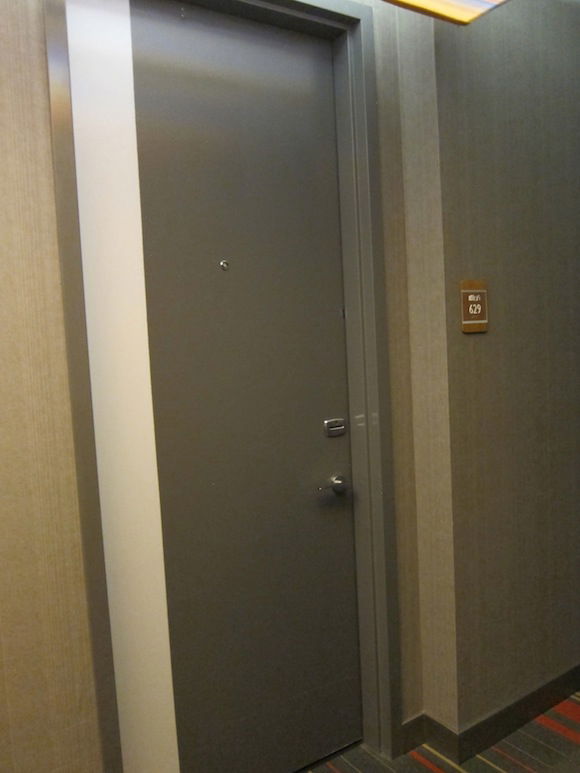 Entrance to room
I secretly love Aloft hotels. While basic, they tend to be clean, efficient, and consistent. As much as I appreciate unique properties, at some point it's nice to check in to a new hotel and know exactly what you're getting.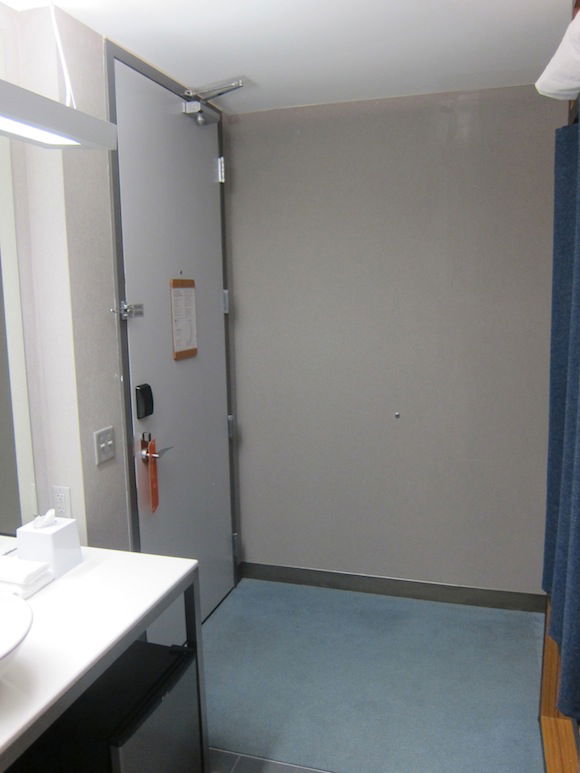 Entryway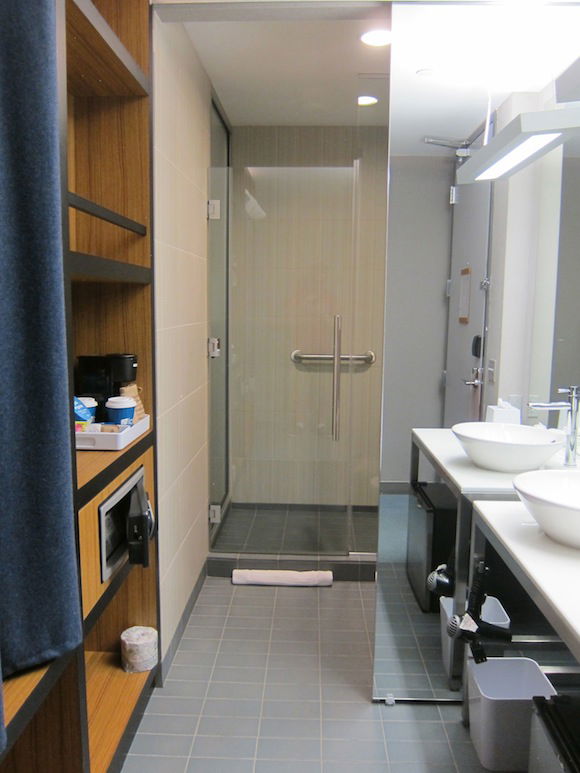 Closet and bathroom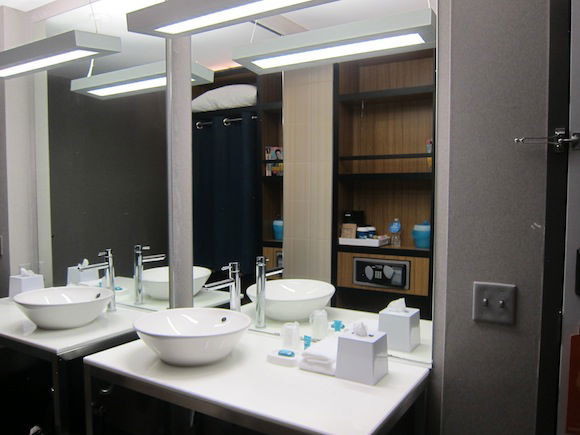 Bathroom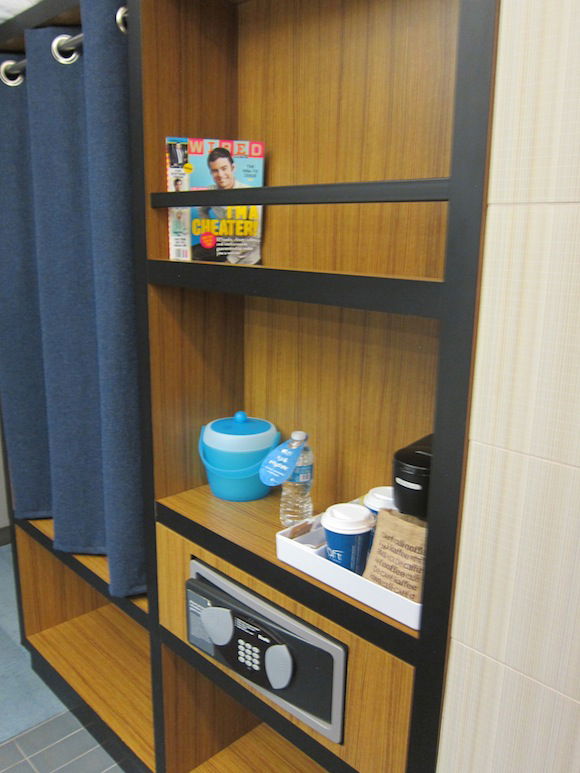 Closet
The Aloft also features the same Bliss bath amenities as the W (though a more limited selection), which is a nice touch.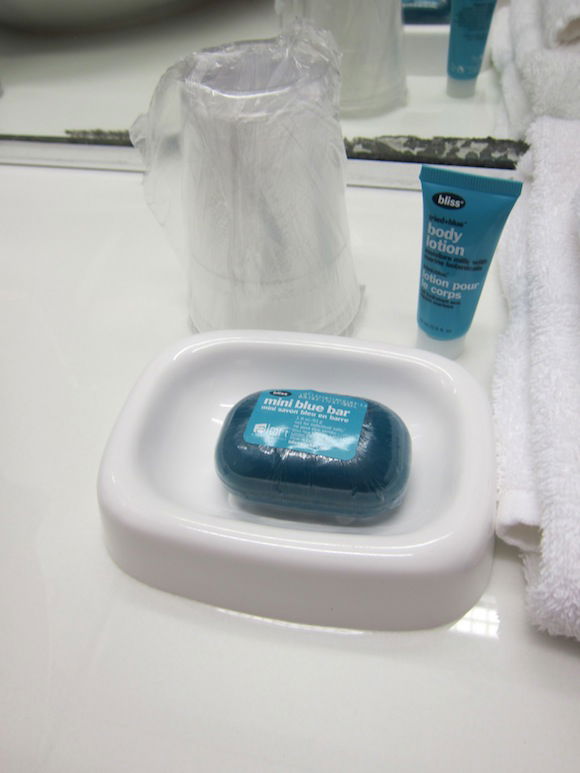 Bliss amenities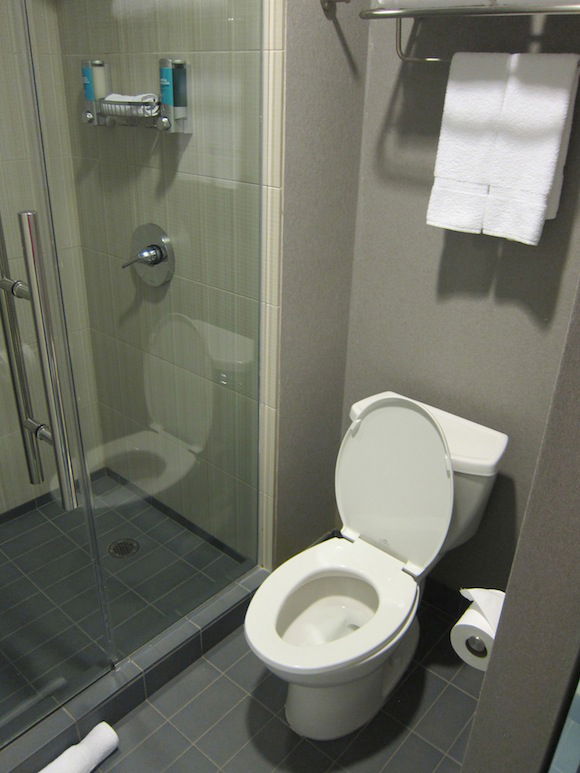 Toilet
The shower was fantastic, with full dispensers that worked perfectly.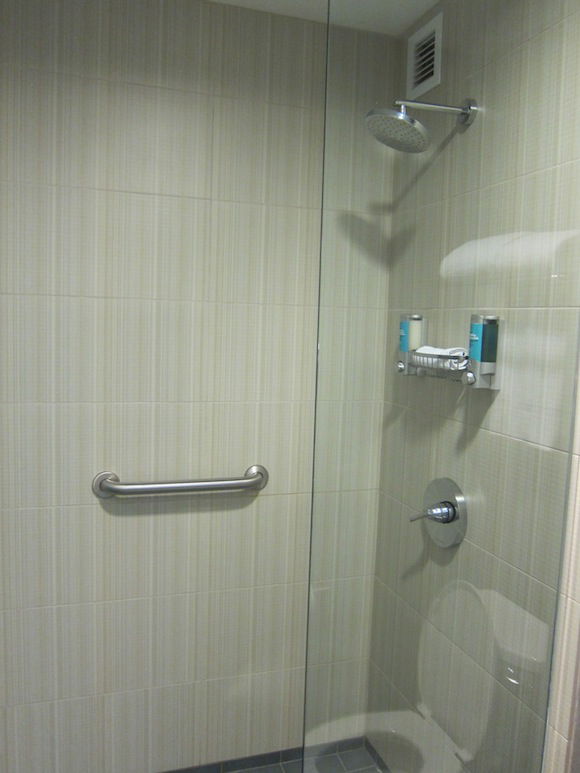 Shower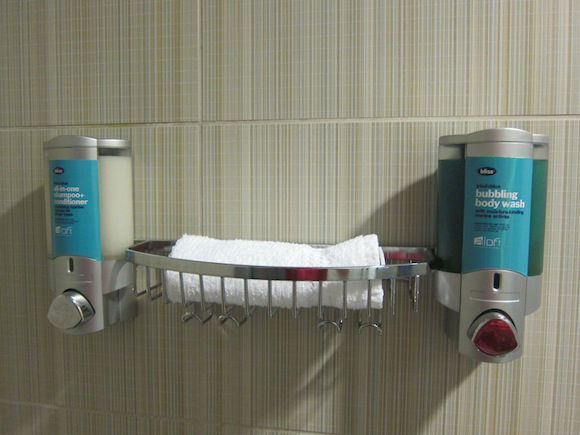 Shower dispensers
The room had plenty of outlets, and the Wi-Fi was fast throughout the property.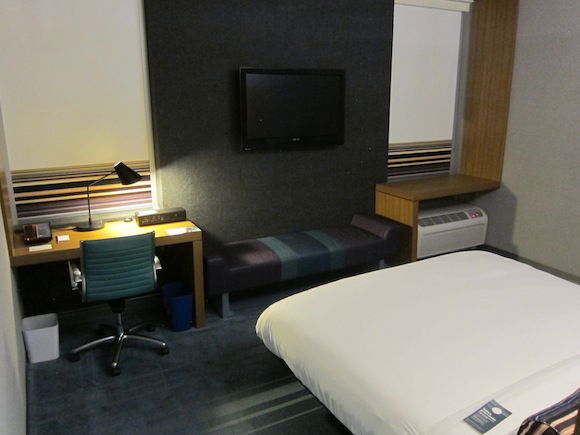 Room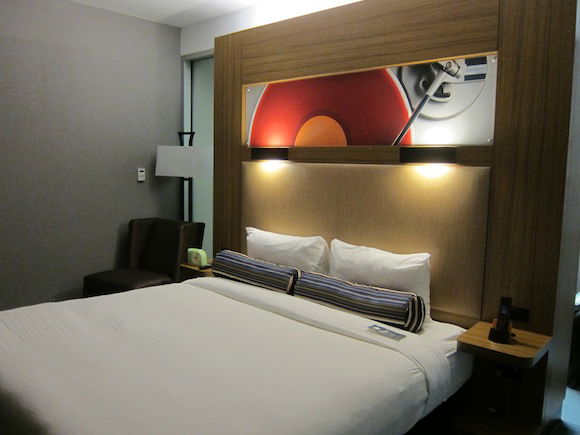 King bed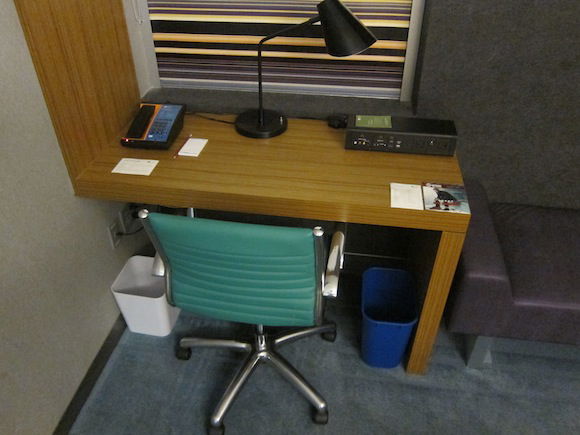 Desk
Although I was only staying one night, the hotel does offer 250 Starpoints for making a "green choice" on multi-night stays.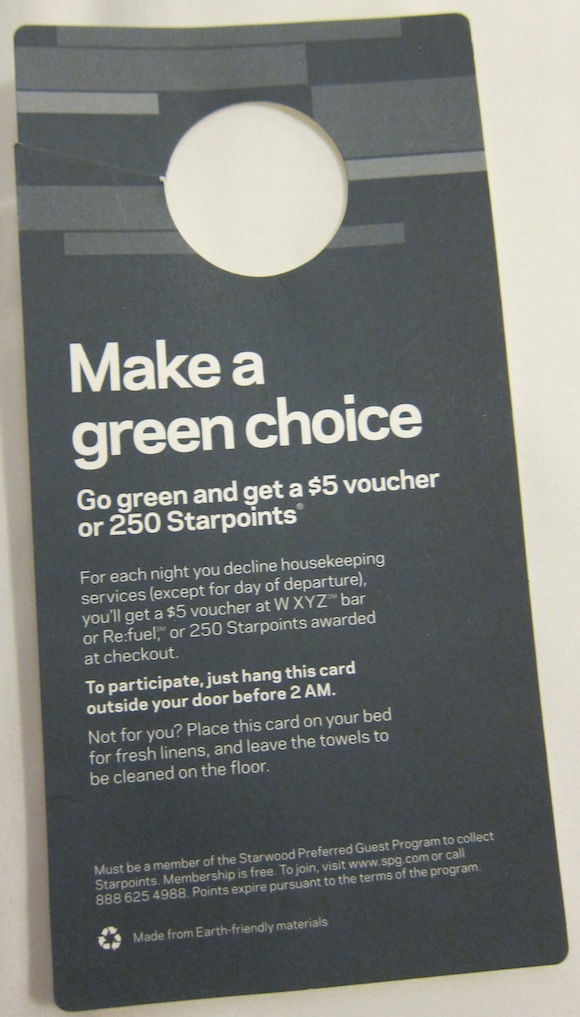 Green choice placard
After getting situated I went back downstairs to get caught up on work, and hoped to grab a bite from the bar.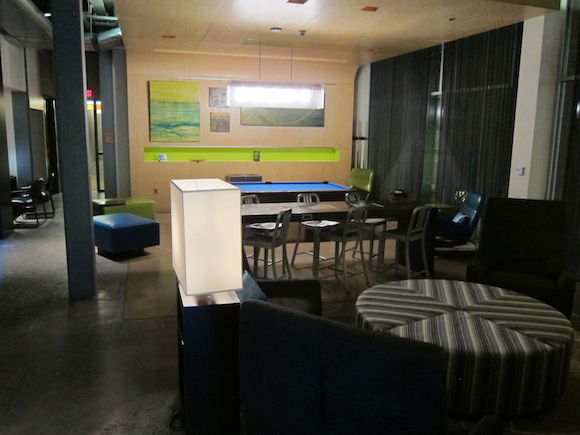 Lobby seating
Oddly, the bar hours were posted as being from "2PM-Close", and while the in-room literature stated a midnight closing time, they had clearly stopped serving food and drinks by 10PM. I guess that's what happens at hotels in Phoenix in summer.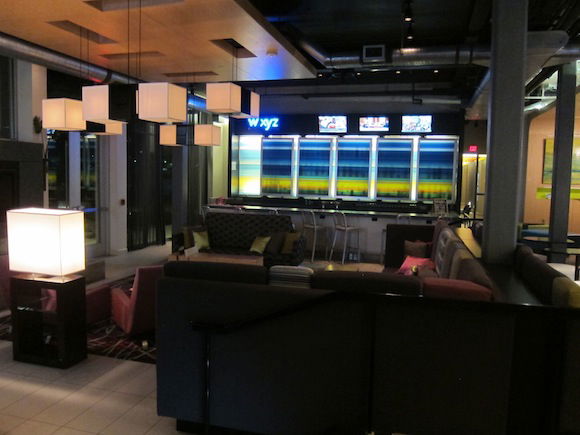 WXYZ Bar
The Aloft is a few blocks from the Phoenix Airport, and was surprisingly quiet. The exterior of the property was nicely maintained, and parking was free and plentiful.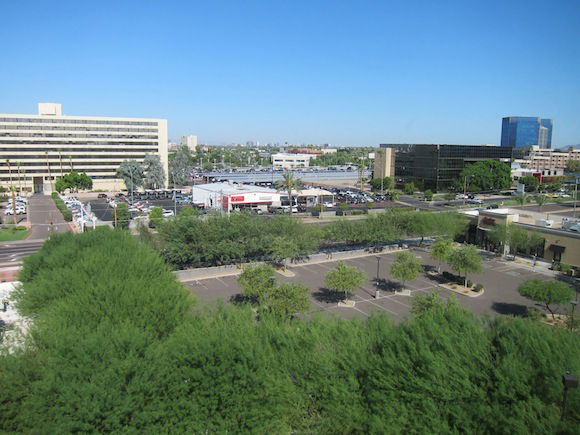 View from room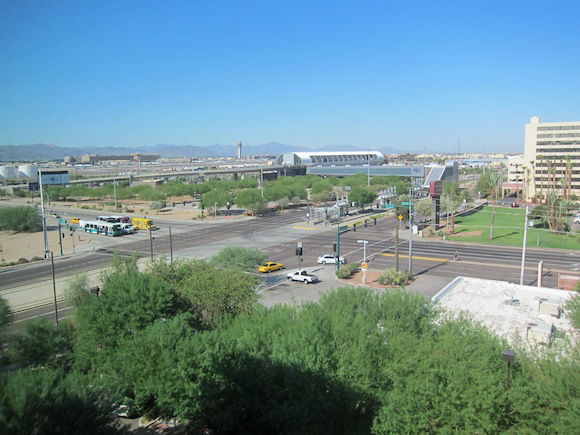 Airport in the distance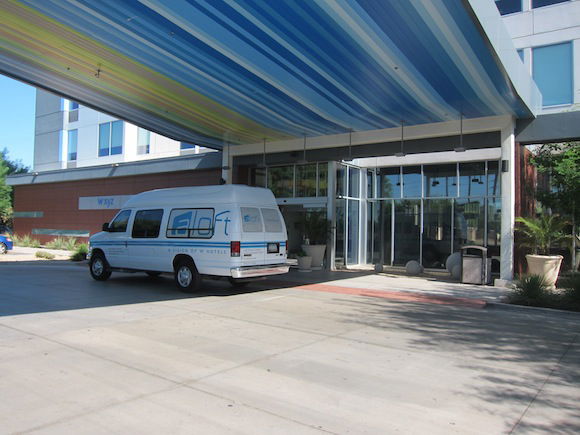 Hotel entry and shuttle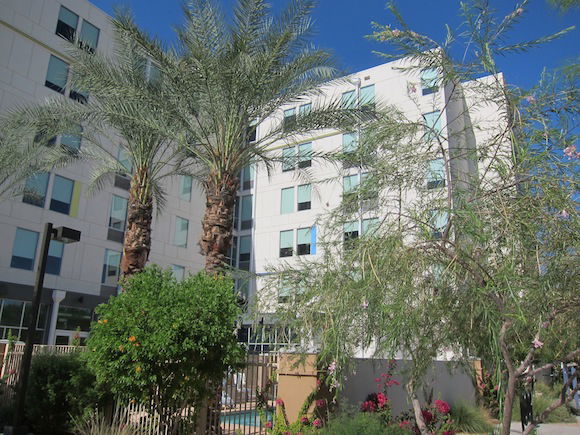 Hotel exterior
The pool was basic, but immaculate, and hotel employees were great at restocking towels and keeping things tidy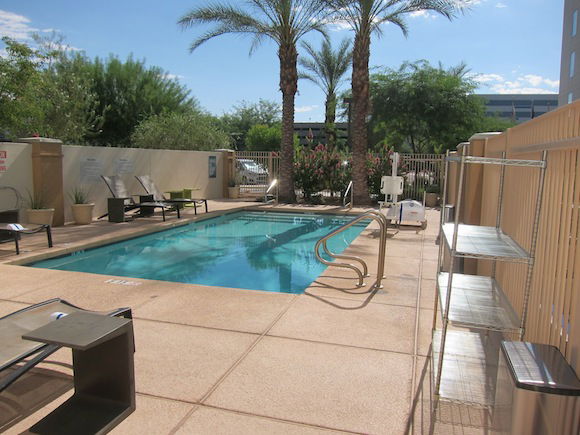 Pool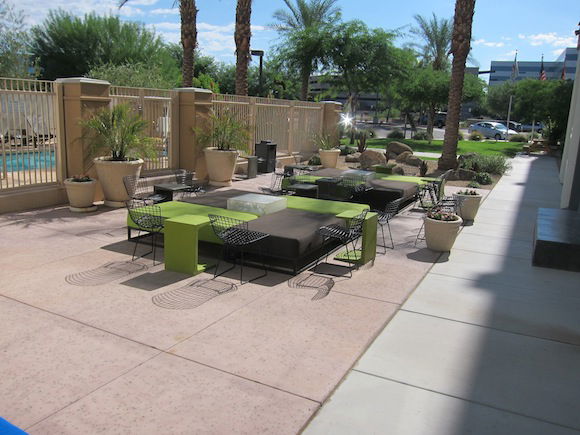 Outdoor seating
The gym was clean, with a decent selection of new equipment.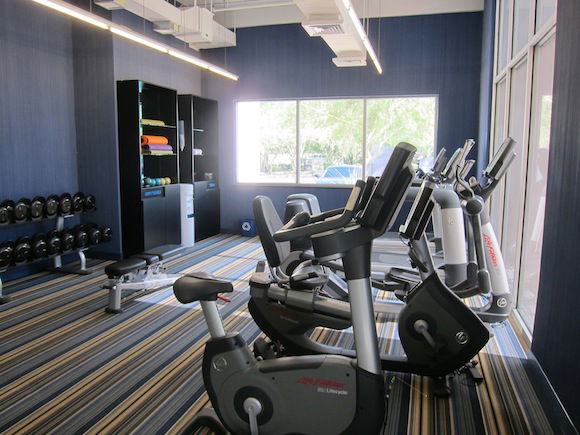 Gym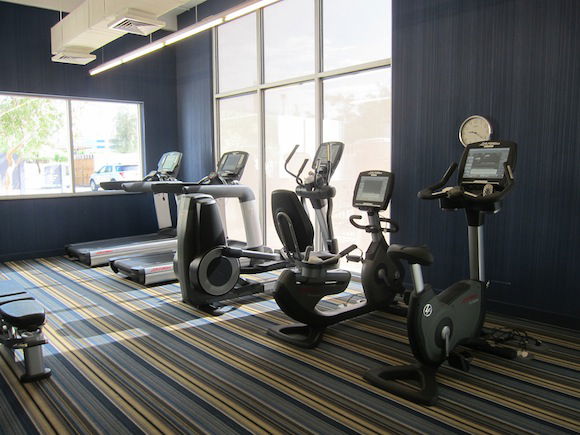 Gym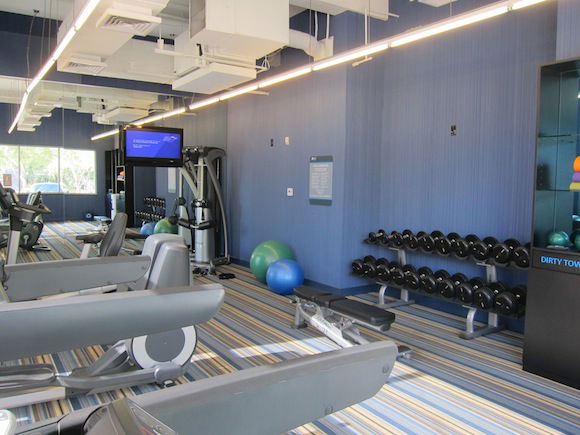 Gym
The lobby had a pool table along with several seating areas, and the entire space was clean and well-lit.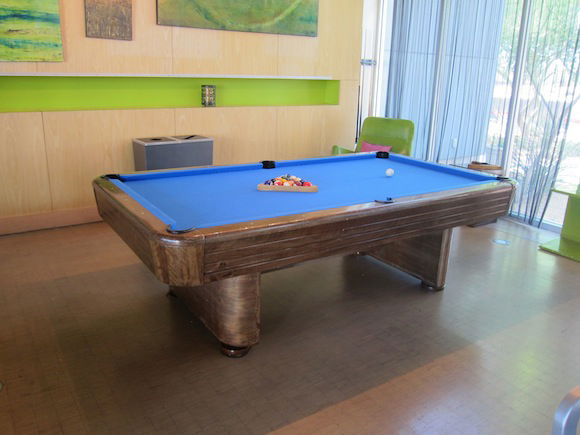 Pool table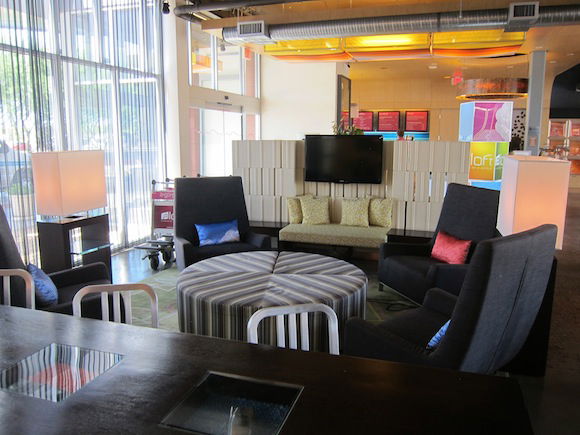 Lobby seating
Breakfast was set up near the check in desk, with a cafeteria-style menu. There were an assortment of made-to-order hot items, along with fruit, pastries, yogurt, and so forth. The Platinum amenity is a voucher for $10 towards breakfast for up to two people.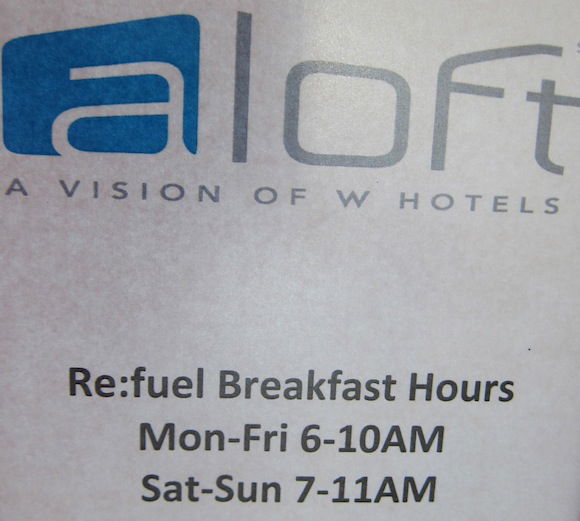 Breakfast hours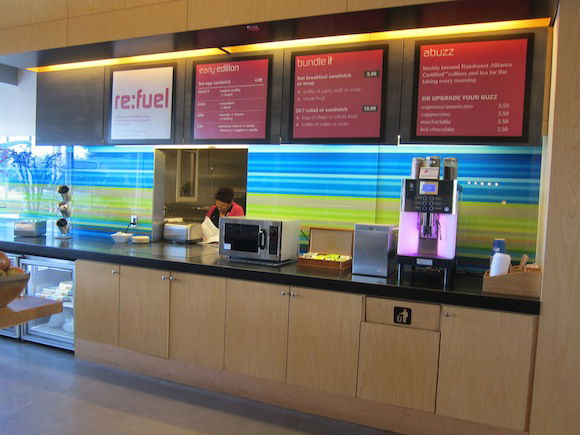 Breakfast area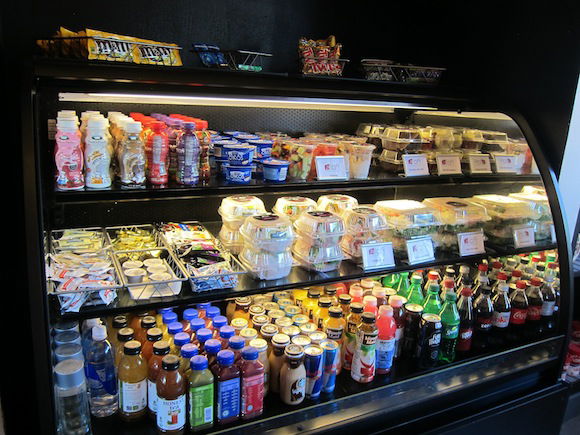 Drinks, yogurt, salads, and wraps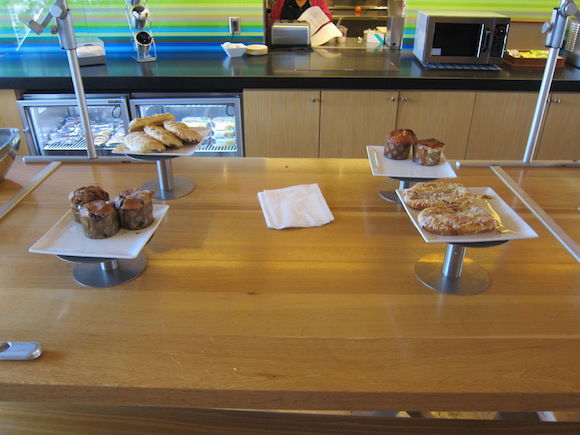 Baked goods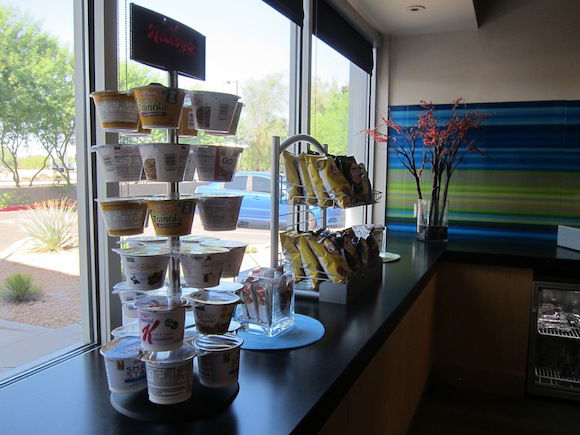 Cereals and chips
I selected a handful of items and presented them to the woman at the front desk along with my voucher. She did some quick mental math and waved me along with a smile.
Overall, I found the Aloft Phoenix Airport to be friendly, clean, and efficient. That's a fairly ideal combination for an airport hotel, in my opinion, and I'll continue to seek out Alofts for quick overnight stays. While I've stayed at a ton of amazing luxury hotels in my life, Alofts get me oddly excited at the moment.