On Monday I wrote a post about airline award ticket change fees. Rules and fees on award ticket changes and redeposits vary wildly, from being free, to costing $200, to not being possible within a certain number of days of departure at all.
Air Canada's spun off loyalty program, Aeroplan, charges a reasonable 90CAD fee to change or redeposit an award ticket. That fee applies whether you need to change the flight time by an hour or redeposit the ticket altogether.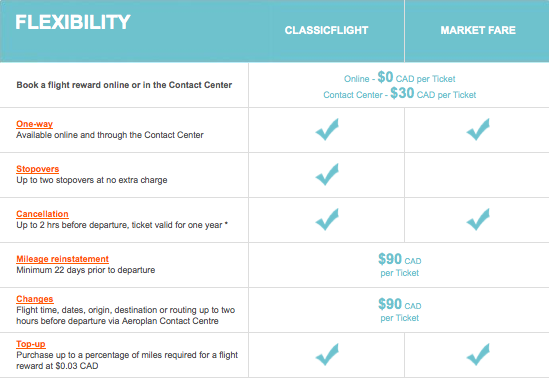 One thing that makes them somewhat restrictive, however, is that within 21 days of departure you can't reinstate an award ticket. Instead, you can apply those miles towards another ticket to be flown within a year of the date of original issue.
The policy isn't quite as bad as it sounds, in that you can apply those miles to a different award type. For example, say that today I redeem 45,000 miles for a one-way business class ticket on Swiss from Chicago to Zurich for travel November 1. If I needed to cancel October 10 or later, I couldn't have the miles redeposited into my account, but I could apply them towards another award ticket to be flown by August 5, 2015. The good news is that it doesn't have to be the same type of award — I could apply it towards a 62,500 mile first class award, and pay the difference of 17,500 miles when I make the change.
But if you really can't use the ticket within a year of the date of original issue, there is a workaround to getting your miles redeposited, as reader Jeremy noted in the comments section yesterday.
Basically if you have an award within 21 days of departure and want to redeposit it, you can pay 90CAD to change it to travel on a subsequent date (more than 21 days from now), and then pay an additional 90CAD to redeposit it, since travel is no longer within 21 days. It'll cost you 180CAD instead of 90CAD, but if you really can't use your miles otherwise, it's a trick that's good to know.
As far as other useful Aeroplan tricks go, as far as I know the workaround to avoiding fuel surcharges on the return portion of an award itinerary (especially on Lufthansa) is alive and well.
While Aeroplan isn't nearly as lucrative as it once was, the program is valuable in a few days:
Their award rates between the US and "Europe 1" are still extremely reasonable, at 90,000 miles roundtrip in business class and 125,000 miles roundtrip in first class
They allow two stopovers (in addition to the destination) on a roundtrip award ticket, or one stopover and one open jaw
By comparison Aeroplan's award rates aren't that bad anymore — they were simply ahead of the curve with their 2011 award chart devaluation 😉