Back in November Hyatt announced some pretty major changes to their Gold Passport program, which kicked in January 7, 2014. The changes began with an award chart devaluation, and the following week they announced some positive changes like Points + Cash awards and special elite rates. There's no doubt that if there's one word that could describe the past six months in the travel loyalty program industry it would be "devalued."
The Gold Passport changes finally kicked in this past Tuesday, and frankly I'm kind of surprised to say this, but as a Gold Passport Diamond member I think the changes may have actually been positive, all things considered.
To recap, the negative Gold Passport changes included:
Hyatt introduced six new hotels that fall in Category 7, which cost 30,000 points per night. Previously Category 6 was the most expensive, and those hotels cost 22,000 points per night.
Hyatt increased the cost of redemptions for standard rooms at Category 5-6 properties.
Hyatt increased the cost of premium room redemptions (club and suite) at most categories of hotels.
Hyatt hugely increased the number of points required for suite upgrades. Previously 6,000 points would get you a suite upgrade for up to four nights, while now they're charging 6,000 points per night.
Meanwhile the positive Gold Passport changes included: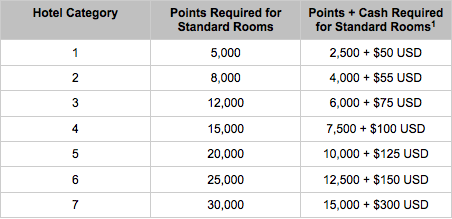 Typically when loyalty programs make changes they're negative on the whole, though for my personal travel patterns I actually think these changes may be positive, which is a refreshing change.
Changes for Diamond members
All things considered I'd argue as a Diamond member these changes are positive. For my personal travel the biggest hit are the new Category 7 properties, which went up in cost by 8,000 points per night, and are also the least lucrative options through Points + Cash. At the same time, there are only six hotels in this new category (the Park Hyatts in Beaver Creek, Milan, Paris, Sydney, Tokyo, and Zurich), so it could have been much worse. And while it sucks not to be able to redeem points for those properties at an attractive rate anymore, hopefully most managed to book at least some of those properties pre-devaluation.
But for the other properties I'd say the changes are positive. While Category 4-6 properties went up slightly in price for award night redemptions, almost across the board Points + Cash is a better value than the previous outright redemption costs. Beyond that you can now apply suite upgrades and earn points/stay credits for these stays.
Not being able to apply suite upgrades to award stays used to be one of my biggest frustrations with Hyatt, actually. Hyatt has some spectacular properties, and for the more expensive ones I prefer to redeem points. Those are the stays that mattered most to me, but also the stays that I couldn't upgrade to a suite with my Diamond suite upgrades (though I could pay 50% more points for a suite, which is a reasonable premium). To be clear, I don't blame Hyatt for that, but the new policy is super-generous.
Now there are so many great Category 5-6 properties that you can book using Points + Cash and even apply a Diamond suite upgrade to. Here are just a few examples:
Andaz Maui
Grand Hyatt Hong Kong
Park Hyatt Beijing
Park Hyatt Buenos Aires
Park Hyatt Dubai
Park Hyatt Moscow
Park Hyatt Shanghai
Changes for non-Diamond members
So for non-Diamond members I'd say the changes are probably negative on the whole. The cost of suite upgrades using points is going up significantly, and for non-Diamond members the fact that Points + Cash stays are now eligible for points accrual, elite stay/night credit, and Diamond suite upgrades is probably less important. At the same time I think many non-Diamonds will appreciate the new Points + Cash option, and many Platinum members will appreciate the "My Elite Rate" option.
What do you think? For your personal travel patterns were the Hyatt Gold Passport changes positive, negative, or a wash?