It has been a rough few weeks in the airline and hotel industry, as we've witnessed devaluation after devaluation.
Last week Hyatt announced a devaluation to their award chart for stays booked on or after January 7, 2014. In some ways the devaluation was substantial, though in the grand scheme of things I found it reasonable.
It appears as if it's not all bad news, as Hyatt has announced some positive changes which also kick in as of January 7, 2014:
Hyatt will be introducing Points + Cash
Hyatt will be following the lead of several other hotel chains in offering Points + Cash bookings, which, as the name suggests, means you can pay for your stay by combining points and cash. These will be capacity controlled, so once they become bookable on January 7, 2014, it will be interesting to see what availability is like.
The redemption table looks as follows: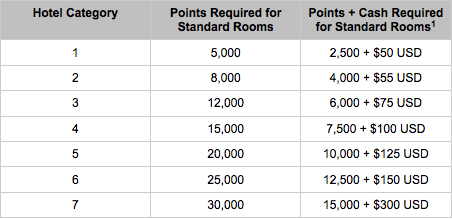 So basically they're giving you an option to pay for your stay partly in cash, though the savings in Gold Passport points varies by category, as follows:
Category 1 save 2,500 points for $50 (2.0 cents/point)
Category 2 save 4,000 points for $55 (1.375 cents/point)
Category 3 save 6,000 points for $75 (1.25 cents/point)
Category 4 save 7,500 points for $100 (1.33 cents/point)
Category 5 save 10,000 points for $125 (1.25 cents/point)
Category 6 save 12,500 points for $150 (1.20 cents/point)
Category 7 save 15,000 points for $300 (2.00 cents/point)
Category 1 and 7 properties aren't amazing deals on Points + Cash, given that you're basically purchasing Gold Passport points for 2.0 cents each. However, Category 2 through 6 properties are a spectacular value, given that you're basically purchasing Gold Passport points for 1.2-1.375 cents per point.
The best news of all is that nights booked using Points + Cash will also count towards status, and the cash portion of the stay is eligible for points accrual.
Remember that with Hyatt, free night redemptions don't count towards status (unlike at other chains such as Hilton and Starwood), so this is really exciting in my opinion. Assuming Points + Cash availability is good, I'd actually say that the value proposition for category six properties has improved even compared to the old award chart. Previously Category 6 properties were 22,000 points per night, so being able to redeem 12,500 points plus $150 for a hotel like the Park Hyatt Maldives and still earn elite stay credit is an amazing deal.
In terms of the process of making a Points + Cash booking, they'll only be bookable by phone, with the points deducted at the time you make your reservation, and the cash portion paid at time of check-out.
Hyatt will introduce "My Elite Rate" 20% discount
The new "My Elite Rate" will be valid for Platinum and Diamond members, and offer 20% off the daily rate on standard rooms, subject to capacity controls. Not all hotels will offer the "My Elite Rate" at all times, but when available, it should automatically appear if you're logged into your Gold Passport account. These stays will still be eligible for points accrual and elite credit.
Hyatt Gold Passport points will only expire after 24 months
Presently Gold Passport points expire after 12 months of inactivity, though under this change they'll only expire after 24 months of inactivity. This is obviously good news for the average consumer, while it doesn't really impact elite members much.
Bottom line
The new Points + Cash option is awesome, and if availability is decent, somewhat offsets the devaluation in my opinion. We'll see how useful the "My Elite Rate" is, though there are lots of "special" rates out there, so I'm not too excited about that. The new expiration policy is good for less frequent Hyatt guests, though probably doesn't impact those of us that are frequent Hyatt guests or have Ultimate Rewards points, since you can always just transfer 1,000 points to keep an account alive.