Yay, it looks like it's finally possible to redeem Alaska Mileage Plan miles for travel on Singapore Airlines, and the implementation is better than I was expecting.
Slow Progress With The Alaska & Singapore Partnership
Back in August 2017, Alaska Airlines and Singapore Airlines announced a partnership, which would offer reciprocal mileage earning and redemption opportunities for members of both programs.
While I appreciate Alaska's unique array of airline partners, I've been quite disappointed by the pace at which they've been rolling out the features of some of their recent partnerships.
The airlines launched reciprocal mileage earning as of September 2017. Also as of that time, it became possible to redeem Singapore KrisFlyer miles for travel on Alaska.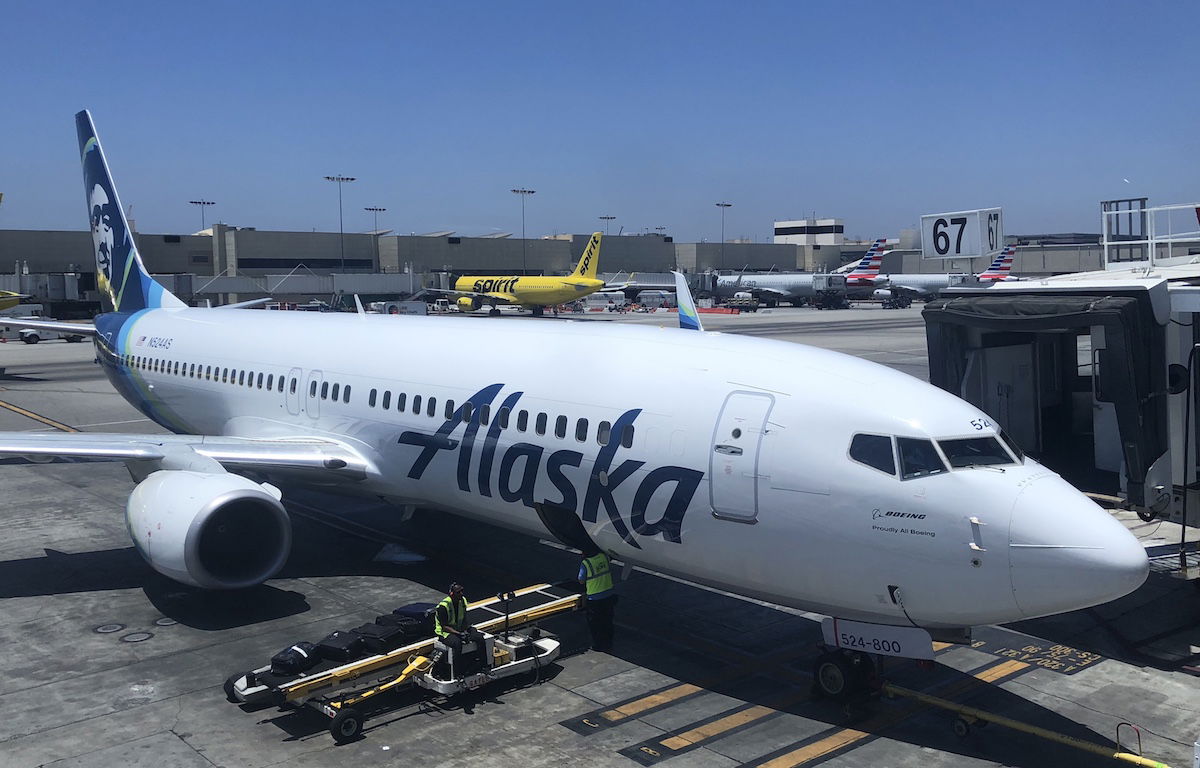 It has already been possible to redeem Singapore miles on Alaska
It was announced at the time that Alaska Mileage Plan redemptions for travel on Singapore Airlines would be launched at a later date, though up until now that hasn't happened. Well, it looks like this is finally the time.
Redeem Alaska Miles On Singapore Airlines
Singapore Airlines awards are now showing up on Alaska Airlines' website, and in the meantime the award charts have been posted as well: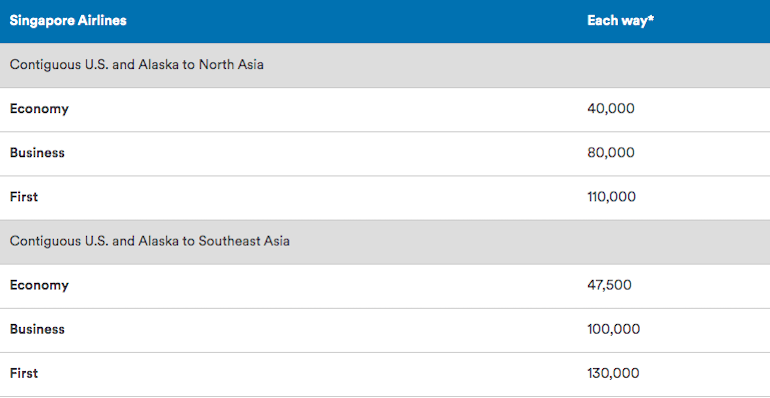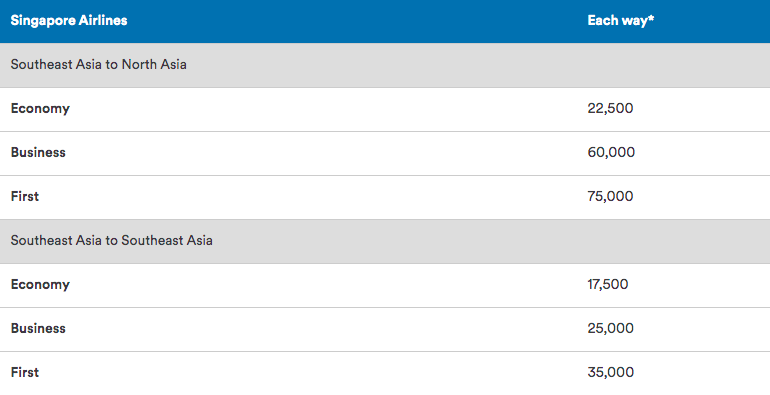 How Many Alaska Miles Does It Take To Redeem On Singapore Airlines?
For flights between the US and Asia, Alaska Mileage Plan is charging 47,500 miles in economy or 100,000 miles in business class one-way, and there are no surcharges.

For flights within Southeast Asia, Alaska is charging 17,500 miles in economy or 25,000 miles in business class.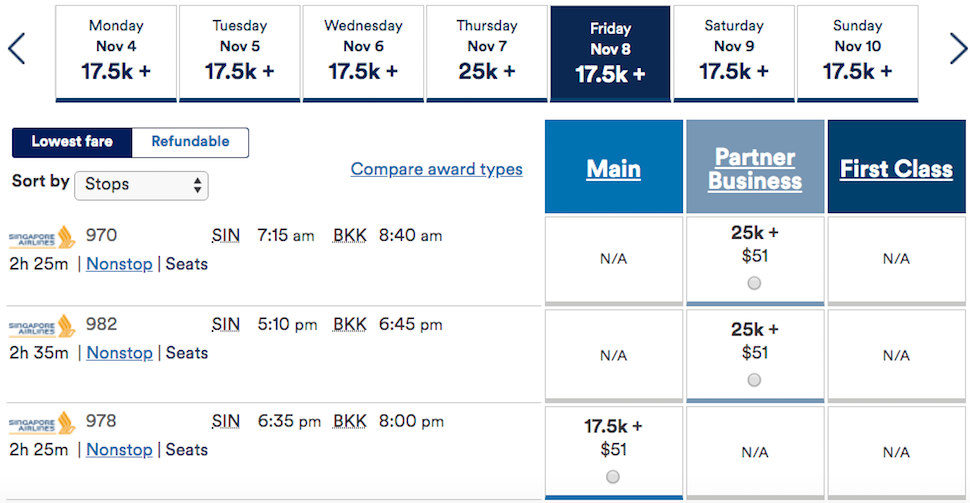 For flights between Southeast Asia and North Asia, Alaska is charging 22,500 miles in economy or 60,000 miles in business class.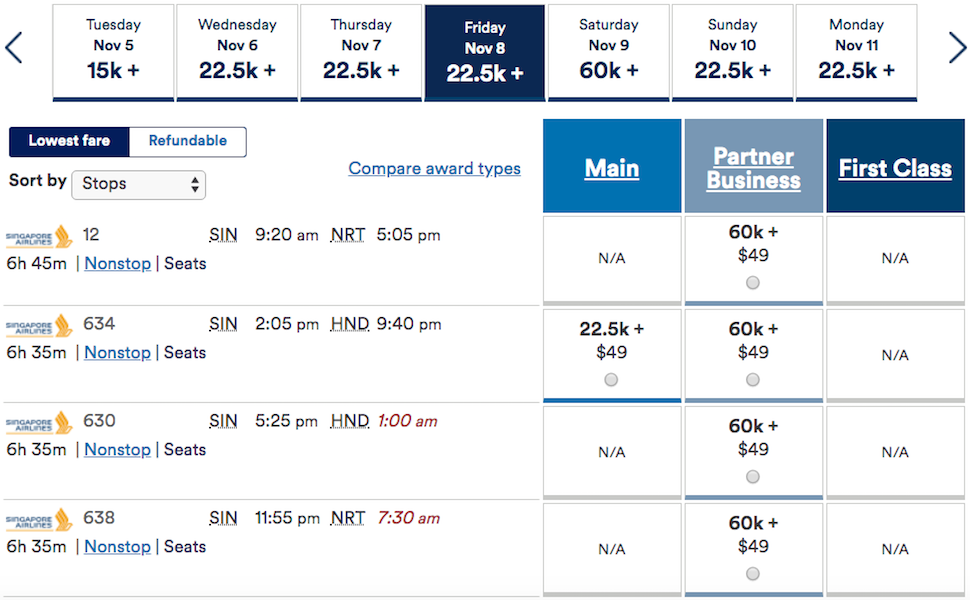 Even first class awards are possible, though only within Asia. The cost just 35,000 miles one-way, and for that you could fly Beijing to Singapore to Hong Kong, for example. You can even have a stopover, so that's a pretty incredible value.

As usual, Alaska Mileage Plan allows stopovers even on one-way awards, so you can always have a stopover on your one-way itinerary. Furthermore, positioning flights on Alaska Airlines are included to your long haul gateway.
It's possible they're still loading some availability, but as of now:
Apparently premium economy awards aren't possible (which is surprising)
While first class awards are technically possible, I only see availability within Asia
It's not possible to redeem miles between the US and Europe (Singapore Airlines flies from New York to Frankfurt and from Houston to Manchester)
The Great News
What's exciting here is that it's actually possible to redeem Alaska miles for long haul business class awards on Singapore Airlines, and even for regional first class.
Historically Singapore Airlines has only made long haul economy award seats available to partner airlines, so it's surprising to see that not be the case for Alaska. Of course I wouldn't exactly call redemption rates a steal, but still, the fact that there's any availability at all in long haul business class is very nice.
This Still Isn't How I Would Redeem Alaska Miles
While this option is nice, for someone with access to US credit cards, this isn't how I would redeem my valuable Alaska miles.
Singapore KrisFlyer is transfer partners with Amex Membership Rewards, Capital One, Chase Ultimate Rewards, and Citi ThankYou, so there are lots of easy ways to earn KrisFlyer miles. Their redemption rates are a bit lower, and you can also redeem for first class on eligible routes, so personally I'd rather use transferable points.
Transfer points to Singapore Airlines KrisFlyer with the following cards:
Best Ways To Earn Alaska Airlines Miles
If you're looking to earn Mileage Plan miles so that you can redeem on their great airline partners, consider the Alaska Airlines Visa® Credit Card (review) and Alaska Airlines Visa® Business card (review). These cards offer valuable long-term perks for Alaska frequent flyers, like a first checked bag free, savings on inflight purchases, and more.
See this post for everything you need to know on the best credit cards for earning Alaska miles.
Bottom Line
It seems like Alaska Mileage Plan is in the process of adding all Singapore Airlines award availability. So far awards are available in economy and business class between the US and Asia, and also within Asia. There are even some first-class awards within Asia.
If anyone comes across other regions that are also bookable, please let me know.
While redemption rates are steep, I'm impressed that Alaska has access to long haul business class award space at all.
Anyone plan to redeem Alaska miles on Singapore Airlines?
(Tip of the hat to @laikin8)