Qatar Airways has increasingly been opening lounges at their major outstations, including in Bangkok, Beirut, London, and Paris. They've done this in order to offer passengers a better experience compared to what they'd otherwise have access to.
Well, the airline has started this week by opening their latest lounge, at Singapore Changi Airport.
Qatar Airways Lounge Singapore Changi basics
Qatar Airways' outstation lounges are excellent, and I suspect their Singapore Changi location might just be the best business class lounge at the airport. In addition to what I imagine is very nice decor, the lounge also features a la carte dining, which is a treat for a business class lounge.
What hours is the Qatar Airways Premium Lounge open?
The lounge opens approximately three hour before Qatar Airways departures, and right now the airline has flights at around 2AM, 11AM, and 8:30PM.
Therefor you can expect that the lounge is roughly open from 8AM until 11AM, and again from 5:30PM until 2AM, give or take.
Who can access the Qatar Airways Premium Lounge?
Qatar Airways has strict entry requirements for their lounges. Even though the airline belongs to oneworld, they don't follow the standard oneworld access requirements for their lounges.
The Qatar Airways Premium Lounge Singapore is not only open to Qatar Airways business class passengers, but also to all oneworld first and business class passengers.
However, oneworld Emerald and Sapphire members, including those traveling on Qatar Airways, aren't able to use this lounge. That sure is a frustrating exclusion.
Still, this lounge could be an excellent option if you're traveling in business class on another oneworld airline.
Where is the Qatar Airways Lounge Singapore located?
The lounge is located in Terminal 1 at Changi Airport. This is the same terminal used by oneworld partners British Airways, Finnair, Japan Airlines, and Qantas, should you want to visit the lounge.
Meanwhile Malaysia Airlines departs from Terminal 2 and SriLankan Airlines departs from Terminal 3, both of which are connected airside by train to Terminal 1.
The odd airline out is Cathay Pacific, which departs from Terminal 4. This is separated from the rest of the airport, and airside transfers are possible, but really complicated.
How good is the new Qatar Airways lounge?
This lounge opened at the beginning of the week, though I haven't seen any press releases or official pictures yet of the lounge (I'll be sure to share any if/when I receive them).
That won't stop me from making some educated guesses about the lounge, though. My general assumption is that:
This is likely to be the best lounge at the airport for oneworld business class passengers departing T1-T3; there's not much competition for that title, as the British Airways and Qantas business lounges are nothing special
If you're traveling in oneworld first class and/or are a oneworld Emerald member, the new Qantas First Lounge is spectacular, and I'd assume that will still be better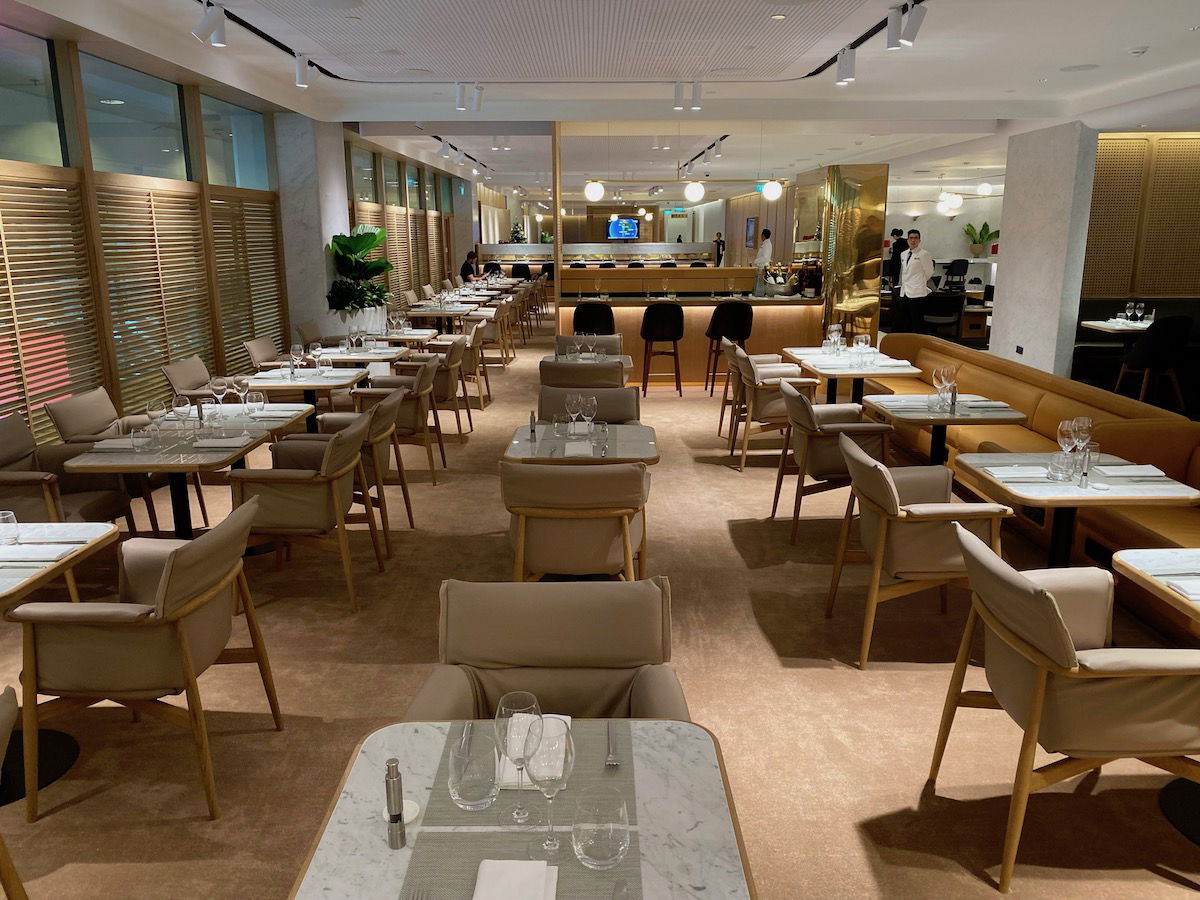 Qantas First Lounge Singapore Changi
Bottom line
The oneworld member airlines sure are upping their game in Terminal 1 at Changi, between the opening of the Qantas First Lounge last month, and now the opening of the Qatar Premium Lounge. The former is a treat for oneworld Emerald and first class passengers, while the latter is a treat for oneworld business class passengers.
Anyone plan to check out the Qatar Airways Premium Lounge Changi soon?
(Tip of the hat to Phillip)