In March 2018, Qantas launched daily nonstop flights between Perth and London using the Boeing 787-9. At the time this was the world's second longest flight, at just over 9,000 miles (Qatar's Auckland to Doha flight was slightly longer).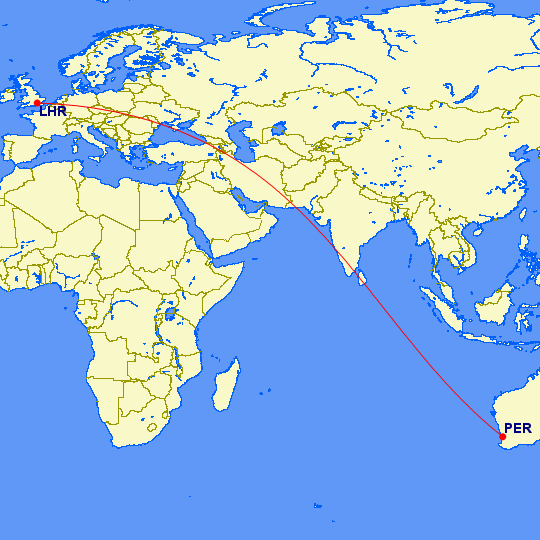 However, within a few months both routes lost their titles, as in late 2018 Singapore Airlines resumed nonstop flights between Singapore and Newark using the A350-900ULR.
Qantas is now celebrating the one year anniversary of their Perth to London route, and has some interesting facts to share.
I was skeptical of Qantas' Perth to London flight
When Qantas launched their Perth to London flight, I was skeptical. Previously much of the market share between Australia and Europe belonged to the Gulf carriers, which offered convenient one stop service, as well as several Asian carriers, which offered efficient routings via their hubs.
I couldn't fully rationalize the Perth to London flight:
A majority of the demand for travel between Australia and Europe comes from people in Eastern Australia (Melbourne, Sydney, etc.), so for those people they'd be connecting once either way, regardless of whether they go through Perth, Asia, or a Gulf hub
In economy I'd go out of my way to avoid one of the world's longest flights, especially on a 787-9 with nine abreast seating
Generally many people flying from Australia to London are connecting beyond London, and in those cases you're going to get a more direct routing on a Gulf carrier, since you could fly from a major Australian gateway to just about any major city in Europe with just one stop, rather than potentially having to double connect using this routing (i.e. Sydney to Dubai to Dublin vs. Sydney to Perth to London to Dublin)
At the same time, I imagined there would be quite a bit of initial demand, purely due to the interest in such a long flight, and also the nationalistic pride that exists around Qantas
Qantas' Perth to London flight has been a success
Qantas has released quite a few statistics regarding the new route. Some are actually significant and noteworthy (the economic growth this has created, average load factors, where passengers are going, etc.), and are some are just fun (the seat that watched the most TV, how much wine people drank, etc.).
So let's look at some of the statistics. Most significantly:
The flight had an average load factor of 94%, and has carried 155,000 passengers
59% of passengers on the flight have been Australian, 31% British, and 7% from other parts of Europe (so that represents 97% of passengers)
When it comes to outbound passengers, 50% are originating in Perth, 25% are coming from Melbourne, 7% from Sydney, 6% from Brisbane, and 4% from Adelaide (so that represents 92% of passengers)
Qantas claims the route has created 601 jobs in Western Australia, visitor expenditure has been $101 million, and the route has created $100 million free publicity (personally I don't put too much weight into this, since I tend to think some of this math is a bit fuzzy)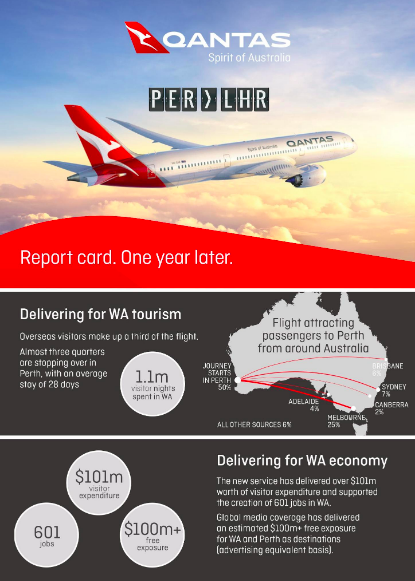 Anyway, that's the serious stuff, but then there's the fun stuff as well:
From Perth to London, the average flight time was 17hr1min, while the fastest flight time was 16hr19min; from London to Perth, the average flight time was 16hr5min, while the fastest flight time was 15hr15min
Seat 56F watched the most TV, by more than 100 hours compared to any other seat
367,000 glasses of wine have been served in the first year, so that's an average of 2.4 glasses of wine per person
White wine was most popular in economy, while red wine was most popular in premium economy and business class
80% of eligible passengers are doing the stretching class in the Perth transit lounge yoga studio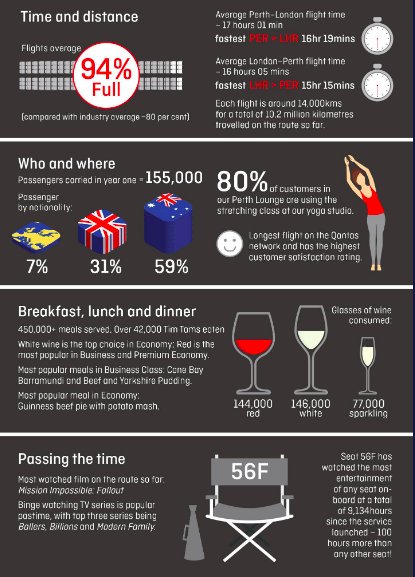 Bottom line
Qantas has long been a pretty conservative airline, so it's great to see that this more creative route has been such a success. Like I said, I was skeptical, but it seems like it has worked out well for them. I guess part of that is also that the 787-9 makes routes like this economical.
Of all of the above statistics, the one I find most surprising is how many passengers are allegedly using the yoga studio. 80%, really?!? Furthermore, I'm not surprised that one seat watched 100 more hours of TV than any other, but rather I'm surprised that this is something they are able to track.
Next up we'll have to see the results of Qantas' "Project Sunrise," as the airline hopes to launch nonstop flights from Melbourne/Sydney to London/New York, once they can secure the right plane for that.
What do you make of the results from Qantas' first year flying Perth to London? Are there any statistics that surprise you?