About a month ago I wrote about how Qantas is planning on refreshing their A380 fleet. The airline has 12 of these planes, which they use for ultra longhaul flights, and they could certainly use a refresh at this point. So in 2019 and 2020, Qantas plans on installing a new business class and premium economy product, improving the IFE selection, adding a new onboard lounge, and more.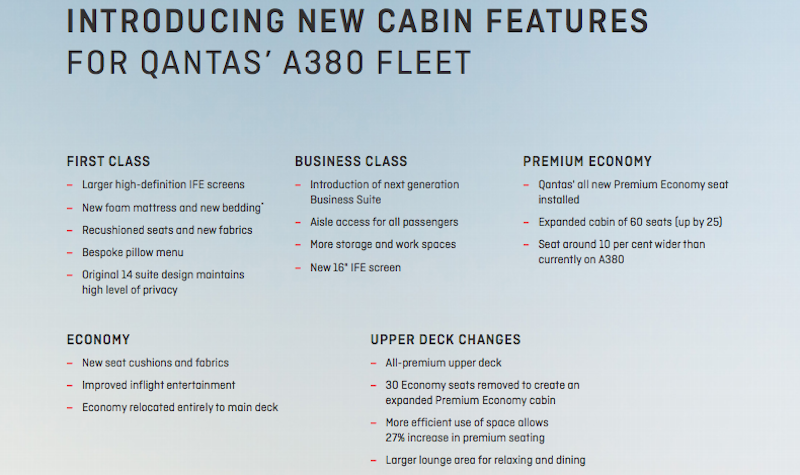 As far as first class goes, the "bones" of the seats will stay the same, so they'll instead be doing a soft refresh. Ahead of the full refresh, Qantas announced that they'd introduce a new memory foam mattress and pillow menu in first class this year.
Well, American isn't the only airline announcing bedding changes — Qantas has also revealed their new first class bedding.
Qantas' new first class bedding will be provided by Sheridan, "Australia's premium home and lifestyle brand." Here's how Qantas describes the new "pillow menu" that first class passengers will have access to:
For the first time, customers will able to choose from a pillow menu featuring a selection of three styles to suit different comfort needs. Set on each seat prior to take off, Sheridan's Ultimate Comfort Pillow is lightweight and soft with superior head and neck support. The Memory Foam Pillow and Feather & Down Pillow are available on request, all designed to help provide a comfortable rest.

The ensemble also includes a memory foam mattress which moulds to the body's contours for total comfort and support while providing the pressure point relief advantages of memory foam, as well as super-soft Sheridan sheeting, a duvet cover made from soft-touch tencel, a 100% combed-cotton woven throw and a soft-touch bolster cushion.
Not only is Qantas updating the first class bedding, but they're introducing new blankets for babies traveling in all classes of service, which seems like a nice thing to do:
Sheridan has also designed a soft baby blanket in pure cotton for infants aged under two years of age traveling on all international services in all cabins.  Devoted to safety and comfort, the baby blanket adheres to the highest international safety standards and is approved by Red Nose (SIDs & Kids).
The new baby blankets will be available in all cabins on all international services, while the new first class bedding will be available on A380 flights to London, Dubai, Los Angeles, and Dallas, starting in early October 2017.
Personally I've always found Qantas' first class bedding to be among the best in the sky, so if it's an improvement over what they used to offer, then it should be fantastic.