Just over a month ago Iberia ran a promotion offering 9,000 bonus Avios for every ticket booked, up to 90,000 bonus Avios. Even cheap domestic tickets qualified, so many of us booked 10 one-way tickets from Malaga to Madrid for under $300, in hopes of getting 90,000 Avios.
What truly made this promotion crazy is that they awarded Avios shortly after booking rather than after flying, and told people that they didn't have to take the flights to earn the bonus. While Iberia didn't make it easy on us, the good news is that most people have had success with the promotion. Those who had Iberia Plus accounts before the promotion started received Avios pretty quickly, while those with new accounts had to send in some documentation, but for the most part the Avios have posted.
Some people have been frustrated by the Iberia Plus booking platform, as it's very difficult to book anything online. The Iberia Plus program also has different terms on redemptions than the British Airways Executive Club program does.
Typically you can freely convert Avios between British Airways Executive Club and Iberia Plus, assuming the information on both accounts matches exactly, and assuming that you've had both accounts open for at least 90 days.
However, these promotional Avios come with a couple of unique terms:
The Avios must be redeemed by December 1, 2018 (that's the "redeem by" date, rather than the "travel by" date)
If a member transfers their Avios to British Airways "they will have a negative balance in the Iberia Plus programme, as those Avios wouldn't have been spent by the date mentioned above"
That last point has been open to interpretation, with regards to whether it's possible to transfer Avios or not, as well as what the implications of a negative balance would be.
At first it appeared that it wasn't possible to transfer Avios to British Airways, and they blocked that in the system. Personally I think that was fair enough.
However, it looks like they may have had a change of heart, and within the past day or so it's possible to transfer promotional Iberia Avios to British Airways. This assumes you meet the other requirements, of having had both accounts open for at least 90 days, and having the information on the accounts match exactly.
To do this, log into your British Airways Executive Club account and click on "Manage my account."

Then click on "Combine my Avios" at the bottom left of the page.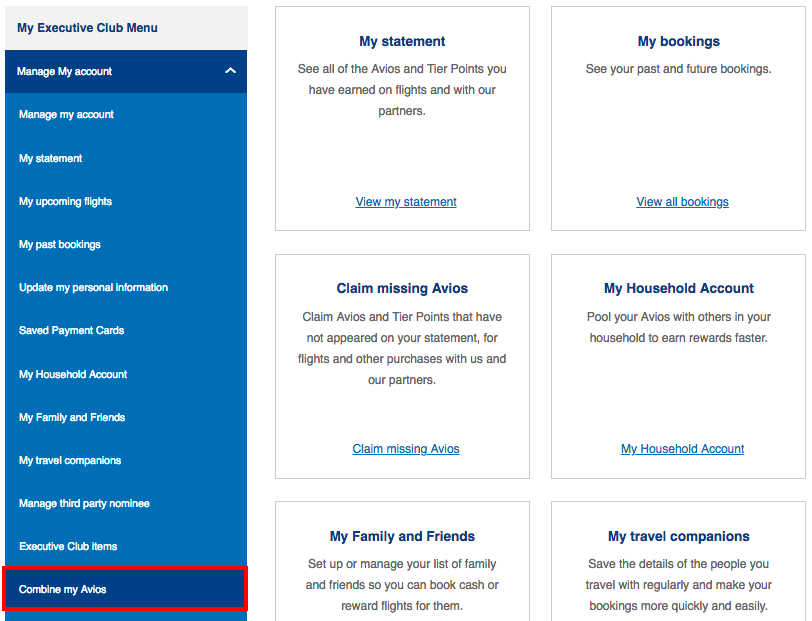 Then click "Combine my Avios" at the bottom of the next page.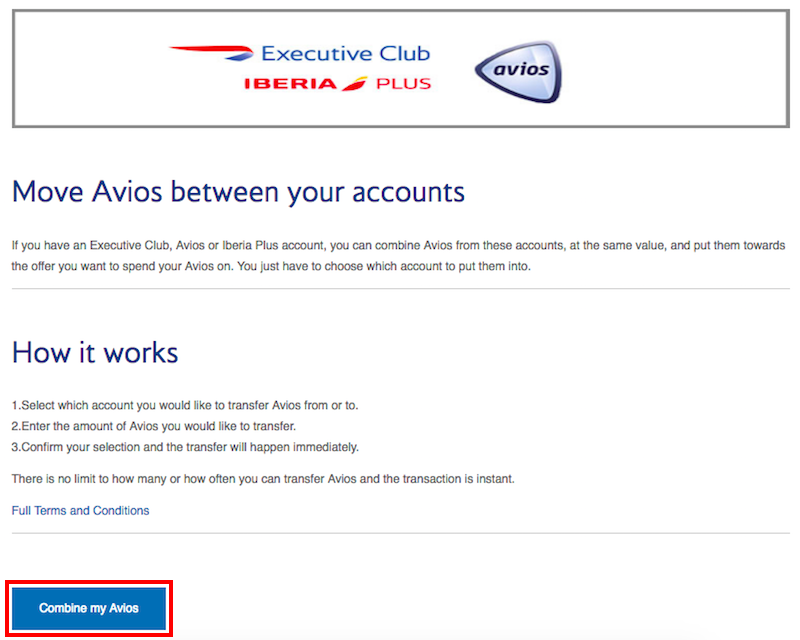 Then you can enter your Iberia Plus credentials on the next page.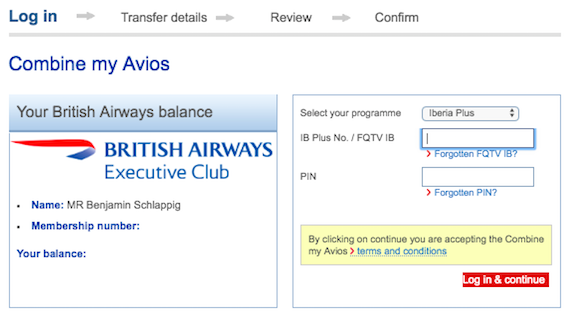 You'll then be asked how many Avios you want to transfer over.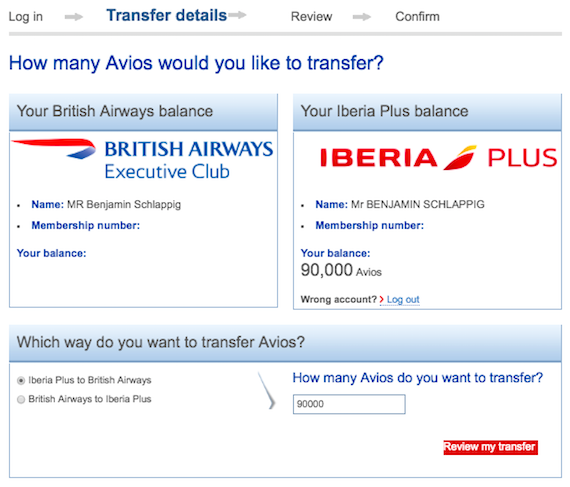 The next page will ask you to confirm the information, and then the transfer is finalized and Avios should post right away.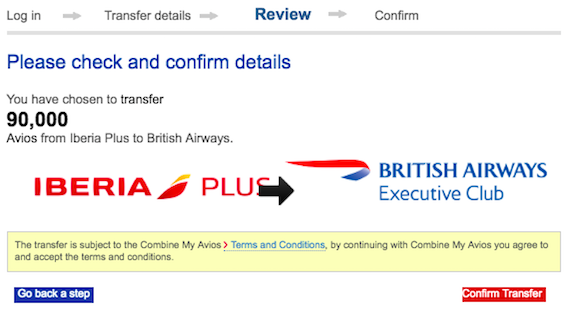 Personally I'm not transferring my Avios just yet, for a couple of reasons:
I actually think I might get more value with Iberia Plus directly, as I'm considering booking for travel on Iberia (Iberia Plus has much lower fees for those flights than British Airways Executive Club)
I want to wait until there's official communication from Iberia about whether or not this is allowed, and what terms come with transferring Avios
You might assume this is a glitch, but it doesn't sound like that's the case. Raffles (the guy behind the popular UK blog Head for Points) posts on FlyerTalk that he gets the impression that this is intentional, and that they're caving with regards to this restriction. Apparently a big newspaper story is being run about this promotion tomorrow, so hopefully we know for sure by then.
In the meantime:
It is possible for eligible members to transfer their promotional Avios from Iberia to British Airways
The timing of this seems quite intentional, given that this is apparently shortly before a big story is running about
We're not sure what terms the Avios will have when they're transferred to British Airways, and whether they'll still expire on December 1 this way
So if you're a risk taker you can transfer your Avios now. Personally I'd just take this as a notice that it might make sense to hold off a couple of days on redeeming your Avios, assuming you'd get more value out of British Airways Avios than Iberia Avios.