Several days ago I shared the story of how Silver Airways called the cops on a 16 year old flying from Fort Myers to Orlando. If you haven't read the previous post I suggest checking it out, as it has a detailed explanation of what happened. What it boils down to is that he took a few (perfectly normal) pictures, another passenger thought that was suspicious, and then the airline called the cops on him. I should also mention that he made a phone call in Polish, which unfortunately to many people in Florida may qualify as suspicious.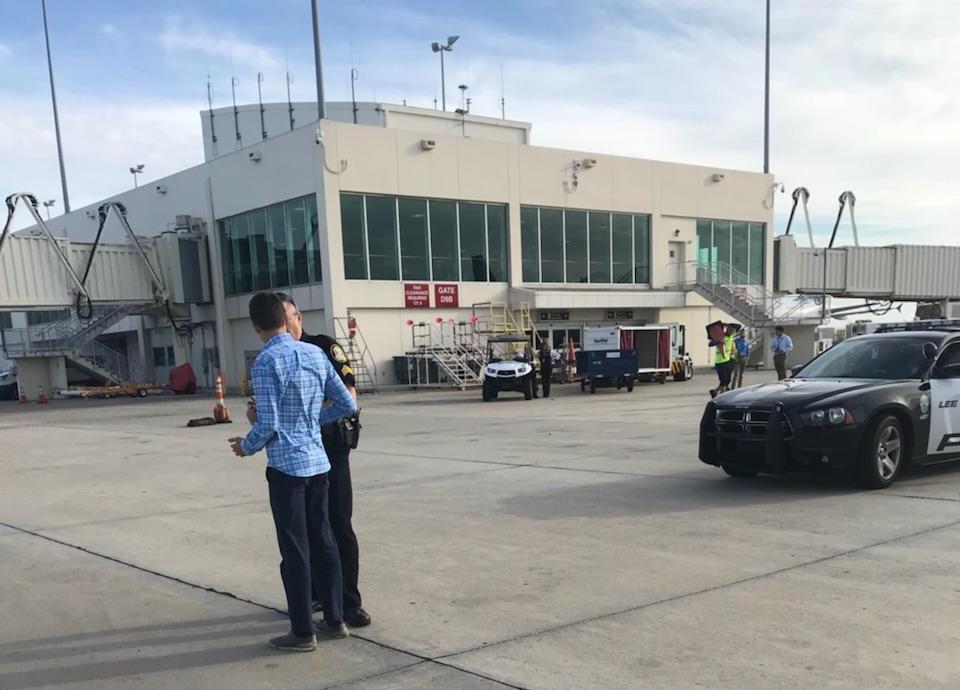 A lot of people said "there has to be more to the story, this is just crazy." Well, I got my hands on the police report for the incident, and it further supports the story. Unfortunately the reaction on the part of the airline still seems crazy to me, and on the surface it seems like the cop may not have acted within the law (though I'll leave it to my lawyer readers to share their thoughts).
Here's the police report:
On Wednesday 3/17./18 at approximately 1700 hours, I responded to gate D9A at the request of the pilot of Silver Airways flight 87 from Fort Myers to Orlando. Upon arrival the pilot shut down the engines and put a sign in the window saying 7A. As soon as the door to the aircraft opened I entered and asked the passenger seated in 7A to exit the plane. The white male, later identified by his student pilot license as [redacted], exited the aircraft without incident. I turned him over to Officer [redacted] and went back on the aircraft to speak with the pilot. I was told that another passenger had seen [redacted] sending a message that she thought was threatening and was concerned.

I then spoke with the female passenger [redacted]. She informed me that she had seen [redacted] sending a text message with big letters saying something about 100 feet and alarms. She voiced concern that he was sitting in the exit row and was worried that he would open the exit door in flight. She voiced her concerns to the flight attendant who informed the pilot resulting in this call.

I then spoke to [redacted] again and he volunteered his phone to me. I was able to observe all of his text messages and emails. When I looked at his snapchat messages I viewed a photo of a Spirit plane that was located at the gate next to his aircraft. The caption read "thanks for the 100f of ramp access Silver Airways" with a smiley face. I showed this picture to [redacted] who said it was the picture and text she had seen. I showed it to the pilot who like me was not concerned in any way by the photo. [redacted] stated he thought there was a safety violation on the ramp with the aircraft and was simply taking a picture of it to report in the future to Spirit.

After speaking with the pilot and providing him with all the information received during my investigation, he informed me that he was waiting to hear back from his corporate security. After a few minutes he allowed [redacted] to board the aircraft and informed me that he would be putting him in a different seat. After a delay of about one and a half hours total, the plane departed with all passengers onboard.
This is beyond ridiculous. First of all, below is the picture in question (clearly referring to his excitement over being on the ramp and so close to planes while boarding, which I think all aviation geeks can appreciate).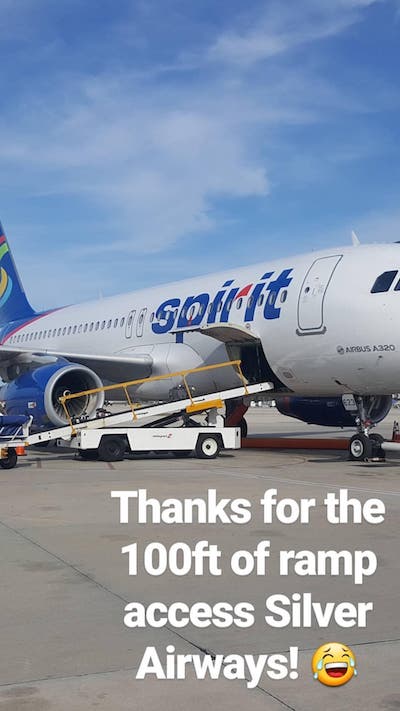 Both Silver Airways and the police were completely out of line here, in my opinion.
So the passenger who witnessed something that she thought was suspicious in fact saw completely wrong, yet somehow what she said was taken at face value and the police was called immediately, rather than having the flight attendant first try to handle the situation? Let's keep in mind what the lady's claim here was. It's not that she claims she saw him writing anything incriminating, but rather she saw something with "100 feet and alarms?" Huh?!?
If the other passenger was uncomfortable, they should have given her the option of getting off the plane.
This is beyond ridiculous. It's bad enough to call the cops based on another passenger claiming they saw something incriminating (since there's a good chance they saw wrong), but to call the cops based on something you saw incorrectly that isn't even incriminating? Really? And to put the seat number of the passenger in the window as if you're dealing with a hostage situation, or something? C'mon!
Then there are several issues with the police. Matt (the 16 year old passenger who was interrogated):
Gave the police officer and only the police officer permission to see his phone. The police officer then asked if he could show the captain the picture, which Matt agreed to. Matt only consented for the police officer to show the captain the phone, but the police report indicates that it was shown to the woman who accused him of all of this as well. Is that legal?
Has no clue what the officer means regarding him taking the picture so he could report it to Spirit; rather like any aviation geek he just took it because he was excited to be so close to a plane
The worst part is how Silver Airways is handling this after the fact, though. At no point on the flight did they apologize in any way. Matt sent them an email, but they haven't responded. I emailed Silver Airways' PR, and they haven't responded to my inquiry. They did, however, respond to a local news station in Fort Myers, where they issued the following statement:
"The safety and security of everyone on board our flights is our number one priority. As such, our crew members are trained to take any necessary precautionary measures to protect the safety and security of everyone on board our flights. When a passenger reported a possible security threat, they advised our crew who in turn followed the proper safety and security procedures and called law enforcement. The situation was resolved and the flight continued."
The airline is so arrogant that they won't even pretend that they're launching an investigation.
Silver Airways, if your security procedure was followed in this incident, it's time you revise your procedure. When someone reports something that isn't even incriminating if accurate, you call the cops?
I can't say I had strong feelings about Silver Airways prior to this incident, though it's pretty clear they don't run an especially professional operation, and I certainly have an unfavorable view of them now.
Matt deserves an apology or at least some acknowledgement from the airline, but he hasn't even gotten that.
Silver Airways doesn't seem to do much on social media, though if you think they're handling this unprofessionally, let them know on their Facebook page. They have some pictures of their planes on there, which seems like a serious security threat to me. Maybe we should let them know so that they can interrogate the people who took those pictures for 90 minutes as well?