16 year old reader Matt reached out regarding an incident that occurred to him on a Silver Airways flight from Fort Myers to Orlando, which I find to be really shocking. For those of you not familiar, Silver Airways is a small regional US airline operating a fleet of turboprops, primarily in Florida and the Caribbean.
Long story short, Matt took a few pictures on the plane that he posted to Snapchat (he's an aviation geek and private pilot), another passenger found it suspicious, and the cops were called. Here's the picture he took: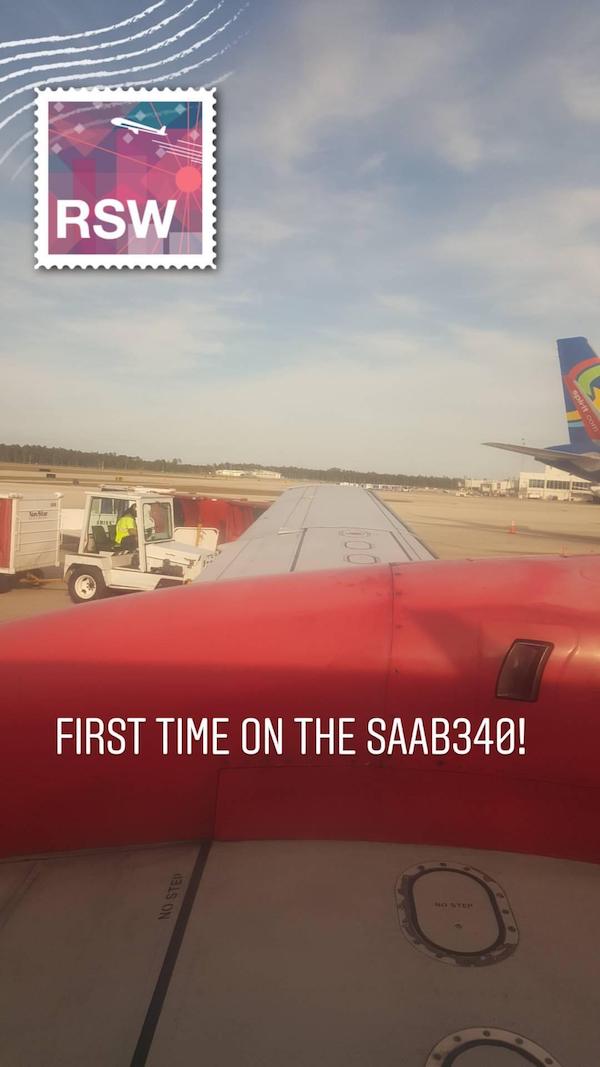 Matt reached out to Silver Airways though hasn't heard back yet. It's a long letter, so first let me summarize best I can, and then I'll share his correspondence with them:
Matt (16 years old) was flying with his sister (21 years old) to visit their grandmother who was having cancer surgery
Matt took three pictures with his phone, including one of the exterior of the plane, and one of the wing once on the plane
The engines started as usual, and then they stood on the tarmac for about 15 minutes; he called his mom (in Polish) to say there would be a delay, and the flight attendant walked through the aisle
At that point two police cars drove up to the aircraft and the door to the plane was opened; the police officers boarded the plane and came to his seat, and ordered him to get up immediately and exit the aircraft
The cops said "What's going on today?" and "You know why you're here, so tell us?"
The cops said they got a call saying there was a "dangerous person" onboard, and they took his ID and guided him to a K9 vehicle
The crew refused to let his sister exit the plane
After the police heard the sister was on the plane, they demanded they let her off (since he's a minor); while she was allowed to get off the plane, they wouldn't let her stand anywhere near him, and they were separated and given no information, since he was being treated as a "dangerous person"
For the next 45 minutes they searched his phone, messages, email, social media, etc.
After that much questioning, the crew yelled for him to get back on the plane so he doesn't "hold up the plane even more"
The flight attendant shouted "you sit here now," so Matt and his sister had to sit in the first row within sight of the flight attendant for the entire flight
Here are some further pictures he shared of the incident: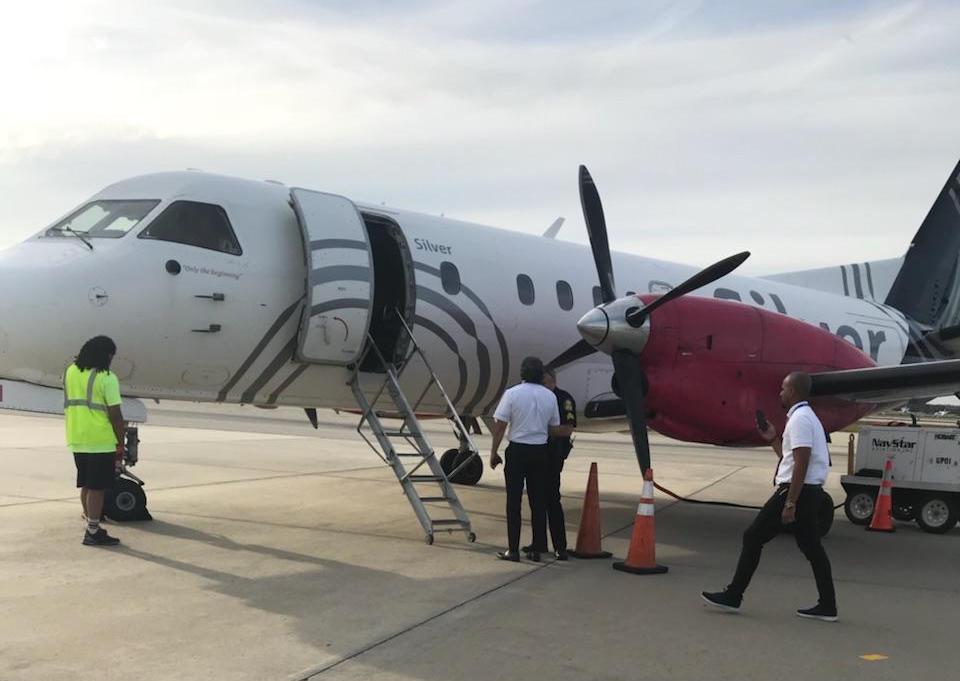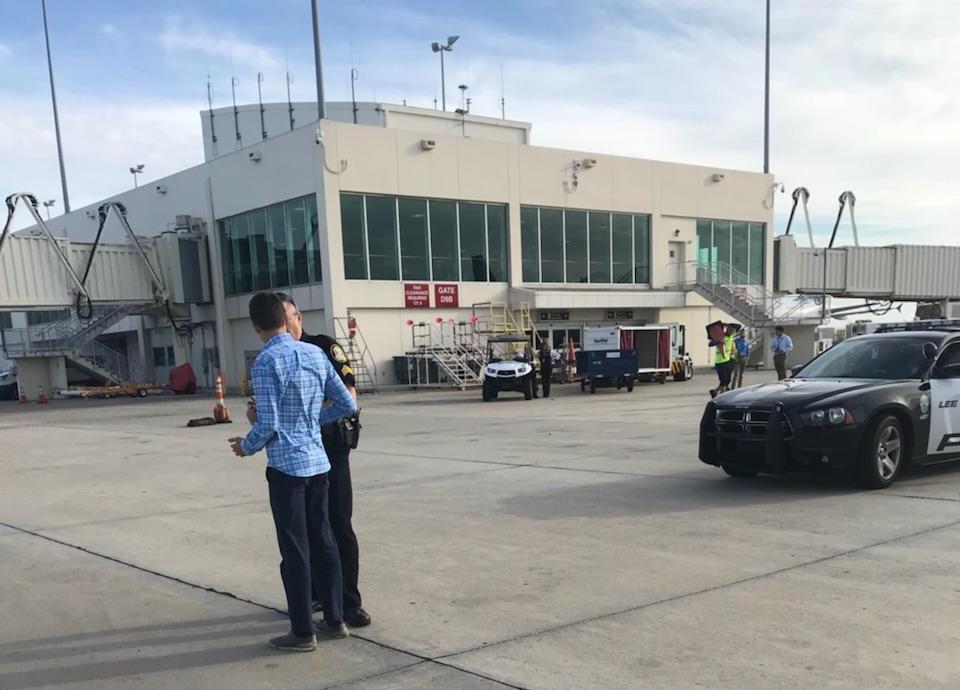 I should of course add that this is only one side of the story, so I'll be reaching out to the airline to see if they have a statement. Matt has contacted them but hasn't heard back.
Matt says he's of course traumatized and embarrassed by this situation. I don't think that's an exaggeration at all. I recently had a situation where a Lufthansa purser (incorrectly) accused me of recording the crew and they stopped the safety demo to confront me, and I was embarrassed. I can't imagine how humiliating it is to have the cops called, to be questioned for 45 minutes (and delay the other passengers in the process), and then to be forced back on the plane facing the flight attendant the entire time.
I can appreciate that the number one priority for an airline crew is the safety of the passengers onboard, and that can be a tough balance. I feel like it hasn't been as bad lately, but a year or two back, there was a story just about every week of Muslims getting kicked off US airlines because other passengers thought they were suspicious. In a vast majority of those cases, the passengers were just being racist, and the only "crime" being committed was "flying while Muslim."
In this case let's assume that the lady who reported him was in fact scared. Unless the crew had a reason to believe he was doing something dangerous or suspicious (taking pictures on planes is not suspicious), they should have given her the option of getting off the plane, rather than doing this to him.
I hope that Silver Airways opens an investigation into what happened here, because crews can't be allowed to have these kinds of power trips.
Here's the full letter that Matt sent to Silver Airways:
I am writing to the Guest Relations Department in regards to a horrific and traumatizing experience aboard Silver Airways 087 Fort Myers (RSW) to Orlando (MCO) on March 7, 2018. This flight not only ranked as one of the most embarrassing moments of my life thus far, but left my sister and I feeling victimized and violated on all spectrums.

Some background information on the flight: The trip booked was a flight from Fort Myers (RSW) to Newark (EWR) with a connecting flight in Orlando (MCO), JetBlue being the airline taking me to my final destination. I had to fly to New York as soon as possible due to my Grandmothers impending cancer surgery. The only reason I flew Silver Airways was because I was referred to your airline by JetBlue. Luckily, the day before my departure, I saw that the Silver Airways flight had me connecting to what was one of only a handful of flights not cancelled from the Southeast to New York due to Winter Storm Quinn. All I wanted was for a smooth flight that could get me to my destination on time, realizing it was my only option to get to New York that entire weekend.

I will begin by summarizing the events that occurred on my flight:

I arrived at the airport on time, went through security, and sat at the gate waiting for the hour delayed departure of my aircraft. While boarding the aircraft and upon sitting in my seat, I took three pictures with my phone of the plane wing and also of the ramp when walking to the plane.

I am 16 years old and was traveling with my 21 year old sister. I am also a pilot—I truly enjoy flying, especially planes I had never flown before. It would be a lie to say that I wasn't excited to be flying the SAAB 340 for the first time that day, so naturally I took a few pictures onboard the plane, as any tourist, business traveler, etc. can and does.

Once aboard the plane, we had normal departure announcements, the engines started, and we then stood on the tarmac for about 15 minutes. I called my mom (as did several other passengers around me) to update her on our flight status and of a possible subsequent delay. I was speaking in her native language, Polish. I noticed the flight attendant, Adrian, pacing the aisles a few times but did not think too much into it until the moment the engines stopped and the captain stated over the intercom that there would be a "maximum 5 minute delay" due to runway traffic. I couldn't help but notice that two police cars sped up to the aircraft and the door to the plane was opened. Two police officers boarded the airplane and went to my seat. They ordered me to get up immediately and to exit the aircraft. The amount of confusion I experienced at that moment was indescribable. I am not the type of person to give up my rights as a citizen of the United States by getting up to disembark an aircraft for no reason or have my person searched with no probable cause, however, I was so fearful of getting kicked off the only flight that would allow me to make my connection. I simply had to see my Grandmother before her surgery so the risk was far too great to hold on to my rights and possibly have the plane leave without me. I got up and disembarked. All the passengers were looking at me in horror as if I was about to hurt them. I stepped off the plane and was immediately asked "What's going on today? You know why you're here, so tell us?" I was in so much shock and simply told them I hadn't the slightest idea why I was pulled off the plane. I asked them what the reason was I was pulled off the airplane and they said themselves that they had little information and only got a call from the airline saying there was a "dangerous person" onboard. They took my IDs and guided me to a K9 vehicle where there was a dog barking and snarling at me. The last thing I heard when being led away from the plane was my sister, who is 21, trying to get off after me and several male voices yelling at her to sit down immediately.

After talking with her, she said she was terrified as to why her little brother was just taken off and no one was willing enough to provide an explanation. She got up to see what was wrong and to be with me, but your Flight Attendant, Adrian, shouted at her to sit down immediately. He had no interest in being polite or explaining the situation, rather forced her back to her seat. The captain, David, then came out of the cockpit shouting for her to sit down. Instead of explaining the situation or calmly directing her, together they used intimidation tactics to force her to her seat, where she could only watch me out her window standing next to three police officers and a barking K9.

When hearing the disturbance caused by your crew, Sergeant Taylor approached the flight crew to ask what was wrong. After hearing that my sister was still in the plane he immediately ordered for the crew to allow her to accompany me, a minor, as she should have in the first place.

Although my sister was initially not allowed to leave the airplane, she was eventually permitted off and was directed to stand with another officer. She was not allowed to talk to me or stand anywhere within 50 feet of my person. For almost an hour, my sister was separated from me and given no information because according to your airline, I was being treated as a "dangerous person" by the police.

For the next 45 minutes I continuously gave up my rights in fear of not getting to my final destination on time. I had officers search through my phone, messages, email, social media, etc. I was given no information and could only sit and wait as Sgt. Taylor attempted to gather information from your unprofessional crew. I stood on the hot tarmac the entire time with a cop who had no idea what was wrong himself.

Sgt. Taylor explained some information to me, however, I was still left extremely confused. I took a picture from my seat of the outside of the plane for a Snapchat to send to my friends as well as my mom—it was a photo letting her know we were on our way to Orlando. Apparently, a female passenger witnessed me taking a single photo on my phone and quietly told the Flight Attendant that I was taking pictures and plotting to do something dangerous aboard the plane. This is all Sgt. Taylor told me. He then said I was able to board the aircraft. I, of course, not only remained confused but was in even more shock. In fact, I was angry that I underwent such a traumatic and life altering experience because of a single innocent picture, despite other passengers who were also on their phones taking pictures or calling relatives. Before I could ask another question, your ground crew members began shouting for me to get onboard as to not "hold up the plane even more". Feeling pressured and in fear of the plane departing without me, I boarded the plane. The flight attendant shouted only four words at my sister and me, "You sit here now". We were no longer allowed to sit in the seats I specifically called ahead to sit in, but now were required to sit together in the front row. This was obviously some kind of intimidation tactic by the airline as we were inches apart from the flight attendant who did not take an eye off of us the entire hour long flight. Additionally, it was hard not to notice all the passengers looking at my sister and I shaking their heads and making crude comments that some delinquent teenagers are going to make them miss their connections.

Upon landing, I asked Adrian for his name as well as the name of Captain David. I also asked for a case number of some sort or anything that would allow me to reference the events that had occurred, however, he only shook his head saying he had no information and couldn't give me anything.

I am at a loss of words. The effort it took to write this letter recalling the traumatic events took an enormous strain on my emotional wellbeing. Silver Airways made me feel like a criminal. I came into the airport excited to fly to see my Grandma but went out feeling discriminated, victimized, and violated as a human being.

It has been over a week since my flight and I have not received any communication from Silver Airways. No Report. No explanation. No Apology.

I am 16 years old and was using my phone to take a picture. I am 16 years old and an older women had both the audacity and ability to report me as a "dangerous person". I am 16 years old and your crew was willing to accept her claim without hesitation and enable me to be dragged of an aircraft.

While I am still unsure about the exact details of the event since Silver Airways shows no desire to offer clarity, I am however, fully aware of the cruelty displayed by your crew. All ethical guidelines possible were ignored by your crew.

I was subjected to extreme discrimination by your crew and the passenger in question. It is clearly evident that the women in question as well as your crew overheard me speaking a foreign language to my Mom. I was immediately profiled and discriminated upon for speaking another language. Adrian continued to stare at me the entire time before the police came.

I realize that your airline must have policy regarding disturbances on aircrafts. But please, explain to me, is it ethical to take the side of a single passenger and call the police on another?

Does this mean that I can board a plane and report someone as dangerous just because I don't like the way they look or the language they speak?

I did not cause a disturbance. I was not dangerous (as concluded by the police and finally by your crew who let my sister and I re-board). As stated, I am a 16 year old teenager who was patiently waiting to depart, as everyone else.

Adrian displayed unprofessionalism at its finest. He listened to the quiet complaint of the women and did not question me. He did not approach me to ask what I was doing. He did not tell me not to take any pictures. Adrian chose to forward the women's comments [that I was dangerous] to the Captain.

I hold no complaint against the police and their actions. How else were they supposed to respond? How else were they supposed to act when they received a single call from your airline saying I was a "dangerous" person?

When the police approached me, images of a bloody doctor being dragged off a plane raced through my head. They said 'never again' yet it was all happening to me. I was discriminated and victimized by your crew.

As a result of your crew and the false accusations, I was taken off the plane. I was taken to a snarling K9. I was separated from my sister. More notably, I was stripped of my rights.

For those 45 minutes, I underwent such trauma that my sister and I were shaking throughout the remainder of the flight. I was horrified.

I don't know why an airline would allow another passenger to cause harm to another. I don't know why an airline would allow employees to call the police on a teenager for taking a Snapchat photo.

Silver Airways, I cannot change the languages I speak. I cannot change my age.

I do not know why I had to endure the pain your airline caused me.

I might as well have had handcuffs put on me when going back onto the plane. My seats were changed and I had to be monitored by your flight attendant the entire flight.

There was no announcement to the other passengers clarifying of the unfortunate miscommunication. I left the plane with police like a criminal and boarded the plane again like a criminal.

Not a single one of the crew members said a thing to me besides your ground crew telling me to get back on and to not hold up the plane. No one apologized. Did Silver Airways think that they could cause so much trauma and leave with no words said? Did your airline hope that I would leave, victimized, silently?

Silver Airways why do you discriminate?

Why do you criminalize teenagers?

Why do you terrorize your passengers?