As I wrote about earlier, I'm very excited to be headed to Jakarta soon in Garuda Indonesia first class, thanks to an incredible fare sale they have at the moment.
Call me crazy, but when I thought of visiting Jakarta, the first thing that came to mind was getting a police escort from the airport to the city. Some of you may remember that early last year I wrote about how you can hire a police convoy in Jakarta for a fairly reasonable price. Traffic in Jakarta is apparently among the worst in the world, though this is a way to greatly reduce travel time.
The service is offered by a guy named Eric, who describes it as follows:
We arrange police outrider escorts in Jakarta for airport transfers or journeys around the city. This service is for very important foreign business visitors. It is safe, status and productivity enhancing, and extremely practical. It will halve the journey times between meetings.

1 or 2 motorbikes are provided for this Police Licensed service allowing them access & parking where they need, including VIP spots at the airport and at hotel lobbies.

Our driver has been trained by this group in fast and safe convoy driving techniques. The vehicle used is deliberately unobtrusive, but is new and has been retrofitted with sirens, radio scanners and USA Whelen Engineering emergency lights. If a special vehicle is required it will be added to the convoy as the second car.

The benefits of a Police Escort in Jakarta are 1. journey time in normal traffic is halved: 2. you will make more meetings and still catch your flight; 3. your car may park and wait in the VIP hotel / office and VIP Airport parking bays; 4. your status in eyes of local partners is raised; and 5. the police remain in contact with their HQ to adjust routes in the event of traffic or security concerns.
In case you're skeptical, here are a couple of videos of what it's like to drive with Eric:
https://www.youtube.com/watch?v=35NMKej5uuc
https://www.youtube.com/watch?v=WqGsHJsBpHc&app=desktop
On one hand I feel like I can't go to Jakarta and not try this. At the same time, the "issue" is that I'm flying Garuda Indonesia first class, which comes with a complimentary airport transfer.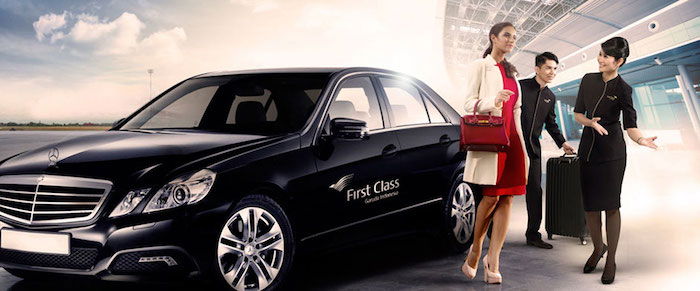 The cost isn't just the incremental difference between the cost of a normal chauffeur service and this premium one, but rather just the entire cost of this transfer, since it would otherwise be included.
Furthermore, it seems like the price of this service has gone up since last year. Last year there were reports suggesting that the service cost $199 one-way.
So, how much is this service now? I just emailed Eric (the guy who provides it), and got the following response:
This starts from a special VIP parking zone at the airport to an office or hotel, or the other way round. This VIP airport transfer is for important foreign visitors on a tight schedule or meeting important local clients or government officials. We use a specially equipped vehicle with US engineered sirens, security lights and radio scanners. It is escorted all the way by one or two Police Motorbikes who have trained the driver in convoy driving. The transfer between Airport and CBD is very fast with two outriders, even at busy rush hour times.. The service can also be arranged for "as directed" or "at disposal" services around town. A brochure is available on request. 2 minute video clip: https://m.youtube.com/watch?v=WqGsHJsBpHc

Cost of airport transfer in a special Custom MPV:

with one police outrider USD249 per way
with two police outriders USD298 per way
On one hand that's a lot of money, on the other hand if it does in fact cut the travel time in half (I've heard the transfer can take two hours otherwise), and if it's a memorable experience, maybe it's worth it as a one time thing? To me this would be much more exciting than splurging on a Bentley transfer, or something.
I'm really torn here, because I've been telling myself I'll be doing this when I visit Jakarta, but the increased cost and the fact that I get a free transfer anyway are making me second guess myself.
What do you guys think?