Update: US officials are claiming (on the condition of anonymity) that Iranian missiles are responsible, and Iran even admitted it now.
My gosh, this is devastating news…
UIA 737 crashes after takeoff in Iran
A Ukraine International Airlines Boeing 737-800 crashed early this morning, shortly after takeoff from Tehran's Imam Khomeini International Airport, while bound for Kiev, Ukraine.
We are following reports that a Ukrainian 737-800 has crashed shortly after takeoff from Tehran. #PS752 departed Tehran at 02:42UTC. Last ADS-B data received at 02:44UTC. https://t.co/qXWHUPGDTu pic.twitter.com/vuAi6TOqTp

— Flightradar24 (@flightradar24) January 8, 2020
The flight was operated by a three year old Boeing 737-800, with the registration code UR-PSR. Before anyone gets confused, the 737-800 is different than the 737 MAX. The -800 has been flying safely for many years, and is incredibly popular with airlines.
As of now details are limited, though we know that the plane crashed after takeoff. The ADS-B data from the flight shows a normal rate of climb and stable speeds, and then suddenly data stops as the plane climbs through about 8,000 feet or so.
The plane had about 180 passengers onboard (there are conflicting numbers), and Iran's state media is reporting that there are no survivors.
A BBC Iran affairs correspondent claims that this is a video of the plane on fire:
#Breaking First footage of the Ukrainian airplane while on fire falling near #Tehran pic.twitter.com/kGxnBb7f1q

— Ali Hashem علي هاشم (@alihashem_tv) January 8, 2020
And these are reportedly pictures of the crash site, where not much seems to be left:
Pictures of what's left of the Ukrainian plane's wreckage, nothing much, according to Iranian media it's very unlikely that anyone survived pic.twitter.com/4p81eRfJRW

— Ali Hashem علي هاشم (@alihashem_tv) January 8, 2020
This is all unverified as of now…
What the Iran angle means for all of this
I'm sure I'm not the only one who immediately wondered if there might be more to the story when I first heard about it, given what's going on in Iran at the moment. With the recent death of Qassem Soleimani, and with this coming just hours after Iran has taken action against US military bases in Iraq, the timing sure makes you wonder.
Iran's state media has immediately claimed that the plane crashed due to technical fault, which seems like quite a conclusion for them to draw so quickly. They are also saying that they're going to be holding onto the black box for now.
It's one thing if the plane had problems the second it took off, though at least the data so far shows a normal climb profile through about 8,000 feet and then suddenly stops, which does't immediately suggest beyond a reasonable doubt that this was a technical fault (heck, it's always too early to make a claim like that so quickly).
What complicates this significantly is that typically Boeing and NTSB representatives would immediately go to the crash site to assist with an investigation (this is a US-manufactured Boeing aircraft), though given relations between the US and Iran at the moment, one has to wonder if that will happen.
If it doesn't happen, that sure would be unfortunate, because the one positive to come of aviation disasters is that each of them makes the industry safer, as something can be learned from each mistake.
I certainly hope this isn't one of those accidents we don't learn anything from, due to the party controlling the information and narrative.
For what it's worth, in their Tweet about the incident, Boeing said that they are in contact with their "airline customer and stand by them in this difficult time," and said that they're "ready to assist in any way needed." This certainly suggests a more passive approach than with past incidents, which isn't too surprising given the complications.
This is a tragic event and our heartfelt thoughts are with the crew, passengers, and their families. We are in contact with our airline customer and stand by them in this difficult time. We are ready to assist in any way needed. pic.twitter.com/TsTlyY34Vd

— The Boeing Company (@Boeing) January 8, 2020
UIA cancels all flights to Tehran
Ukraine International Airlines has closed all reservations on their Tehran route effective immediately, meaning that they're cutting the route. It's very unusual for an airline to do this after an accident, so you can make of that what you'd like. Other airlines have also followed their lead.
Bottom line
First and foremost this is absolutely tragic, and my thoughts are with the families and friends of those onboard. We take airline safety more or less for granted, because it has become so safe, statistically.
So whenever something like this happens it's just gut-wrenching.
I've flown UIA a few times (including on the 737-800), and they have a great safety record nowadays, as they've worked hard to modernize their fleet. The 737-800 I flew from Baku to Kiev a few years ago had the registration code UR-PSS, and it was the plane delivered immediately after the one that crashed today.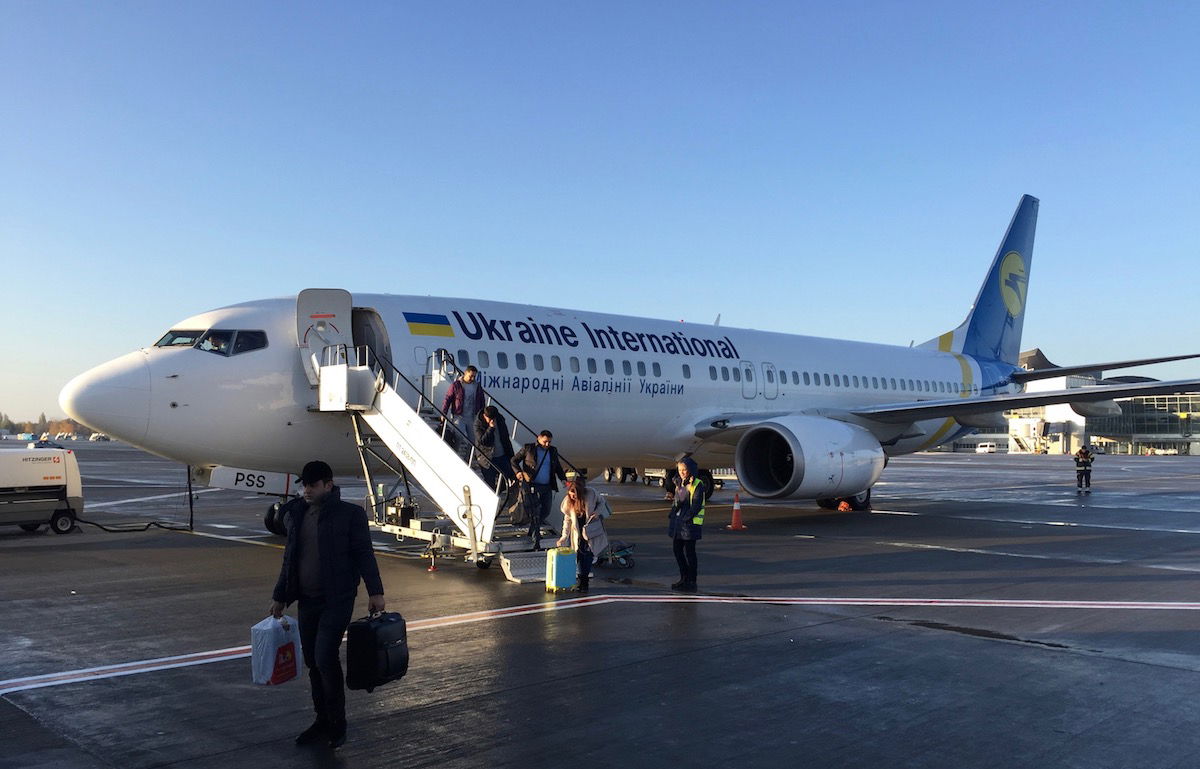 Something tells me this is going to be a really tough investigation, in terms of cooperation between authorities, and in terms of the sources from which we'll get information.
It's too early to know what happened, and in particular it seems too early for Iran to be claiming that the crash was due to a technical fault. The timing of this is obviously incredibly strange and suspicious, but coincidences do happen.