The Park Hyatt New York is arguably the most anticipated hotel opening of the year. While New York has a lot of luxury hotels, in my experience a vast majority of them are "old world" and past their prime. So having a new, modern, luxurious hotel is exciting!
The hotel went on sale earlier this year for stays starting August 28, 2014, though they've now updated that to accept reservations for arrivals from August 12, 2014 and beyond.
The Park Hyatt New York is slated to have just 210 rooms, in keeping with the more "boutique" feel of the brand, and 92 of those will be suites, which is a very high proportion. So not only is it a small hotel to begin with, but almost half of the rooms are suites.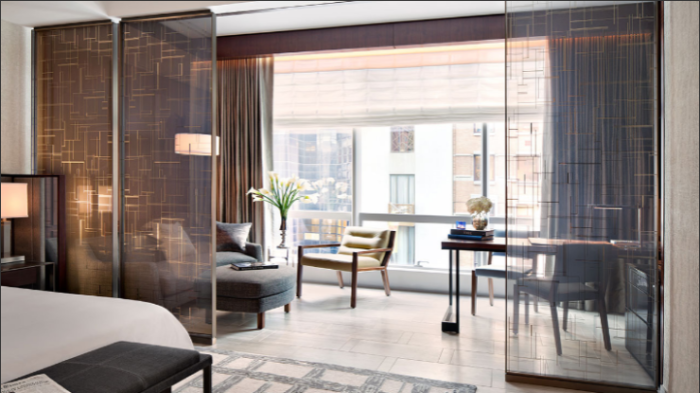 Park Hyatt New York room concept
Historically Hyatt Gold Passport doesn't have blackout dates for free night stays. As long as a standard room is available, you can redeem points for it. This benefit can be costly for the loyalty program to fulfill when the economy is good and when hotels are otherwise full, since award guests are in many cases displacing guests that would otherwise be willing to pay cash.
What's interesting is that the Park Hyatt New York doesn't have any standard rooms loaded in their system through the end of 2015, meaning you can't pay for a standard room with either points or cash.
TravelSort spoke to Hyatt, and it seems to not be a bug:
As you can imagine with our new opening there is very high demand, in particular from our most loyal Gold Passport members redeeming both awards and points. We have a limited inventory of the standard king and double room types and they have been booking very quickly and into the future since we began accepting reservations in February. I have looked into the availability for the remainder of 2014 and unfortunately this is not a glitch we are fully committed on all of the standard Park rooms.
I can kind of see all perspectives here. If all standard rooms were available for award redemptions, chances are this hotel would be mostly occupied by guests on Gold Passport awards, and that would be disproportionately expensive for Hyatt Gold Passport, as they'd be compensating the hotel at the average daily rate for those award redemptions — that's potentially about three cents per point. Long term it's not an issue, but short term with the amount of buzz around the hotel, I can see that being a challenge.
Technically no one is breaking any terms here. Since the hotel isn't selling standard rooms, there's no obligation for them to release award nights. Though it sure seems like part of the reason the hotel isn't releasing rooms is because they don't want them to all be booked on awards.
Here's to hoping the hotel is just having pre-opening jitters. I'm guessing that's the case, and that within a few weeks they'll make standard rooms available. It's an interesting development, in the meantime.
(Tip of the hat to TravelSort)