Japan's third largest airport after Tokyo Haneda and Tokyo Narita is Osaka Kansai. This is Osaka's main international airport. There is also a smaller secondary airport in Osaka, Itami, which handles domestic flights.
If you have ever flown into, out of, or over Kansai Airport you will remember its unique location — the airport is a man-made island off the coast of Japan.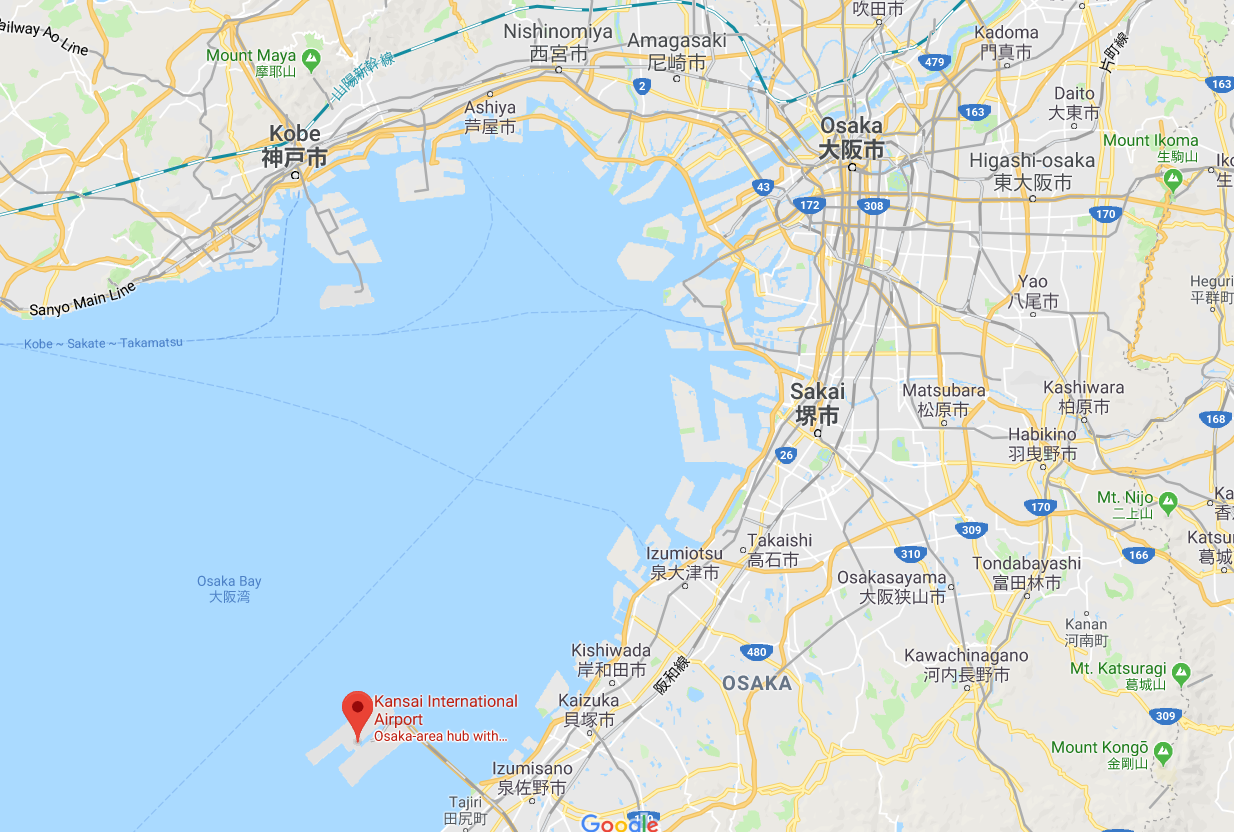 While this is a clever way to build a large airport in an area where there is insufficient space on the mainland, it does bring with it some serious risks, especially in a typhoon prone region.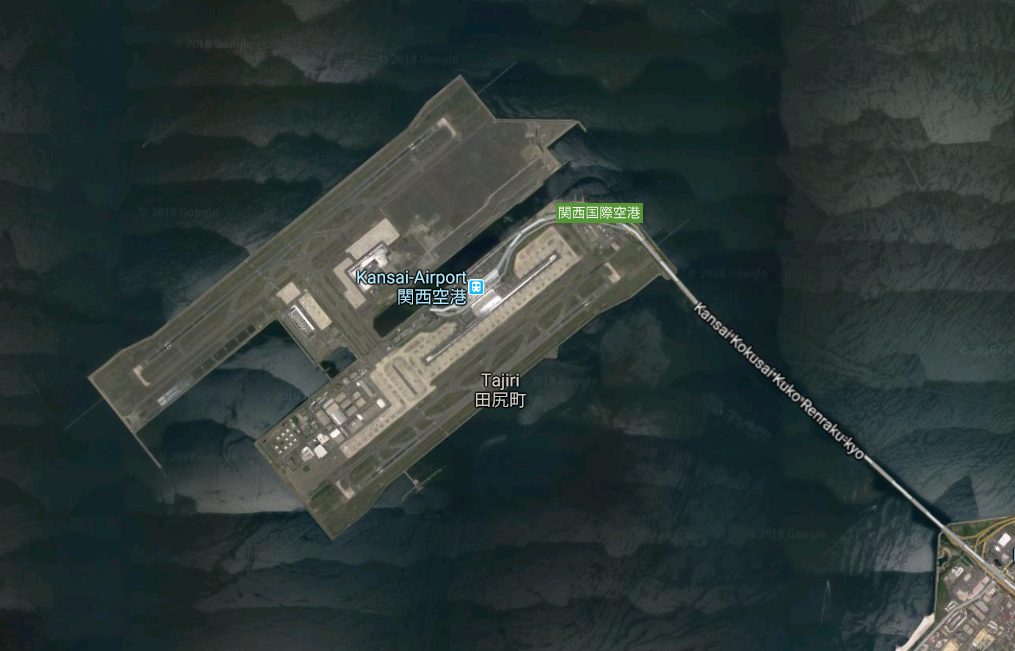 On Tuesday afternoon (Japan time), Typhoon Jebi hit the region, battering the airport island with strong winds, and high waves.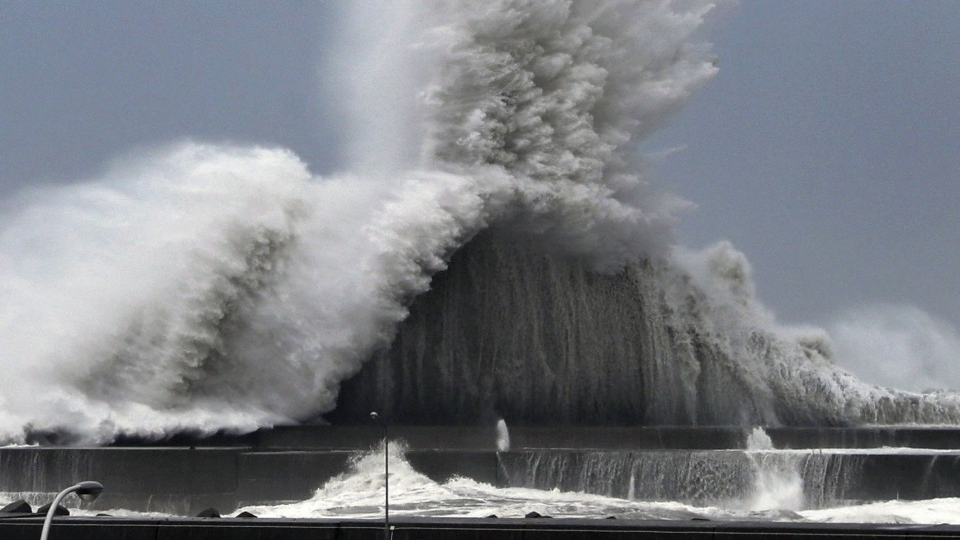 Both Kansai runways were flooded, as well as the basement floor of a terminal building.
【#台風21号 】関西国際空港では、滑走路やターミナル周辺が高潮で冠水し、利用客らが取り残されています。空港では最大瞬間風速が観測史上最大の58.1メートルを記録しました。#関空https://t.co/NSC9EevBEN pic.twitter.com/yfT5FvitZR

— 毎日新聞写真部 (@mainichiphoto) September 4, 2018
Perhaps even more seriously, the 3.7km sole bridge linking the airport to the mainland was severely damaged when a tanker ship anchored in Osaka Bay, the 2,591-ton 'Houn Maru,' was swept into the bridge. Fortunately no one was injured, but both the bridge and tanker were severely damaged.
Check out this crazy footage of the bridge linking the airport with the mainland:
https://twitter.com/NHKWORLD_News/status/1036873267649236992
This will have a serious impact on transportation to the airport, when the airport does eventually reopen.
Coincidentally today was the 24th birthday of the airport opening. Fortunately, no staff or passengers at the airport have been seriously injured.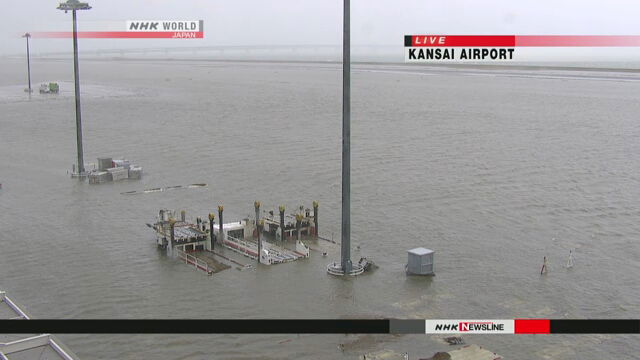 Osaka Kansai Airport on 4 September (Source: NHK)
Bottom line
Visiting Japan in September does bring with it the risk of typhoons disrupting travel plans. I was in Ishigaki, which is a tiny island Southwest of the main Japan islands in September a few years ago and had to leave early, because a typhoon was approaching the island. ANA sent additional planes to evacuate those people on Ishigaki.
It was a frightening experience, as we could see the winds rapidly increasing as we drove to the airport, but we got out to Tokyo okay.
The closing of Kansai Airport will have flow on effects at other airports as well. Presumably there are a number of aircraft 'stuck' at Kansai right now (you can see several ANA planes still at their gates in the image above), which may have been operating flights to say Tokyo, and then on to other Japanese or Asian destinations. JAL and ANA both operate substantial hubs here, and will be scrambling to find planes to operate those flights not touching Kansai that would have been operated by the aircraft 'stuck' there to avoid cancelling more flights than necessary.
If you are on any ANA or JAL flight this week I would check your booking to see if it has changed, regardless of whether it involves Kansai. If you are affected you should be rebooked onto another service but note until Kansai opens again it may be impossible for the airline to determine an alternate service that will actually operate.
If calling, be patient as wait times will be substantial.
Are you traveling to or from Japan this week?