Now here's something I'm happy to see, as someone who has (unofficially) ordered Ubers for others on many occasions. In the past it was sort of annoying to order Ubers for others, since there was no official way to do so. For example, I've ordered an Uber to pick my mom up at the airport, but then I'd be on the phone with her telling her exactly how far away the driver is, reminding her of the license plate, etc. Now Uber finally has a solution to this.
Uber has now rolled out the functionality to request a ride for a friend or loved one in over 30 countries, with more to come soon. Just make sure you have the latest version of the Uber app so you have access to this new feature. Here's how Uber describes the new functionality:
Now, when you set the pickup away from your current location, we'll automatically ask whether the ride is for a family member or friend. You can then select the rider from your address book, set their destination, and request the ride on their behalf.

Once the driver is on the way, the rider will receive a text message with the driver's details and a link to track the driver's route. They'll even be able to contact the driver directly. The driver will see the rider's name, and be able to contact the rider directly, too.

We're committed to providing safe, reliable transportation options for everyone in the family. So no matter where your loved ones need to be – and where you are located – a safe, reliable ride is just a few taps away.
Here's a gif showing how you can go about requesting a ride for someone else: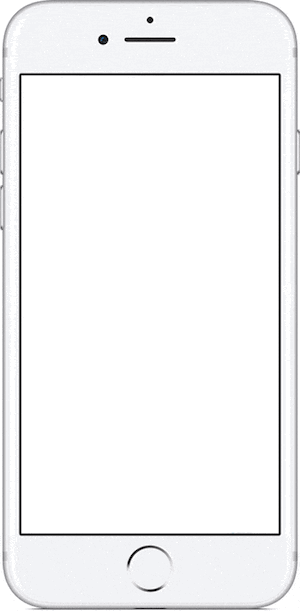 And here's the text that the rider will receive: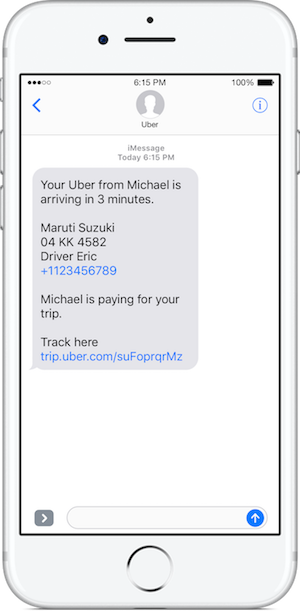 Uber seems to be suggesting that this is most useful for seniors, especially those who have limited ways of getting around otherwise:
Saroj, aged 79 lives in Pune, India. She can't drive herself or use the bus, and doesn't own a smartphone, leaving her transportation options limited. Her grandson, Yash, concerned about her mobility, has been looking for solutions to get Saroj to appointments and errands, so she has the freedom to move around without him being there.

Saroj's and Yash's situation is similar to what we heard in research. Seniors are concerned about losing their mobility as they age, and their loved ones can feel overwhelmed when managing the senior's transportation needs. Furthermore, today nearly 10% of the global population consists of people aged 65 and over and that number is only expected to increase. Keeping these insights top of mind, we've been thinking about ways to make our app more accessible to everyone in the family.

We're excited to share that we're offering a feature so you can easily request a ride for your loved ones right from your Uber app.
It's a story I can very much relate to, as my dad doesn't have a cell phone, doesn't use the internet, etc., and being able to order Ubers for him would make my life so much easier. Unfortunately it seems my dad is even less connected to the world than just about everyone else. You can use this new functionality if you don't have a smartphone, but not if you don't have a cell phone, so he's still out of luck.
Still, I'm a huge fan of this new concept.
Have you ever ordered an Uber for someone else, and if so, are you happy to see this new feature?
(Tip of the hat to Rene's Points)