About two years ago I wrote about Bob Reardon, the world's oldest ever flight attendant. He had worked for Delta (and previously Northwest) for 63 years. He was 90 years old, and was forced to retire, against his own will. It seems he didn't go out without a fight, as his last seven months were a "stressful and unfortunate" ordeal, according to his friends.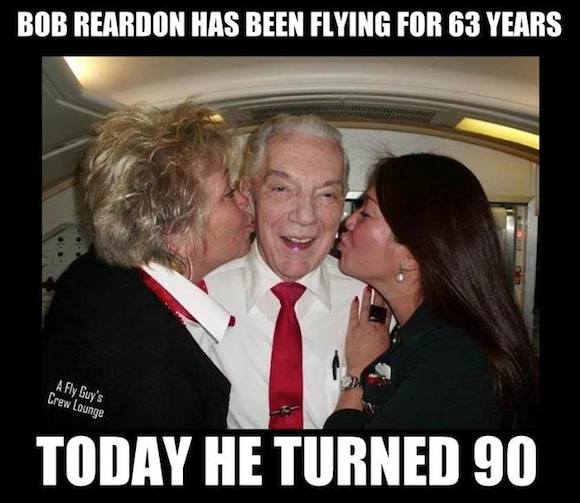 Well, unfortunately Bob Reardon passed away last week, at the age of 92. The StarTribune has a great rundown of his career, and about how he embraced the "glory days" of the industry, even in recent times:
Passengers stopped wearing suits and fine dresses, but Reardon continued carrying his polished James Bond-style briefcase. He changed his shirts midflight — sometimes more than once — so that he always would be seen in a crisp, clean button-up.

"Before every trip, he got his hair cut and his suit cleaned and pressed," said Bruce Retrum, a fellow flight attendant and friend. "He was just an elegant guy — a consummate professional."

Reardon's devotion to the airways earned him a record-setting career and two spots in the Guinness World Records 2013 edition — oldest active flight attendant and the ­longest career as a flight attendant. He worked at Northwest ­Airlines and then Delta Air Lines for 62 years and 8 months, before finally retiring at 90.
It sounds like he had a great career, though it's unfortunate that it ended on a sour note between him and the company.
Lastly, to avoid confusion, I'd note that this is different than the "most senior" active flight attendant I recently wrote about. That would be Bette Nash, who has been at American (and previously US Airways) for 57 years, and is 80 years old. She's not the oldest flight attendant in the world, but based on media reports she has the most seniority of any active flight attendant. I hope to fly with her sometime.