In May I wrote about Bob Reardon, the oldest active flight attendant in the world. He had just turned 90, and had been at Delta (and previously Northwest) for 63 years.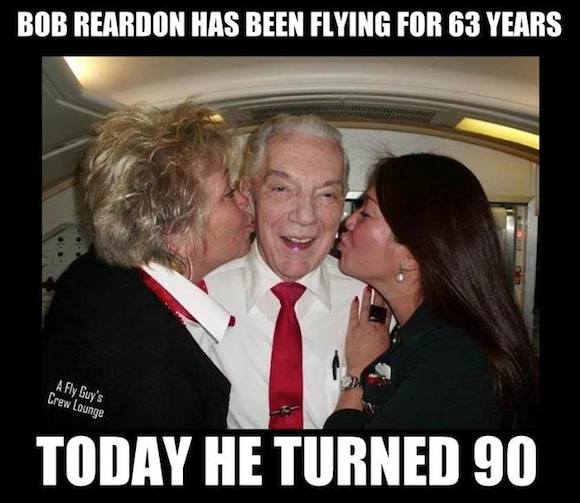 Well, the following update was just posted on Facebook:
Dear Colleagues, Friends and Family of Robert "Bob" Reardon,

Yesterday, the Company announced the retirement of Robert Reardon effective August 30,2014. Rather than a date to celebrate, it marks the end of a 62 year, 8 month career marred by a seven-month stressful and unfortunate ordeal. Robert's pending retirement was not of his choosing.

Robert has made it very clear that he does NOT want any "celebrations," "parties," or "events," planned or hosted by the Company. They would be inappropriate and insincere.

Instead, a gathering of friends, family and supporters will be held to honor and reminisce with Robert when he is ready to do so. Please be assured that when decisions are made, you will be advised of the details,with sufficient advance notice so you may plan/bid accordingly.

For now, we have set up a Facebook page so everyone may post messages, stories and pictures acknowledging Robert's career, dabbled with his incredible memory, humor and wit. The world will most likely never have another "Robert-like" icon.

Please understand that Robert needs time to sort out and reflect upon the events preceding his retirement. We invite everyone to share Robert's Facebook page with friends around the globe, as the Company announcement, via email sent yesterday, was addressed only to Minneapolis/St. Paul based flight attendants.

On behalf of "OUR BOB", the current holder of TWO Guinness World Records, thank you for your support on his past journeys and into the future after the end of a life-defining career. As Robert has closed his notes, letters and commentaries thousand times, "Otherwise, all is lovely and serene. As ever, Robert."
Based on this it looks like he's not retiring by choice after a seven month "ordeal." Hmmm.
I'm not sure if we should chip in to plan him a retirement party, or to fix the space bar on the computer of whoever wrote that post…