On Friday I shared the somewhat crazy story of how my plane side bag was simply left on the tarmac in Salt Lake City, and all the drama that followed. The "highlight" of the drama, no doubt, was when a supervisor threatened to call the cops on me for something I didn't do.
To recap
At the end of the last installment I discovered that my bag had been sitting on the tarmac in Salt Lake City all along. The previously hostile but now overly friendly supevisor, P, informed me that my bag would be placed on the next flight to Los Angeles, which was scheduled to land at 3:30PM. Apparently American couldn't check the bag through to my final destination, but rather I'd have to pick it up at baggage claim.
My connection was at 4:45PM, so that could have worked… barely.


My flight


Flight my bag was supposedly on
I headed over to Tom Bradley International Terminal for a tour of the Qantas First Class Lounge, and then at around 3:30PM made my way back to American's terminal, where I found the baggage claim belt for the flight from Salt Lake City that my bag was supposed to be on.
Conflicting information at baggage claim
I got to baggage claim at 3:45PM and got a phone call from a number without a caller ID. "Hi Mr. Schlappig, this is P. I just wanted to see if you got your bag?"
Woah, from being threatened with the cops to receiving a phone call to follow up within hours of one another? Snazzy! I thanked her for following up and explained that I was waiting at the baggage claim belt, and that I was hoping for the best. I confirmed once again that she was sure that my bag would arrive at baggage claim and not be checked through to JFK. She confirmed that was the case.
I had messaged American's Twitter team a bit earlier, and go figure they responded three minutes after P calls me. Except they had a totally different story, also claiming they'd spoken with Salt Lake City.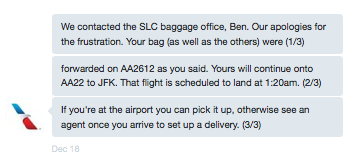 So two completely conflicting stories within minutes of one another. Grrr!
I figured I'd wait at baggage claim as long as possible, but it was taking forever for bags to arrive. And I knew if I waited much longer I'd miss my flight.
At around 4PM the bags still weren't there, and I figured my best bet was just to head to the departures level and try to make my flight to New York, and hope that American on Twitter was right.
Go figure about 10 minutes later I got yet another call from P, who wanted to see if my bag arrived. I explained it hadn't.
Flagship Lounge to the rescue?
At 4:15PM, right as boarding began, I got to the Flagship Lounge. If there's one place at LAX that has excellent service, it's the Flagship Lounge.
I explained the situation to the agent. "I arrived from Salt Lake City on AA5404, where I valet checked my bag. As it turns out they left my bag and the bags of some other passengers on the ramp in Salt Lake City. Apparently my bag is now on AA2612. The agent that initially assisted me claimed it would arrive at baggage claim, while American's Twitter team claimed they contacted Salt Lake City and it's tagged through to my final destination. Do you have any ideas?"
The guy tried his best to help, but ultimately ended up just kind of shrugging his shoulders. He basically explained that since the bag didn't have a tracking number (since it wasn't initially checked), there wasn't anything in his system to indicate the status of the bag. So I was more or less out of luck, and I'd have to file a report at baggage claim upon arrival.
Can an AAngel save the day?
That guy went on break, and another agent showed up. At this point it was 4:20PM — 25 minutes before departure, and 15 minutes before the door was scheduled to close.
Goodness gracious did she do her best! She literally was making multiple phone calls at once for me (one phone per ear). On one phone it was "Hi, this is ___ in the Flagship Lounge. Mr. Schlappig is here and we're just dealing with a baggage issue, so please don't give up his seat. He'll be there before departure."
On the other phone she was calling American Eagle baggage, I believe.
10 minutes before departure she told me to get on my flight, and that she'd keep working on it.
I ran for my departure gate, and as the door was about to close I got a call from her claiming that she confirmed my bag was actually checked and rushed onto AA180, which was the flight I was on. I thanked her profusely, and figured that was correct, since she apparently verified it was rushed and loaded on the flight.
45 minute delay at baggage claim
My flight landed at 1AM, and I figured bags would start coming out within 15-20 minutes at most, given we were the only flight landing around that time. The only airline on which I regularly check bags is Alaska, and they have a 20 minute baggage guarantee, meaning checked bags are at the carousel within 20 minutes of arrival. So it's clear that bringing bags to the carousel could be an efficient process if the airlines wanted it to be, but they just don't care enough to make that happen consistently, I guess.
It took over 45 minutes before the first bag came off the carousel. Crap like this really angers me. Forget my bag, but keeping dozens of people waiting when they've arrived on-time and the airport isn't busy shows a complete lack of respect for the time of your customers. Especially when they're arriving at 1AM.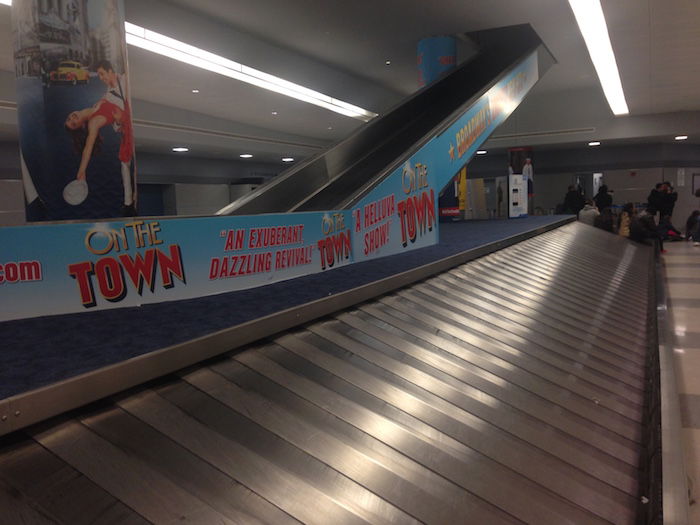 Where's my bag?!?
Eventually the bags from AA180 came, but my bag was nowhere to be found. Ugh!
"Hi, I was on AA180 and my bag didn't arrive. To give a bit of background…"
"Okay, start by filling out this report."
"No, please, hold on. Let me explain. This is a situation where I've literally had three official sources tell me my bag was in three different places over the course of 20 minutes. Before you file a report could you maybe call the baggage offices involved and try to get to the bottom of this? I'm going to Europe tomorrow, and this is literally all the clothes I have."
"You need to file a report."
"Can you maybe call the baggage offices in Los Angeles or Salt Lake City to see if they know anything?"
"No, they're closed."
"It's not even 11PM there, and there are still flights arriving after that time in LA. Are you sure?"
It's so frustrating to feel like you're just not being listened to. She basically made me start a report before she'd talk to me. She sure had great attention to detail…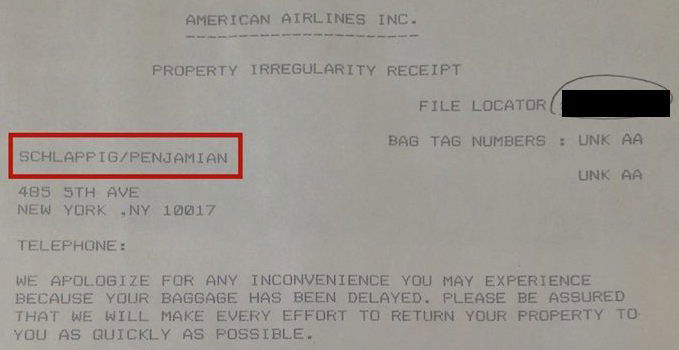 To make a long story short, the bag did end up arriving on AA22, and arrived at the carousel after 3AM. I didn't get the bag till later, though.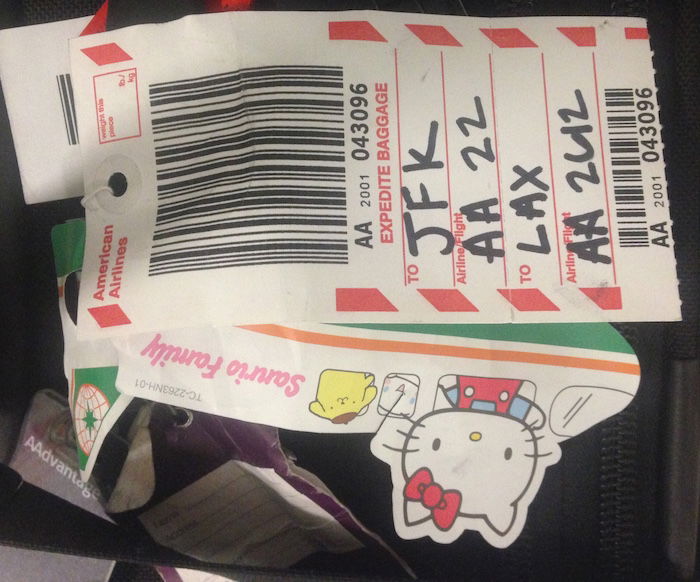 My biggest frustration with this situation
Upon reflection, I've come to finally realize what was so frustrating about this experience. Remember that video I posted a few days back about the world's most senior flight attendant? She shared one lesson which sounds so obvious but is so insightful:
But Bette, as she approaches her birthday on New Year's Eve, says she has found something that seems universal and true.

"People want a little love. And I don't mean a lot of hugging and everything, even though we might do that. But this is the big thing: People need attention. You can't buy love. You can't buy attention. But people need this."

"And it's for free," Bette says. "You can give this to people for free."
Bette is SO F#CKING RIGHT! My frustration wasn't that my bag was misplaced (as ridiculous as it is to just forget about a plane side bag).
Rather, my frustration was with the fact that no one seemed to be willing to listen and actually understand the circumstances. It's not that I wanted attention, per se, I just wanted someone to care. Or to pretend to care. Or to understand that my "situation" wasn't as straightforward as filling out a form, since my bag didn't even have a tracking number. But getting someone to listen to me long enough to understand the issue was a real struggle.
I didn't check my bag on a four segment itinerary with tight connections. Instead, I left a bag plane side, and they just left it on the tarmac. I got official, conflicting information from three different employees within minutes of one another.
And I literally always have my carry-on with me, and was going to Europe the next day, so really couldn't be without it.
It would have just been nice if one person were actually willing to listen to what I had to say, try to find a solution (as in picking up the phone and calling a baggage office in Salt Lake City or Los Angeles to see if they had my bag). Or if someone had actually said "sorry to hear about your situation." But instead I just kind of felt like I was an inconvenience across the board.
Maybe it sounds silly, but sometimes you just want someone to relate to you. A little bit.