Much like many other industries, the hotel industry has been facing increased competition from the "sharing" economy. Specifically, I'm talking about home sharing from services like Airbnb. Last October I wrote about how World of Hyatt and Oasis announced a limited time partnership. This has now been extended in a pretty significant way, as Oasis is essentially being integrated into Hyatt's portfolio.
What is Oasis?
Oasis offers over 2,000 home rentals in more than 20 destinations worldwide.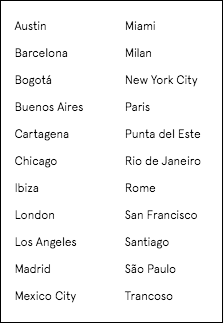 It's only a fraction the size of Airbnb, though what makes them different is that all Oasis properties seem to be luxurious and high end, rather than just offering any random apartment. Furthermore, Oasis is sort of a hybrid between your typical home sharing and a hotel, as Oasis properties always come with Goetz toiletries, a simpler check-in and check-out experience, etc. So they try to incorporate some elements of hotels into the experience.

Hyatt owns a stake in Oasis
You might be saying to yourself "well why the heck would a hotel company partner with a home sharing service, since it's their biggest competitor?" It's because Hyatt owns a stake in Oasis — we don't know how much Hyatt has invested in Oasis, but it's a strategic minority investment.
With this investment, clearly Hyatt is acknowledging that there's value in the home sharing economy, rather than thinking that it's a fade that will go away soon enough.
Oasis is joining Hyatt's Unbound Collection
In 2016 Hyatt introduced the Unbound Collection, which is "a global collection of unique and independent stay experiences." The intent was that this would include upper-upscale and luxury properties with distinct character. It's sort of similar to Starwood's Tribute Portfolio hotels, for example.
Now Oasis is joining Hyatt's Unbound Collection, which is an interesting choice. That's right, just as they have all kinds of hotels that are part of that collection, 2,000+ homes around the world will technically belong to Hyatt's Unbound Collection as well.
In some cases Oasis overlaps with Hyatt's existing footprint, though they also have homes in some places where Hyatt doesn't have hotels, including Barcelona, Ibiza, Punta del Este (Uruguay), Rome, and Trancoso (Brazil).'
World of Hyatt members can now receive benefits for Oasis stays
Now that Oasis is formally part of Hyatt's Unbound Collection, World of Hyatt members can also earn and redeem points for these stays, as well as receive status benefits. So, what benefits can members expect? As of today (March 1, 2018), World of Hyatt members who stay at an Oasis home rental can receive the following World of Hyatt benefits, which are consistent with Hyatt hotel locations worldwide:
Earn 5 base points per eligible dollar spent on qualifying Oasis nights
Earn tier-qualifying nights for qualifying Oasis nights
Earn bonus points on eligible Oasis spend for elite members (10% for Discoverist, 20% for Explorist and 30% for Globalist)
Request late check-out for elite members (2 p.m. for Discoverist and Explorist; 4 p.m. for Globalist)
As you can see, not all benefits overlap, though given the differentiated style of Oasis properties, there are two other Oasis specific World of Hyatt offerings:
Redeem 15,000 points for a $200 credit toward an Oasis stay (and additional increments of 15,000 points for additional $200 credits)
Enjoy a welcome amenity at check-in for elite members
As you can see, Oasis stays won't follow Hyatt's traditional Category 1-7 award chart, but rather redemptions will be revenue based. Being able to redeem 15,000 points for a $200 Oasis credit gets you ~1.33 cents per World of Hyatt point. Personally I value World of Hyatt points at ~1.5 cents each, but 1.33 cents per point isn't bad at all. For a program introducing revenue based redemptions for these types of stays, that's a better value than I was expecting.
World of Hyatt has a promotion for Oasis stays
To kick off this partnership, there's an opportunity to earn even more points for Oasis stays. For Oasis stays with check-out dates between March 1, 2018, and June 30, 2018, World of Hyatt members can receive an additional 1,000 points per qualifying night on top of the regular points earned.
Best of all, this can be combined with World of Hyatt's current global promotion, which offers an additional 1,000 World of Hyatt points per night (for a total of up to 25,000 bonus points for that promotion specifically).

What Hyatt & Oasis executives have to say
Here's how Amy Weinberg, the SVP of World of Hyatt, describes this partnership:
"Sometimes our members' travel needs go beyond a hotel, whether it's because they're traveling with a larger group, have a longer stay in mind, need more space or want to stay in a local neighborhood. But we understand that they also want the peace of mind, personalized service, and loyalty benefits they expect from experiences backed by Hyatt. As we continue focusing on super-serving our guests across more dimensions of their lives, this Oasis collaboration is an important step in understanding how we can serve our members in new ways and in new places."
Meanwhile here's what Parker Stanberry, founder of Oasis, had to say about this development:
"Oasis was built on the idea of bringing high-quality standards, design and service to the world of home rentals, so it's a natural progression to offer World of Hyatt members a new way to travel, without sacrificing the high standards to which they are accustomed. Hyatt is the industry leader when it comes to offering genuine and trusted travel experiences, so we're thrilled to participate in the World of Hyatt program."
Bottom line
This is an interesting development, and mainly I'm just happy to see this added as a permanent feature of the World of Hyatt program, because I feel like so much effort lately has gone into temporary partnerships. For a partnership like this, the value proposition is strong — you can earn points and elite qualifying nights just as you'd usually get for Hyatt stays, and you can even redeem points at a decent value. That's much better than I was expecting.
So I have to give Hyatt credit for this. My main issue is simply that Oasis only has properties in about 20 cities, which isn't very many. So it's not like you're getting access to tens of thousands of homes, as you'd have through Airbnb.
What do you make of the new partnership between Hyatt & Oasis?