My family is headed to Mexico soon. We're looking forward to a week of hanging out on the beach and relaxing.
Apparently AMEX wants to make sure we have a fun, worry-free trip as well. Just the other day, I received the email below indicating recent transactions on my account indicate I'll be traveling soon. As a result, American Express proactively notated my account and told me not to worry about letting them know I'll be out of town.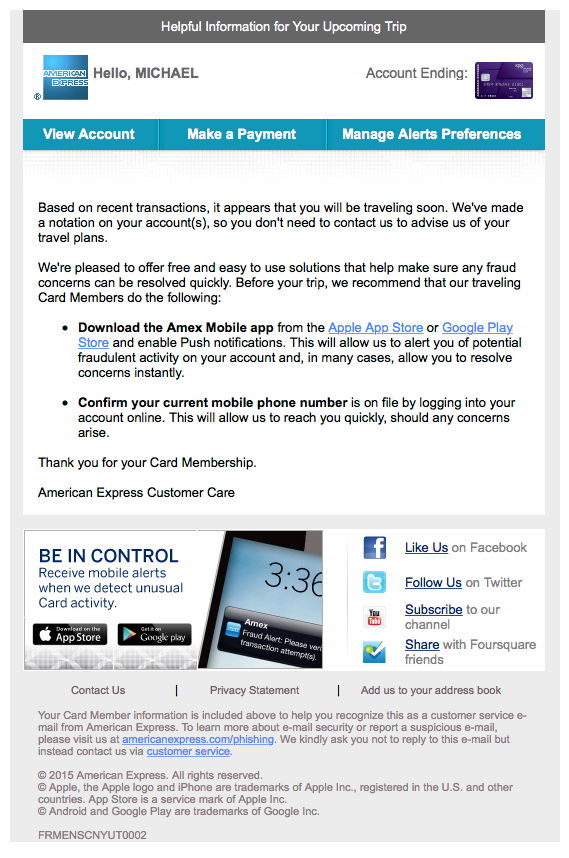 It's interesting because I've never called a credit card company to notify them I'll be traveling. And I've never had an issue while using a credit card abroad. So, this didn't exactly save me any time. But, I don't mind AMEX working to make sure my card works while I'm in Mexico.
I also wonder if this is a subtle suggestion to get me to use this card on the trip. If your average traveler is reaching into their wallet to pay for something while out of the country, are they more likely to pick the card they know is all set for international transactions? My guess is AMEX has some data that suggests a nudge like this works.
What's most interesting about this is the fact they are mining transactions for this kind of information in the first place. I know there are pretty strong financial privacy protections in place so I'm not worried about the data being shared beyond AMEX. That said, I could see how this might creep some people out and feel like an invasion of privacy.
In my day job, we do a lot of work with personal data. And we are always very mindful of whether or not our use of any information would turn someone off as creepy. I'd be willing to bet none of our clients would ever go for an email like this that explicitly tells a customer we know something about them that wasn't shared directly with us.
What do you guys think? Is this at all creepy or just a helpful service from AMEX?