It's fascinating to see what's going on with North Korea at the moment. In my opinion it's too early to tell whether anything will actually change, or if the current situation is just grandstanding on Kim Jong-un's part.
With Kim showing a new side (at least for now), it looks like it may have a positive impact on aviation.
The Straits Times reports on some interesting developments with North Korean aviation. Specifically, North Korea has submitted a request with the International Civil Aviation Authority (ICAO) to open new international air routes. As of now Air Koryo (North Korea's national airline, a proud Skytrax 1-star airline) only operates routes to a few Chinese cities. For that matter, those are the only scheduled flights operated to/from Pyongyang Airport. Air China flew there until late last year, though they abruptly canceled flights with just days notice, leaving Air Koryo as the airport's only airline.

Till late last year, Air China flew to Pyongyang
Details haven't yer been revealed regarding what destinations Air Koryo would like to fly to. Presumably they're not looking at operating daily flights between Pyongyang and Washington, but rather I'd guess they're looking at maybe operating flights to Russia or Hong Kong (let's not make this a "One China" debate — for these purposes Hong KOng is considered a separate region). 😉
Perhaps even more interesting is that North Korea is reportedly willing to open their airspace (FIR, or flight information region) to South Korea. Many airlines avoid North Korean airspace (some by choice, others because they're not allowed to use it), which wastes a ton of fuel and adds significant time to flights. If North Korea's FIR is opened, it would save South Korean airlines about 15 million USD per year in gas alone.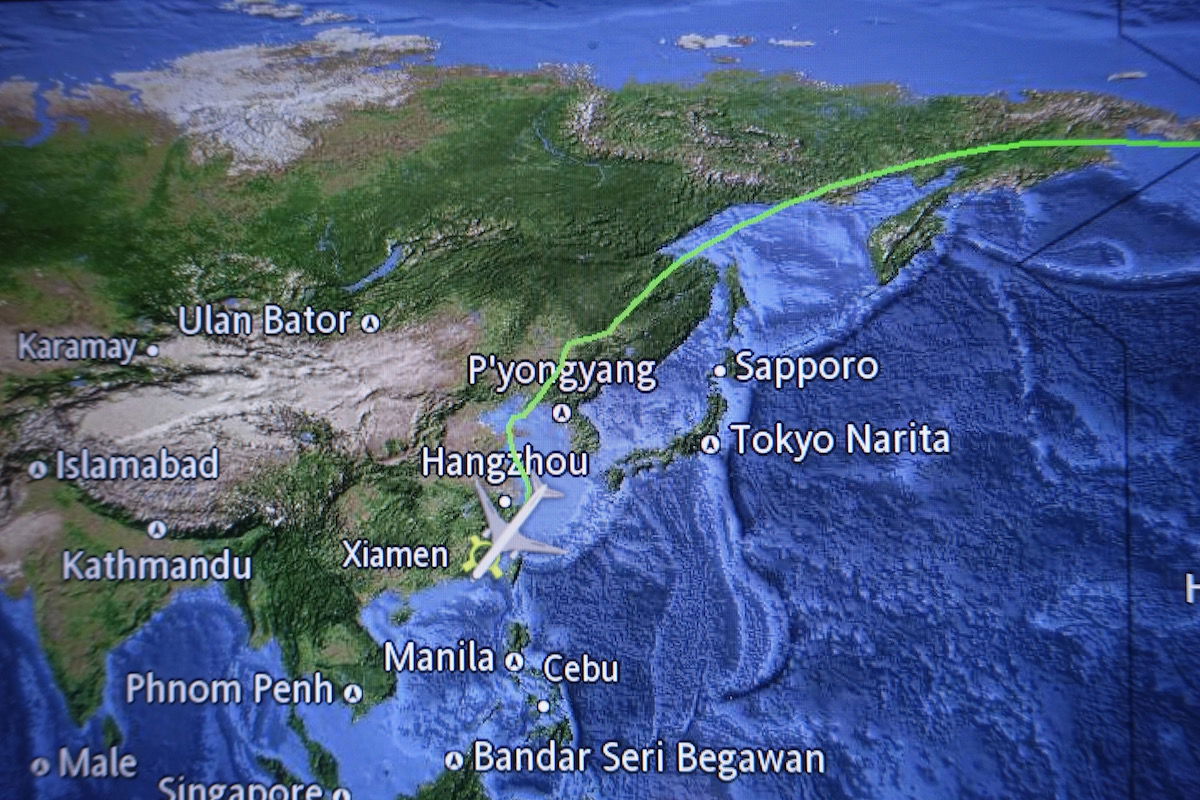 Avoiding North Korean airspace on a Xiamen Air flight last year
I'm not really sure what to make all of this. Other airlines could already fly to North Korea if there were demand, but clearly there isn't. I'm not sure what Kim hopes to get out of starting service to other countries (at a loss), other than prestige.
Don't get me wrong, eventually I think there could be huge demand for traveling to North Korea, just as there has been for Americans traveling to Cuba. However, that wouldn't just require North Korea being on better terms with other countries, but it would also more or less require a regime change in North Korea. You can't hugely boost tourism while keeping North Koreans in the dark.
Arguably the best thing that could come out of this for North Korea is that they open their airspace to other airlines. They could charge expensive fees for the privilege (it would still be a win-win), and this would be a way for the country to generate significant revenue with virtually no downside.
But Air Koryo launching flights to more countries seems farfetched, at least at this point.
Where do you think Air Koryo wants to fly, and do you think North Korea will open their airspace?
(Featured image courtesy of Kristoferb)