This is unfortunately nothing new, though I think it's worth highlighting every once in a while, just to point out how bad things have gotten.
American used to be by far the best of the big US airlines when it came to the number of saver level award seats they made available on their own flights. It was something that really set them apart. Over the years that has changed in a way that's completely unacceptable.
I understand that airlines want to avoid giving away "free" seats as much as possible, given the opportunity cost of doing so, when they could sell them for cash otherwise. However, airlines have to balance that with the massive profits they're earning from their loyalty programs, and realize that there's a correlation between how they treat their members and how much they earn from the programs. In the case of American, they've gotten downright punitive when it comes to award availability. There's simply no excuse for it.
Name whatever route you'd like, chances are that award availability on the route is awful. But perhaps there's nowhere that's more evident than between New York and Los Angeles, which are flights operated by American's A321s.
Between now and the end of 2017, there's not a single flight from New York to Los Angeles or from Los Angeles to New York that has a saver level seat in first or business class. Not one. Not a single one.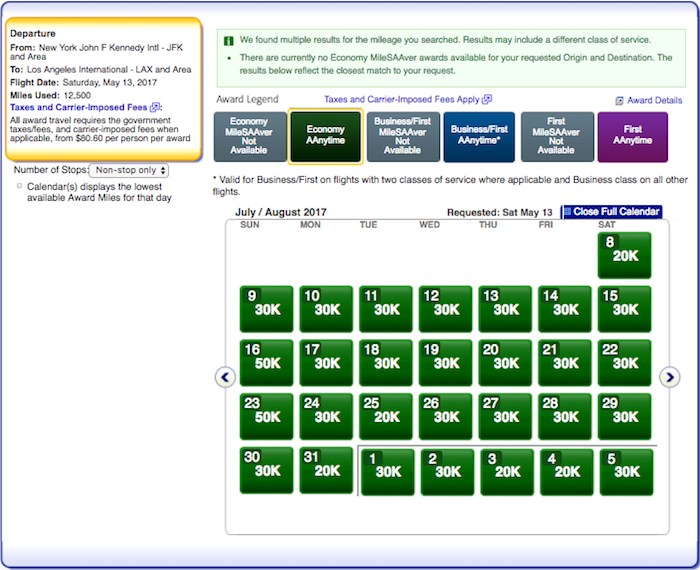 It would be bad enough if American only rarely made first or business class award seats available in advance, but the part that makes this truly inexcusable is that there's never even any award seats available day of departure. These are mostly flights that don't have anyone on the upgrade list to first class (since there's usually confirmable upgrade space available), so the flights end up going out empty, or usually just with employees in first class.
Take one of American's flights this evening from New York to Los Angeles, which has one seat occupied in first class.

Or a flight this evening from Los Angeles to New York, which has just two seats occupied in first class.

Yet there's no award space. It's one thing if this were an anomaly or something, but rather this is just business as usual for American, and it's infuriating.
To add insult to injury, last year American devalued their award chart, and raised the cost of A321 first class between New York and Los Angeles from 32,500 miles to 50,000 miles one-way. At the time award availability wasn't great, so I thought to myself "well, maybe this will cause them to make more award seats available." 50,000 miles is a pretty penny to pay for a saver level domestic award seat.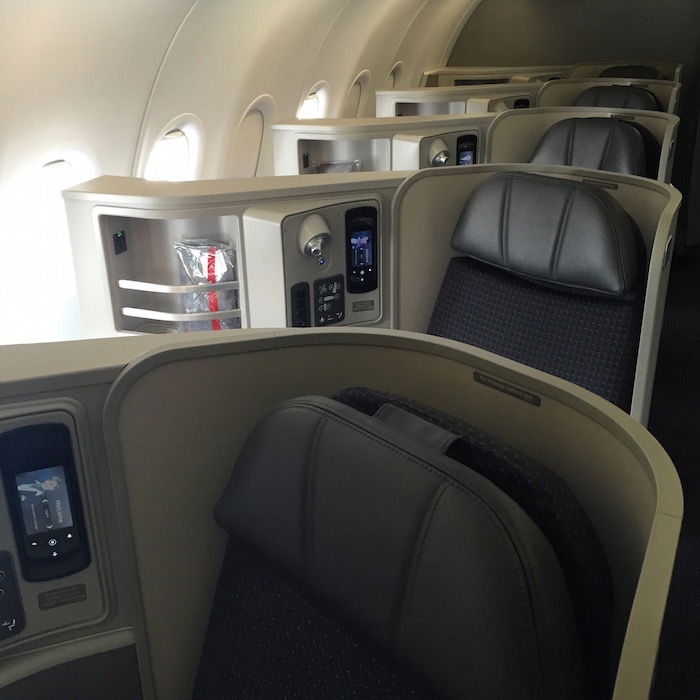 Instead the opposite occurred, and award availability has become even worse. But now I'm just confused. Why did American bother raising an award cost by over 50% if they never intend to make any seats available at the saver level?
Let me again emphasize that I understand why airlines are making fewer seats available, given that they can sometimes otherwise sell them. However, there's a difference between that and not making any seats available. They'd rather let seats go out empty in masses than to make them available to members, even after they raise award costs by over 50%.
At some point these programs go from generating loyalty to making us feel downright resentful… I'm starting to shift into the latter category. Increasingly I'm getting the sense that loyalty programs are being run as a division of the revenue management department, with no regard for what has made these programs so successful.