Canada's Porter Airlines is about to undergo a major transformation. The airline has historically exclusively flown De Havilland Dash 8-400 turboprops out of Toronto Billy Bishop Airport (YTZ), but will soon start taking delivery of Embraer E195-E2s, which the airline will use to expand across Canada.
The airline has today revealed a major update to its business plan, whereby the airline is unveiling what it calls "an exceptional new economy air travel experience that challenges what every North American airline offers." Let's go over all the details, in no particular order.
Porter will offer all passengers free Wi-Fi
Porter Airlines will be offering free high speed Wi-Fi through its Embraer E195-E2 fleet. The airline will offer unlimited bandwidth, including the possibility to stream content. This is major, as Porter will be one of the only airlines in the world offering free Wi-Fi to all passengers (this is something that JetBlue has admittedly been doing for many years).
Porter Embraer E195-E2s will have 132 seats
Porter Airlines Embraer E195-E2s will have 132 seats. One of the nice things about the Embraer E195-E2 is that it's in a 2-2 configuration, meaning there are no middle seats. The plane will be in an all-economy layout, but there will be different legroom options:
The first four rows of the cabin will have 16 seats featuring 36″ of pitch, which will be marketed as PorterReserve
There will be 20 extra legroom seats featuring 34″ of pitch, which will be marketed as PorterStretch
There will be 96 standard economy seats featuring 30″ of pitch, which will be marketed as PorterClassic
The airline will take delivery of its first jet in the coming weeks (before the end of 2022). It's expected that initial routes will be announced this month. So far we're just told to expect flights throughout North America, including to the west coast, southern United States, Mexico, and the Caribbean. The planes will first be deployed from Toronto Pearson Airport (YYZ), Halifax (YHZ), and Montreal (YUL).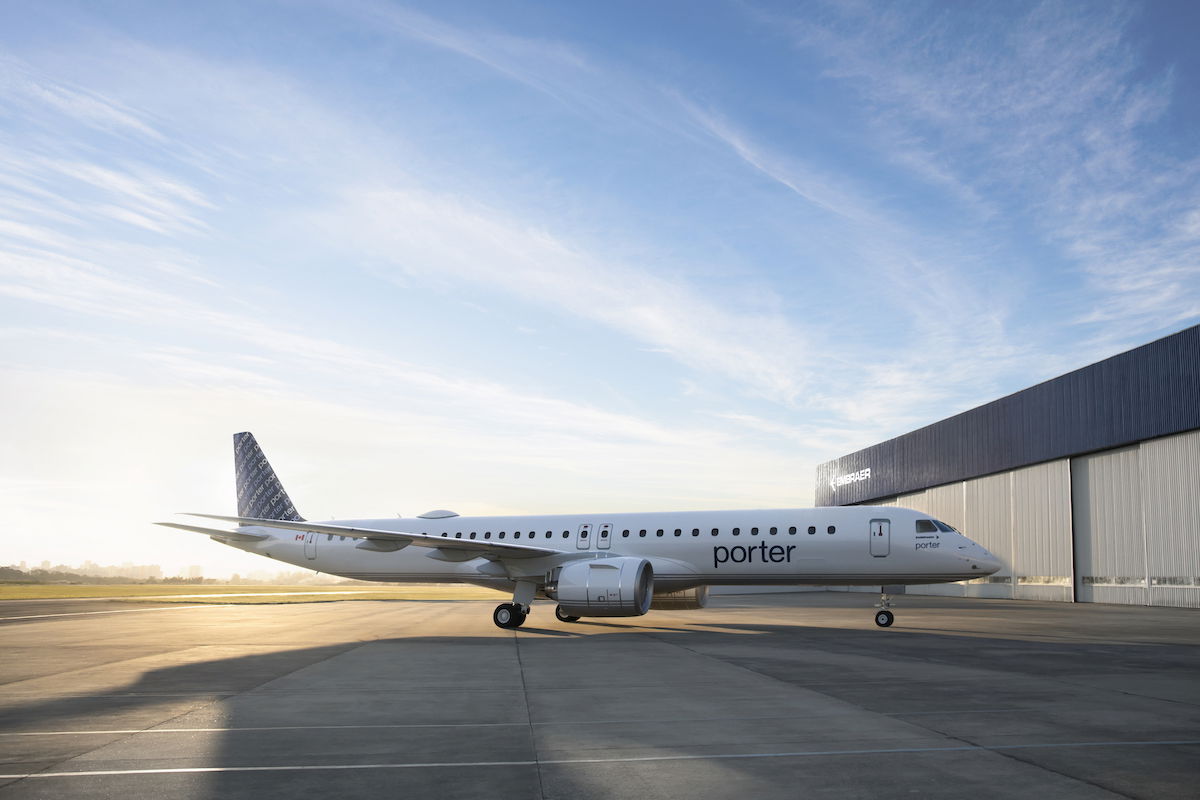 Porter will offer free beer & wine in glassware
Porter Airlines has long been known for offering an elevated experience for economy passengers, and that will continue. As before, all Porter passengers will be served complimentary beer and wine in proper glassware, as well as complimentary premium snacks. That applies regardless of where you're seated.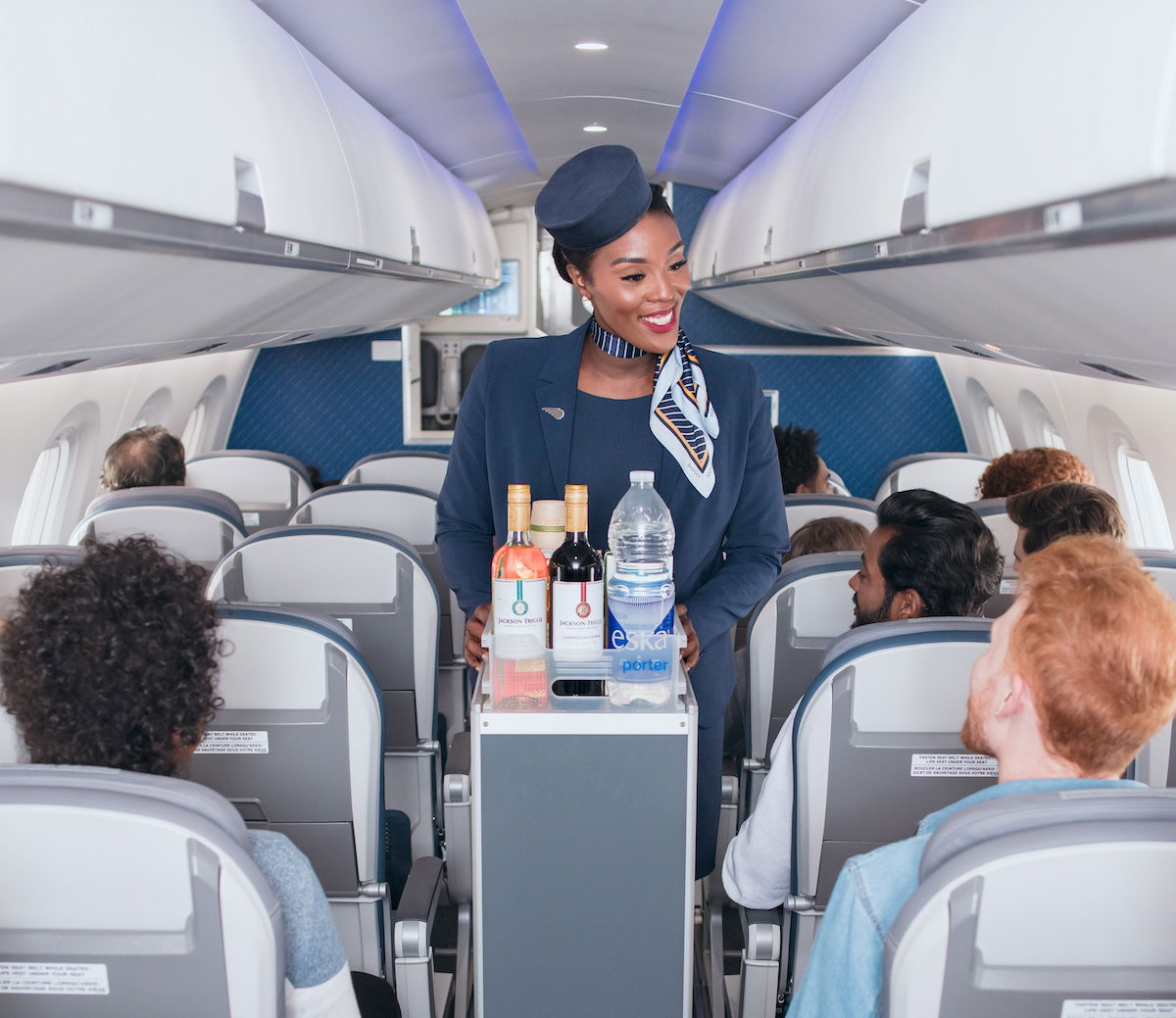 PorterReserve vs. PorterClassic fares
With the introduction of Porter's Embraer E195-E2s, the airline is also introducing new fare bundles. Porter's fares will be known as PorterReserve and PorterClassic. What are the differences?
PorterReserve fares are the carrier's premium fares. Porter describes these fares as "unlike anything offered today in North America," and states that these fares offer "all the perks economy travelers may want for one reasonable price that is significantly lower than business class." PorterReserve fares include:
Dedicated airport check-in
Early boarding
Enhanced legroom seating
Fresh meals on flights of 2.5 hours or longer
Cocktails, in addition to the standard beer and wine that all passengers receive
Two free checked bags
The ability to change flights without a fee
PorterReserve will be available on both types of planes that Porter flies. Not only will the first four rows of the Embraer E195-E2s feature PorterReserve, but the first two rows of the Dash 8-400s will also feature PorterReserve.
PorterClassic fares are the carrier's more basic fares, which offer an a la carte experience. PorterClassic fares include:
Free beer and wine in glassware
On flights of 2.5 hours or greater, passengers can purchase the same fresh meals and cocktails available in PorterReseve
Passengers can purchase PorterStretch seats, which feature extra legroom (though to get a PorterReserve seat you need to book a PorterReserve fare)
Porter will be updating its fare types more broadly to reflect these new concepts. Porter's four existing fare options will be aligned with PorterClassic, while two new fare types will be introduced for the PorterReserve experience. Details will be available at the same time as the first Embraer E195-E2 routes are revealed.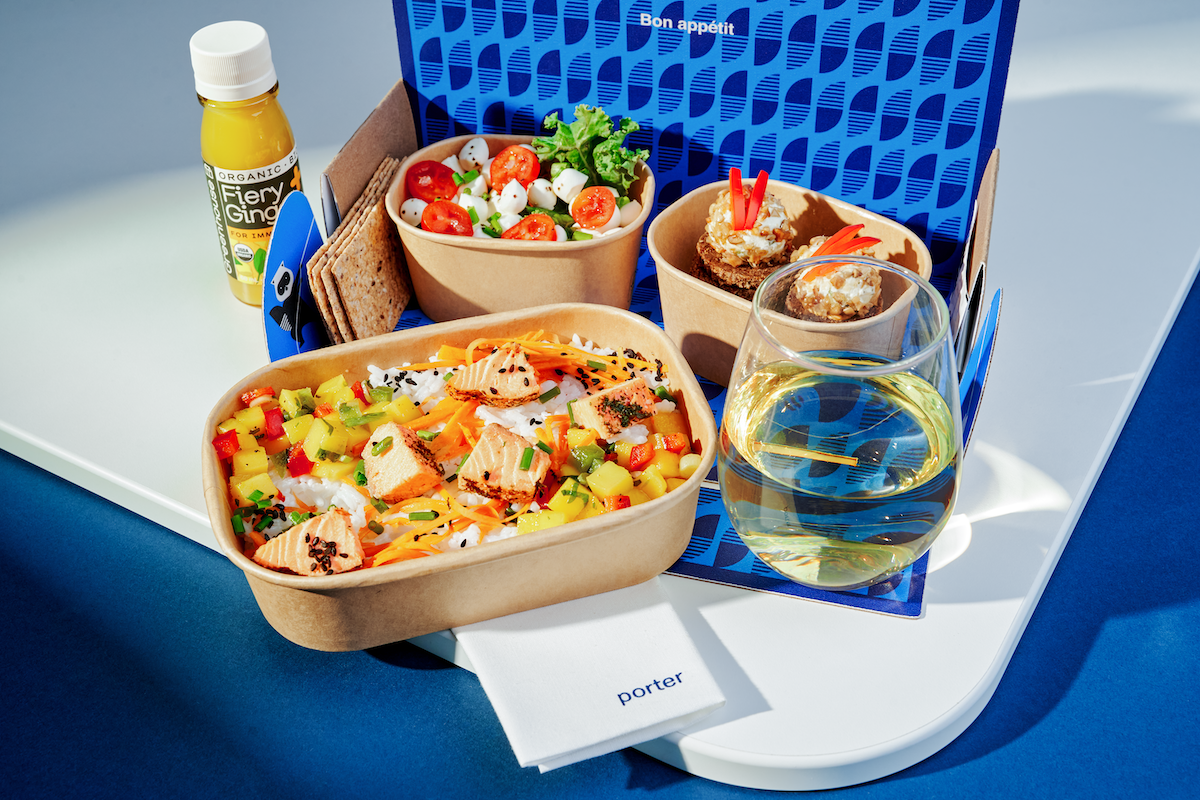 My take on Porter Airlines' new experience
Porter Airlines' new inflight experience sounds great. The Embraer E195-E2 should be a joy to fly in general, given the 2-2 layout, comfortable and modern cabin, etc. Getting free Wi-Fi, free alcoholic drinks served in glassware, etc., sounds like an excellent and differentiated passenger experience. It's also nice to see Porter create more branded bundles, and PorterReserve sounds like it could represent a pretty good value.
All that being said, Porter still no doubt faces an uphill battle. The airline will be competing directly with Air Canada in all kinds of markets. Porter won't be able to compete on frequencies (at least initially), and the airline can't compete when it comes to elite perks and lounges, etc. Furthermore, the airline doesn't have a proper business class.
So the question comes down to whether Porter can convince your run of the mill traveler to pay a premium for a better experience, especially at a time when airfare is being pushed down in Canada due to huge ultra low cost carrier growth.
I'd certainly like to think that people are willing to pay more for a better experience, but history has repeatedly shown that most people aren't willing to pay more for better quality when it comes to airlines, at least in economy. Remember American's More Room Throughout Coach experience? Those were the days…
To be honest, I'm a bit surprised Porter isn't introducing a "real" business class product, especially since this can come with fairly limited opportunity cost on the E195-E2 (going from a 2-2 layout to a 2-1 layout is "only" a 25% reduction in seats, unlike on planes going from a 3-3 layout to a 2-2 layout, where it's a 33% reduction in seats).
Bottom line
Porter Airlines will soon be starting a new chapter, as the airline starts flying Embraer E195-E2s out of Toronto Pearson Airport. The airline has started to outline some aspects of what we can expect, including free Wi-Fi for all passengers, free beer & wine in glassware, and new branded products.
Going forward, Porter fares will be branded as either PorterReserve or PorterClassic, with the former being Porter's more premium product, and the latter being more of an a la carte offering.
What do you make of these changes at Porter Airlines?