Porter Airlines will soon begin flying its first of 100 Embraer E195-E2 aircraft on order, which marks a new chapter for the Canadian airline. The carrier has previously exclusively operated De Havilland Dash 8-400 turboprops out of Toronto Billy Bishop Airport (YTZ), but will now be expanding to Toronto Pearson Airport (YYZ).
Well, Porter has today revealed its first jet routes, and there's probably nothing too surprising here.
Porter's new routes out of Toronto Pearson Airport
Porter will begin operating out of Toronto Pearson Airport with Embraer E195-E2s as of February 2023. Specifically, the airline has now revealed its first three routes. You can expect flights from Toronto to:
Montreal (YUL) as of February 1, 2023
Ottawa (YOW) as of February 1, 2023
Vancouver (YVR) as of February 7, 2023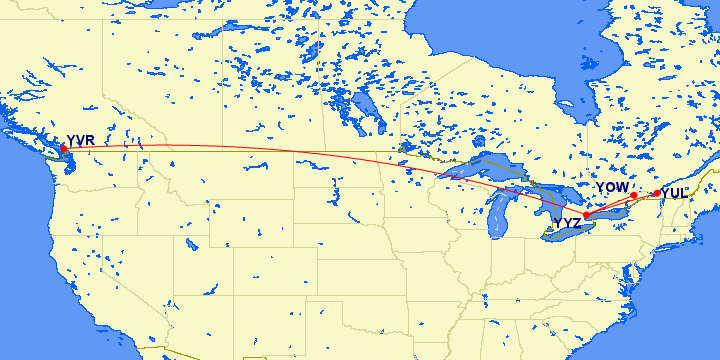 Porter already flies to Montreal and Ottawa out of Toronto Billy Bishop Airport, so Porter will now serve those destinations out of a second Toronto-area airport. Meanwhile Vancouver is a new destination altogether for Porter (it better be, since that doesn't sound like a fun turboprop flight from Toronto). 😉
Porter has told us to expect the Embraer E195-E2 to operate flights throughout North America, including to the United States, Mexico, and the Caribbean, so we can expect lots more route announcements in the coming months, as the fleet continues to grow.
What's my take on Porter's initial routes? On the one hand, these are kind of the routes that you'd expect an airline like Porter to start with, as it takes time to build up a fleet. At the same time, a once daily flight in these markets can't really compete with Air Canada's frequencies, and will be a tough sell for many.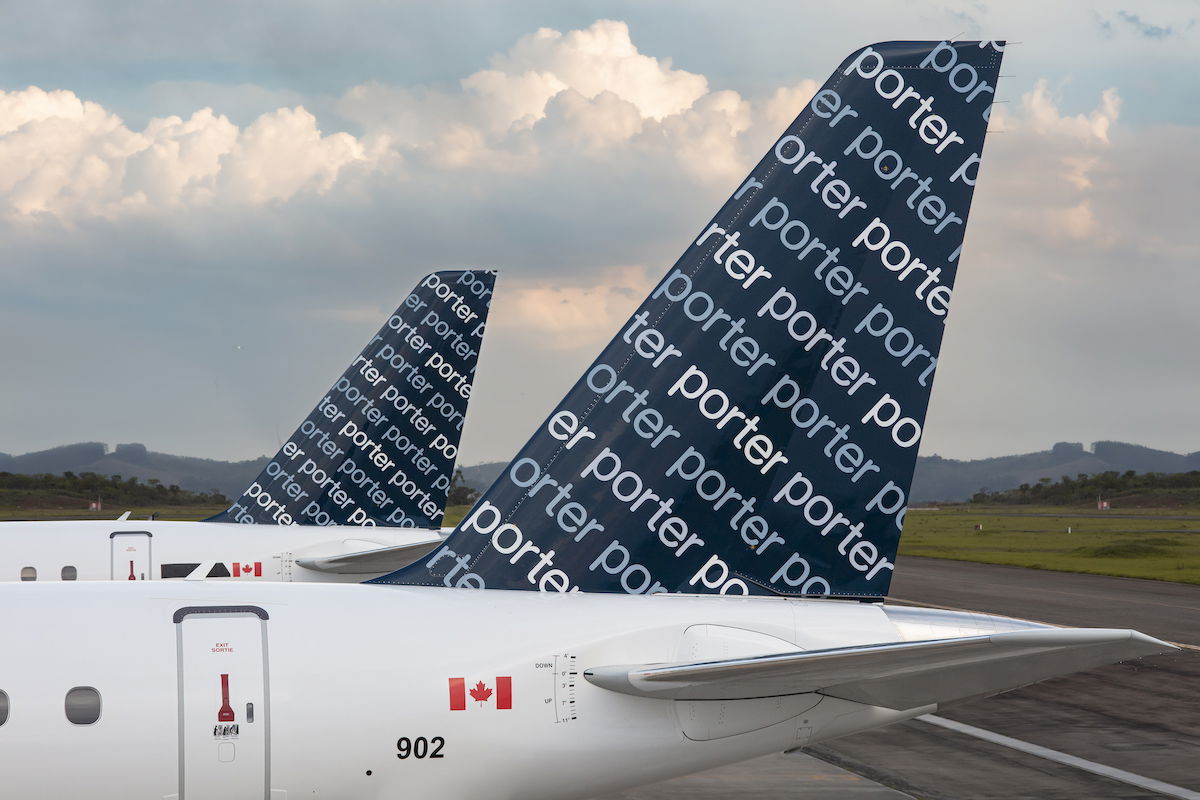 The new PorterClassic and PorterReserve pricing
As I recently wrote about, Porter is overhauling its passenger experience with the introduction of Embraer E195-E2s. All passengers will have access to power outlets and free Wi-Fi, as well as complimentary beer and wine in proper glassware. The planes will each feature 132 seats, and while they'll be in an all-economy configuration, there will be different legroom options.
There are two general fare types — PorterClassic and PorterReserve.
For example, let's look at the Toronto to Vancouver route, where pricing currently starts at $89 for PorterClassic and at $333 for PorterReserve.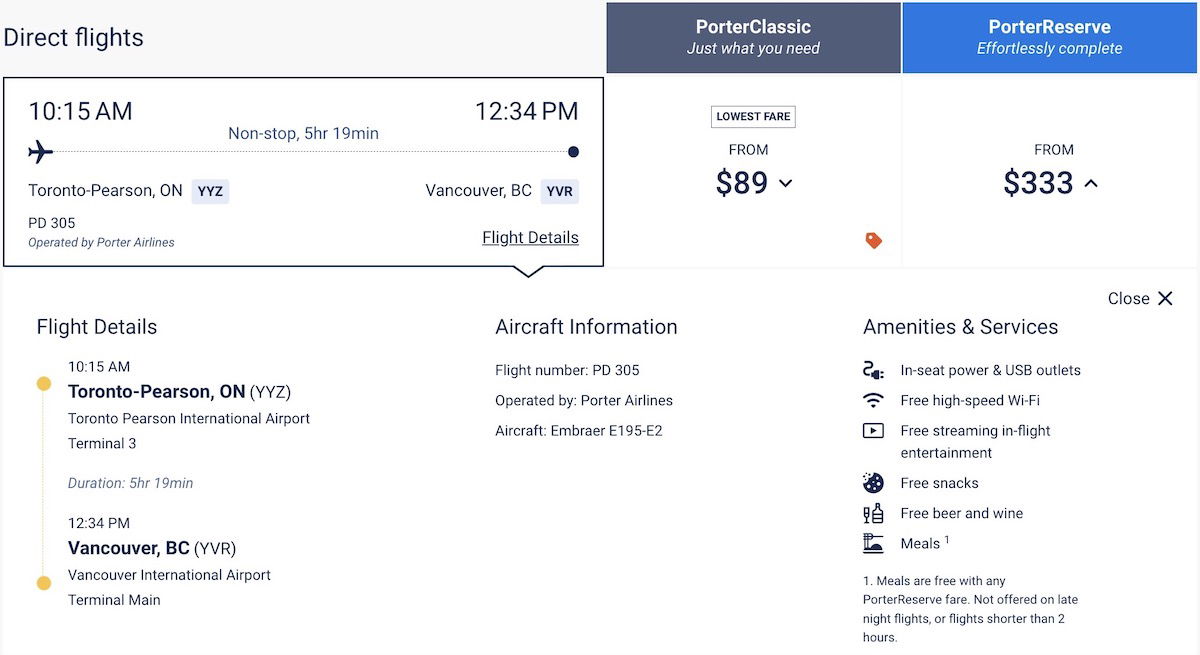 There are four types of PorterClassic fares, the most basic of which doesn't allow any changes and doesn't allow a carry-on. Then the higher fares offer incremental perks, like a carry-on, checked bags, ticket flexibility, and more.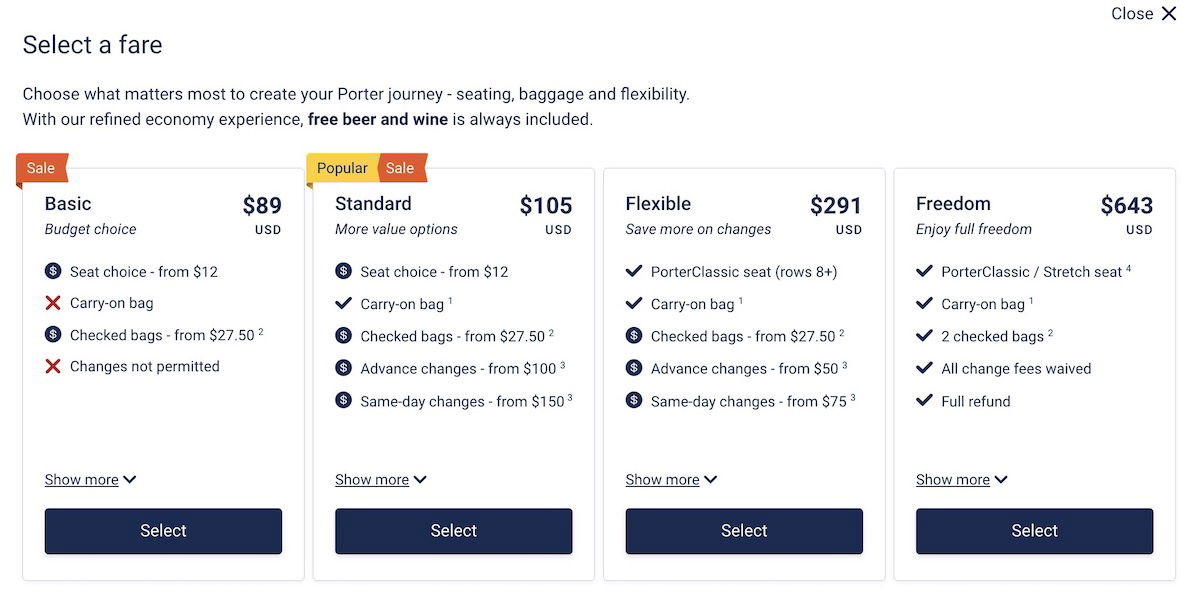 Meanwhile PorterReserve fares, which include seats in the first four rows of the plane (featuring extra legroom) also offer dedicated check-in, boarding, and security, complimentary meals, liquor, and more. There are only two fare options there, with the difference being that the premium fare is fully refundable.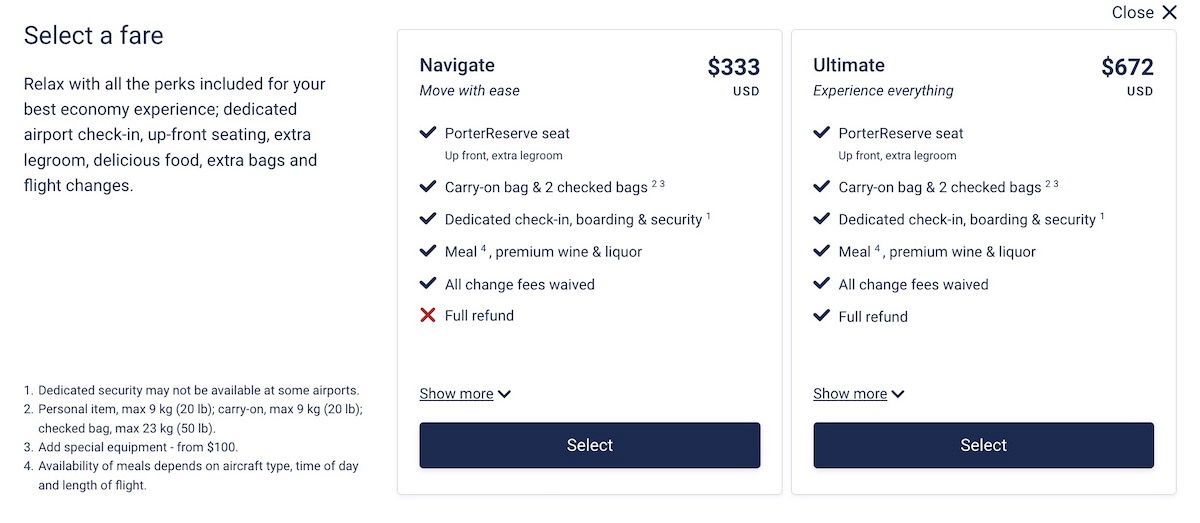 The initial pricing is certainly attractive. It seems like Porter is trying to make a splash here, which it really has to do, given the competition it faces, plus that it will take a while for people to become more familiar with this new service from Porter.
Bottom line
Porter's first Embraer E195-E2 routes are now on sale, as the airline will fly from Toronto Pearson Airport to Montreal, Ottawa, and Vancouver. Clearly Porter is just trying to start with the typical "staple" routes, and we should see more interesting expansion in the future. Porter's entry level pricing is pretty attractive right now, in case anyone wants to experience this new service.
What do you make of Porter's first routes and pricing? Do you think Porter will be able to poach travelers with good fares and a good passenger experience, even if frequencies are limited?