Malaysia Airlines has just added a new aircraft type to its fleet, as the oneworld carrier looks to modernize.
Basics of Malaysia Airlines' Boeing 737 MAXs
Malaysia Airlines has had Boeing 737 MAXs on order for many years now. There has been a lot of uncertainty around this order, from Malaysia Airlines restructuring the deal due to financial issues, to the 737 MAX being grounded a few years back.
Along those lines, there's an exciting update, as Malaysia Airlines has finally taken delivery of its first 737 MAX. The plane has the registration code 9M-MVA, and it just flew from Seattle (BFI) to Kuala Lumpur (KUL) via Honolulu (HNL) and Guam (GUM). That's quite a journey! Can I also just acknowledge how gorgeous Malaysia Airlines' livery is?
Through 2026, the airline will be taking delivery of 25 Boeing 737 MAX 8s, all of which are being leased from Air Lease Corporation. That's a pretty quick delivery timeline.
Malaysia Airlines also has 10 Boeing 737 MAX 10s on order. In theory they're supposed to be delivered starting in 2024, but there's a lot more uncertainty surrounding that, as the jet isn't even yet certified.
You can expect the 737 MAX to primarily operate regional flights for the airline, with commercial service expected to start on November 20, 2023.
Prior to taking delivery of 737 MAX 8s, Malaysia Airlines had a fleet of 42 737-800s, which are an average of 11 years old. They were delivered between 2010 and 2021. Those planes really don't need to be retired yet, and for that matter, their cabins are being reconfigured.
So it sounds to me like Malaysia Airlines will be significantly growing its narrow body fleet, as these 737 MAXs aren't replacing existing aircraft 1:1. I'm curious if that's the strategy the airline sticks to, or how this evolves.
Malaysia Airlines' Boeing 737 MAX cabins
While the 737 MAX offers better fuel efficiency and a quieter ride than the previous generation 737, unfortunately don't expect much innovation from the cabins of these jets.
In 2022, Malaysia Airlines began the process of refreshing its Boeing 737 cabins, and the 737 MAX 8s will feature exactly the same cabins. 737 MAX 8s will have 174 seats, including 12 business class seats and 162 economy class seats.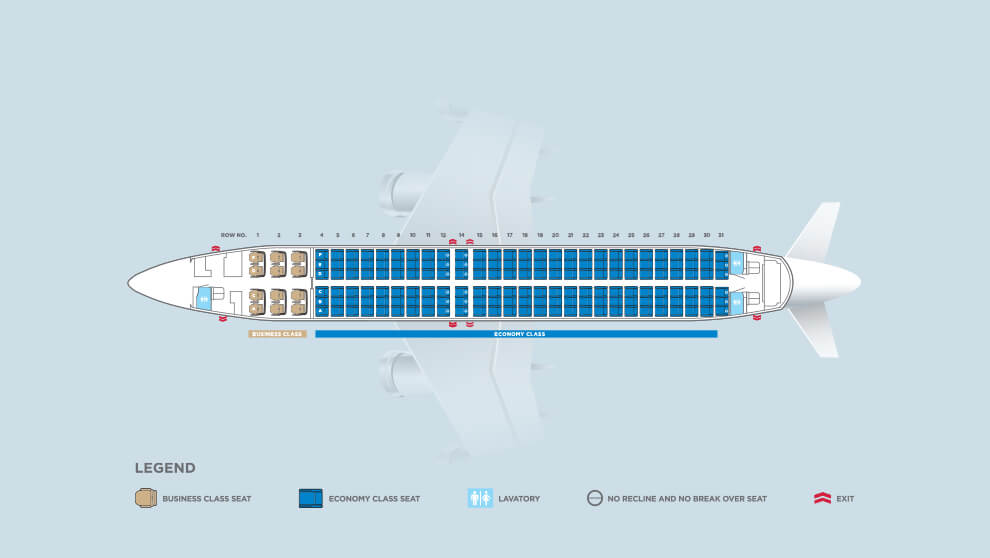 This is quite a downgrade for Malaysia Airlines over previous cabins, as the airline removed seat back televisions, decreased the size of the business class cabin, and crammed in 14 more seats.
Much more exciting is the 20 Airbus A330-900neos that Malaysia Airlines has on order, which should feature a new premium product. Admittedly that's not a fair comparison, because the planes are used for different kinds of routes.
Bottom line
After a significant delay, Malaysia Airlines has taken delivery of its first Boeing 737 MAX 8. The airline will acquire 25 of these jets through 2026, which will significantly grow Malaysia's short haul network. It's nice to see Malaysia Airlines getting a bit of a fleet refresh, though don't get too excited about the cabins of these planes.
What do you make of Malaysia Airlines' Boeing 737 MAX order?