IHG Hotels & Resorts has today launched its latest global marketing campaign, which is the company's largest single campaign investment within the last decade.
New ad campaign highlights IHG One Rewards
"Guest How You Guest" is the name of IHG's new ad campaign, and it's intended to promote IHG's loyalty program, as well as the diversity of IHG's 17 hotel brands. You can initially expect to see this ad campaign in the United States and United Kingdom, everywhere from online, to television ads, to magazines, to billboards, to subway stations.
IHG's loyalty program was recently relaunched, with the introduction of IHG One Rewards. There's a lot to like about the new program, including a lucrative new top-tier elite status (IHG One Rewards Diamond), plus the introduction of Milestone Rewards, giving people more flexibility as to how they want to be rewarded.
Here's how the inspiration for the new campaign is explained:
"The multimillion-dollar Guest How You Guest campaign amplifies true-to-life travel moments and shows how guests can define their own journey at IHG hotels. Whether it's sports fans staying at a Holiday Inn Express to support their team on the road, a Kimpton Hotels & Restaurants guest taking their work calls poolside, or a couple celebrating with all the room service at an InterContinental Hotels & Resorts property – they all experience the heartfelt care IHG hotels provide. It goes beyond all are welcome; it's that all are welcomed to be cared for."
Here's what Claire Bennett, Global Chief Customer Officer for IHG, had to say:
"When you look around, it's hard not to notice that travelers are increasingly left to fend for themselves, and that's simply not what being a guest should feel like. We have a mantra we say at IHG – we're real people taking care of real people, and Guest How You Guest embodies that. The images and content are engaging and beautiful, but they are also authentic and send a message that you don't always have to do everything. We're here to take care of all of you."
Below you can see a 30-second spot that's part of the new campaign.
And below you can see some of the stills that will be used in the campaign.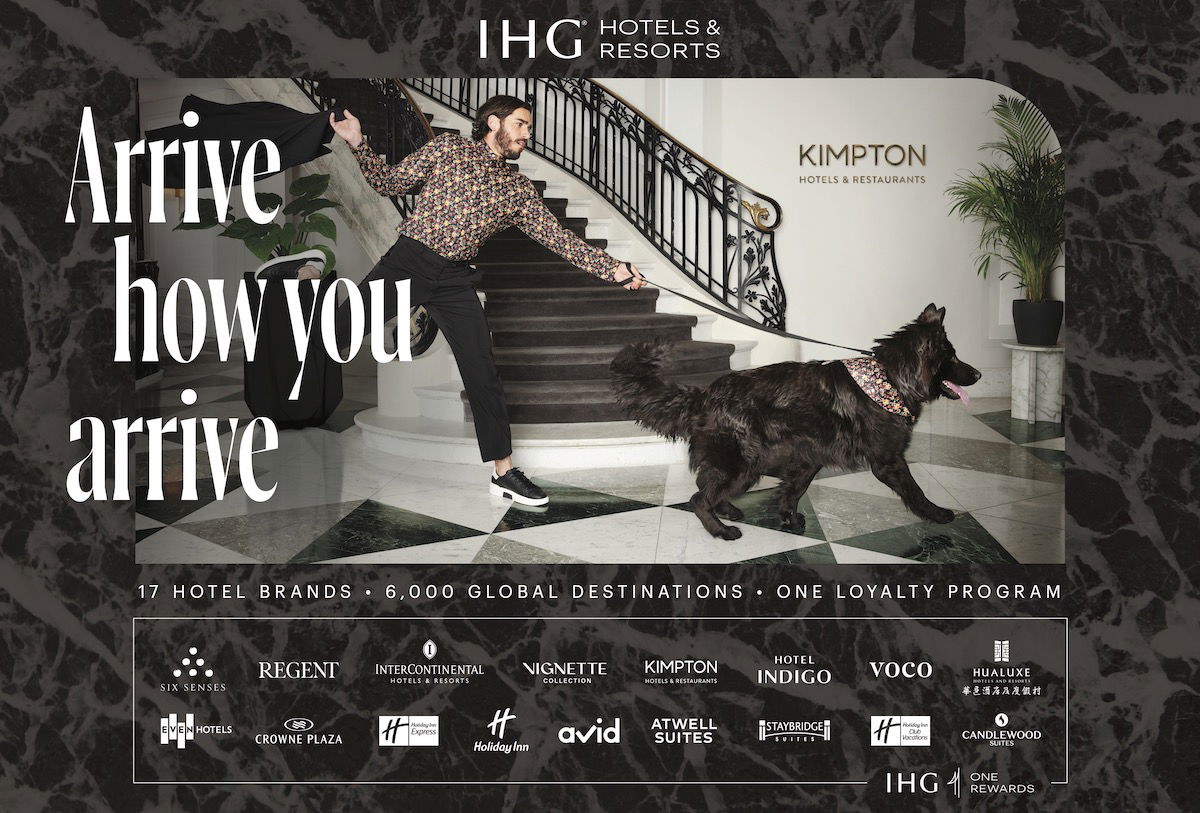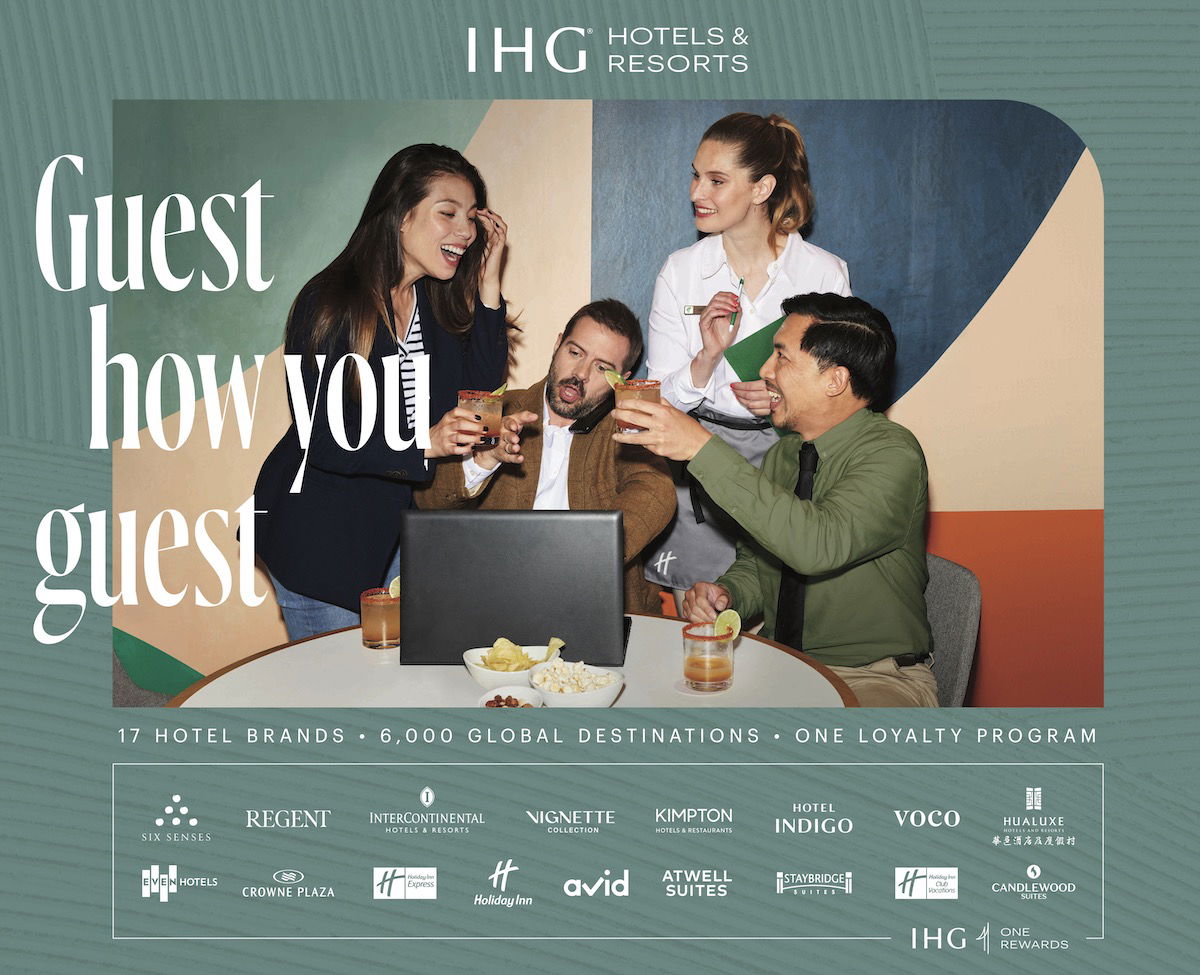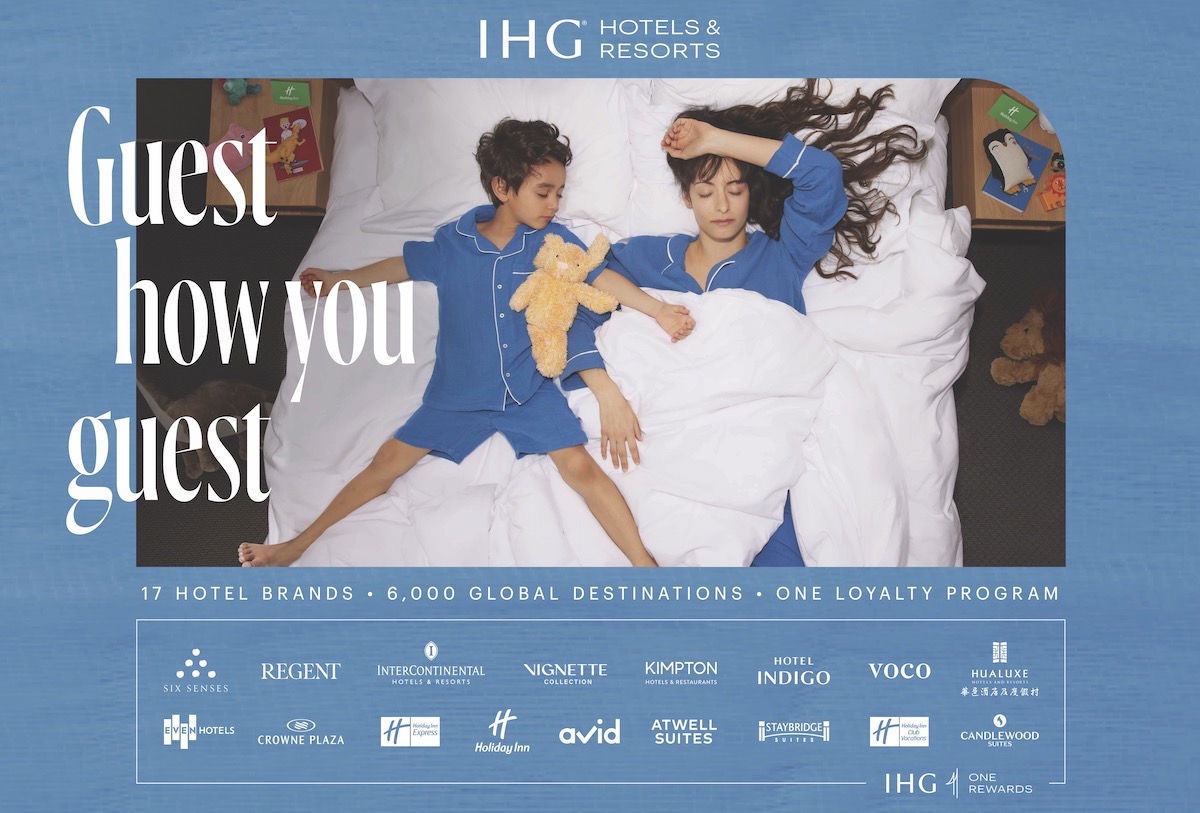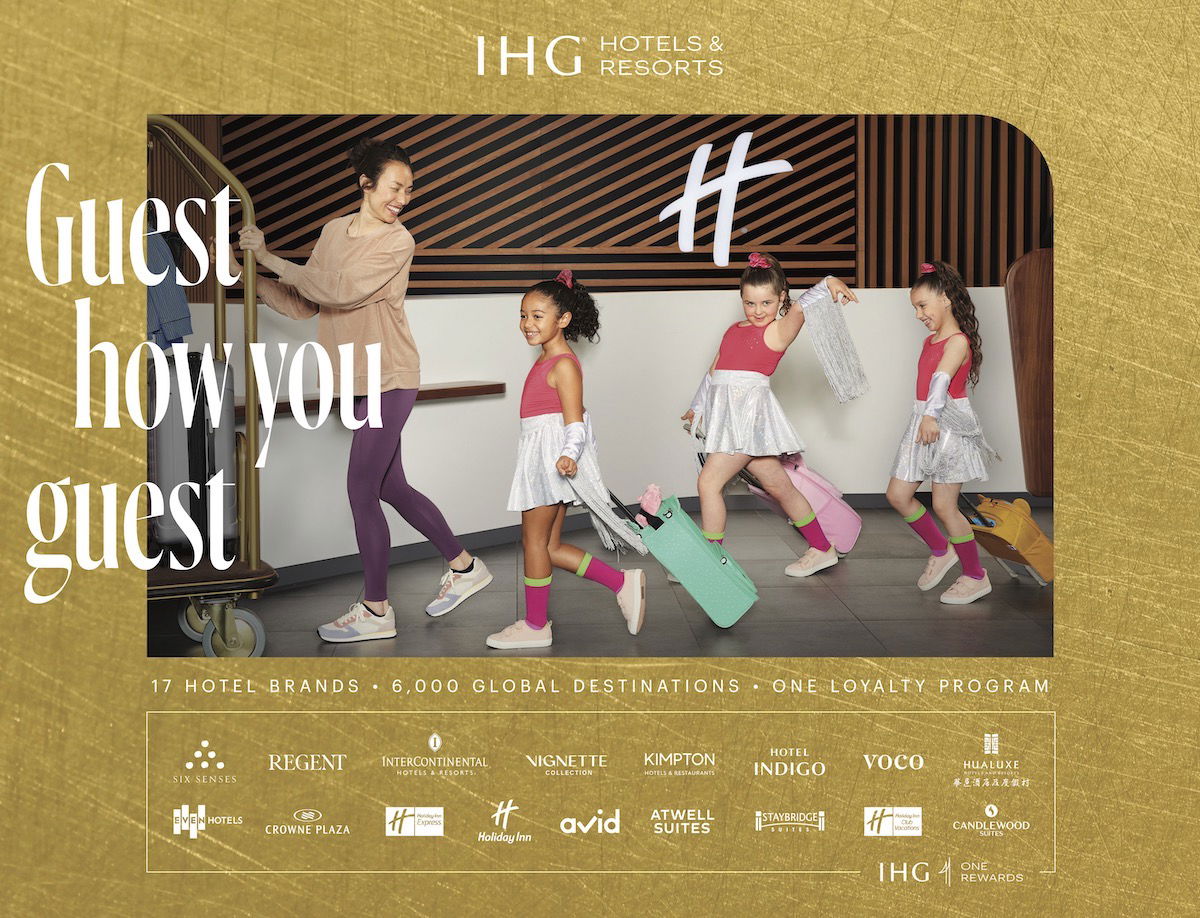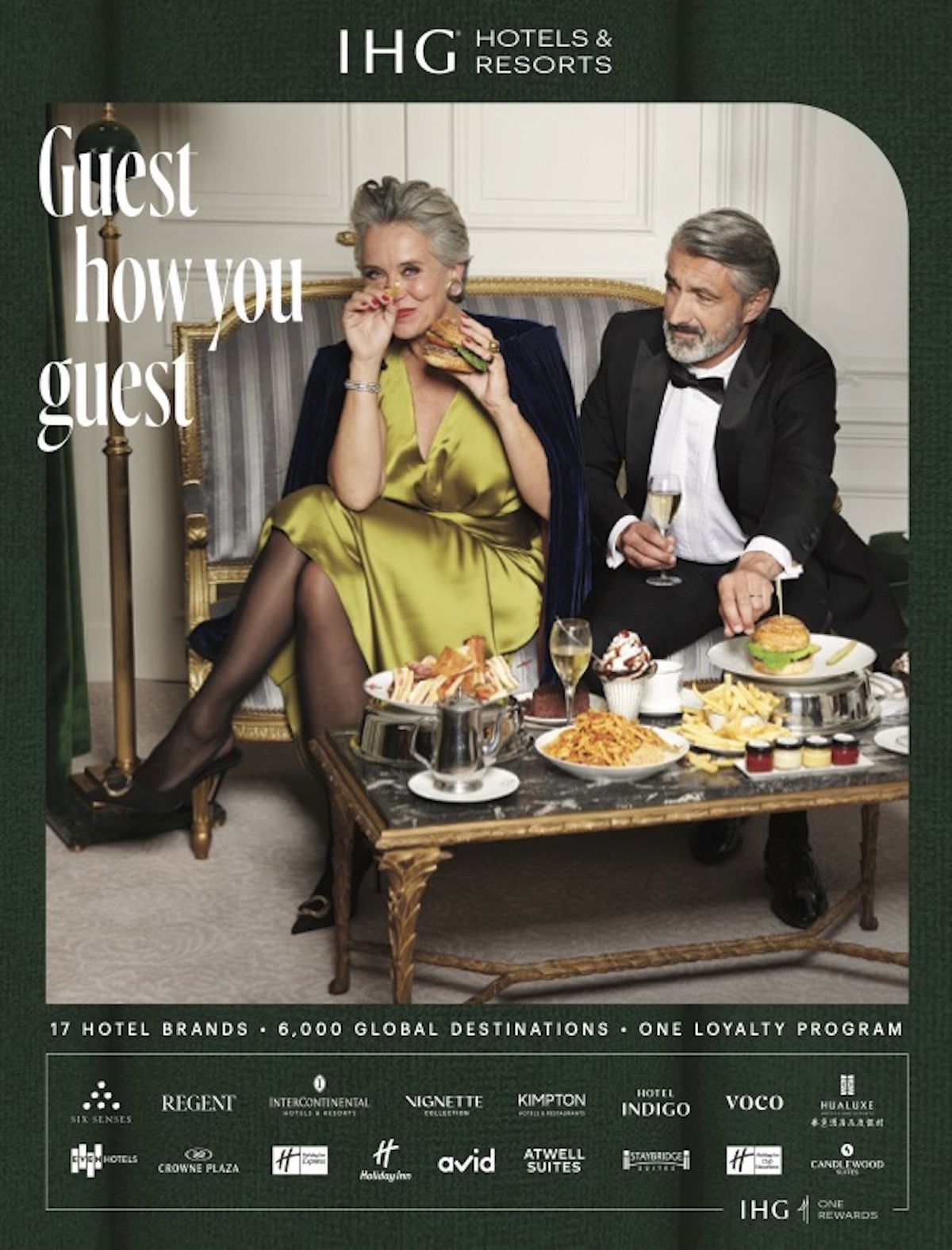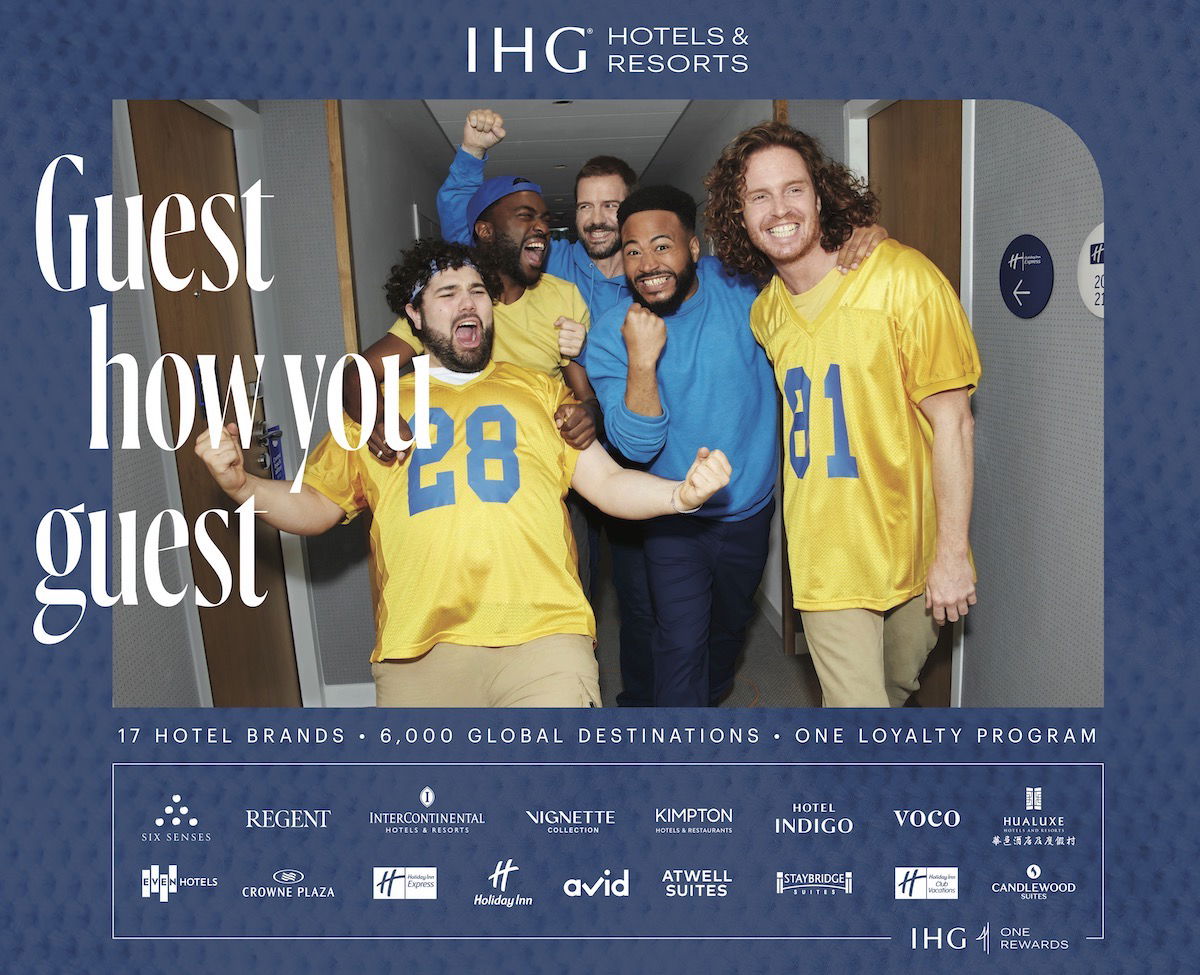 My take on IHG's new marketing campaign
Message aside, the campaign certainly feels modern, upbeat, and energetic.
If you ask me, the campaign also feels unnecessarily over-the-top and staged in terms of the "actors" used, to the point that it almost feels unrelatable to me. Quite to the contrary, those Holiday Inn Express sports bros seemingly cheering in the hallway make me want to stay somewhere else.
But maybe I'm in the minority in thinking it's a bit much, and others enjoy showing up to their hotel stays in a convertible vintage car with dozens of balloons. I'm not sure I personally love this kind of advertising, especially if you're trying to promote premium brands, but that's just my personal preference.
Then there's the question of the substance behind the campaign. IHG claims that nowadays many travelers are left to "fend for themselves," but that's not what being a guest should feel like. Is IHG actually different than competitors in that regard?
Is IHG telling a story that reflects reality, or just what it wants consumers to believe? We've seen endless cost cutting in the hotel industry during the pandemic. Is IHG better than Hilton or Marriott on that front? I'm not a frequent IHG guest, so OMAAT readers can chime in.
If the ads didn't explicitly say they were for IHG, I wouldn't know which hotel group they were from. But maybe that's the point here — maybe IHG is trying to say "hey, we're like the other guys, and are a major hotel group worth considering?"
Bottom line
IHG has launched its new ad campaign, "Guest How You Guest." It's intended to highlight IHG's huge variety of brands, and how the new IHG One Rewards loyalty program lets members be rewarded in ways they value most.
I can't say I love this campaign, personally, but that's also because I'm generally skeptical when major hotel groups try to claim they're somehow significantly different than competitors.
What do you make of IHG's new ad campaign?