Hawaiian Airlines had a pretty exciting flight diversion yesterday…
Hawaiian Airlines Incheon to Honolulu flight diverts
On Friday, September 24, 2021, Hawaiian Airlines flight 460 was scheduled to operate from Seoul Incheon to Honolulu. The flight was operated by a nearly 10-year-old Airbus A330-200 with the registration code N386HA.
The flight was scheduled to cover a distance of 4,577 miles and take 9hr5min, but it didn't quite operate as planned. It's reported that one of the engines had a low oil pressure indication, so the decision was made to divert. The issue with Pacific crossings is that there aren't all that many diversion points, as you may be able to figure out by looking at a map. Well, at least there don't appear to be many diversion points unless you zoom really far in, and consider some of the remote islands out there that have runways (even if they're not often used).
The decision was made to divert to Sand Island in the Midway Atoll (airport code MDY). This is a 2.4 square mile atoll in the North Pacific Ocean, just over 1,300 miles northwest of Honolulu, right near the International Dateline.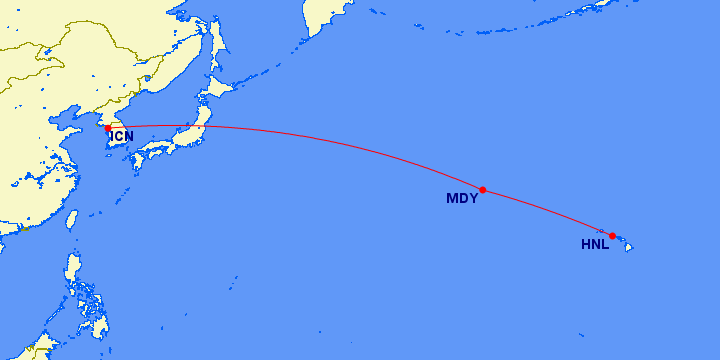 There's a 7,800 foot runway there, so it's plenty long for a large plane to land (and to take off with limited fuel).

For those not familiar with the Midway Atoll, it's an insular area of the United States, and an unorganized and unincorporated territory. It's the only island in the Hawaiian Archipelago that's not part of the state of Hawaii. As you might have guessed based on the name, the Midway Atoll is roughly midway between North America and Asia.
The atoll is home to the Midway Atoll National Wildlife refuge, and about 40 people live on the atoll, primarily consisting of staff of the United States Fish and Wildlife Service, as well as contract workers. The atoll isn't open to tourists, but rather you can only visit for business reasons… or, well, I suppose flight diversions.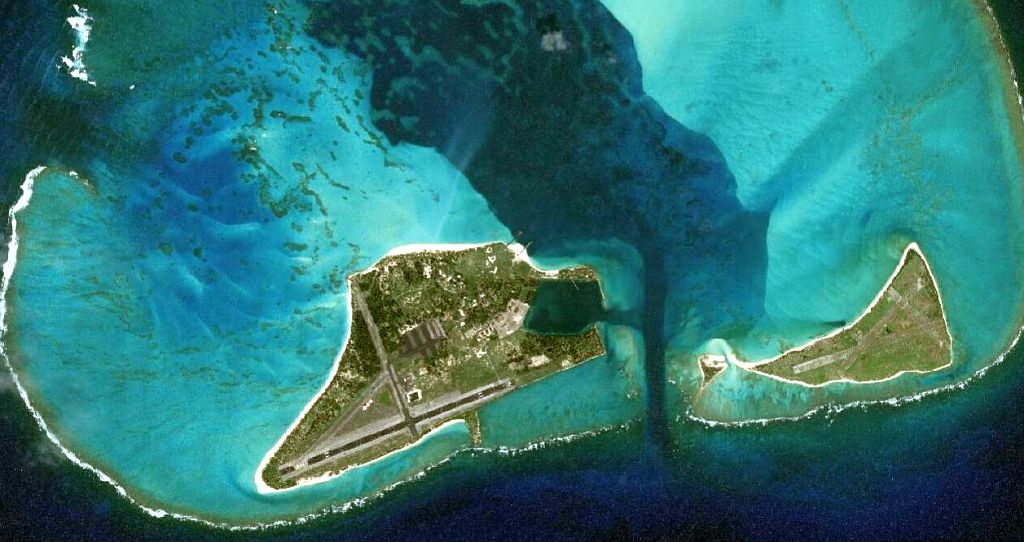 What happened then?
With the Hawaiian Airlines A330 having landed safely in Midway Atoll, what happened next? Hawaiian Airlines acted pretty quickly:
Once Hawaiian Airlines knew that the plane was diverting to the Midway Atoll, the airline immediately sent a "rescue" plane there as well — specifically, another Airbus A330 with the registration code N381HA
That rescue plane had some mechanics on it who would work on fixing the aircraft, as well as a relief crew, to fly the plane back; then the passengers and crew took the rescue plane back to Honolulu
After only being on the ground for a few hours, the rescue plane operated the remainder of the flight to Honolulu in a flight time of just over three hours
As of now the original A330 continues to sit on the ground at Midway Airport — I'm curious how long it takes to fix the plane and fly it back to Honolulu. I'm also curious how exactly they swapped planes. Were bags transferred to the new plane as well, and if so, do the flight attendants and pilots just do that, or…?
The avgeek in me finds this kind of cool
First and foremost, no one was injured, so this is hopefully a case of "all's well that ends well." I also hope that the experience wasn't too traumatic for passengers — admittedly everyone has different tolerance for this kind of stuff, though usually a low oil pressure indicator is easy enough to deal with, so it's not like a firm warning, or something.
As an avgeek, I always love watching the airshow as I fly across the Pacific, and I study at all the small islands we pass. Is it wrong that I secretly hope for a diversion to be able to land at one of these airports some day? I'd never wish for a medical diversion (because it means someone is having problems) or a serious mechanical issue, but rather something a bit more minor.
I should probably just be careful what I wish for, because then you have diversions like the below one from several years ago, which looked beyond terrifying. A Cathay Pacific Boeing 777 flying from Hong Kong to Los Angeles had an emergency, to the point that the crew was preparing for a water ditching, and told passengers to put on their life vests. Fortunately the plane managed to divert to Eareckson Air Station, a remote air base in the Alaskan Aleutian Islands. I can't imagine how scary the whole situation must have been, though.
I suppose one could just take the United Airlines "Island Hopper," which is just a slightly less remote version of some of these diversions.
Bottom line
A Hawaiian Airlines A330 flying from Seoul Incheon to Honolulu had to divert to the Midway Atoll due to engine issues. The plane landed without incident, and Hawaiian Airlines seems to have handled this well, quickly sending a rescue plane and maintenance technicians. This way passengers could quickly continue their journey to Honolulu, while mechanics and an extra crew could get the plane fixed, and hopefully back to Honolulu soon.
While flight diversions are common, it's less common to have such a remote diversion.
Have any OMAAT readers had a flight diversion to a remote airport?
(Tip of the hat to airliners.net)