This has to be the most unusual flight diversion story we've heard in a long time…
Air Arabia Maroc's medical diversion to Mallorca
On Friday, November 5, 2021, Air Arabia Maroc flight 437 was scheduled to fly from Casablanca (CMN) to Istanbul (SAW). The 2,085-mile flight was operated by an Airbus A320, and was scheduled to take 4hr30min.
While the flight departed as usual, an alleged medical situation arose after takeoff — a Moroccan man became ill, and it was believed that he was suffering a diabetic coma. The pilots asked to divert to Palma de Mallorca (PMI), and sure enough, the plane landed there pretty quickly to offload the passenger so he could get medical attention.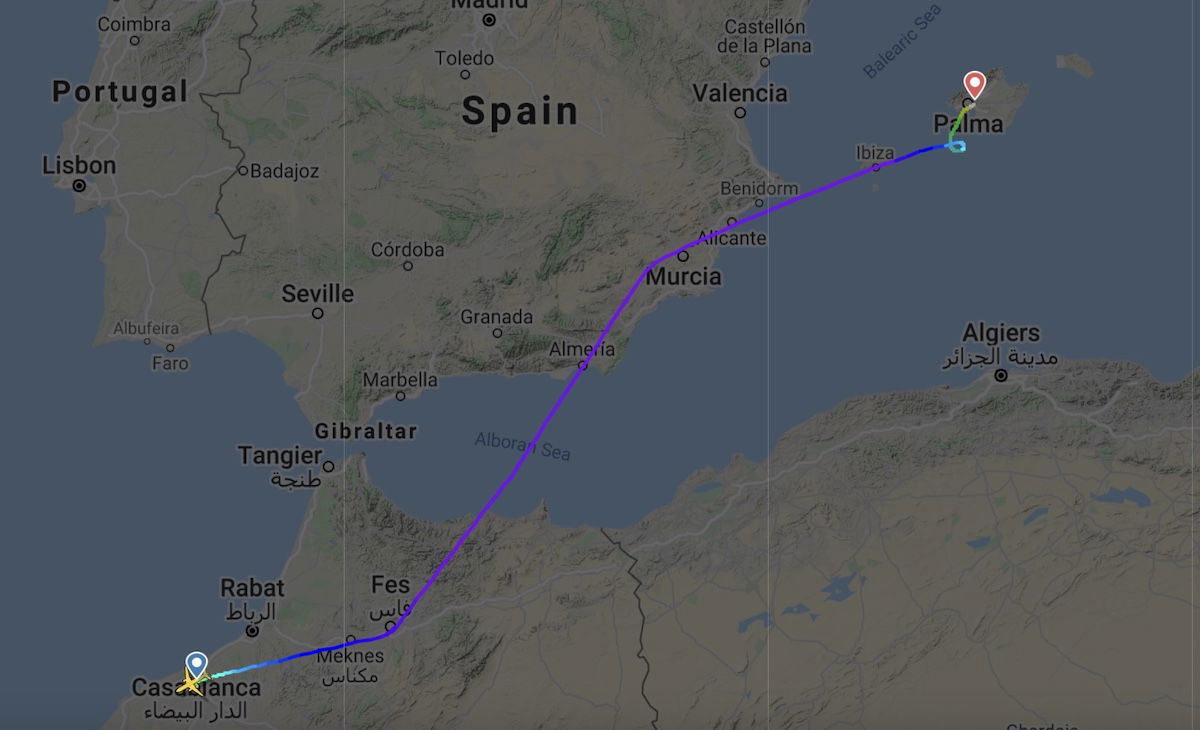 Sounds like a pretty standard medical diversion up to this point, right? Well, here's where it gets strange…
20+ passengers flee plane in Mallorca
When the plane landed in Palma de Mallorca, not only did the passenger with the medical issue and his companion get off the plane, but 20+ other passengers also fled the plane. The passengers literally made a run for it across the tarmac, jumping over the airport's perimeter fences.
This security beach caused the airport to be shut down for nearly four hours. As a result, a total of 13 flights had to be diverted, and on top of that 40 flights were significantly delayed.
Oh, and that ill passenger? He was discharged quickly, and detained on suspicion that he had faked the illness in order to illegally get into Spain. His travel companion also fled from the hospital. In the end, 24 people were involved in this incident, but only 12 have been detained. That means half of the people who escaped still haven't been found.
After the diversion, the plane ended up returning to Casablanca with those passengers who didn't try to make a run for it. I'm guessing at this point the crew would have timed out if the flight were to continue to Istanbul.
Was this an elaborate, orchestrated scheme?
This sounds like something straight out of a movie, and initially there had been questions about just how well organized this scheme was:
Did the passenger who was hospitalized fake the illness so that the flight would divert? If so, was this all timed so that the flight would divert to Spain?
Were all two dozen passengers involved in this scheme in advance, or did some of the people just decide to make a run for it as a spur of the moment decision?
As more details emerge, it's becoming clear that this was planned in advance:
Police found a Facebook group for young Moroccans, discussing this very topic
There was a post on July 17, 2021, which explained how it's possible to enter Spain using the exact method that these passengers did
The Facebook post recommended booking the Casablanca to Istanbul flight, and then having someone "feel unwell" so that the flight diverts to Spain
It's hard to imagine that this is a coincidence. What remains to be seen is if all two dozen passengers were in on this plan in advance, or if only some were, and then some decided just to make a run for it when they noticed what other people were doing.
One has to wonder if this could have long term effects for diversions, at least in some regions. Could crews become more skeptical of medical issues onboard? For flights that do divert with medical issues, will they now not only have to wait for an ambulance to show up, but also for police backup?
Bottom line
An Air Arabia Maroc flight diverted to Spain on Friday evening due to a passenger with an alleged medical issue. When the plane landed in Palma de Mallorca, around two dozen passengers escaped, literally making a run for it across the apron and towards the airport perimeter fence. This caused the airport to be shut down for nearly four hours.
It was later determined that the initial medical diversion was likely faked, and that this whole concept was planned in advance as a way of getting into Spain. At this point around half of the 24 people who got off the plane in Spain have been caught, while the others are still on the loose.
Is this the wildest diversion ever, or what?