Ultra low cost carrier Frontier Airlines has announced plans to completely overhaul its frequent flyer program as of 2024, including switching to a revenue based model, rebranding elite tiers, and more. The changes are a mixed bag, so let's go over the details.
Frontier Miles program changes as of 2024
Frontier Airlines is making updates to its frequent flyer program as of 2024. Here's how Frontier Airlines CEO Barry Biffle describes these changes:
"We are thrilled to announce some exciting new ways for our customers to 'Get it All for Less' when they fly with us. We are making the new FRONTIER Miles program like no other loyalty program in the airline industry when it comes to earning free flights and getting valuable status quickly and for less. If you are someone who travels three or four times a year, you can easily earn a free flight and status with great new benefits in no time."

"Our enhanced program enables you to get free bags, seat assignments, and priority benefits rapidly. Plus, we are now rewarding customers for their add-on purchases, including bags, seats and other extras."
Below is a chart giving you an idea of the new Frontier Miles program status perks, though I'll go over all the details below.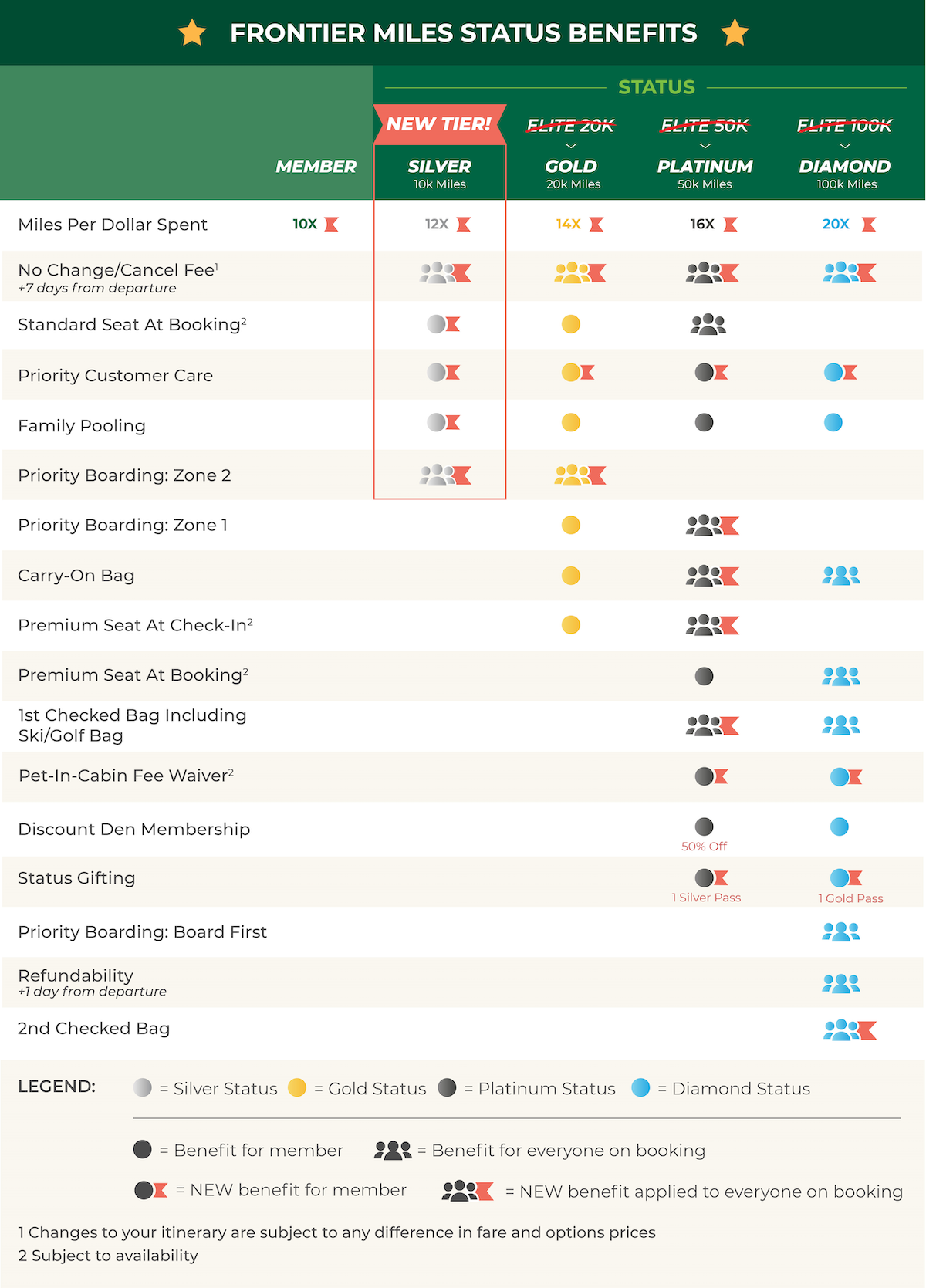 Frontier Airlines introduces four elite tiers
Starting in 2024, Frontier Airlines will have four elite tiers, compared to the current three (and all of them will be rebranded):
Frontier Silver status will require 10,000 qualifying miles per year
Frontier Gold status will require 20,000 qualifying miles per year
Frontier Platinum status will require 50,000 qualifying miles per year
Frontier Diamond status will require 100,000 qualifying miles per year
Currently Frontier has the Elite 20K, Elite 50K, and Elite 100K tiers. So we're seeing the introduction of a new tier at 10K miles, and are also seeing the other tiers rebranded.
Frontier Airlines moves to a revenue based program
Historically, Frontier Airlines has awarded miles and elite status based on how far you fly, rather than based on how much you spend. That will be changing, as Frontier will start awarding miles based on dollars spent on Frontier products, including flights, bags, seat assignments, and bundles.
The number of elite qualifying miles you earn varies based on your status:
Non-elite members earn 10x miles per dollar spent
Silver members earn 12x miles per dollar spent
Gold members earn 14x miles per dollar spent
Platinum members earn 16x miles per dollar spent
Diamond members earn 20x miles per dollar spent
As you can see, this means that requalifying for elite status is easier than earning it the first time around, given the higher elite multiplier. This is similar to the American AAdvantage Loyalty Points system. As you can tell, you can earn Silver status by spending just $1,000 with Frontier, while you can requalify for Diamond status by spending $5,000 with Frontier.
Frontier Airlines adds new elite perks
Frontier Airlines is overhauling its elite perks. Ultra low cost carriers of course make a lot of money on fees, and elite status can help you avoid many of those. With the new program, all elite members — ranging from Silver to Diamond — will receive the following perks:
A free standard seat assignment
No change or cancelation fees, as long as you changes are made at least seven days in advance of flight departure
Priority customer care
Family mileage pooling
Priority boarding
In addition to that, we're seeing several new benefits added at a variety of tiers:
Gold members and above receive free upgrades to Premium Stretch Seating, subject to availability
Gold members and above receive free carry-on bags, and Platinum members and above receive free carry-on bags for everyone in their booking
Platinum members and above receive a free checked bag, including golf, ski, or scuba gear, and Diamond members receive two checked bags for each individual in their booking
Platinum members and above receive a free pet-in-cabin, subject to availability
Diamond members can gift Gold status to someone, while Platinum members can gift Silver status to someone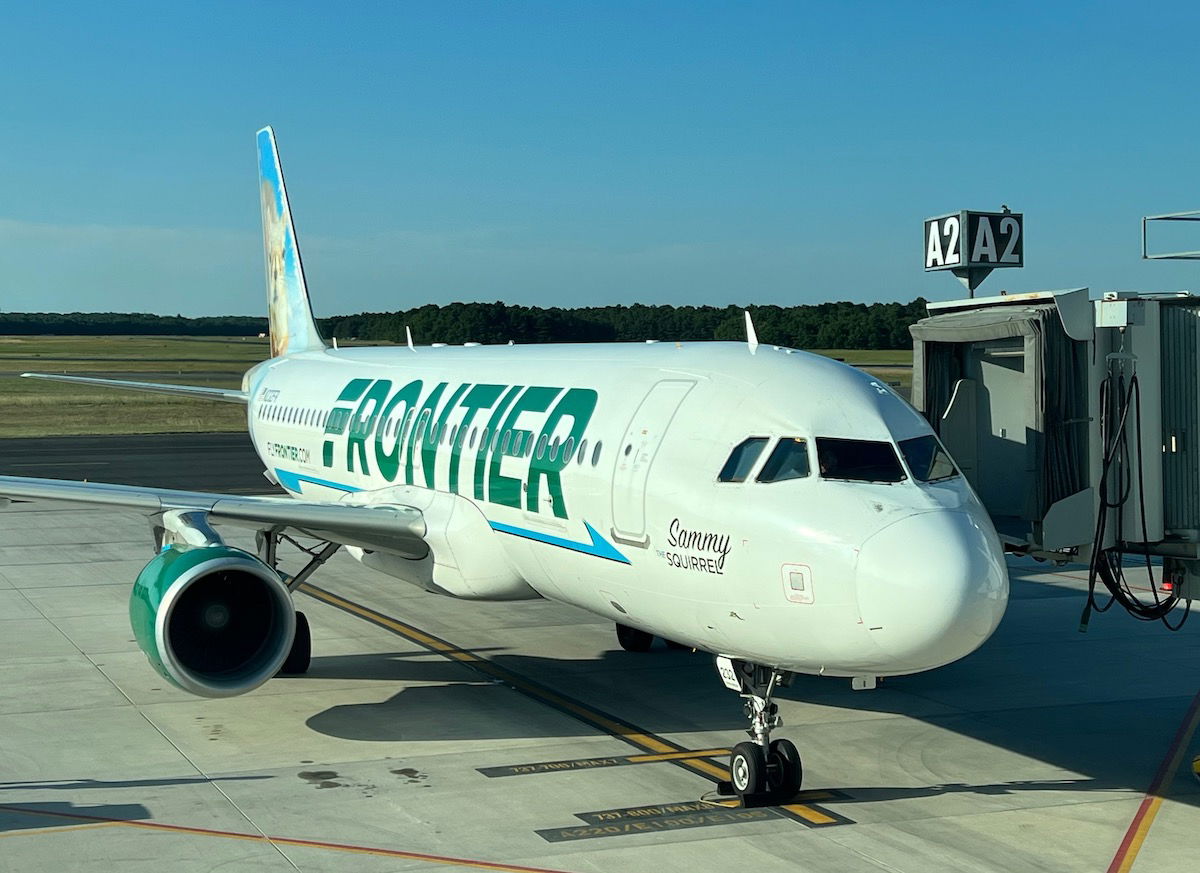 My take on Frontier Miles program changes
We know that ultra low cost carriers in the United States are struggling at the moment, and Frontier Airlines' CEO has even suggested that these airlines are "kind of the canary in the coal mine." We know that in some ways ultra low cost carriers are trying to align more closely with legacy airlines, and I think these changes are a reflection of that.
Of course on the surface I'm not a fan of frequent flyer programs going from being distance based to being revenue based. However, I also understand why Frontier would go that direction, given the huge variance in ticket prices.
There are several things that I appreciate about these changes, which I think will make flying Frontier more compelling. I think the most most significant change is that all elite members will be able to change tickets at no cost up until seven days before departure. While still not as much flexibility as you get at the legacies on many fares, it's a big improvement over the old "use it or lose it" system.
If you can qualify for a higher elite tier, it's quite compelling to go for status with Frontier. When you combine the low base fares with just about all the major fees being waived for everyone in your party (carry-on fees, seat assignment fees, etc.), that's pretty awesome.
The challenge for ultra low cost carriers remains that it's hard to actually want to be loyal to them. Some people refuse to fly them, while others fly them when they offer the best value or most convenient schedule. However, can an airline like Frontier really be a carrier that people specifically seek out over competitors? That's something I have a hard time imagining…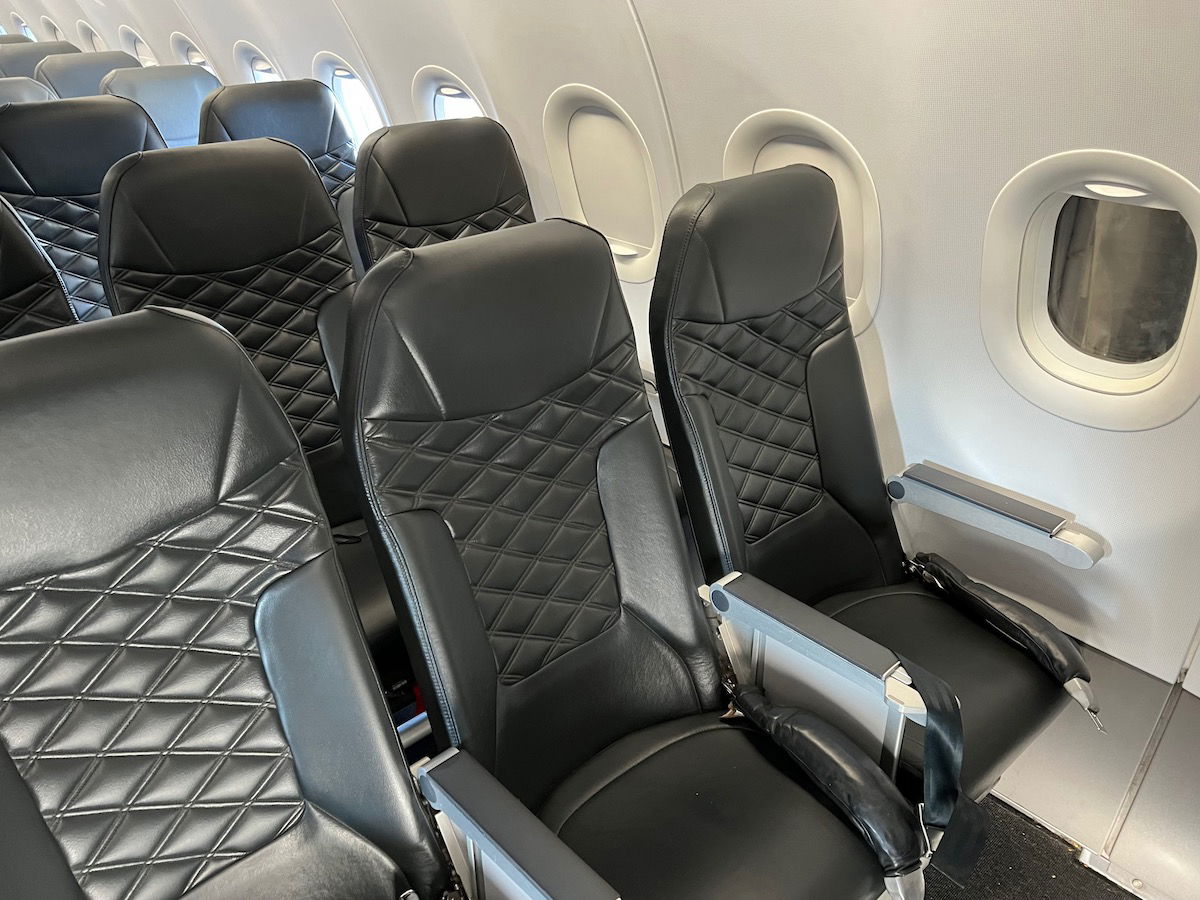 Bottom line
Frontier Airlines' frequent flyer program is undergoing many changes as of 2024. The program is moving revenue based, we're seeing the introduction of a fourth elite tier (plus the rebranding of all elite tiers), and some benefits are being changed up, including the introduction of no change fees for elites, when making changes at least seven days in advance.
Status with an ultra low cost carrier can be lucrative, and can score you an amazing deal. The challenge is just that most people don't actually want to fly an ultra low cost carrier more than they have to, and typically not enough to earn status…
What do you make of these Frontier Miles changes?