Etihad Airways has just released a cute ad ahead of the 2022 FIFA World Cup in Doha. It's kind of cute, and that's coming from me — it's probably nearly impossible to care less about organized sports than I do (I mean, other than the spelling bee… that's kind of cool).
Etihad's ad starring famous athletes
In November 2022, the FIFA World Cup will be taking place in the Middle East. While it will be hosted by Qatar and not the United Arab Emirates, Abu Dhabi-based Etihad will operate six daily flights to Doha, so the airline will play a significant part in getting people there. That service operates as of November 20, 2022, and the short 200-mile journey will take just 65 minutes gate-to-gate.
In celebration of this, the airline has released a funny new ad. Here's how the ad's plot is described:
Khabib Nurmagomedov, the longest reigning, and undefeated UFC Lightweight Champion before his retirement, is a huge football fan. He and his good friend, Dutch footballing genius Clarence Seedorf, four-time UEFA Champions League winner and the only player to have won the tournament with three different clubs, joined a very special guest to film the video on flight EY399 from Abu Dhabi to Doha.

The 70 second Etihad video features the two sports stars in Business class, being upstaged by the mystery celebrity who, much to their surprise, is attracting more attention from the other passengers than they are.

As the film continues, Khabib and Clarence's intrigue builds as they speculate about who this VIP could be. Their attempts to get a casual look at the celebrity repeatedly fail.

Finally, they decide to take direct action to uncover the identity of the guest, but they are left speechless when the football-loving frequent flyer is revealed.
You can see the ad for yourself below.
Yes, you can really fly with falcons on Etihad
Every so often there's a viral story about people traveling with a falcon on a Gulf carrier, because to many people that's just so hard to believe. But it's a real thing. Falcons are permitted onboard all Etihad Airways operated flights.
You can travel with a falcon free of charge as part of your cabin baggage allowance. In economy you're allowed to carry on one falcon, while in business and first class you're allowed to carry on two falcons. Just make sure you don't sit in the exit row, as they're not allowed there.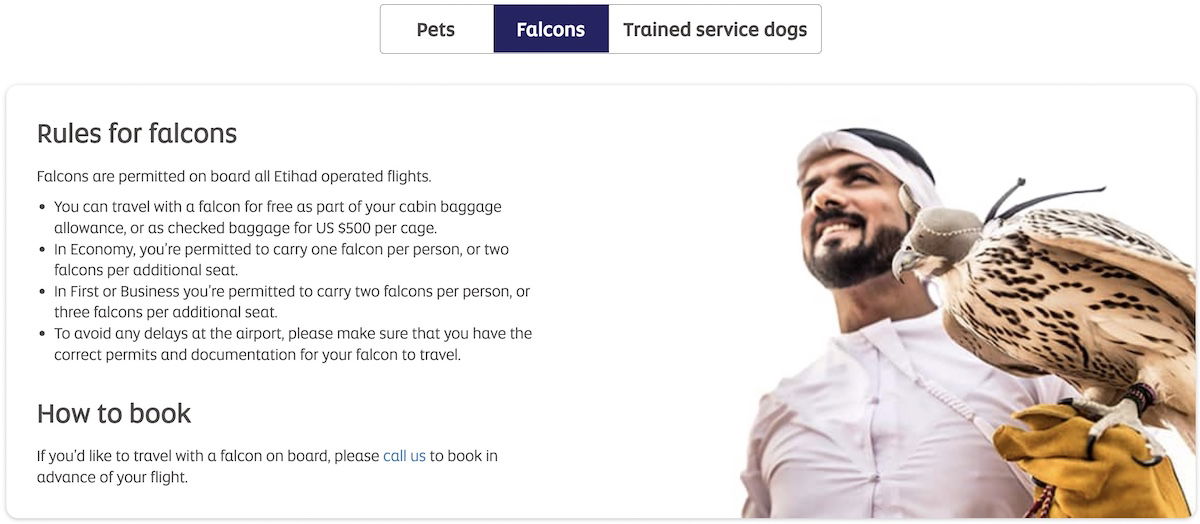 And then you even have some flights with dozens of falcons…
Bottom line
Etihad Airways' latest ad campaign is about the World Cup that's coming up soon, and features both some famous athletes and a falcon. It's a cute ad, especially since many people are caught off guard by most airlines in the Gulf region actually letting you fly with falcons.
What do you make of Etihad's ad?