This week, American Airlines CEO Robert Isom announced that he was prepared to give pilots massive raises, which will see some senior captains making $590K per year. Not surprisingly, other work groups want big raises as well, as first noted by Paddle Your Own Kanoo.
What American flight attendants are demanding
American flight attendants have been negotiating a new contract, but haven't yet come to an agreement with management. The Association of Professional Flight Attendants (APFA), which represents all flight attendants at American, has now unveiled a new proposal. The union is requesting:
A 35% pay increase as of the day the contract is signed, with further 6% annual pay increases in subsequent years, for the duration of the contract (which is three years)
An increase in reserve guarantees, so that when a flight attendant is on reserve for a month, they get paid for a minimum of 82 hours, rather than 75 hours
An increase in premiums paid for language speakers, for international flights, and for those working galleys
Boarding pay, whereby flight attendants are paid 50% of their regular hourly pay during boarding
New night pay, whereby flight attendants are paid extra when working domestic flights at night
An increase in per diems, so that flight attendants receive more money for each hour they're gone from home
An increase in profit sharing, from the current 5%, to 10% of pre-tax earnings up to $2.5 billion, and 20% above that
For those curious, below is a chart that shows current hourly flight attendant day, plus the proposed pay starting the date the contract is signed.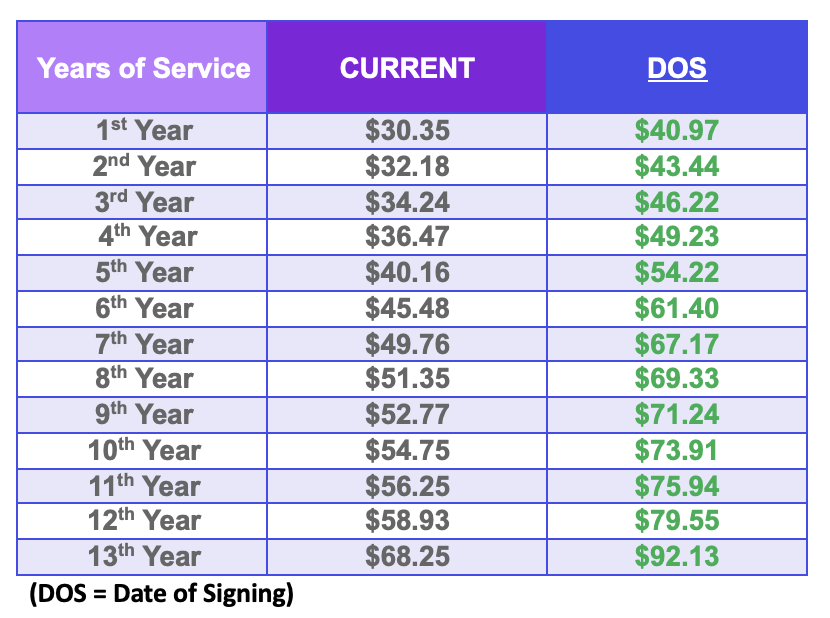 My take on the flight attendant union demands
It's not surprising to see the flight attendant union use this opportunity to try to negotiate a new contract, especially given how serious management seems about giving pilots a new contract. Admittedly this is just a proposal, and you can almost certainly bet that there will be some negotiating here.
What's my take? On the one hand, I can't blame flight attendants for aiming high here. Why wouldn't they? It's kind of a slap in the face to other labor groups when pilots (already the best paid employees at the airline) are being offered absolutely massive pay raises, while flight attendants continue to have not-great pay.
With the new contracts pilots are getting, a senior captain would make about seven or eight times as much as a senior flight attendant. That's… quite a pay difference.
On the other hand, on some level this reflects supply and demand. The reality is that there's a never-ending list of applicants who want to become flight attendants. Training takes several weeks, so the potential labor pool there is quite large.
Meanwhile at the moment there's a pilot shortage, and they also can't easily be replaced. Training to become a pilot from scratch takes years, so realistically that shortage will continue to exist for some amount of time. Simply put, right now pilots have a lot more leverage than flight attendants.
Bottom line
The union representing American flight attendants is demanding absolutely massive pay increases. The union wants 35% pay increases across the board, then 6% annual pay increases after that, then boarding pay, then increased profit sharing, and then increased pay for all kinds of functions, ranging from language speakers, to night flying.
I can't blame American flight attendants for making all these requests, given what pilots are getting. All these pay increases seem unsustainable. As I explained in a separate post, the incremental pay American pilots will be getting is greater than American's annual net profit during the "best of times" (pre-pandemic).
What do you make of this request from the flight attendant union?