In many parts of the world, demand for air travel is highly seasonal. That's especially true in Northern Europe, where there's a lot less leisure air travel demand in winter than summer. With that in mind, airBaltic has just announced a creative new base for this winter.
airBaltic will base A220s in Las Palmas, Gran Canaria
Riga-based airBaltic has announced plans to open a seasonal base in Las Palmas, Gran Canaria, this winter. The airline will base two Airbus A220-300s at Las Palmas Airport (LPA) for the winter season.
From there, the airline will operate 10 nonstop routes to airports in Northern Europe. airBaltic will fly from Las Palmas to the following airports:
Riga, Latvia (RIX) — 3x weekly as of October 23, 2023
Bergen, Norway (BGO) — 2x weekly as of December 1, 2023
Billund, Denmark (BLL) — 2x weekly as of December 1, 2023
Copenhagen, Denmark (CPH) — 1x weekly as of December 2, 2023
Vilnius, Lithuania (VNO) — 1x weekly as of December 2, 2023
Oslo-Sandefjord, Norway (TRF) — 2x weekly as of December 3, 2023
Oslo-Gardenmoen, Norway (OSL) — 2x weekly as of December 3, 2023
Aalbord, Denmark (AAL) — 2x weekly as of December 3, 2023
Tampere, Finland (TMP) — 1x weekly as of December 5, 2023
Tallinn, Estonia (TLL) — 1x weekly as of December 7, 2023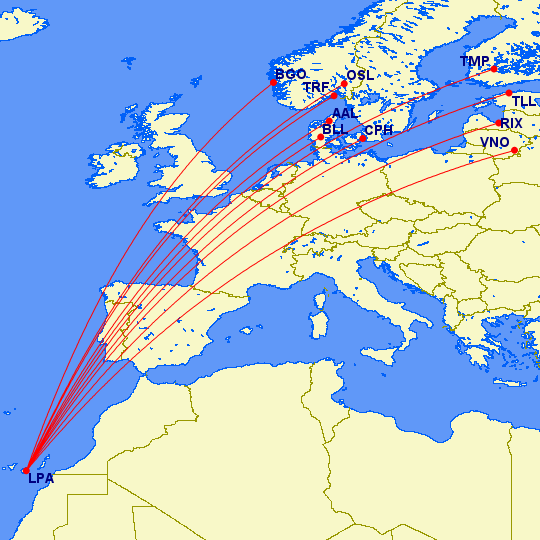 All these new flights will be bookable directly through airBaltic's website as of June 21, 2023. These new routes will have no impact on airBaltic's existing winter schedule, and overall operations from Riga, Tallinn, Vilnius, and Tampere.
Furthermore, the airline won't actually be opening a crew base in Las Palmas, but rather will efficiently rotate crews through Las Palmas from its existing bases.
These are all pretty long routes, by the way. They range in distance from 2,273 miles to 2,922 miles, so they're in some cases longer than transcon flights in the United States.
Here's airBaltic CEO Martin Gauss describes this development:
"When preparing for the upcoming season, we always carefully analyze the market dynamics. For winter months, when the overall passenger demand worldwide is traditionally lower, we have identified an opportunity to optimize our capacity to be as efficient as possible – by establishing a seasonal base and operating two aircraft from Las Palmas to serve the demand for sunny and leisure destinations. Such expanded presence in Gran Canaria not only enhances connectivity, but also provides passengers with a wide range of convenient travel options."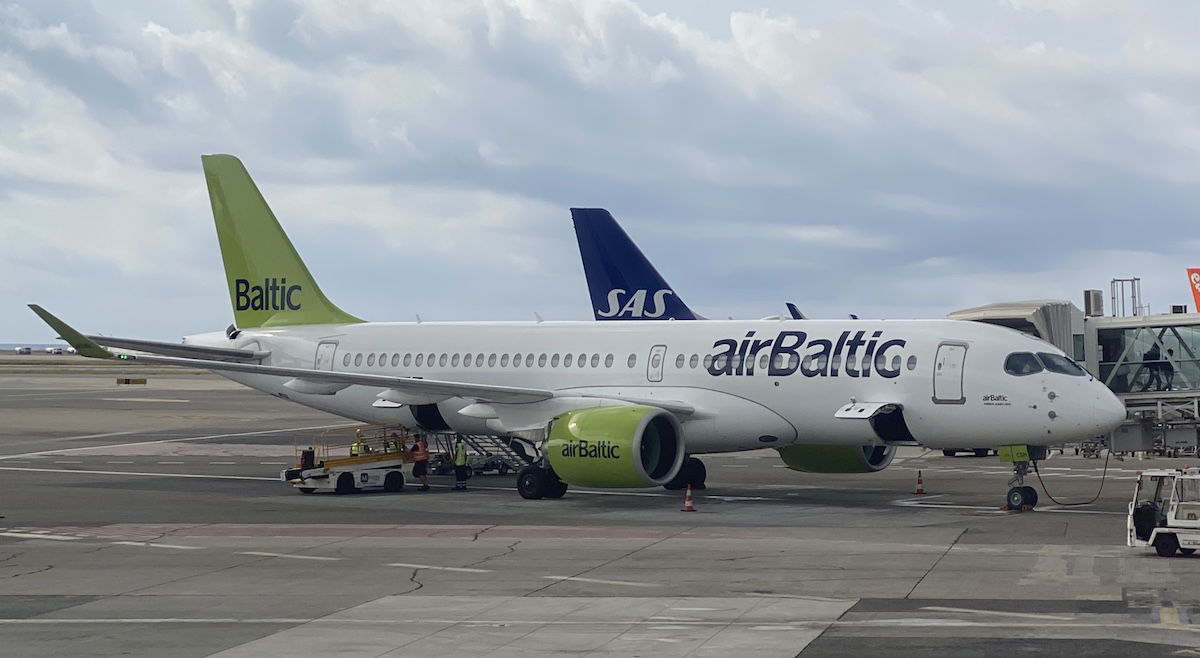 This seems like a smart strategy for airBaltic
airBaltic is a well run company. The airline has a fleet of 40 Airbus A220s, which have great economics, and offer a fantastic passenger experience. I love how the airline has gone all-in on this aircraft.
The catch is that like many other airlines in Northern Europe, airBaltic has been hit hard by Russia's airspace being closed off to Europe. Previously the airline offered extensive service to Russia, so that airspace being closed off complicates the carrier's business model.
Given that airBaltic has excess aircraft as a result of that, we've seen the airline wet lease A220s to some other airlines (I flew on one last summer for an SAS wet lease). Roughly one-third of airBaltic's fleet is currently leased to other airlines, whereby airBaltic planes and crews are operating flights on behalf of other carriers.
When the winter season starts, airBaltic will obviously see a significant drop in demand, given reduced tourism that time of year. So setting up a base in the Canary Islands seems like a smart move. This kind of counter-seasonal aircraft deployment is something that a lot of other airlines would benefit from, in my opinion. Though in fairness, the airline is really taking a pretty low-risk strategy here, deploying just two aircraft.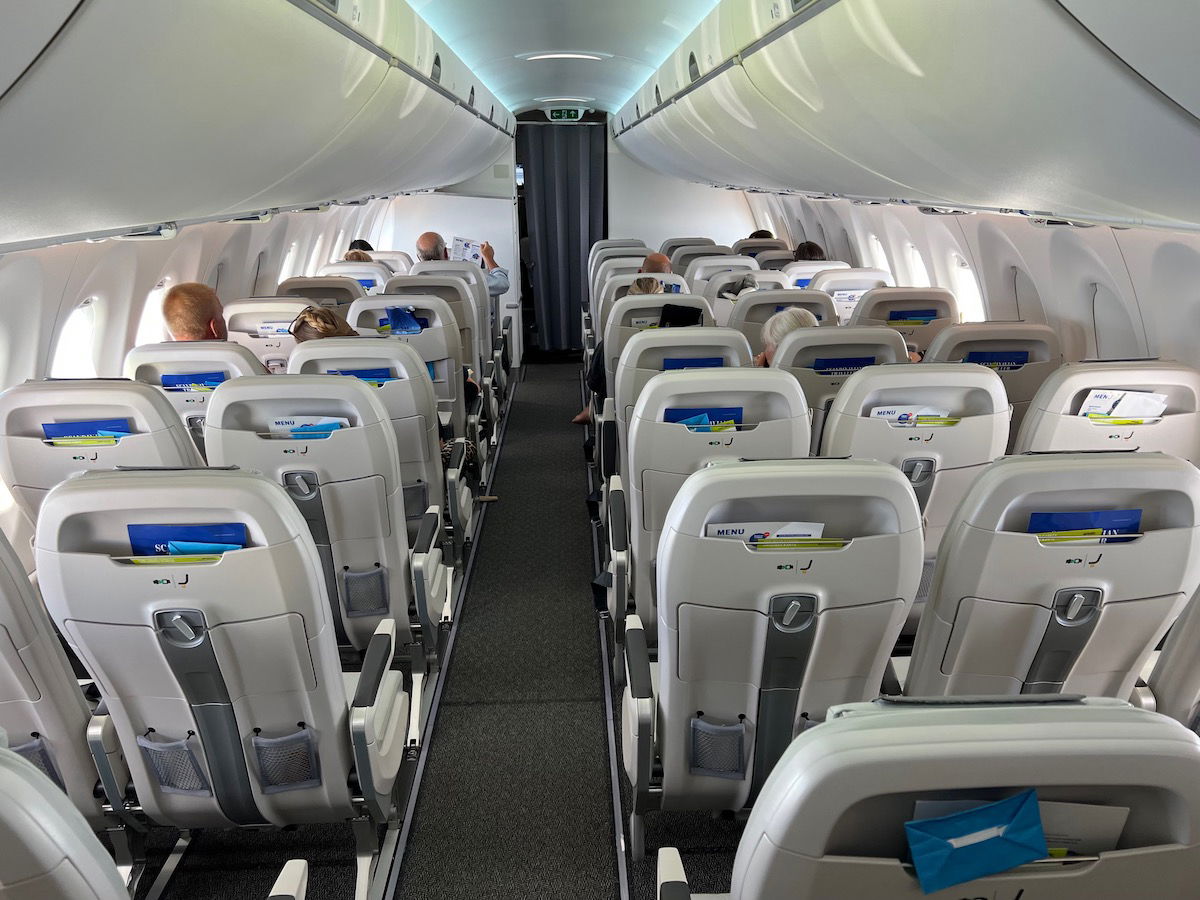 Bottom line
airBaltic is getting creative this winter, given the closure of Russian airspace. In addition to wet leasing planes to other airlines, airBaltic will be basing two A220s in Las Palmas, which will be used to operate nonstop flights to 10 destinations in Northern Europe this winter.
What do you make of airBaltic's Canary Islands base?