The Dubai Airshow 2023 has seen quite a few aircraft orders, including from Emirates, FlyDubai, EgyptAir, and Royal Jordanian. Now Latvian flag carrier airBaltic has placed an impressive order as well.
airBaltic orders up to 50 more Airbus A220s
airBaltic has just placed an incremental order for up to 50 additional Airbus A220-300s, consisting of 30 firm orders plus 20 options. This complements the carrier's previous order for 50 of these jets, 44 of which are already in service.
airBaltic has made it clear that the airline hopes to operate a fleet of 100 jets by 2030. For context, airBaltic is an all-Airbus A220 operator. The airline was the launch customer for the A220-300 in 2016, and it's currently the largest operator of this variant in the world. The airline has exclusively been flying A220s since 2020, with no signs of that changing.
The Airbus A220-300 is an incredibly capable jet. airBaltic has equipped these planes with 145 seats, and the planes have great fuel economy (25% less fuel burn than previous generation aircraft), industry leading passenger comfort (thanks in large part to the 2-3 configuration), and amazing range (up to 3,450 nautical miles).
Here's what airBaltic CEO Martin Gauss had to say about this order:
"This day marks a significant milestone in the history of airBaltic – our plans for the first time ever to operate a fleet of 100 aircraft by 2030. For almost seven years already, the Airbus A220-300 has been the backbone of our operations and has played an integral role in the international success story of airBaltic. Being the global launch customer of the Airbus A220-300, we continue to be a proud ambassador of it. We are grateful to our partners at Airbus for the incredible support, trust, and collaboration over these years."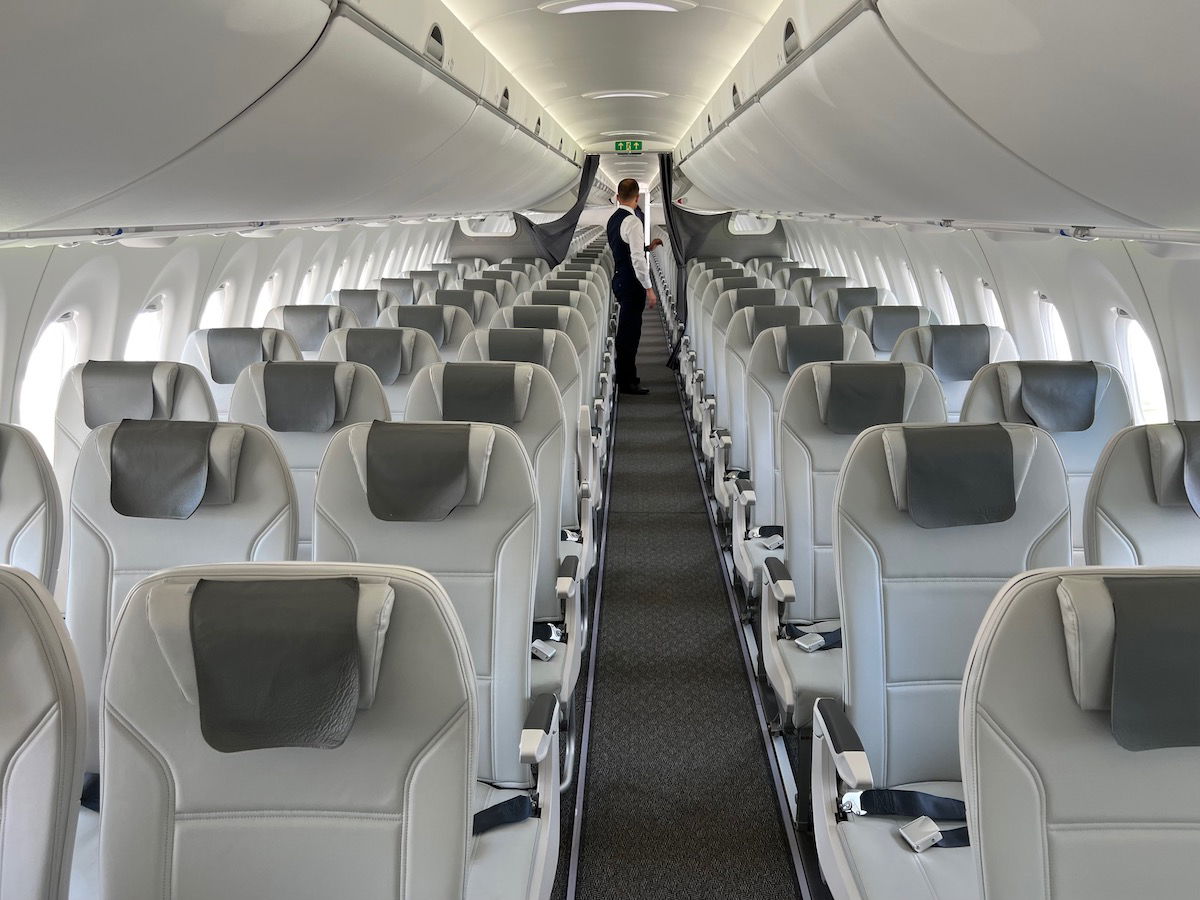 The success & growth of airBaltic makes me happy
airBaltic is just such a breath of fresh air in the airline industry, in my opinion:
The airline is government owned, yet despite that, is run with incredible discipline and like a for-profit operation
The level of fleet consistency that airBaltic has been focused on is basically unrivaled, and I love how the airline just keeps doubling down on the same plane, as the synergies are amazing
airBaltic has grown slowly but steadily in recent years, with a level of consistency that you also don't see from many airlines, let alone ones owned by the government
Despite having a tough several years (between the pandemic and the closure of Russian airspace), airBaltic has maintained its core strategy and has gotten creative, from leasing out its jets to other airlines, to setting up hubs at other destinations in winter
Oh, airBaltic's CEO is also pretty darn cool, as he's an Airbus A220 captain himself. What a guy!
Bottom line
airBaltic has placed a firm order for an additional 30 Airbus A220-300s, with options for 20 more jets. This complements the carrier's current order of 50 A220s, 44 of which are already flying. airBaltic is such an impressive airline, and is aiming to have 100 planes by 2030.
What do you make of airBaltic's A220 order?