If you're flying internationally with Air New Zealand in the coming weeks, you may be asked to step on a scale…
Air New Zealand's passenger weight survey
Between May 29 and July 2, 2023, Air New Zealand will be asking more than 10,000 international travelers to step on a scale, in order to take part in an international weight survey.
Understandably, many people may be embarrassed by being asked to step on a scale in public, since it's not often you're asked to do that at airports. What's the logic? Well, airlines have to calculate an average weight per passenger for operational purposes (maximum takeoff weight, how much fuel is needed, etc.).
The thing is, those averages have to come from somewhere. New Zealand's Civil Aviation Authority requires that airlines conduct weight surveys at least once every five years, so that they can see if there have been any changes. In 2021, Air New Zealand conducted a survey of passenger weight on domestic flights, and now the airline will be carrying out a survey of passenger weight on international flights.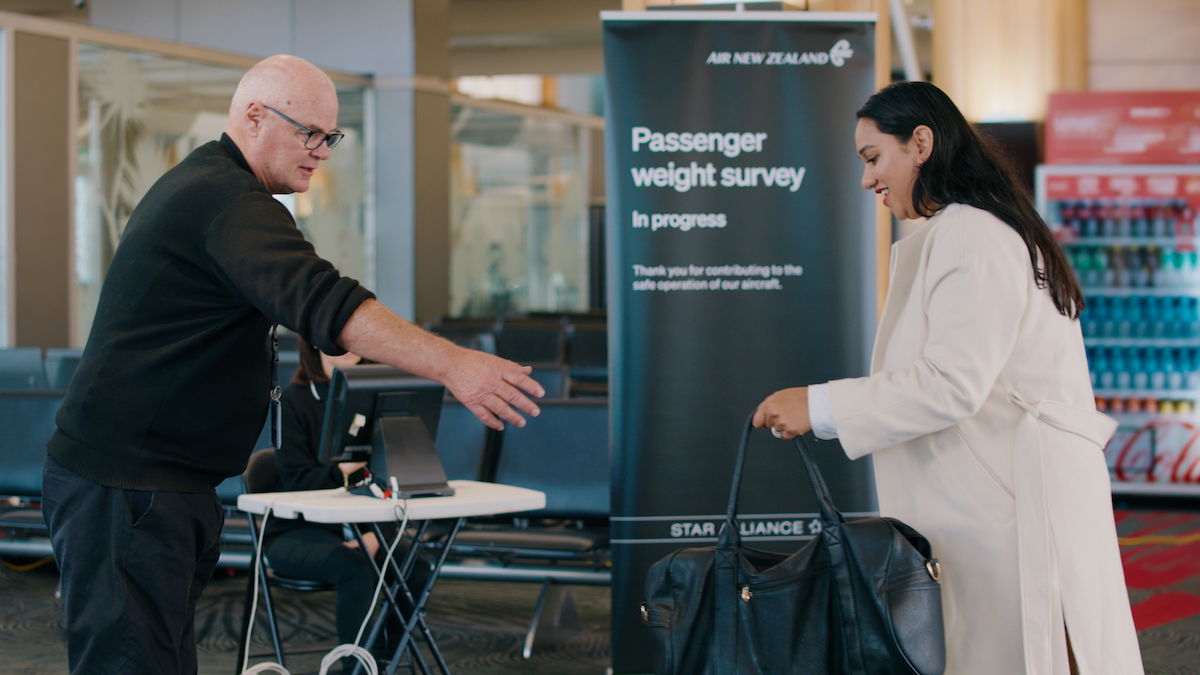 How exactly does this weight survey work?
Passengers being weighed isn't compulsory, but the airline does "really appreciate customers helping out." You can expect this survey to take place at the entrance to gate lounges of certain Air New Zealand international flights departing Auckland International Airport (AKL) between May 29 and July 2, 2023.
Even among those who volunteer, the data is anonymized. That's to say that passengers are asked to step on a scale with their bags, but then the results can't actually be seen by the data collection team or other customers.
As Air New Zealand Load Control Improvement Specialist Alastair James describes this initiative:
"We weigh everything that goes on the aircraft – from the cargo to the meals onboard, to the luggage in the hold.​For customers, crew and cabin bags, we use average weights, which we get from doing this survey. We know stepping on the scales can be daunting. We want to reassure our customers there is no visible display anywhere. No one can see your weight – not even us! It's completely anonymous. It's simple, it's voluntary, and by weighing in, you'll be helping us to fly you safely and efficiently, every time."
I can't help but wonder if these numbers are actually fully accurate. In other words, even if it's just subconscious, is there a bias whereby those who weigh less or those who have lighter carry-ons are more likely to voluntarily participate in this than others. If someone knew their carry-on bag was overweight, would they be just as likely to get on one of these?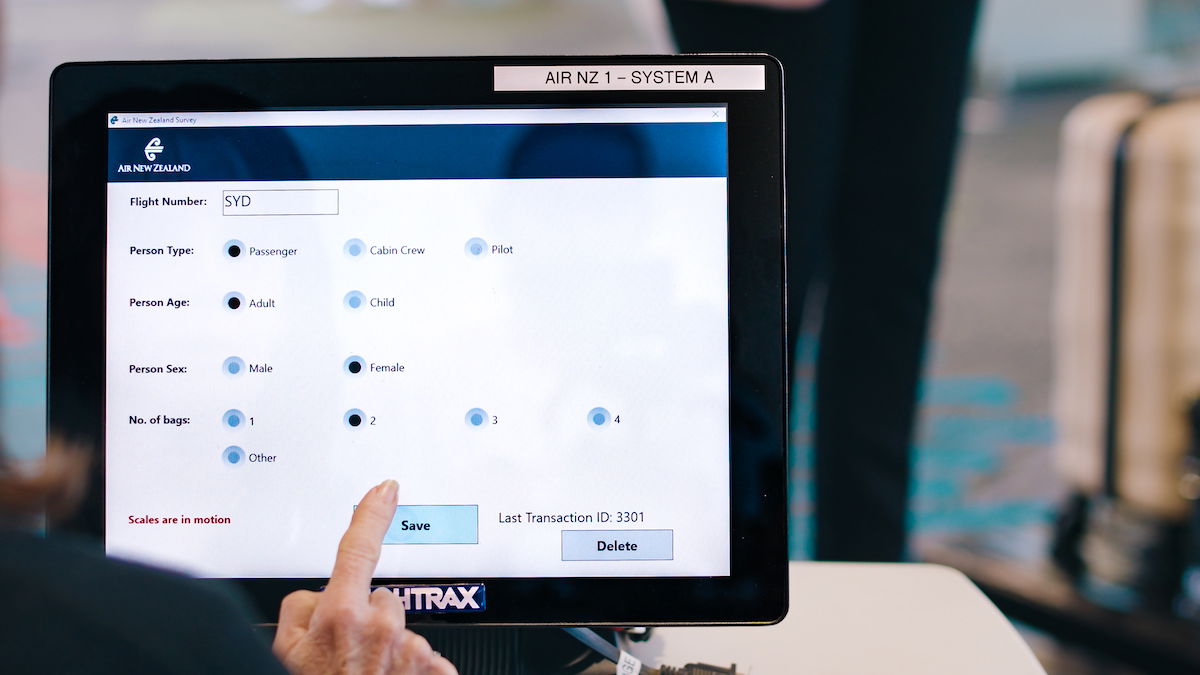 Hawaiian's American Samoa experiment
Air New Zealand passengers being weighed brings to mind a 2016 story. Hawaiian Airlines noted that fuel burn was consistently higher on flights between Honolulu and Pago Pago than it was on other routes.
This caused the airline to believe that weight assumptions for this route were inaccurate. Nearly 94% of the population in American Samoa is overweight or obese, so it's understandable that you might not want to assume average passengers weights are the same on flights to Japan as they are on flights to American Samoa, for example.
So the airline conducted a survey over the course of six months, whereby passengers and their carry-ons were weighed, to determine the average weights. The airline also only assigned seats at check-in so that weight could be distributed throughout the plane as efficiently as possible.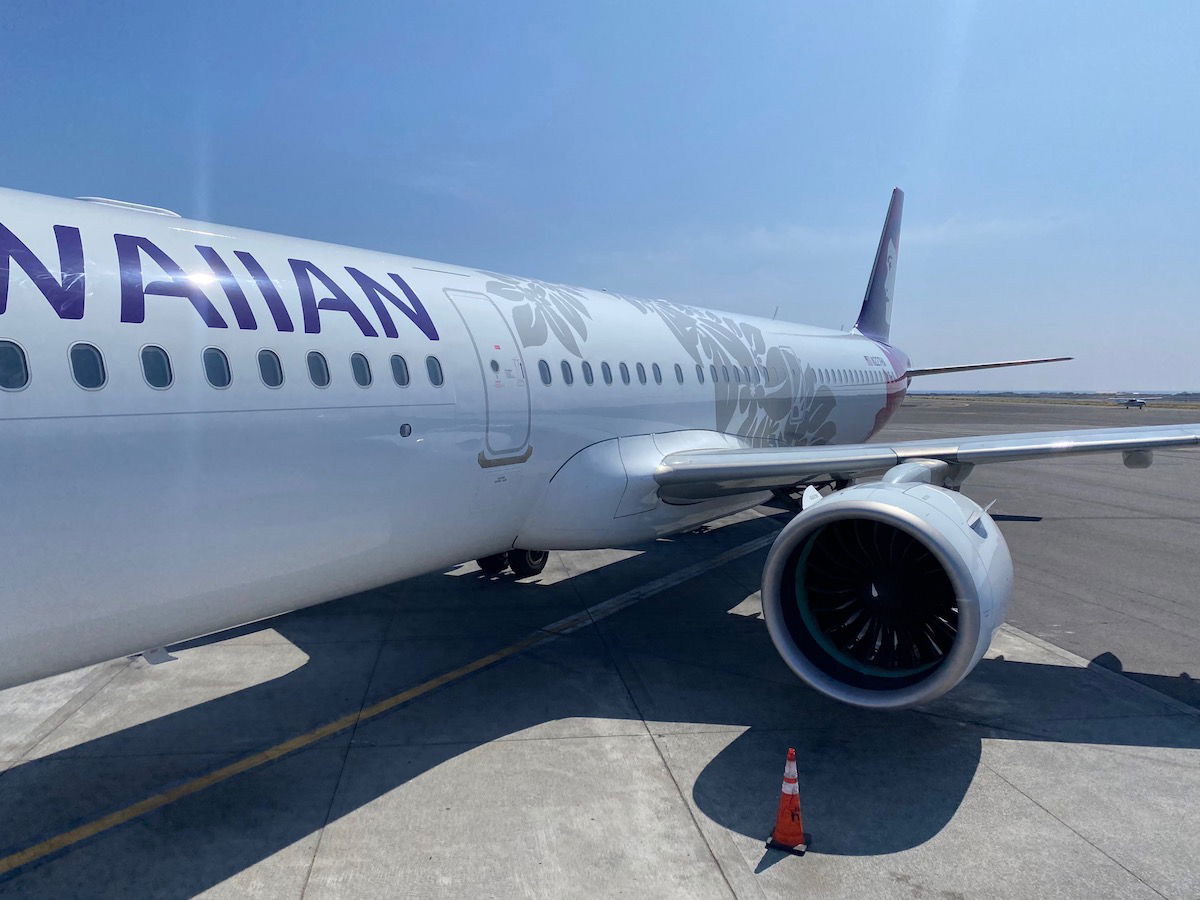 Bottom line
Every so often airlines need to weigh passengers so that they can make accurate projections. That's happening over the coming weeks at Air New Zealand, as international passengers are being asked to step on scales.
As embarrassing as it may seem, this is ultimately voluntary, and the data is also anonymous. So this isn't a situation where a check-in agent asks you to stand on the baggage scale and then reads your weight out loud.
Has anyone been asked to get on a scale when flying on a commercial flight?