In early February there was speculation that Air New Zealand would announce a new flight between Auckland and Chicago. Obama was visiting New Zealand, and with Chicago being his hometown and Air New Zealand typically flying to United hubs in the US, this seemed logical enough. This new route has now been confirmed.
Air New Zealand will add 3x weekly flights between Auckland and Chicago as of November 30, 2018. The new flight will be operated by a Boeing 787-9, with the following schedule:
NZ26 Auckland to Chicago departing 8:10PM arriving 4:15PM [Wed, Fri, Sun]
NZ27 Chicago to Auckland departing 8:10PM arriving 6:30AM (+2 days) [Wed, Fri, Sun]
At 8,184 miles this is an ultra longhaul flight, though we've seen plenty of ultra longhaul flights lately, so it's not that noteworthy in terms of distance (the world's longest flight, from Doha to Auckland, is nearly 900 miles longer). The flight will be 15hr5min northbound and 16hr20min southbound.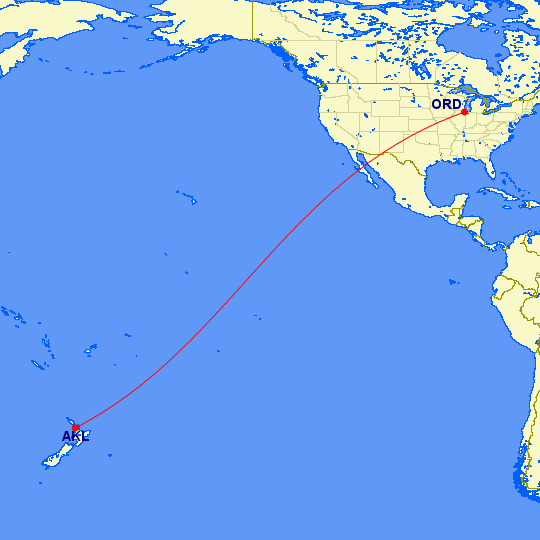 This complements Air New Zealand's existing flights to the US, as they fly to Houston, Los Angeles, and San Francisco. This new flight to Chicago will give passengers all kinds of connection opportunities thanks to United's presence at O'Hare, since they're the largest airline there.
Air New Zealand and United have a joint venture on transpacific flights, so this isn't the only part of the announcement. United is also expanding service to New Zealand. United first began flying to Auckland in July 2016, though as of last year they made the flight seasonal. United will be reversing that. Starting in April 2019, United will once again operate year-round flights between San Francisco and Auckland.
In the off season United will operate the flight 3x weekly. They'll use a Boeing 777-300ER between November and March, and a Boeing 777-200ER between April and October. The 777-300ER will feature United's new Polaris seats, while the 777-200ER won't.
In the meantime Qantas has also announced flights between Chicago and Brisbane, launching in April 2020.
Bottom line
I love seeing new ultra longhaul flights. For years we saw airlines cut long flights due to fuel prices and inefficient planes, but thanks to planes like the 787 and A350, we're seeing that trend reverse. We're once again seeing more and more ultra longhaul flights, which is great, as it connects the world in fewer stops. While this new Air New Zealand flight only operates 3x weekly, it will no doubt be useful for travelers headed to Chicago and beyond.
What do you make of Air New Zealand's new route to Chicago?
(Featured image courtesy of Masakatsu Ukon)