While we hear of flights returning to their origin every so often, this one has to set some sort of a record. Long story short, an Air New Zealand Boeing 787 flew from Auckland to Auckland in a bit over 16 hours…
Air New Zealand's very long flight from Auckland to Auckland
This incident happened on Thursday, February 16, 2023, and involves Air New Zealand flight NZ2 from Auckland (AKL) to New York (JFK). The flight was operated by a roughly four year old Boeing 787-9 with the registration code ZK-NZQ. At 8,828 miles, this is the world's fifth longest route.
The flight was scheduled to depart Auckland at 7:45PM and arrive in New York at 5:40PM the same day, after a 15hr55min journey. Unfortunately that's not exactly how things played out — the plane ended up flying for longer than that, but landed in Auckland rather than New York.
Why would that happen? Well, the flight took off from Auckland at 8:20PM, roughly as scheduled, and began its long journey to New York, flying northeast across the Pacific. Unfortunately while the plane was in the air, JFK Terminal 1 ended up shutting down. There had been a small fire in the terminal overnight, leading to a power outage in the terminal.
Rather than diverting to another airport or using a different terminal at JFK, Air New Zealand made a different operational decision. 7hr40min after departing Auckland, the plane turned around to fly back to New Zealand. With the headwinds when flying westbound, the return journey took even longer. The flight ended up landing in Auckland 16hr5min after departing from the same airport, at around 12:25PM on Friday.
While we've seen flights sometimes return to their origin due to operational reasons, this is the first 16+ hour flight I can recall operating in this way. Ouch.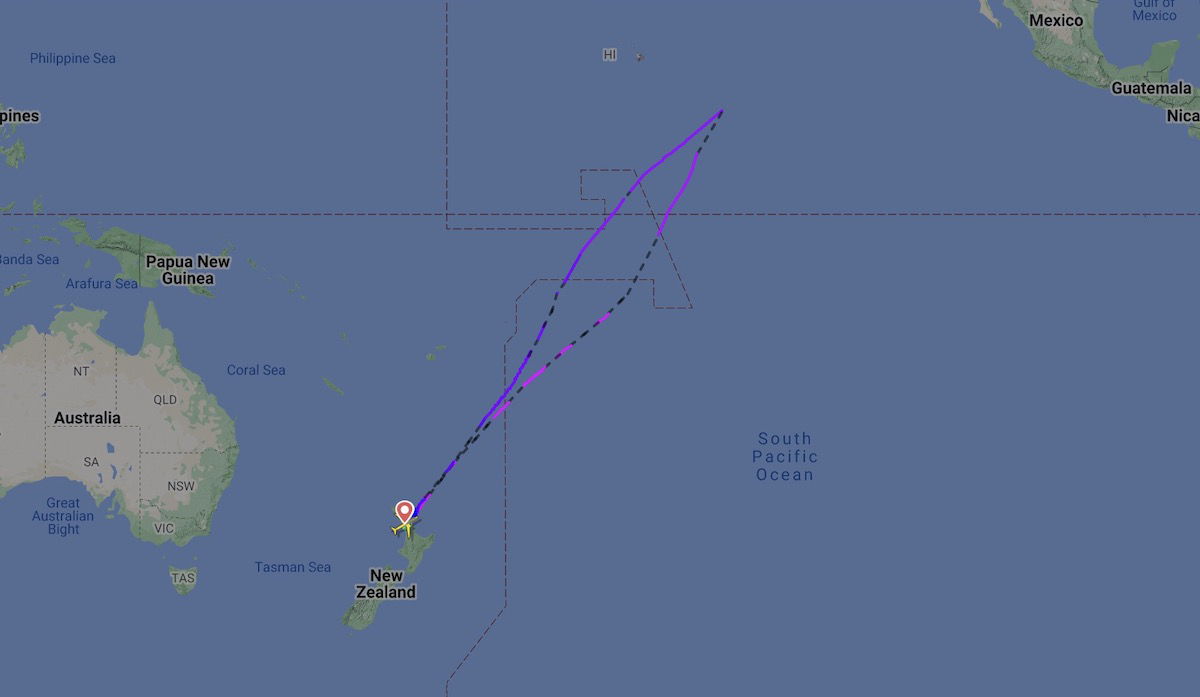 Why would this flight return all the way to Auckland?
Air New Zealand is getting a lot of flak for returning to Auckland, rather than flying to some other airport. After all, passengers ended up flying longer than they would have to their destination, and surely there was somewhere they could divert to… right?
The decision to return to Auckland was made by Air New Zealand's operations folks, and not the pilots. @XJonNYC even shares screenshots of alleged messages from the pilots of this flight to Air New Zealand's operations center, proposing alternatives so that the plane wouldn't have to return all the way to Auckland:
"Hi what about Houston we could stop there pax could either wait with us for 12 hours or pax domestic to any other JFK terminal"
"Hi again btw we have a full paxing crew onboard maybe poss to get them to operate to JFK and our crew to pax after a wee break"
So, is there any world in which Air New Zealand made the right decision, flying all the way back to Auckland? Let's of course note that we don't have perfect information here, and we don't know everything that Air New Zealand's operations team knew. Furthermore, we have to acknowledge that there was a lot of uncertainty about what was going on, and when JFK Terminal 1 will be operational again.
Let's assume for a moment that operating to another terminal at JFK wasn't an option, and that a diversion to EWR wasn't being offered. Air New Zealand absolutely could have operated to another airport (Chicago, Houston, Los Angeles, etc.), and then rebooked passengers on connections to their final destination.
However, there would also have been some challenges associated with that:
Air New Zealand would have had to find hundreds of hotel rooms, at a station where the airline has no (or few) employees; people would have no doubt complained about the horrible customer service on the ground
It's anyone's guess when Air New Zealand could fly to JFK again, given that there's no opening date or time for JFK Terminal 1
Air New Zealand would have a plane and crew out of place
Air New Zealand likely wouldn't have been able to carry passengers booked from New York to Auckland either, since there would be no practical way to get them to whatever gateway Air New Zealand diverted to
So while it seems outrageous to return to Auckland, Air New Zealand seemed to decide on going with the safe option here, maintaining control of the situation as much as possible, and minimizing the unknowns. Air New Zealand can much more easily accommodate passengers at its biggest hub in terms of hotels, rebooking, crewing, aircraft scheduling, etc.
Furthermore, while a 16 hour "flight to nowhere" seems wasteful, realistically the plane would have probably flown back empty from the United States as well, so I'm not sure this is actually worse environmentally than whatever the alternative would have been.
Obviously this situation isn't ideal, and maybe Air New Zealand was acting too conservatively here. But assuming other New York area airports weren't available for a diversion, I can appreciate how this seemed like the best option.
Bottom line
JFK Terminal 1 has shut down due to a power outage, which is having major implications for airlines. Some flights diverted to other airports, while other flights returned to their origin. However, Air New Zealand was in a league of its own in operating a 16+ hour flight to its origin, as the plane returned to Auckland roughly half way through its journey.
Of course we don't have the full background on why this decision was made, but it's interesting to see that the pilots were pushing for the plane to continue to another point in the United States, only for that to not be approved by the carrier's operations team.
What do you make of Air New Zealand's New York flight returning to Auckland?