As someone who hates snakes, a situation like this is absolutely terrifying to me…
AirAsia flight diverts due to snake in cabin
This incident involves AirAsia flight AK5748 from Kuala Lumpur (KUL) to Tawau (TWU), on Thursday, February 10, 2022. The flight was operated by a roughly two year old Airbus A320 with the registration code 9M-RAN.
At some point during the roughly 2.5 hour flight, passengers and crew noticed a snake in one of the overhead panels, causing panic in the cabin. Some videos were taken, and at least one is going viral on social media.
Once it was clear what was going on, the captain made the decision to divert the plane. Since the plane was over the South China Sea, the plane diverted to the nearest major airport, which was Kuching (KCH), which is somewhere around the halfway point of the journey.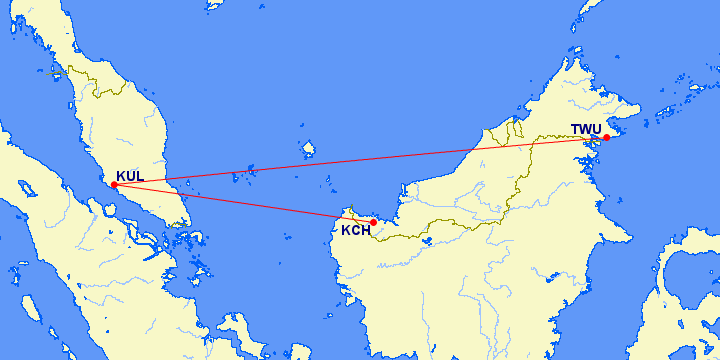 Interestingly even the next day, the plane is still on the ground in Kuching, and hasn't yet flown. So I'm not sure if it somehow became challenging to get the snake off the plane (given that it was in a panel, and maybe there was a game of hide and seek), or if there's some sort of other process that the airline has to go through.
An AirAsia spokesperson had the following to say regarding the incident:
"As soon as the captain was aware, he made the decision to divert the aircraft to Kuching as a precautionary measure to fumigate the aircraft. This is a very rare incident which can occur on any aircraft from time to time. The captain took the appropriate action, and the flight will depart for Tawau as soon as possible. The safety and well-being of our guests and crew are always our top priority. At no time was the safety of guests or crew at any risk."
This is rare, but not unheard of
With the exception of movies starring Samuel L. Jackson, snakes on planes are fairly rare. Or at least at a minimum, passengers realizing that there are snakes on planes doesn't happen very often. 😉
As you'd expect, though, planes operate to all kinds of environments, and cabin doors sometimes remain open, and there are other openings through which creatures can crawl.
In 2016, a snake was found on an Aeromexico Embraer E190 flying from Torreón to Mexico City. That situation was arguably even much scarier, since the snake wasn't even behind a panel.
Those aren't the only creatures we've seen make surprise visits on planes either. In 2021, a Newark-bound Air India flight had to divert after bats were spotted in the cabin.
Bottom line
A domestic AirAsia flight in Malaysia had to divert after a snake was found in an overhead panel. As someone who is ridiculously terrified of snakes, being stuck in a confined space with a snake is my personal nightmare. I'm itching everywhere just looking at this video.
On the plus side, at least the snake was behind a panel, which is slightly less scary than the Aeromexico incident several years back.
How scared would you be if there were a snake on your flight?