Cathay Pacific has been refreshing many of their lounges worldwide, which has led to some pretty impressive spaces, like the new "The Pier" lounge in Hong Kong, which is one of our favorite and best airport lounges.
The new Cathay Pacific Heathrow lounge had a "soft opening" yesterday, and is scheduled to fully open to passengers on December 7th. Reader Clint happened to have a long layover at Heathrow Terminal 3 yesterday, and was kind enough to share some quick photos.
In his words:
It was amazing! They treated me like a celebrity. I was literally the only one in there at seven this morning and they rolled out the red carpet bringing me coffee, offering to serve me lunch or breakfast in the new restaurant, and I also got noodles from the noodle bar. It was incredible, and looks like a Park Hyatt.
The lounge is still in the "C" area of Terminal 3, though the signage and entrance area have been updated.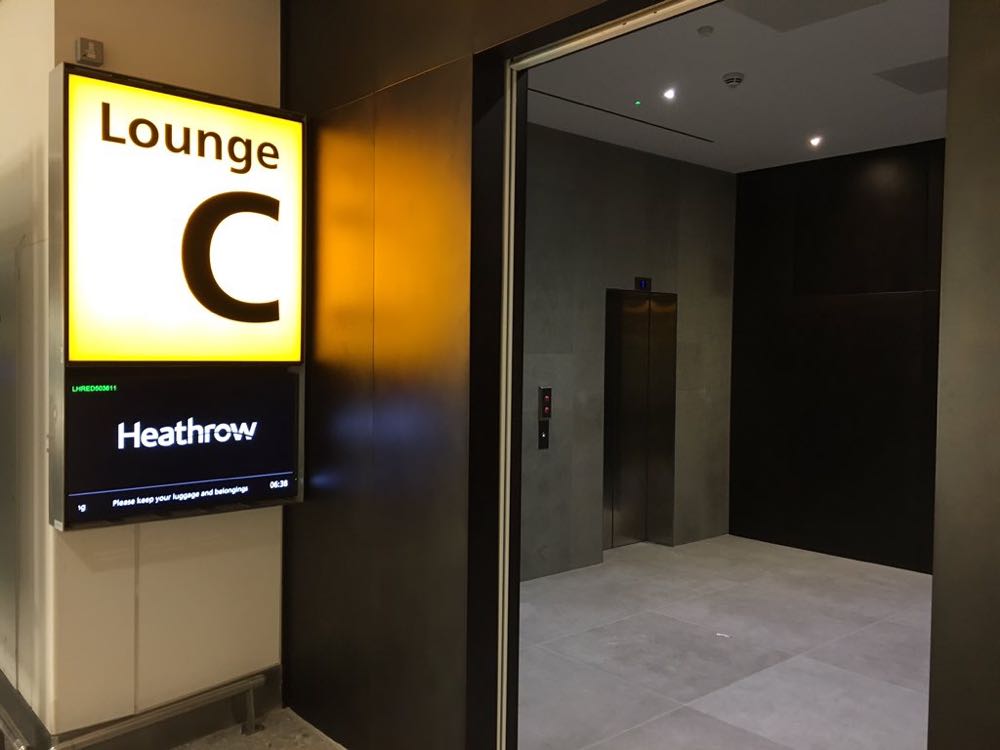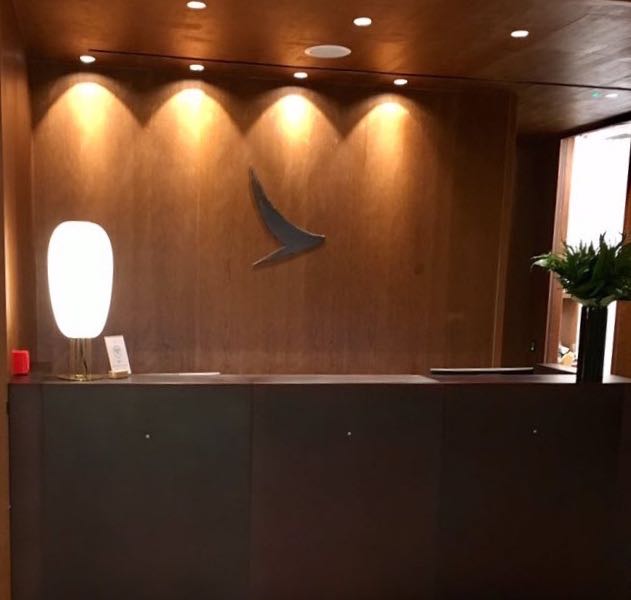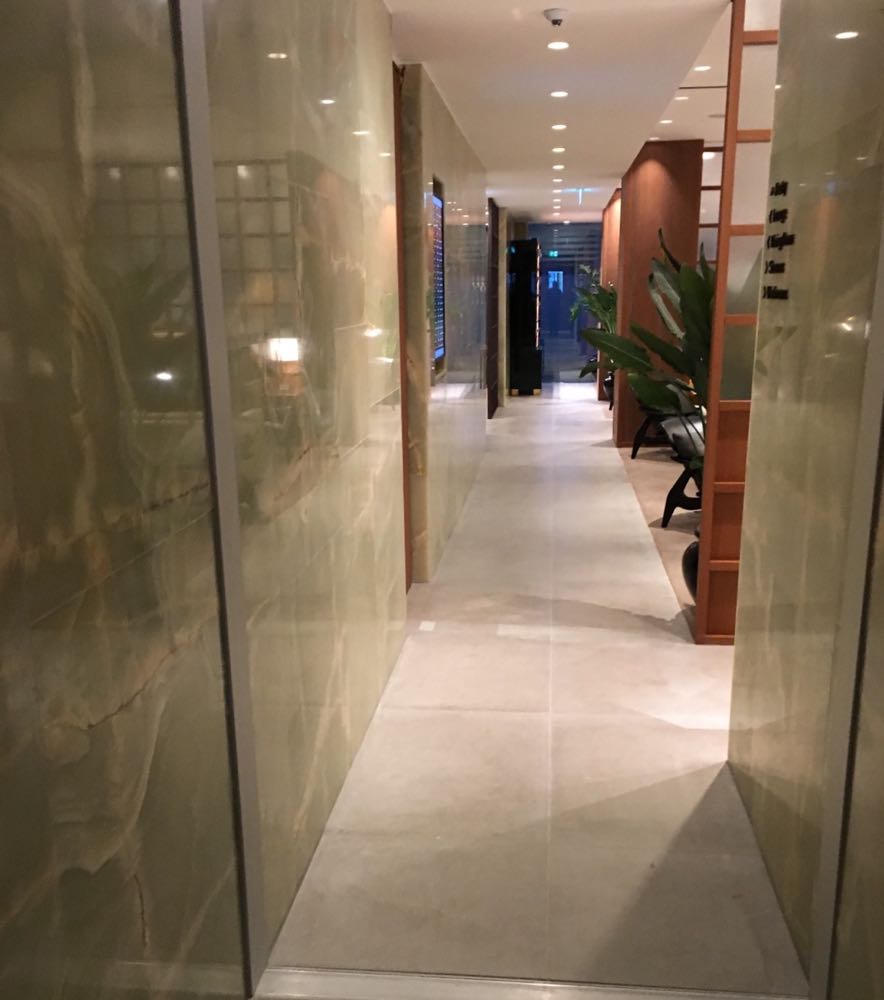 The lounge has an abundance of seating, and takes the same mix-and-match approach to furnishing as the Hong Kong lounges.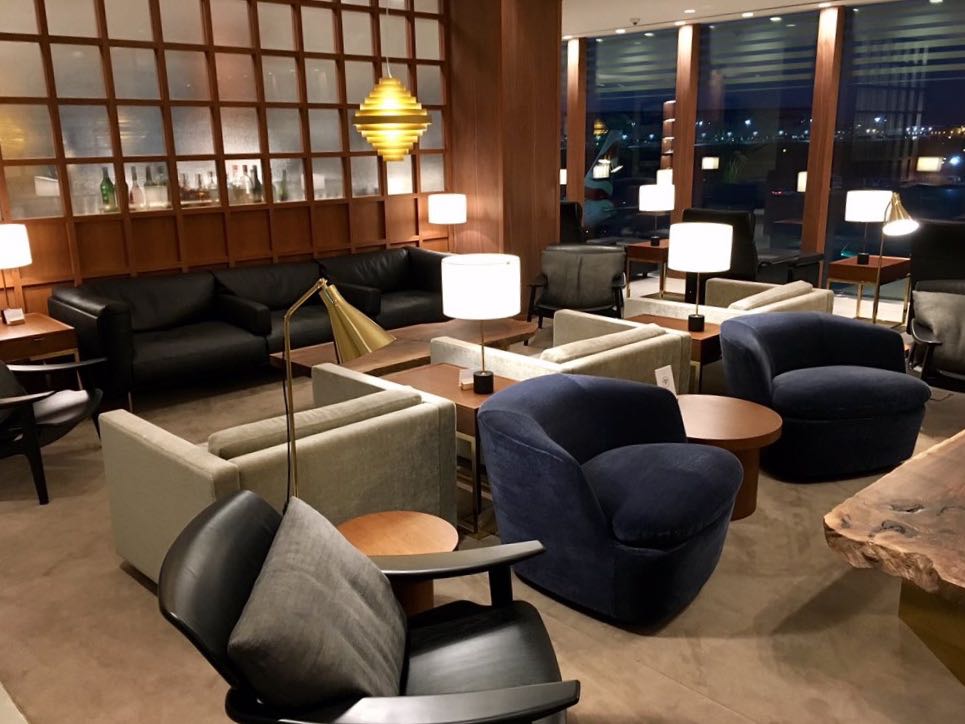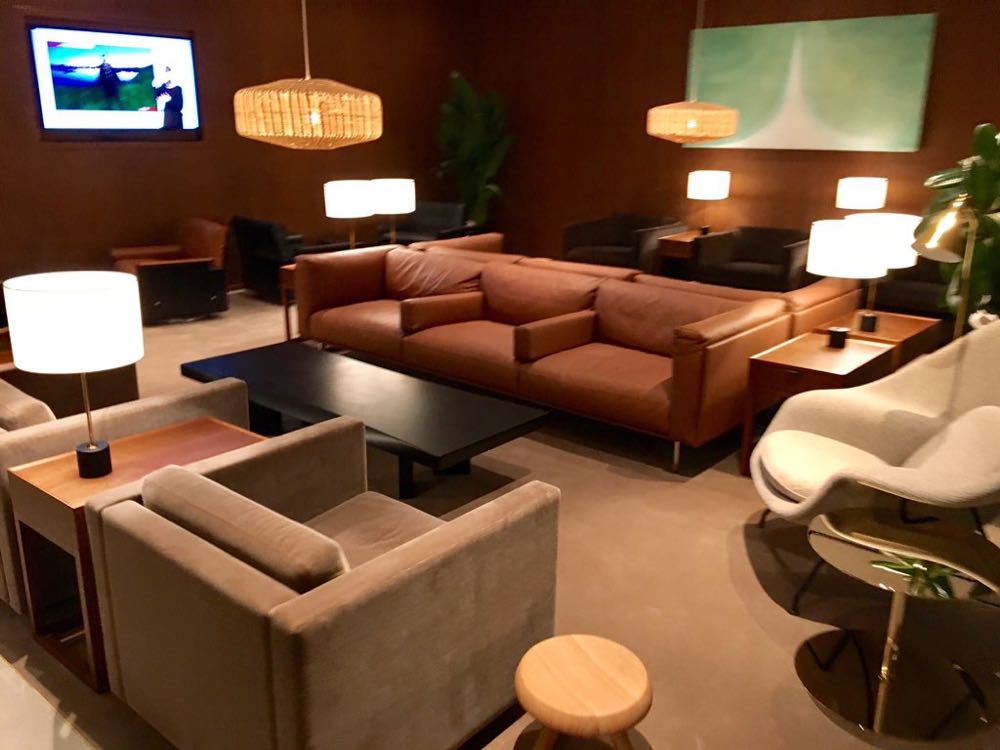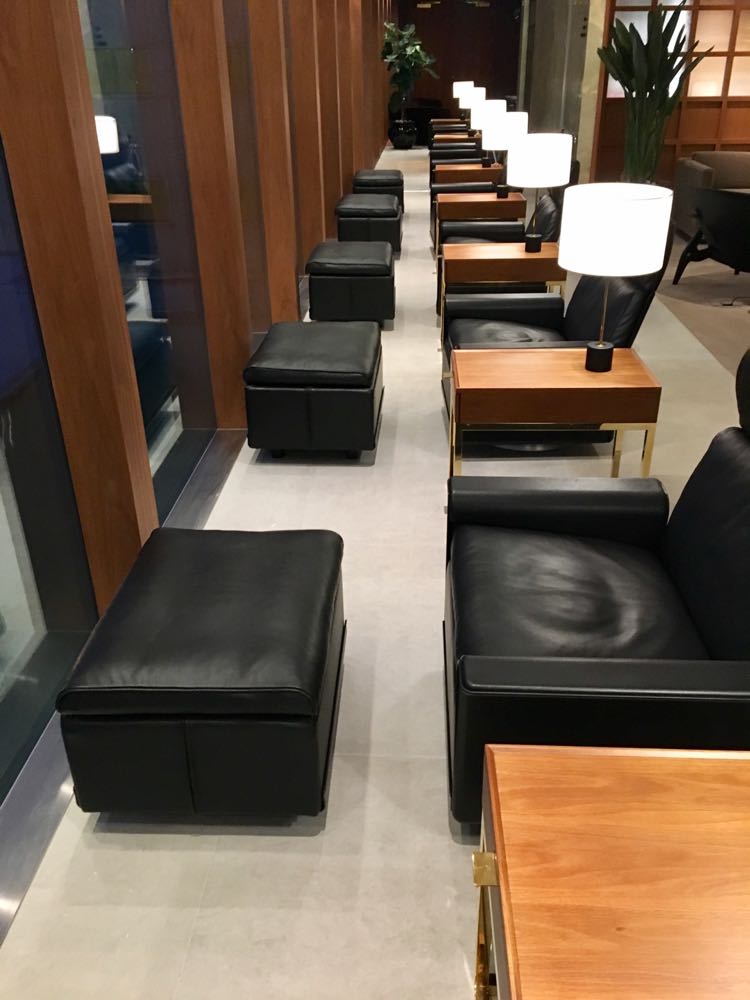 There are both self-serve refreshment areas, and a hosted bar.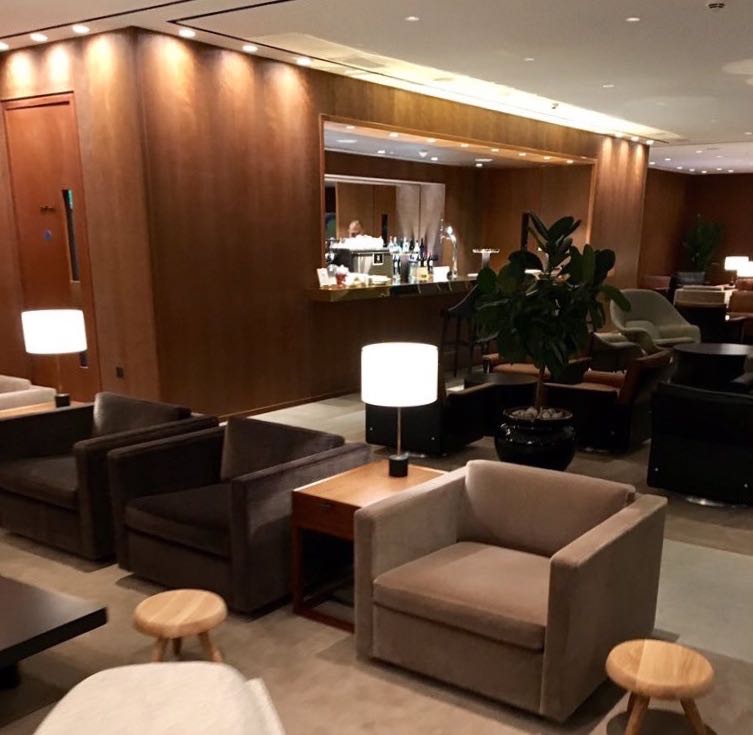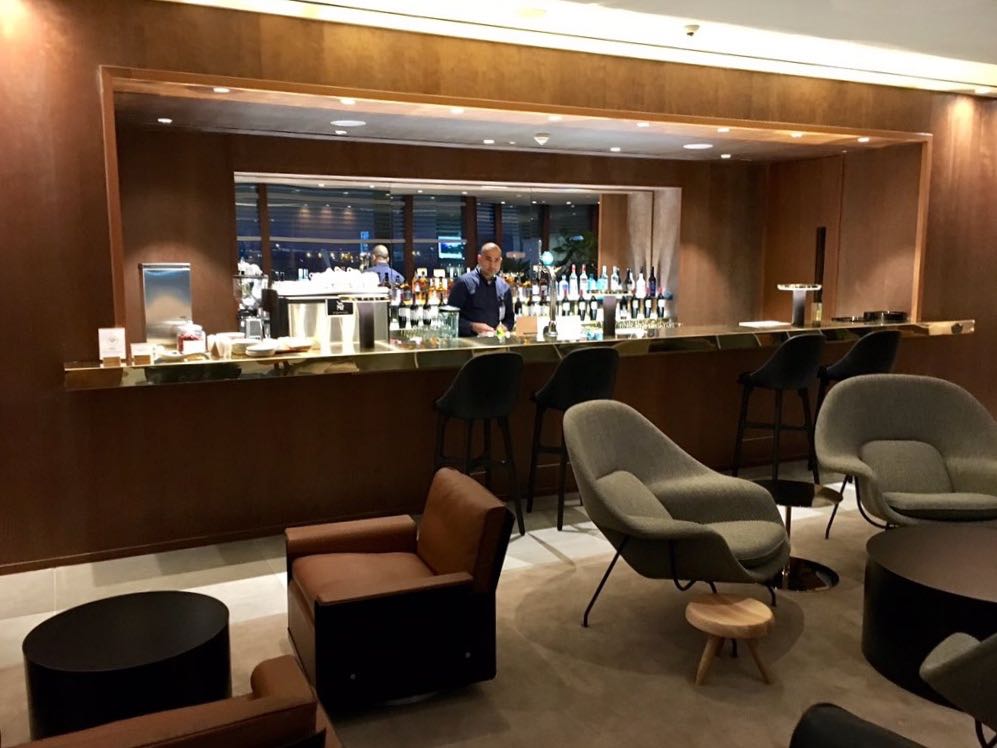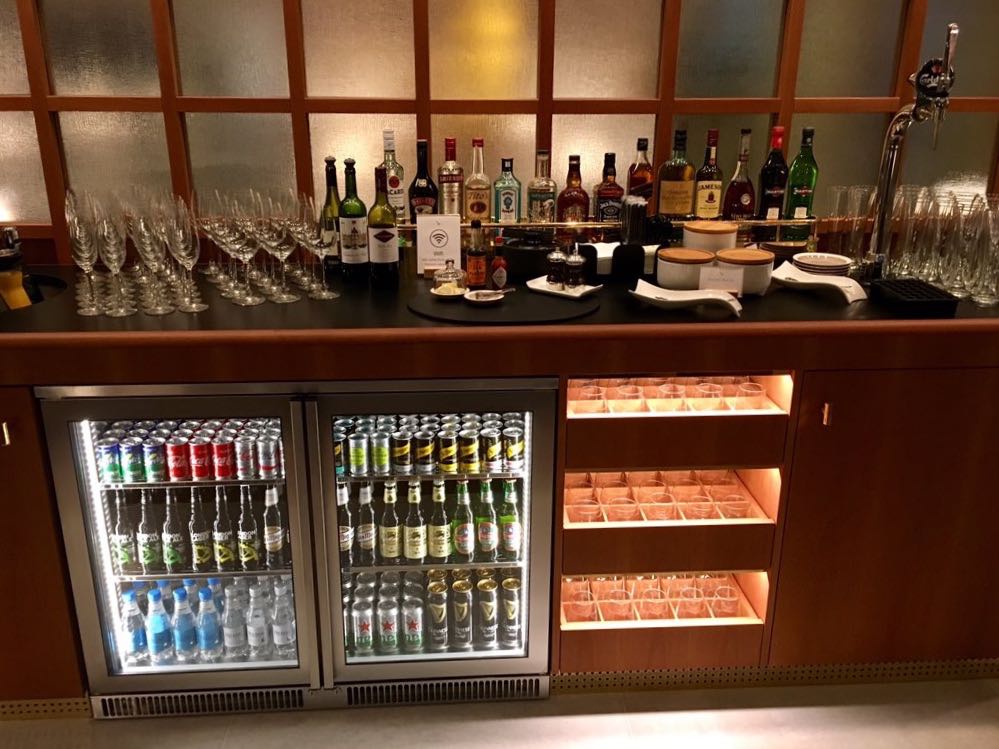 Similarly, there are snacks in a few different sections of the lounge, along with a full restaurant-style setup in the first class section.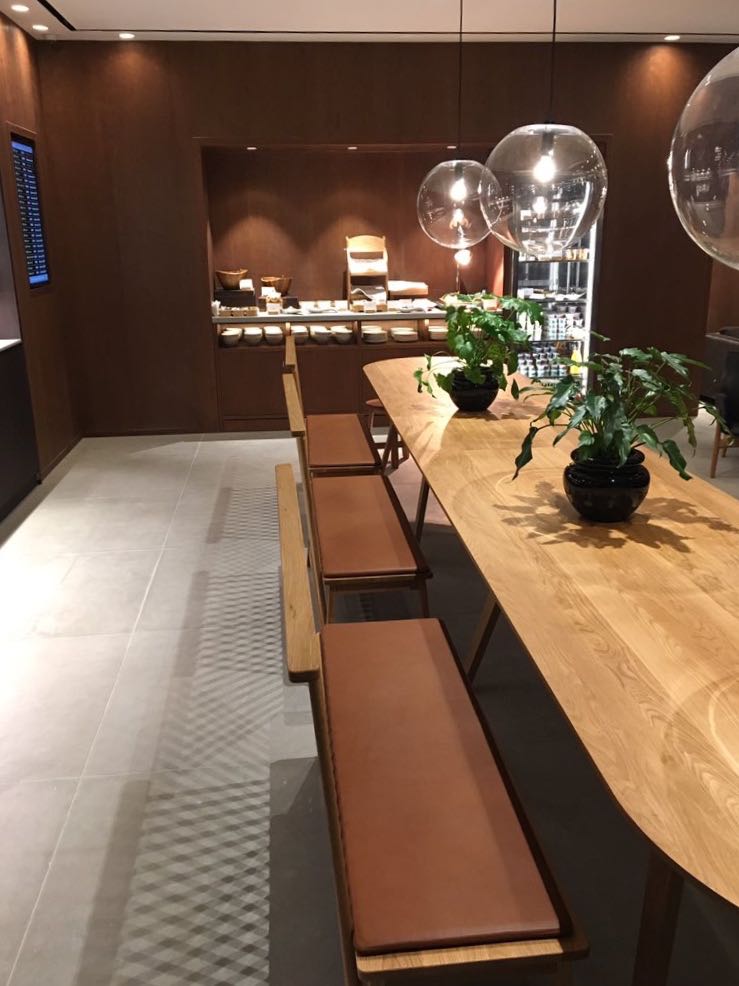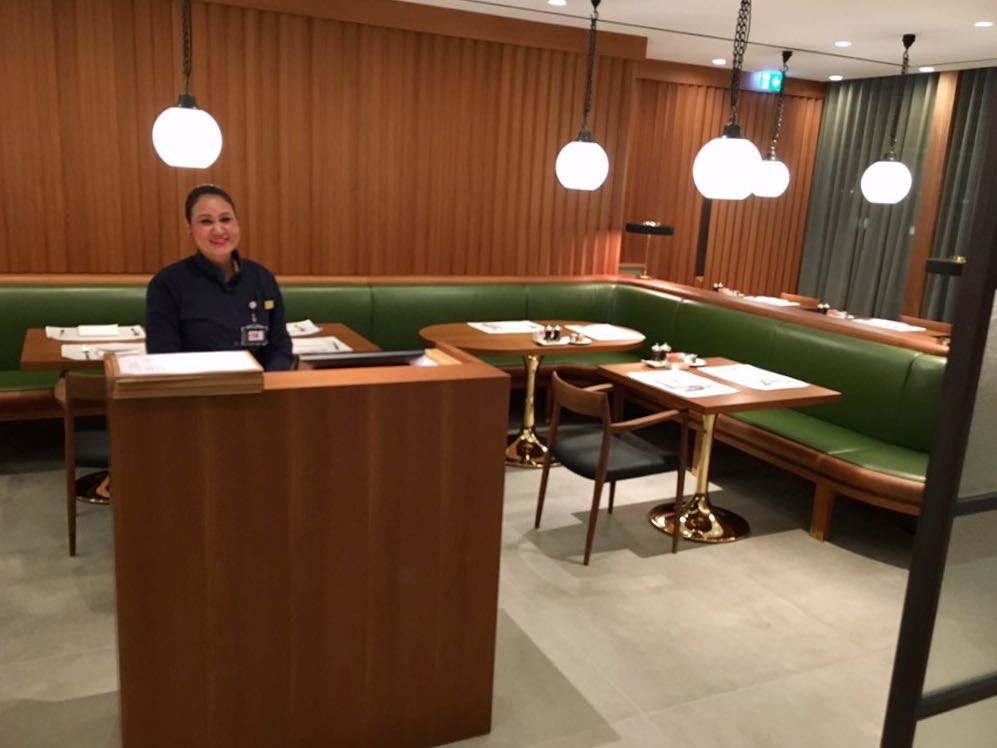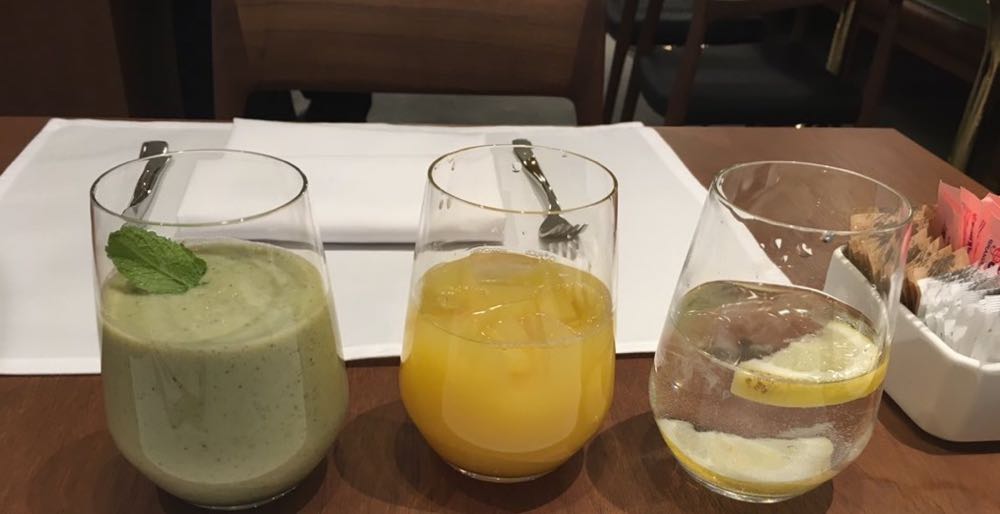 The business class lounge also has a Noodle Bar, which looks delicious.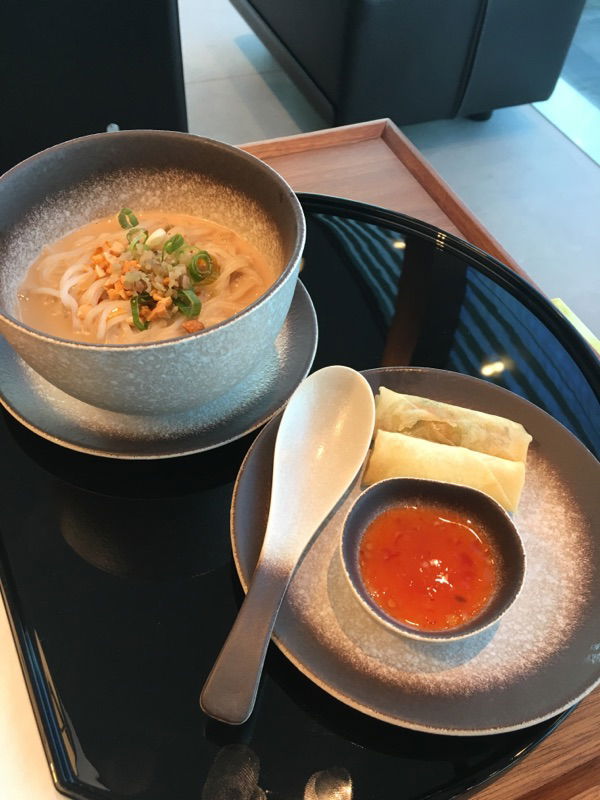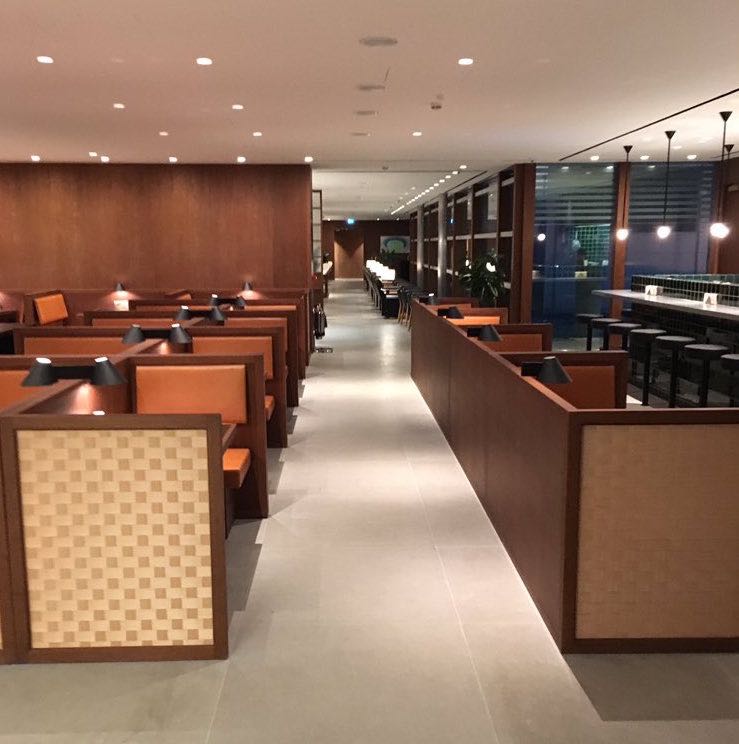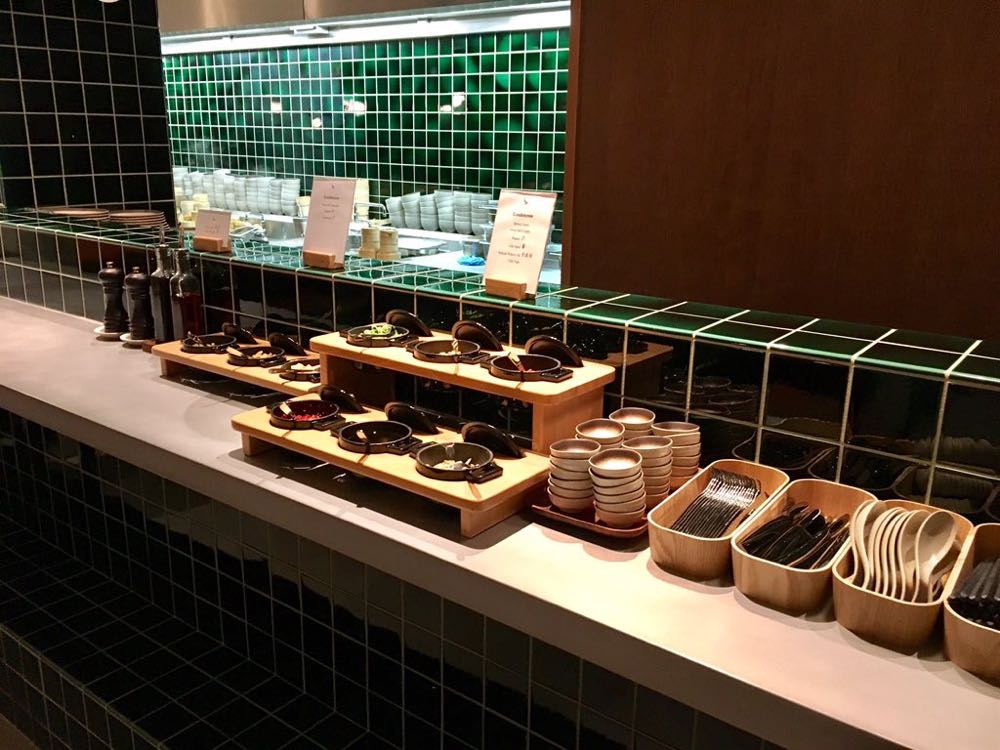 While the London lounge doesn't offer spa services like The Pier, it will have beautiful bathrooms, and the fanciest urinals I've ever seen (granted, I have limited experience with urinals, but still).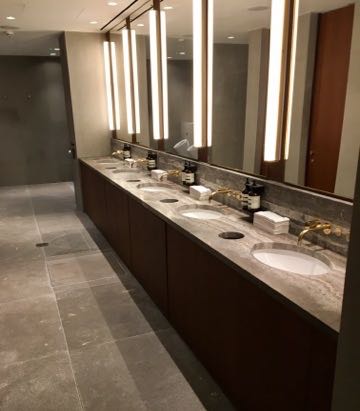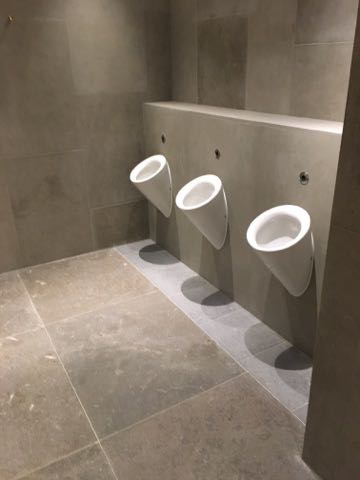 There are also several shower suites. The Aesop amenities are a nice touch!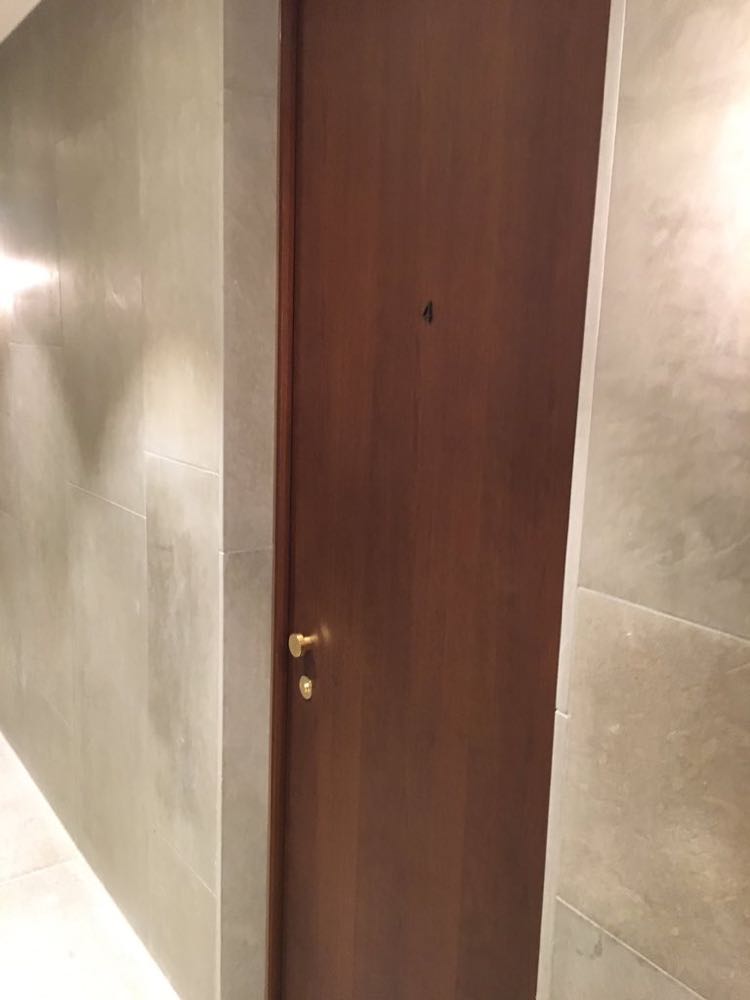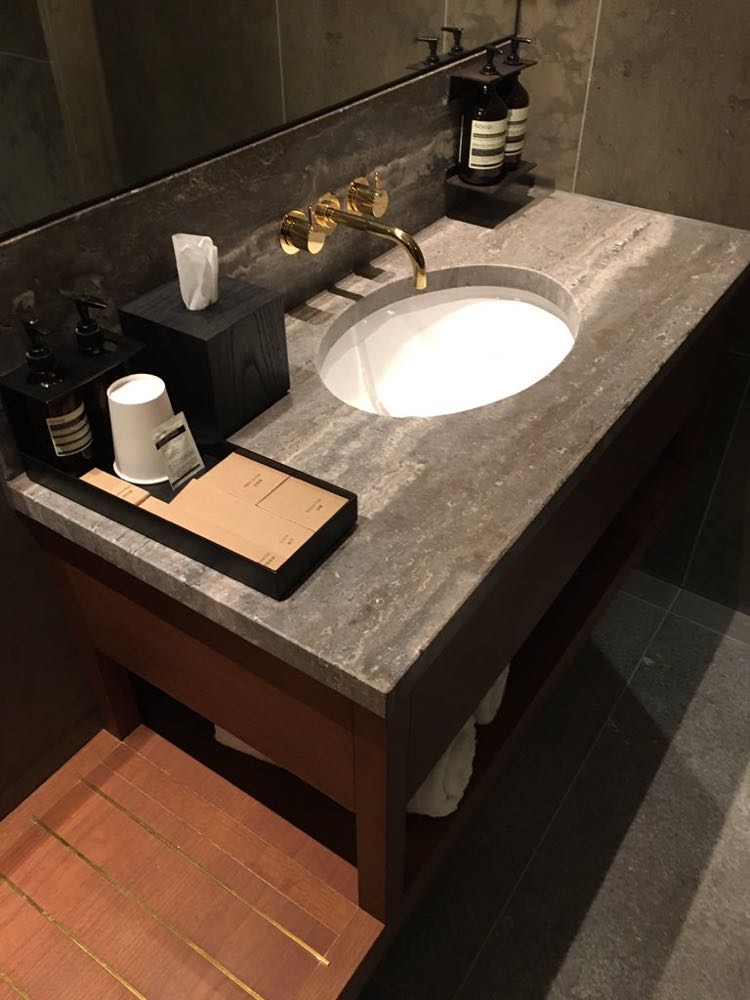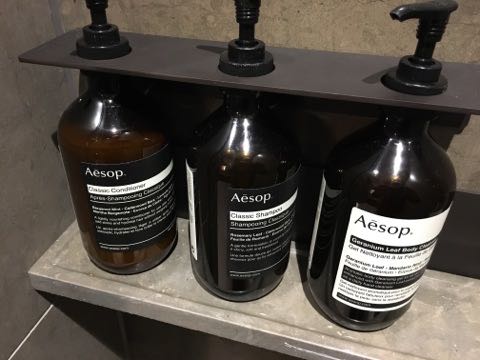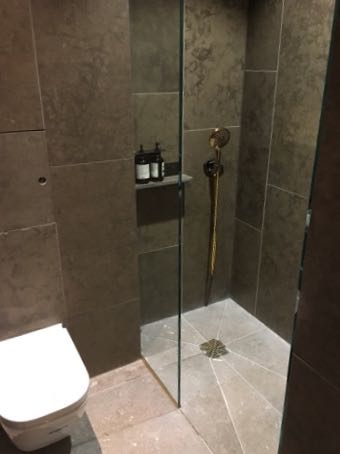 Overall, I think the new lounge looks gorgeous, and I can't wait to visit in person!
Cathay Pacific's press release describes the Heathrow lounge as follows:
At 1,200 square metres, the new London lounge is 30 per cent larger than its predecessor. With floor-to-ceiling windows providing panoramic views of the airport's apron and northerly runway, the lounge's calming environment and myriad of amenities conveys Cathay Pacific's brand ethos of a "Life Well Travelled".

[ ]

With careful attention on food and beverage, the Heathrow lounge ensures First Class passengers are extremely well catered for. In addition to The Dining Room, which offers table service with freshly prepared dishes made-to-order by the chef, there is also The Pantry, where visitors can enjoy grab and go delicacies with items changing throughout the day.

The Business Class area, meanwhile, is no less impressive, featuring Cathay Pacific's signature Noodle Bar, a favourite among passengers seeking authentic Chinese delights, and The Food Hall, a vibrant space offering a wide range of Western and international dishes, including traditional British fare. And if you are feeling thirsty, the full-service bar is the perfect place to enjoy a pre-flight aperitif.

The lounge is further equipped with bespoke Solo Chairs, eight shower suites, giving First and Business Class passengers a calm and stress-free environment in which to unwind before their journeys, and The Bureau for those who may need somewhere quieter to work. Adorned with an abundance of plants and specially sourced artwork by noted Chinese artist Han Feng, this is a lounge that truly engages the senses, one that exemplifies the high regard that the airline places in Heathrow as a destination.
I've been loving the new style of the Cathay Pacific lounges in general, and the Heathrow lounge seems to be no exception. It feels like a cozy place I'd actually want to spend time, as opposed to the dungeon of the American Flagship Lounge.
As a reminder, you have access to this lounge if any of the following are true, provided you're departing from T3:
First and Business Class passengers of Cathay Pacific
Silver or above Marco Polo Club members
Sapphire or Emerald oneworld members
The lounge is currently scheduled to be open from 5:30am on Monday to Saturday and 7:30am on Sunday until 10:30pm.
You can read Ben's previous review of the old Cathay Pacific Heathrow lounge to get a sense of the layout and what has changed, and of course we'll have a full review as soon as we can!
What do you think of the new lounge? Has anyone else had a chance to stop by?