A couple of weeks ago I wrote about the special meal that I ordered on my American Airlines flight from New York to Los Angeles. American's catering leaves a lot to be desired, so I figured I'd branch out a bit and try some of their special meals.
Asian vegetarian meals on airplanes are almost always Indian food. Not only do I love Indian food in general, but Indian food also heats up well and is so flavorful, so it's really the perfect thing to serve on airplanes due to our dulled taste buds and the necessity to reheat dishes.
The last Asian vegetarian meal I ordered was fairly good, so I decided to order another one yesterday on my flight from London to Los Angeles on American. This was easily the best meal I've had on American in a very long time.
To start I was served an appetizer, consisting of olives, beans, etc., which was super spicy. There was also a side salad.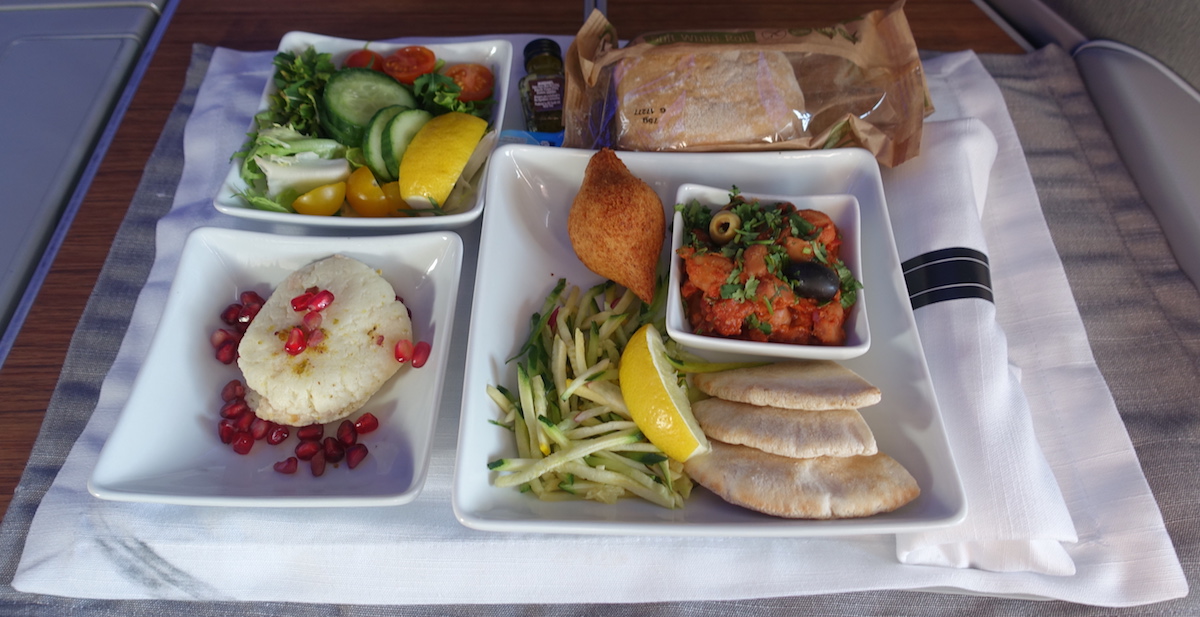 The dessert was served on the starter tray, and was exceptional. I made the stupid mistake of asking Ford if he wanted to try it, and next thing I knew, the whole thing was gone.
The main course had curry, spinach, and rice, and once again, was spicy.
The pre-landing meal didn't seem to be Indian for once, but rather was a great tofu dish with vegetables. It was served with breadsticks and a muffin.
When you order a special meal you still get the mixed nuts before the meal, you can still select something from the breadbasket, and you can still choose from the selection of desserts.
The meal as such, though, was exceptional. The food was flavorful and for the most part healthy compared to what you'd usually be served (especially if you skip the bread, muffin, etc.).
Originally I started ordering Asian vegetarian meals just out of curiosity, but I'm updating my AAdvantage profile to always add the special meal request from hereon out. If you haven't tried it yet and like Indian vegetarian food, I highly recommend it.