I find the financials of hotel loyalty programs to be fascinating. Even more so than airline loyalty programs, given that in almost all cases the hotel brand doesn't actually own the individual hotels, but rather just has a management contract for them.
For example, when you have your Hyatt Diamond breakfast, who pays for it, and how much do they pay for it? Is it a fixed amount, or does it depend on how much you order? Do the servers still get tipped the full amount? Who pays for the Diamond welcome amenity (be it 1,000 points or a food & beverage amenity), and how much does it cost them? What about promotions — who pays for those? And for confirmed suite upgrades, do the hotels get reimbursed anything for those, or is it just a "cost of doing business" with the hotel brand?

Nice Diamond welcome amenity!
Unfortunately I'm not really privy to most of the details, so I have no clue. But that doesn't stop me from wondering. 😉
How much do award stays cost hotel loyalty programs?
The one aspect of hotel loyalty programs that I do understand is reimbursement when it comes to award nights.
Here's the explanation I provided last year about why most of the major hotel loyalty programs seemed to have mega-devaluations all at once:
During the recession most hotel loyalty programs introduced "no blackout dates" as a selling point of their programs, and that worked great at the time since hotel occupancy was extremely low, and the marginal cost of filling an extra room was very low.

But keep in mind that hotel chains run the hotel loyalty programs, while the individual hotels are typically franchises, and both have their own best interests in mind. Hotel loyalty programs want to make their loyalty programs as profitable as possible, while the hotels themselves want to make their individual properties as profitable as possible.

As a result, the arrangement that most hotels have with their loyalty programs is that if hotel occupancy is above a certain number (usually 90-95%) then the loyalty program has to reimburse the hotel at the average daily rate for an award reservation, while if it's below that "magic number" they reimburse the hotel just slightly above the marginal cost.

As such, during the recession the hotel loyalty programs were typically only paying slightly above the marginal cost for award redemptions, while post-recession they're often reimbursing the hotel at the exponentially more expensive average daily rate.
In other words, when you redeem points at the Park Hyatt Sydney and it ends up being nearly full, Gold Passport is literally paying the hotel ~$1,000 per night for that stay. Of course this is part of a much bigger math equation so cash isn't always directly changing hands (since the hotel also owes Gold Passport money for the points they're issuing), but that's how it works in a nutshell.
When Hyatt introduced the new Category 7 properties earlier this year, it's interesting to note that the Park Hyatt Maldives wasn't on the list, despite the fact that it had average daily rates which were at least as high as most of the other newly minted Category 7 properties.
So why did it remain a Category 5 property? Probably because it was rarely at capacity, so redemptions at the resort weren't costing Gold Passport a lot of money. That's my guess, at least.
How much do Cash & Points stays cost hotel loyalty programs?
But what about Cash & Points stays? Late last year I gave an example of how much SPG was reimbursing individual hotels for a Cash & Points stay. Specifically, the St. Regis Houston was accidentally publishing the reimbursement rates in the rate description:
In this case, the hotel gets to keep all the cash, and gets reimbursed a small amount from SPG — in this case, $21.19 for the 6,000 Starpoints. So they're looking at ~$130 in revenue for that stay.
Yesterday a reader sent along another interesting data point as to how much Points + Cash stays cost Hyatt Gold Passport. He was staying at a Category 2 Gold Passport property, which ordinarily goes for 8,000 points per night, or otherwise 4,000 points + $55 using the Points + Cash rate.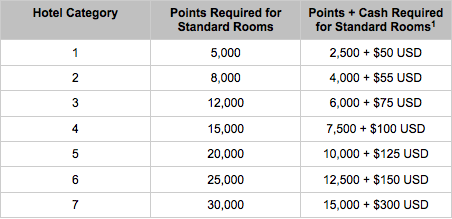 He was accidentally given the folio for Gold Passport as opposed to the hotel. And it indicated that the hotel got to keep the $55 cash, plus was being reimbursed $35 for the points.
So all-in-all, the hotel was being "paid" $90 for that stay.
Why don't hotels release more Cash & Points availability?
As you can see, for hotels the upside potential of Cash & Points is somewhat limited. Ultimately it's well above their marginal cost, so they're making money if they couldn't otherwise sell the rooms. But even if the hotel were 100% full of people redeeming points, the reimbursement rates would be much higher.
That being said, there could be some upside. The $90 reimbursement rate is probably more than what the hotel would be paid if someone redeemed points for a free night but the hotel wasn't more than 90-95% full.
So when hotels make Cash & Points space available, they're sort of gambling. They're taking a "sure thing" which won't make them rich, but if the room would otherwise go empty, it's a no brainer.
The Cash & Points reimbursement rate could very well be higher than a free night reimbursement rate if the hotel otherwise wouldn't be full. But if it were full, it's going to cost the loyalty program dearly if you redeemed points for a free night.
Bottom line
I found the data point interesting, so hopefully others did as well. A small glimpse into the fascinating world of the hotel loyalty program business…
Hopefully this explains why a lot of hotels only make Cash & Points available closer to the stay date, when they know they couldn't otherwise sell all rooms.