There's no denying that the cost of many high end points redemptions has increased over the years. For example, in the case of airlines, the cost of many "standard" awards has increased significantly. Want to fly American business class from Los Angeles to Sydney? That could cost you as much as 375,000 AAdvantage miles one-way.

In fairness, Delta has similar pricing, as their Los Angeles to Sydney one-way business class pricing also peaks at 375,000 miles.

It's crazy to think that you could spend nearly a million miles on a roundtrip business class award ticket, as that would have been unheard of a decade ago.
Well, that pales in comparison to a new points redemption that Mommy Points discovered today. Could you imagine spending 600,000,000 points for a redemption? That's right, that's six hundred million points.
Okay, this is sort of kind of cheating since it's a revenue based redemption opportunity, but earlier I wrote about how it's now possible to redeem World of Hyatt points for IfOnly experiences. IfOnly offers unique experiences (some of which you couldn't otherwise get), and they now have a tie-up with Hyatt:
You can redeem World of Hyatt points towards a redemption at the rate of 0.8 cents per World of Hyatt point
You can earn three World of Hyatt points per dollar spent on a package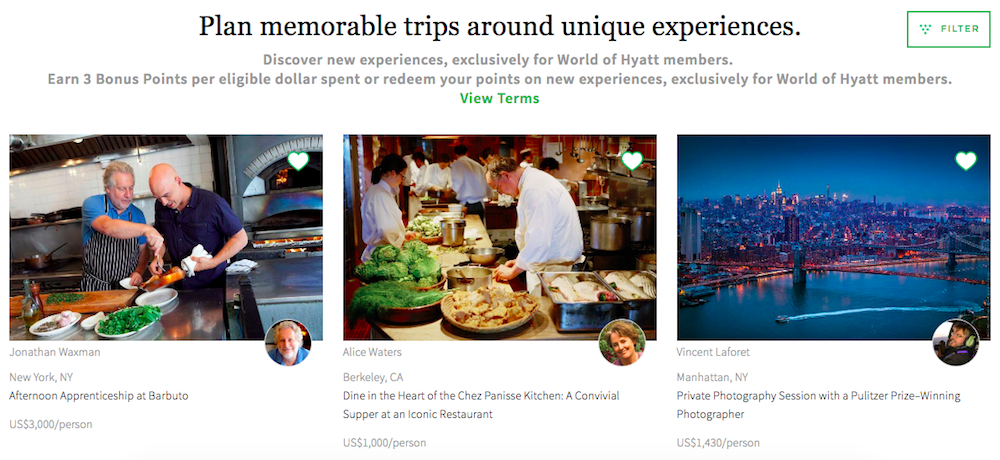 Well, I saw that most IfOnly packages are quite pricey, typically in the hundreds or thousands of dollars.
However, there's one I didn't see the first time around, which really takes the cake.
Have 600,000,000 World of Hyatt points sitting around (or $4,800,000 if you prefer to pay cash)? You could redeem for a balloon expedition over Mt. Everest.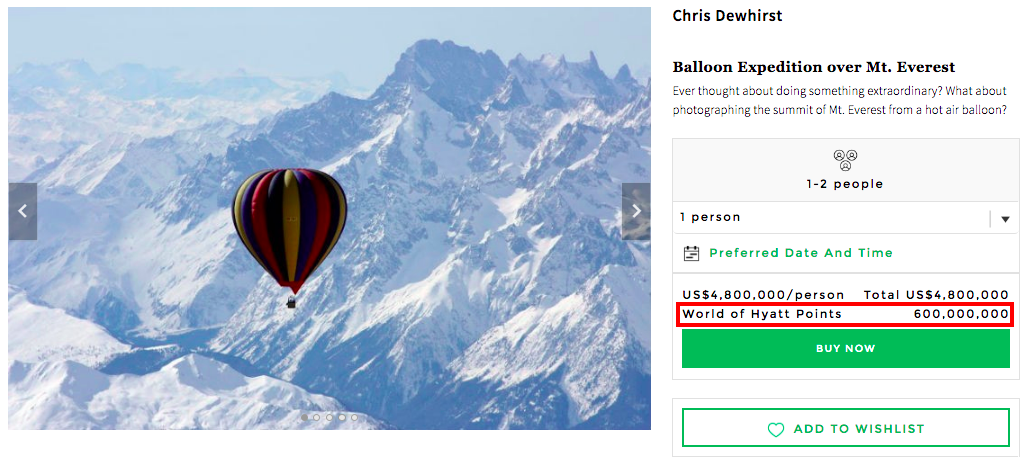 Here's how the experience is described:
In this truly unprecedented opportunity, you will join an expedition to soar over the top of Mount Everest in a hot air balloon, becoming one of only a handful of people to ever see the summit of the highest mountain in the world. With veteran pilot Chris Dewhirst at the helm, you and a small team of adventurers will ascend well beyond 30,000 feet in this once in a lifetime experience where you will find an other-worldly view of Everest and the Himalayas, from the most spectacular 360-degree vantage point on the planet. Adventure gifts can't get much more incredible than this one.

This is not only a remarkable endeavor, it is also an invitation to join one of the most elite fraternities on Earth; Chris and his team were the first and only people to accomplish this feat – you could be the next. This is your opportunity write your own chapter in the annals of daring human feats and exploration. Join the ranks of pioneers from history like Shackleton, Livingstone, and Hillary as you venture to rarely-explored heights for an expedition that will capture imaginations and headlines around the world. Mount Everest represents the most daunting challenge Earth has to offer. Will you be one of the few to take it on?

Caution: Although Chris can train most people with decent physical and mental faculties to complete this journey, these experience gifts are understandably only appropriate for the most intrepid of thrill-seekers. You will need to be in moderate physical shape and able to make a considerable commitment to the project, as a trip of this nature requires substantial fitness and skills training. However, with enough enthusiasm, determination, and preparation, you and Chris will conquer one of Earth's greatest obstacles. If you're up to the challenge, then gear up and strap in. Everest awaits.
I think I'm going to have to earn just a few more Ultimate Rewards points before I'm able to redeem for this. 😉
While there's theoretically no limit to how much a revenue based redemption would cost, this was my first time seeing a points cost of 600,000,000 listed.