I've often received requested from readers asking for a post about what's in my carry-ons. It's something I should get around to doing, though I'm afraid it's probably not very exciting. However, there's something I figured I should share first, since a seatmate commented on this recently, and I didn't realize just how ridiculous it may look.
I'm not the least bit materialistic, at least using the definition of "excessively concerned with the acquisition of material possessions." I have a few travel gadgets that make my life better, but other than that there's nothing material you can get that will make me happy. Don't get me wrong, I like nice experiences, but physical things do nothing for me. They just clutter my life.
As a result my philosophy when it comes to material possessions is "if it ain't broke, don't fix it." I don't remember the last time I've been clothes shopping, and I realize that's a problem. The other week Ford finally forced me to throw out a shirt that had about half a dozen holes in it.
That philosophy also extends to my passport holder. Over a decade ago United had the Silver Wings Plus program, which offered a bunch of bonus miles for signing up, along with a few other things, like a passport holder. The program was discontinued in 2005, and I signed up before that. I started using the passport holder at the time… and use it to this day.
The crazy part? I don't think I've ever considered replacing it. That's despite the fact that the leather is constantly peeling and chipping, and every few days I have to take a damp cloth through my carry-on to wipe it all up.
Recently I was on a flight and was getting something out of my passport holder, and my seatmate glared at it, and commented on how my passport holder is basically an antique.
So, just how bad does it look?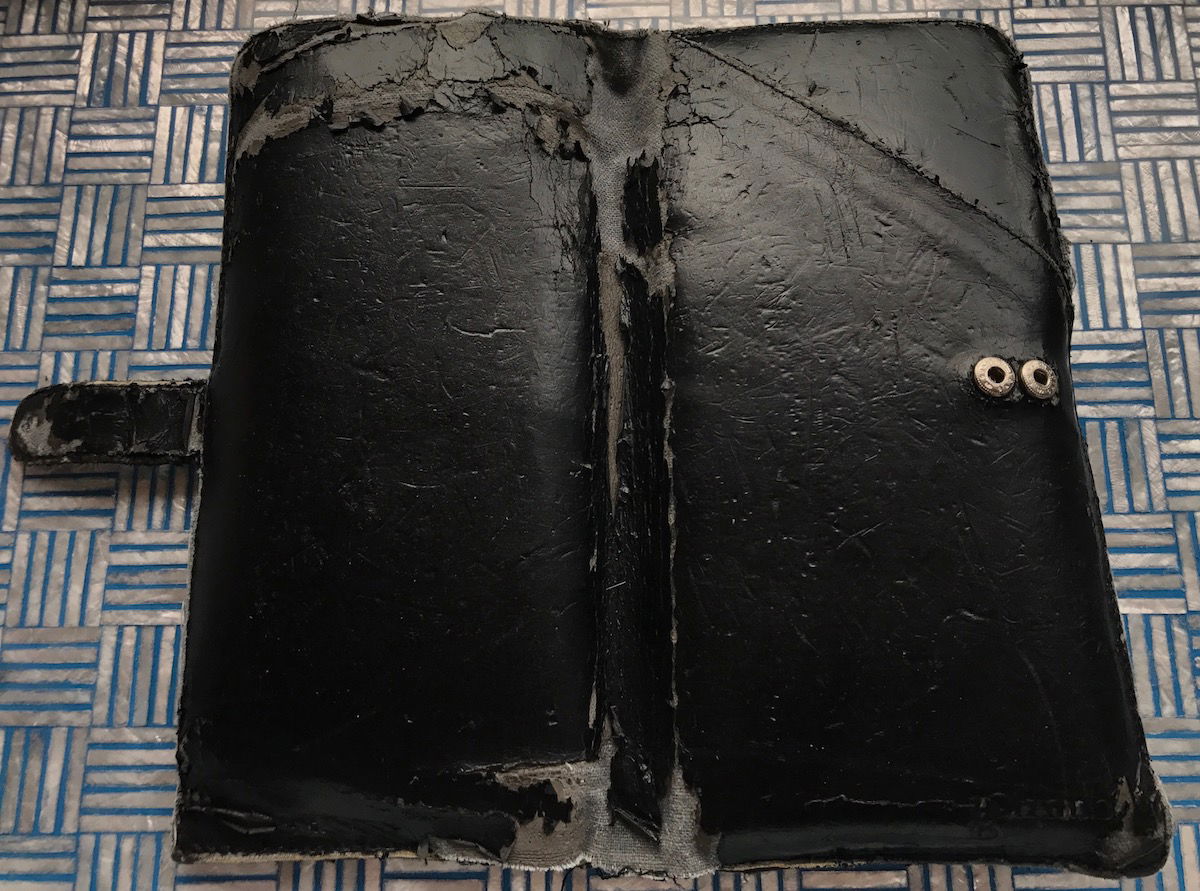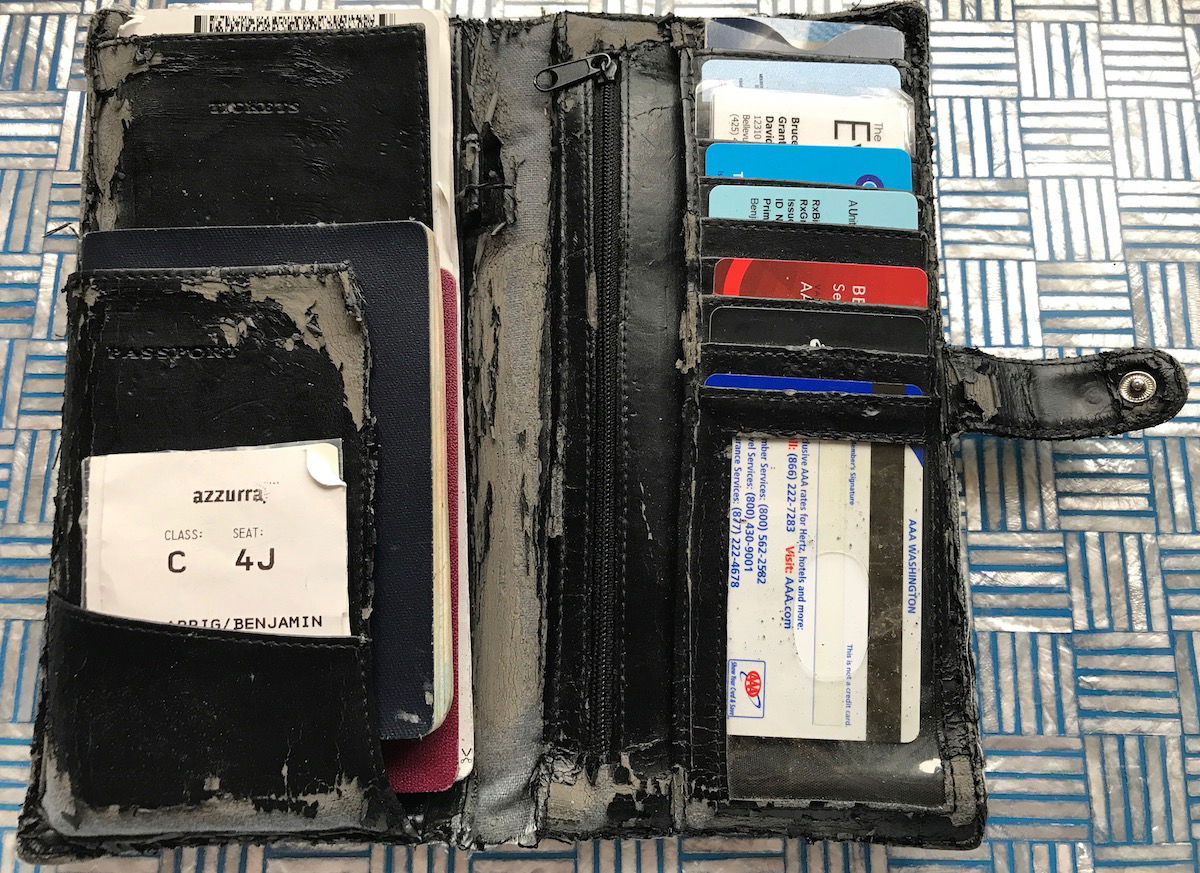 In case anyone is wondering what I keep in here, it holds my passports, recent boarding passes, excess (non-credit) cards, and the foreign cash I've accumulated. I should probably find a better place for cash, since I doubt I'll be using my currency from Bahrain, Bhutan, Nepal, Kuwait, etc., anytime soon.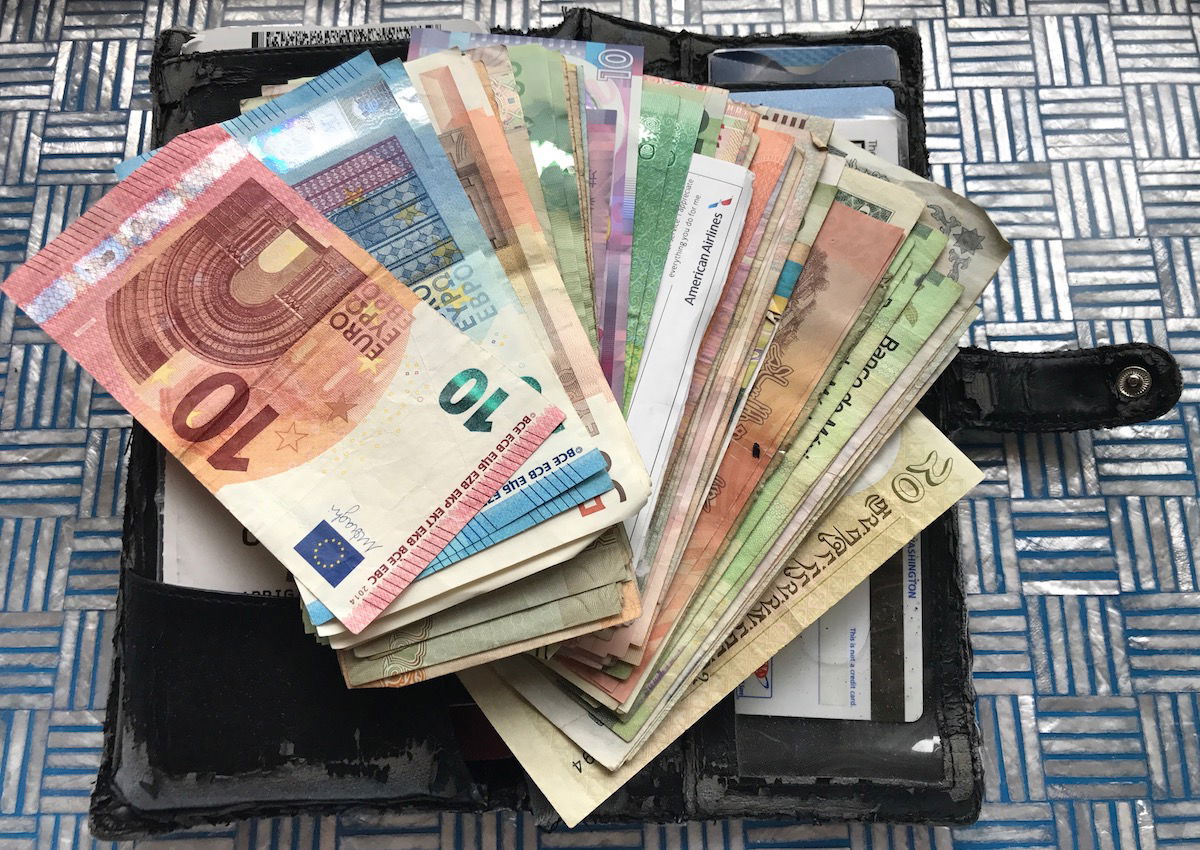 So, I guess I should ask — can anyone recommend a new passport holder that also stores a bunch of other stuff? 😉