Yesterday I wrote about my experiencing staying at a new Marriott Autograph Collection hotel, The Ben, where I had quite a check-in experience, followed by my room being invaded by two hotel employees and a little kid. If you haven't checked out that post yet, make sure you read that first.
To briefly summarize:
I booked a king room and asked about upgrades, and was told none were available
I get to my room and discover it has two beds rather than a king bed
I go back down and suddenly a room upgrade is available
That "water view" room upgrade actually has an awful view
An hour after getting to my room, a maintenance person opens the door, and then brings in someone else and a little kid, who at this point is standing across from me while I'm sitting in bed on my laptop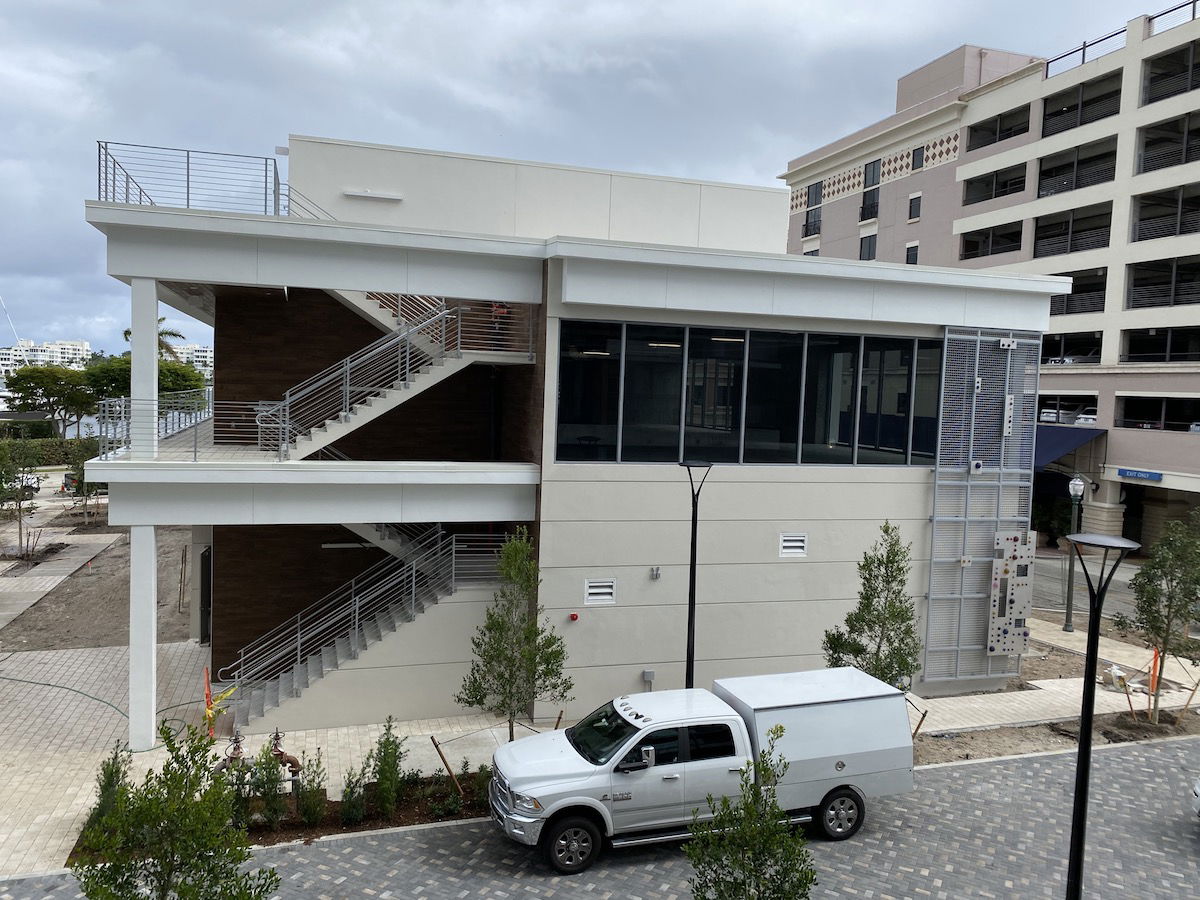 Our upgraded "water view" room
How did the saga continue? I can only sum up the entire experience by saying that I felt like it was the premise of a "Curb Your Enthusiasm" episode, since in each episode the storyline basically goes full circle.
Let's pick up where I left off in the last post.
Ford gets back…
Ford was out at lunch with his mom, while I was taking care of Winston. He showed up five minutes after our room invasion, and suffice to say he was confused as all hell by why there was a little kid standing in our room.
I quietly explained the situation to him, and said I'd take Winston on a walk and talk to the manager. He wanted to stay in the room to watch our bags.
My talk with the manager
I headed to the front desk with Winston.
"Hi, could I speak to the manager on duty?"
"Sure one moment. Is there anything we can help with?"
"Well… I mean… maintenance people are in my room without asking permission, saying they needed to fix the toilet, and there's also a little girl in my room standing there looking at me while I'm sitting in bed. They didn't even knock."
Suffice to say she didn't know what to say.
The very nice manager on duty showed up a minute later, and I explained the situation to her. I didn't talk about the check-in experience, but basically just asked:
How the heck do people just barge into rooms without knocking? Why aren't they looking to see if the room is occupied?
For the safety of the child and to protect guests, how on earth can they have any maintenance people bringing their kids to work? Like on what planet is it even remotely acceptable to bring a child into someone's guest room?
Suffice to say she was shocked, and she'd take care of it right away.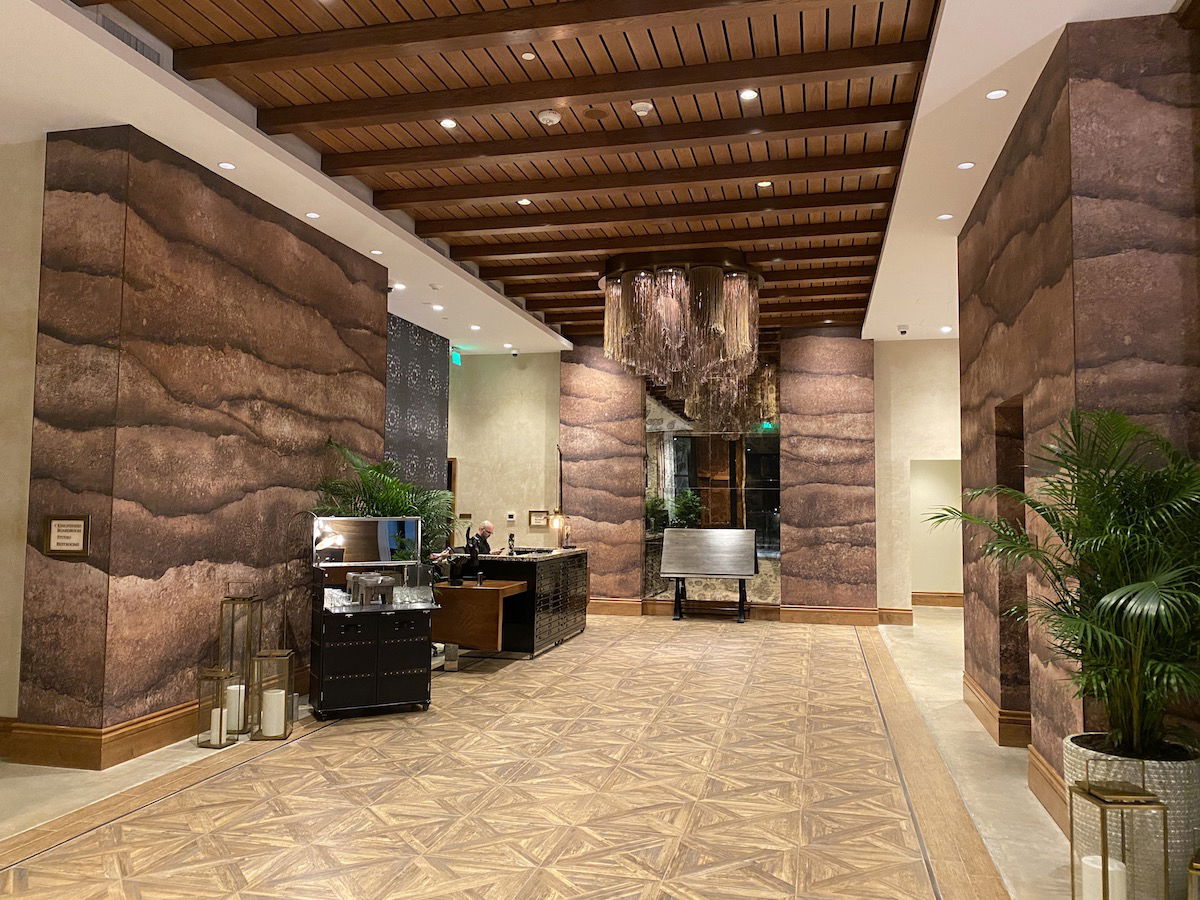 Lobby at The Ben, an Autograph Collection property
I take Winston on a walk…
I was texting Ford throughout this, so I have exact timestamps for everything. My conversation with the manager was done at 3:10PM. I would have assumed that by 3:11PM the maintenance people would be out of our room. 😉
I took Winston on a walk, and after 10 minutes I texted Ford to ask if they were still there. He said they were. After another five minutes — at this point 15 minutes after I had talked to the manager on duty, when she said they'd be out of the room right away — Ford said they were still in the room.
Back to the manager we go…
At this point I asked for the manager once again.
"It has been 15 minutes and my husband says that they are still in our room, how is that still possible?"
She was surprised to hear this, and said she assumed they were done, but if they weren't, they should be done within a few minutes.
At this point I explained my frustration with the entire situation. I explained to her that I realize the hotel is new and that this isn't her fault, but how damn frustrating everything was.
I explained we booked a king room and were given a room with two beds, and weren't even informed of it. I told her the front office associate's ridiculous excuse for that. I told her how it's ridiculous that the room we were then "upgraded" to, which was promoted as a water view room, had a horrible view.
She was incredibly professional, and acknowledged all of my points. She said I was right on all fronts, and she'd get it taken care of right away.
She asked if she could move us into a junior suite.
"It wasn't supposed to be available, but one just became available."
LOL, given the previous situation.
I said it was totally fine, we were only there for one night, I didn't want anything other than just a smooth stay. I just wanted them out of our room.
She said she wanted to invite us back next time for free. I said that really wasn't necessary, and I didn't want that. She said "I won't take no for an answer, I insist you are our guest next time."
Anyway, I sat in the lobby for a while longer, and then 15 minutes later Ford told me they were still in the room. At this point I asked for the manager again.
"I really don't understand, how is it that they are still in our room? It has now been 40 minutes since this mess started?"
She was absolutely shocked it was still going on…
On the one hand, she was incredibly responsive and sympathetic to the situation. At the same time I don't understand why no one was actually managing this situation, and why it was still going on after 40 minutes.
Shouldn't they have immediately sent someone up to the room to have this taken care of?
We move rooms
She went into the back room for a bit, and then emerged and said it's apparently still going to be a while before the bathroom is fixed (again, we had no clue there was anything wrong with it to begin with), and she just wanted to move us to a junior suite. She said she'd go up to our room with us and show us to the new room.
At this point they had sent the little girl to go sit in the hallway in front of our room, and the manager's reaction when she saw this was exactly what you'd expect, seeing a little kid sitting outside someone else's guest room.
We were moved to a junior suite, which was nice.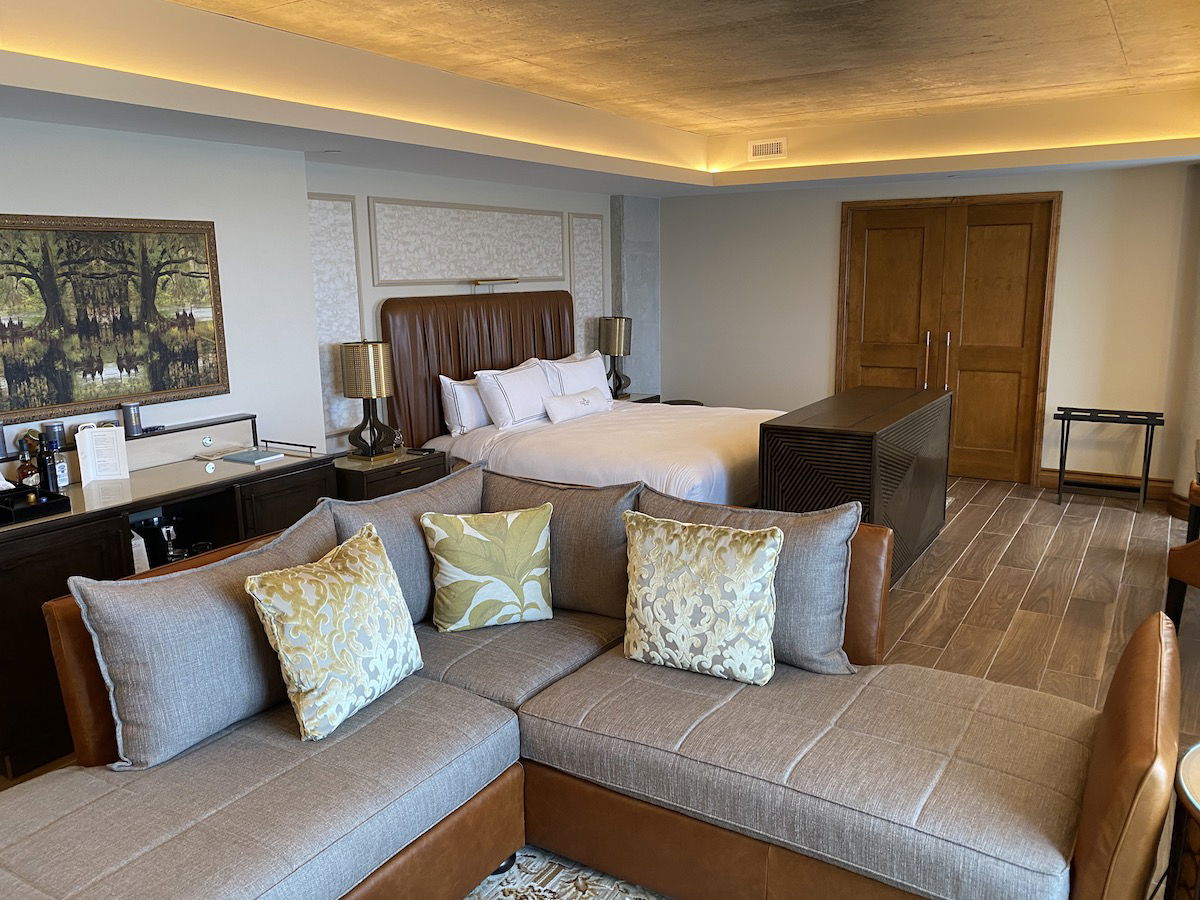 Our junior suite, which miraculously became available
A few more amusing points:
She sent up a doggy robe and a dog bed; while the robe was too small for Winston, how cute that they have that
She sent up a bottle of wine and an apology note; I don't drink pinot noir, though I appreciated that the note was addressed to "Mr. & Mr. Ben Schlappig"
Once we were settled into our new room we headed downstairs in the elevator, and one of the nice people working in the restaurant was also in the elevator, and when she found out we were staying in the hotel she said "oh are you absolutely loving your stay?" LOL!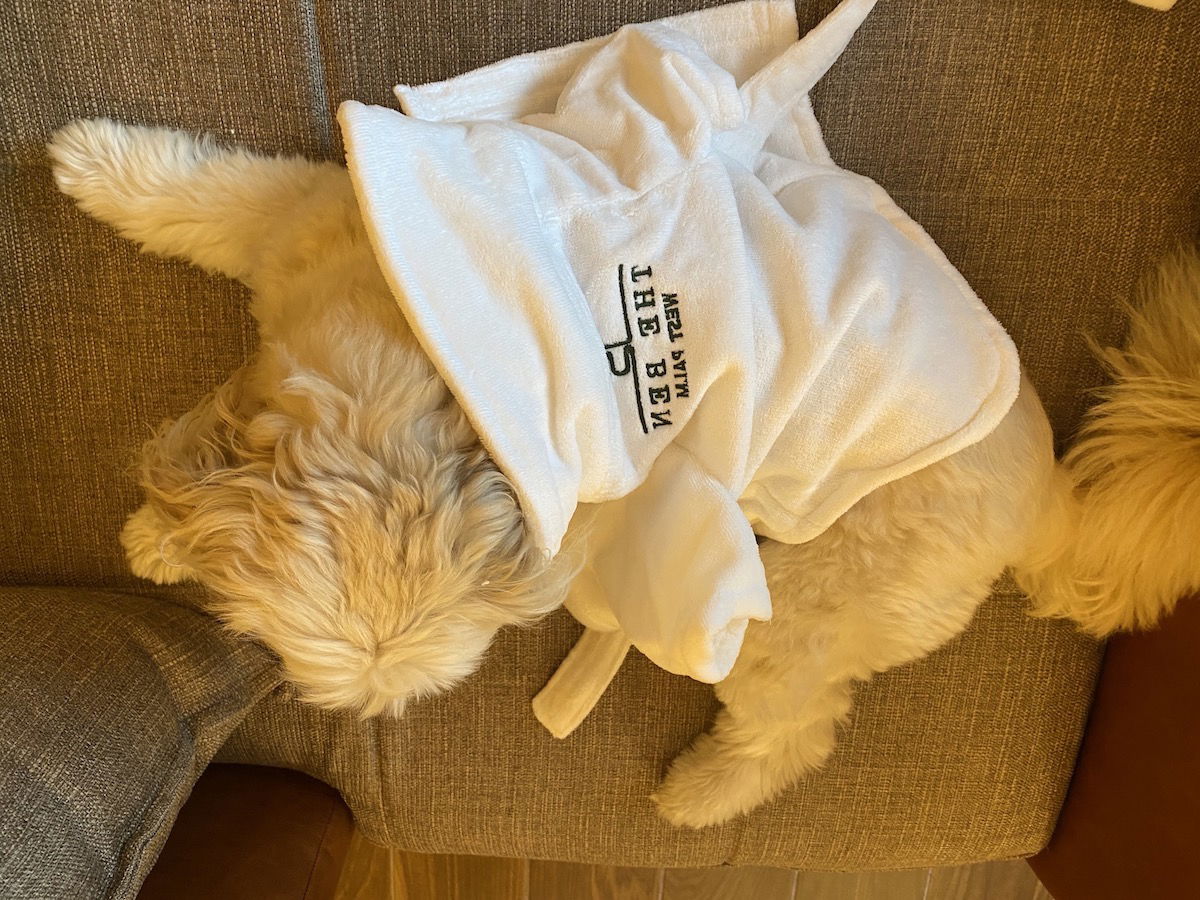 Winter body Winston with his summer body robe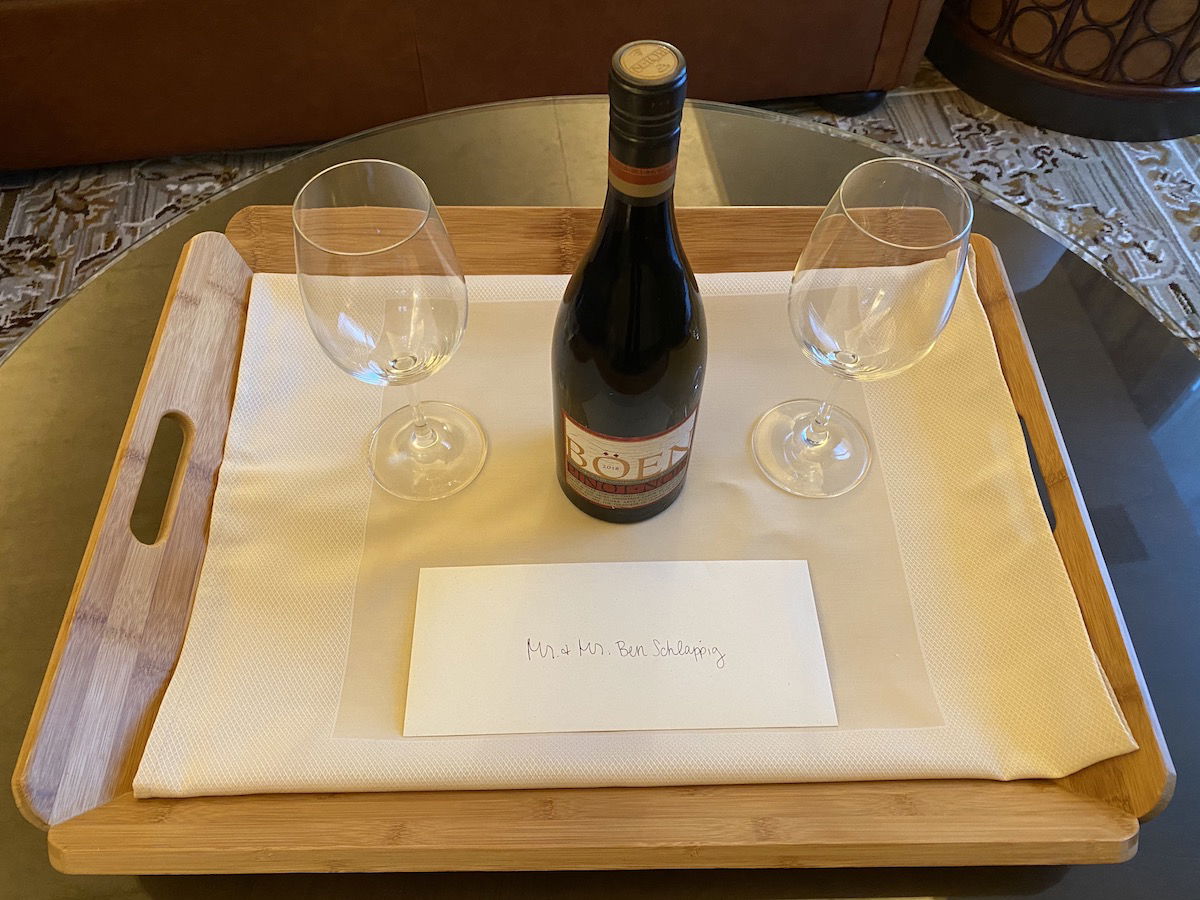 Apology wine
Bottom line
I don't understand people who complain about the lack of upgrades at Marriott. All it takes to get an upgrade is being assigned the wrong room, then being assigned a room that isn't what it's advertised to be, then having your room invaded by a little girl and two maintenance people while they fix your toilet for an hour, then talking to a manager three times, and then a suite that was previously unavailable suddenly becomes available.
It really couldn't be easier, when you think about it!