Yesterday we learned that the merger between Marriott and Starwood is back on, following a rather exciting week for Starwood. Starwood had tentatively agreed to enter into a deal with Chinese investor group Anbang, which made a better offer for Starwood than Marriott, though Marriott was still able to counter and come out ahead.
Marriott had an investor presentation yesterday to provide an update on the acquisition. This was obviously intended to put investors at ease, given that many are concerned that Marriott is overpaying for Starwood, given that the cost of the deal increased significantly over the course of a week.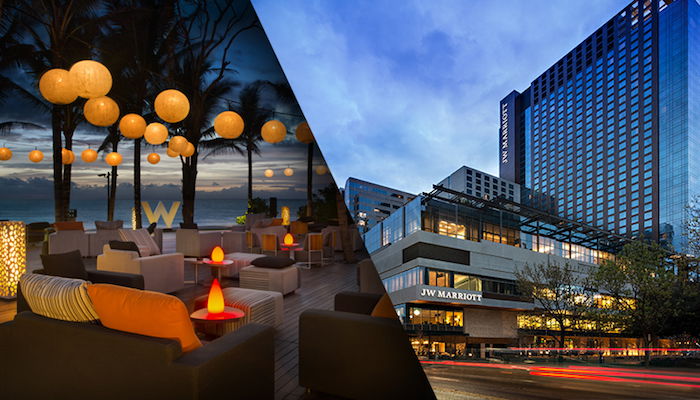 With that in mind, there were two areas of the presentation which were especially interesting. These involved an update on the combined loyalty program, as well as further thoughts on the combined groups' hotel brands, given that there will be 30 of them.
Combined Marriott & Starwood loyalty program?
While there has been a lot of speculation about how a combined Marriott and Starwood loyalty program would look, we haven't had much concrete information. [Update: you can read all of the details about the new Marriott and Starwood program here.] Heck, up until now they haven't even officially indicated that they'd create a single loyalty program (it seemed highly likely, but Ritz-Carlton still has a separate loyalty program, so nothing is out of the question).
The presentation had a few interesting points:
Marriott and Starwood want to run parallel programs during the integration, in order to maintain existing member benefits while also building bridges between the programs
Marriott acknowledges Starwood's expertise with affluent consumers in the lifestyle segment, while crediting themselves for having long-standing relations with frequent business travelers across broad brand portfolios (which I think is fair)
Marriott recognizes that they want to provide a more personalized experience, something which Starwood excels at, while Marriott doesn't
Marriott recognizes that their co-brand credit card is uncompetitive in many ways, given that the Marriott Rewards® Premier Credit Card offers just one point per dollar spent (and I value those points at ~0.7 cents each); meanwhile the Starwood Preferred Guest® Credit Card from American Express offers one Starpoint per dollar spent, which I value at ~2.2 cents each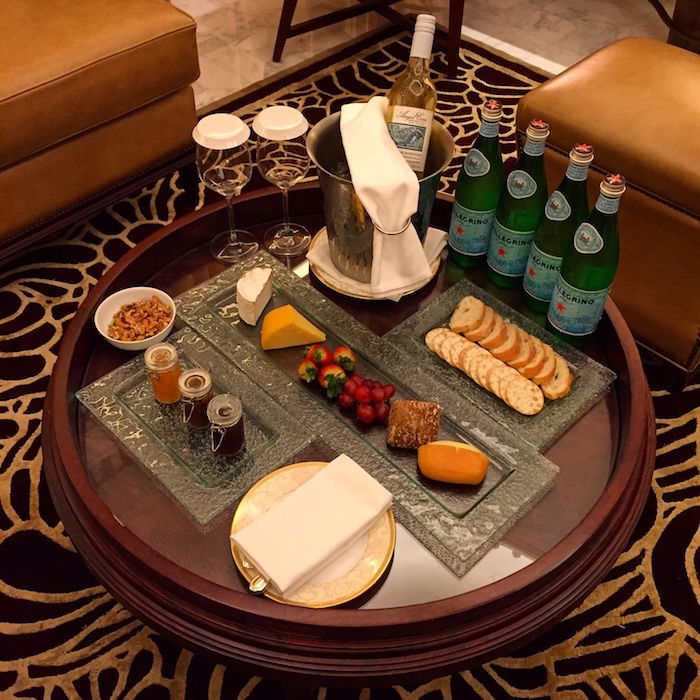 My Starwood Ambassador sure knows how to take care of me!
So while I'm still not confident that a combined loyalty program would be good news for Starwood loyalists, it's nice to see that Marriott management is at least acknowledging the right points.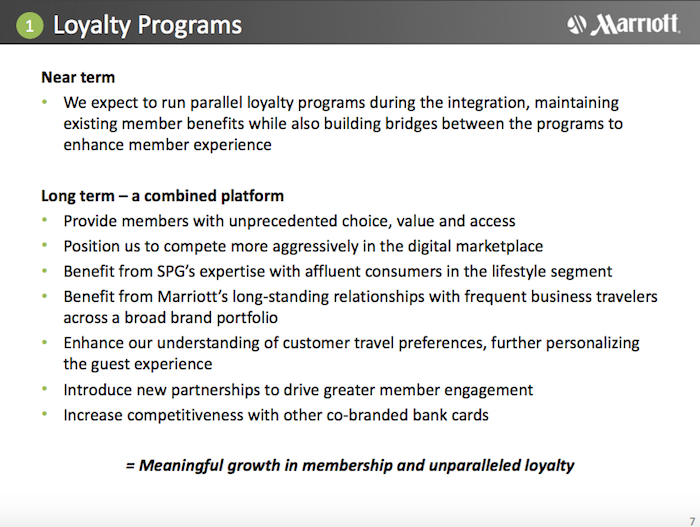 Will Marriott keep all 30 brands?
Between Marriott and Starwood, the combined group would have 30 brands, which is sort of insane.


What's interesting is what they say about the various brands, and how they view them comparatively:
St. Regis and Ritz-Carlton can co-exist, and they see a lot of growth potential for St. Regis, especially in Asia; I'm not sure how exactly those brands would be differentiated under the same hotel group (in many cases I guess the same could be said about Sheraton, Westin, and Le Meridien)
W is a lower end version of EDITION, though both brands can thrive and be successful
AC by Marriott and Aloft can also co-exist, with AC being slightly more sophisticated/European, and Aloft being slightly more playful
The Luxury Collection and Autograph Collection are similar, and it might make sense to fold The Luxury Collection into Autograph Collection
Element has tremendous growth potential, and can compete with Airbnb and other home rental options; they're absolutely delusional if they think that's true — just because a generic room has a kitchen, doesn't make it anything like the unique experience you get at an Airbnb
Sheraton needs work, even beyond Starwood's Sheraton 2020 plan; there needs to be more brand consistency, with some capital put into the properties to make them more competitive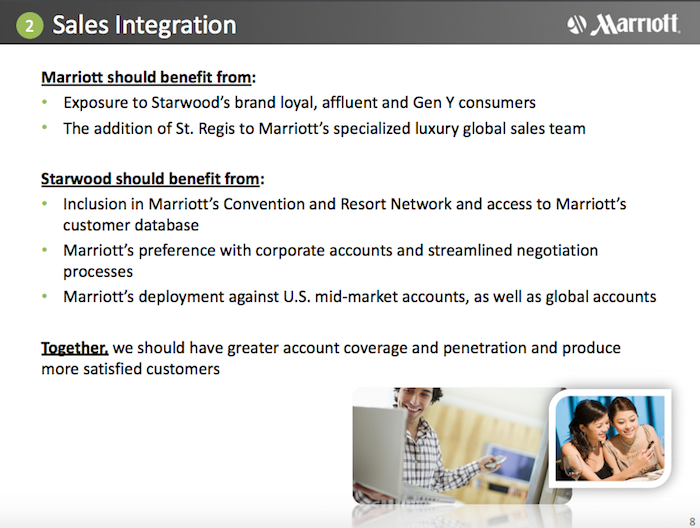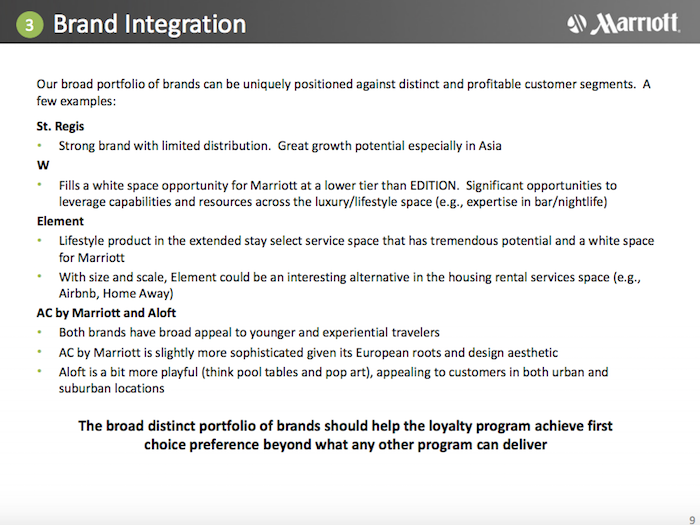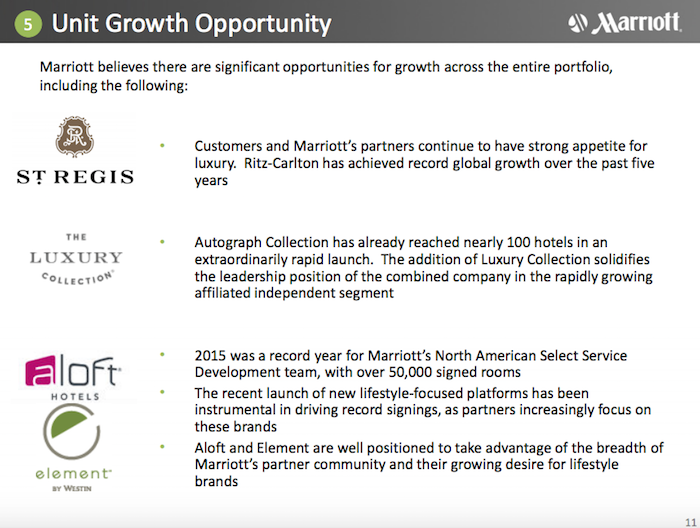 Bottom line
The merger still isn't finalized, as Anbang could still come back with a higher offer, though the approval process this time around would be more complicated (and due to the breakup fee, they'd have to really overpay). Even though Anbang would be a wild card, I'm still hoping that's what ends up happening, since consolidation is bad news for consumers.
All that being said, I actually think Marriott's management is on the right track in general in terms of how they're viewing the two loyalty programs and their 30 brands… for the most part.
As we've learned from US airlines, though, executive talk before and after a merger can be very different matters…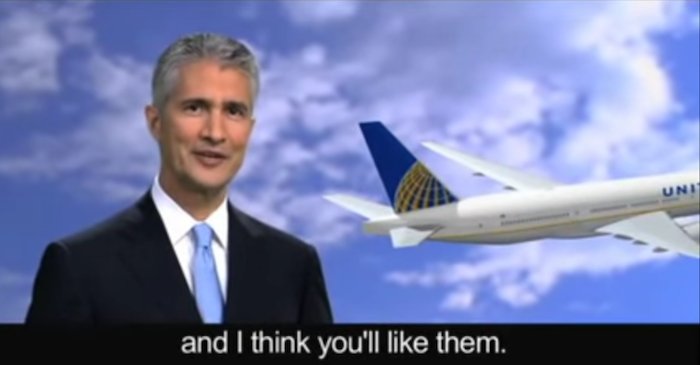 What do you make of Marriott's perspective on their loyalty program and hotel brands?
(Tip of the hat to View from the Wing)