Marriott Bonvoy has just launched a promotion that could save you points on your next award stay over the coming months.
Book most Bonvoy hotels at off-peak pricing
First for some context, Marriott Bonvoy has three tiers of award pricing at hotels — off-peak, standard, and peak. As a reminder, here's what that pricing looks like by category: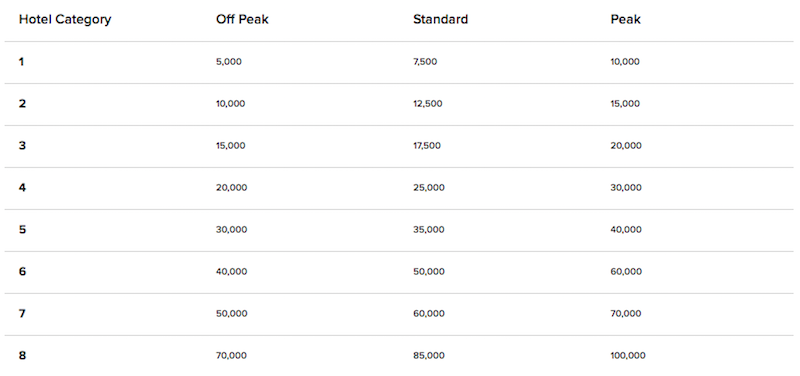 With this newly launched promotion, Marriott is offering off-peak award pricing at most properties:
This is valid for bookings between November 30 and December 14, 2020
This is valid for stays through February 28, 2021
We've seen Marriott offer a similar promotion twice in the past, where all properties had off-peak pricing during the promotion period. That's not quite the case here, though:
90% of Marriott's roughly 7,500 properties are exclusively offering off-peak pricing
Of the 90% of Marriott properties participating, roughly two-thirds previously offered a mix of award pricing, meaning that pricing has been lowered at those properties
With this promotion, Marriott's most expensive participating properties that are participating cost just 70,000 points per night, or an average of 56,000 points per night factoring in a fifth night free.
Note that any changes made to reservations after the promotion period ends would be subjected to the new pricing.
Bottom line
Marriott is offering a sale on award nights, whereby stays at 90% of hotels are pricing at off-peak levels. This is valid for bookings through December 14, 2020, and for stays through February 28, 2021.
This is ultimately a nice promotion, though it sure would be nice if all properties were participating. I imagine the decision to have some hotels not participate was made on a corporate level rather than hotel level. The hotels not participating are probably those with the highest reimbursement rates for Marriott Bonvoy, I'd guess for destinations like Hawaii and Mexico (where room rates and occupancy are both quite high).
Will you be taking advantage of Marriott's award night sale?