I wanted to introduce my friend Daniel, who will be contributing to the blog going forward. Daniel runs one of the most popular YouTube aviation channels, Dantorp Aviation, which I've been watching for years. Daniel will be sharing his travel experiences, including through trip reports. Since he's based in Sweden, he has more of a European perspective on promotions, travel deals, etc.
With premium economy becoming increasingly popular, below is a trip report from Daniel about his experience in Lufthansa premium economy between Munich and Dubai. I've still yet to fly premium economy, so was especially interested in this report.
Thanks for the report, Daniel!
---
Correction: Lounge access is not free of charge for premium economy passengers. They have the option to purchase access, which is not available to economy class passengers, although I see limited value this perk.
Hello OMAAT readers, let me introduce myself briefly: my name is Daniel and I run a YouTube channel about airplanes and airlines. If you're interested in either, I'm sure you'd love my channel!
I've long been a Lufthansa admirer, much like Ben. Since 2009, I have flown them more than any other airline, partly thanks to the efficiency of traveling from Sweden to the US via Frankfurt or Munich, and partly because of my past loyalty to the Star Alliance through United. Until now, I had never tried anything but economy and their old business class, so I figured it was time to give their premium economy a go.
Lufthansa Flight 638
Munich (MUC) to Dubai (DXB)
16 December 2015
Depart: 10:40PM
Arrive: 07:50AM (+1 day)
Duration: 6hr10min
Aircraft: Airbus A340-600
Seat: 26K (Premium Economy)
Booking
The great thing about Lufthansa premium economy is that it is often reasonably priced – they were selling upgrades for as little as €200 at the gate. It may be worth keeping in mind that upgrades bought at the gate do not earn extra miles, since your booking class will not change. On the other hand, Lufthansa recently introduced an online tool that lets you bid for upgrades, which might be a better option.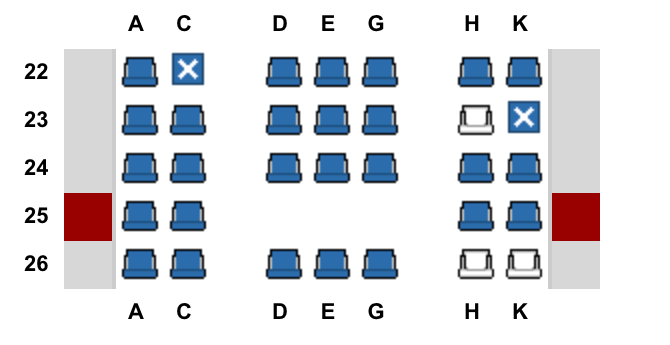 Luckily, my friend Julia and I were able to snag the last two available seats together, 26H and 26K.
Transfer and Senator Lounge
Lufthansa's second biggest hub is Munich, which happens to be the only 5-star airport in Europe. The concourses in terminal 2 are heavily branded by Lufthansa, since they own a 40% stake in the buildings. Transferring in Munich is a breeze, especially now that the new satellite has opened, since there are far less bus gates than before.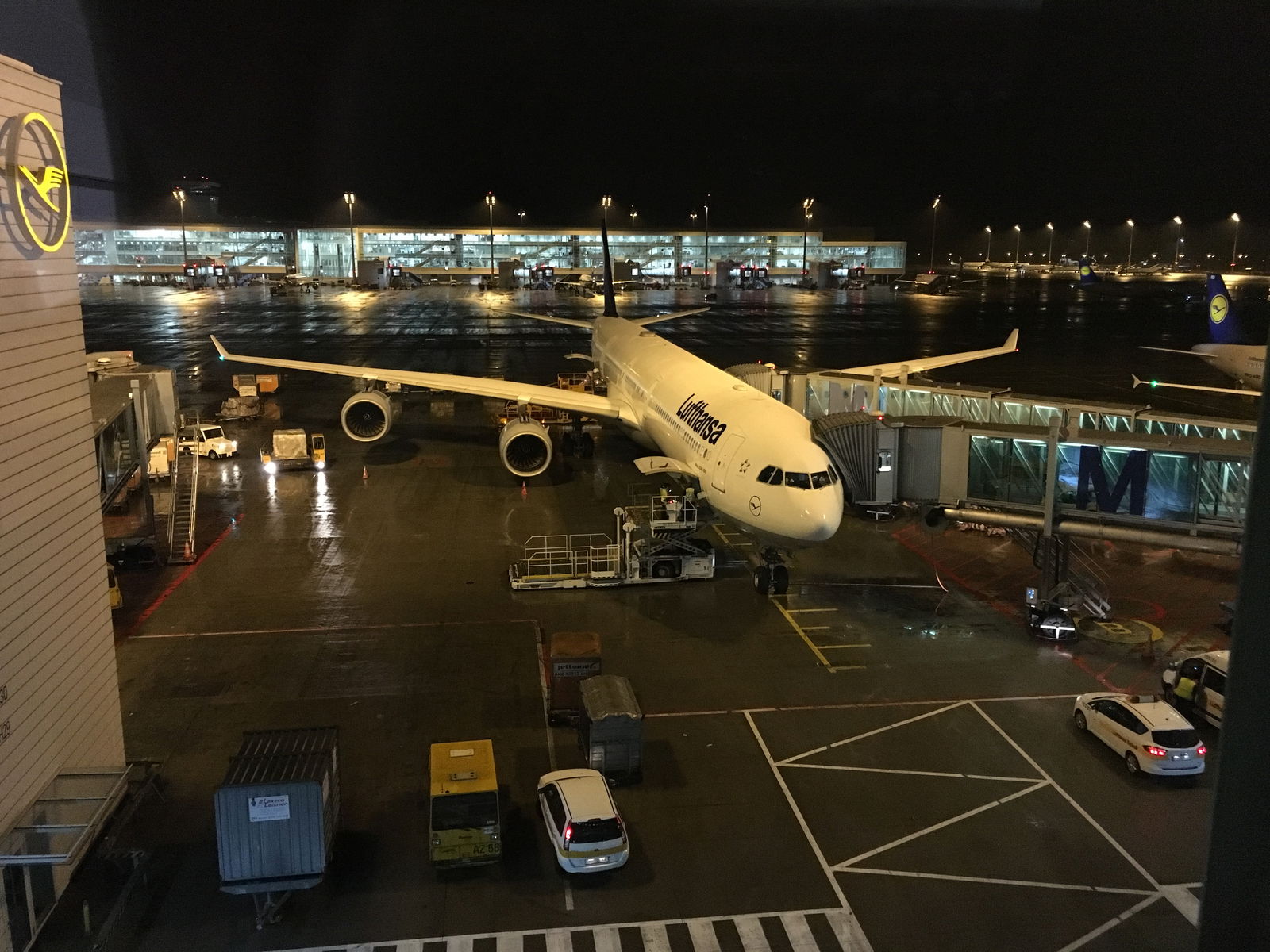 I won't be reviewing the Lufthansa Senator Lounges in the old concourse since Ben has already covered them, but as is generally the case with the Lufthansa Senator/Business Class Lounges, they were pretty nice. Lounge access is included when traveling in premium economy, although you must buy your upgrade before you receive access.
Boarding
As is the norm, Lufthansa starts by boarding first class, followed by business, premium economy and lastly, cattle class economy class. My friend Julia joined me on this trip, and together we boarded through the second boarding door and turned right toward our seats in row 26.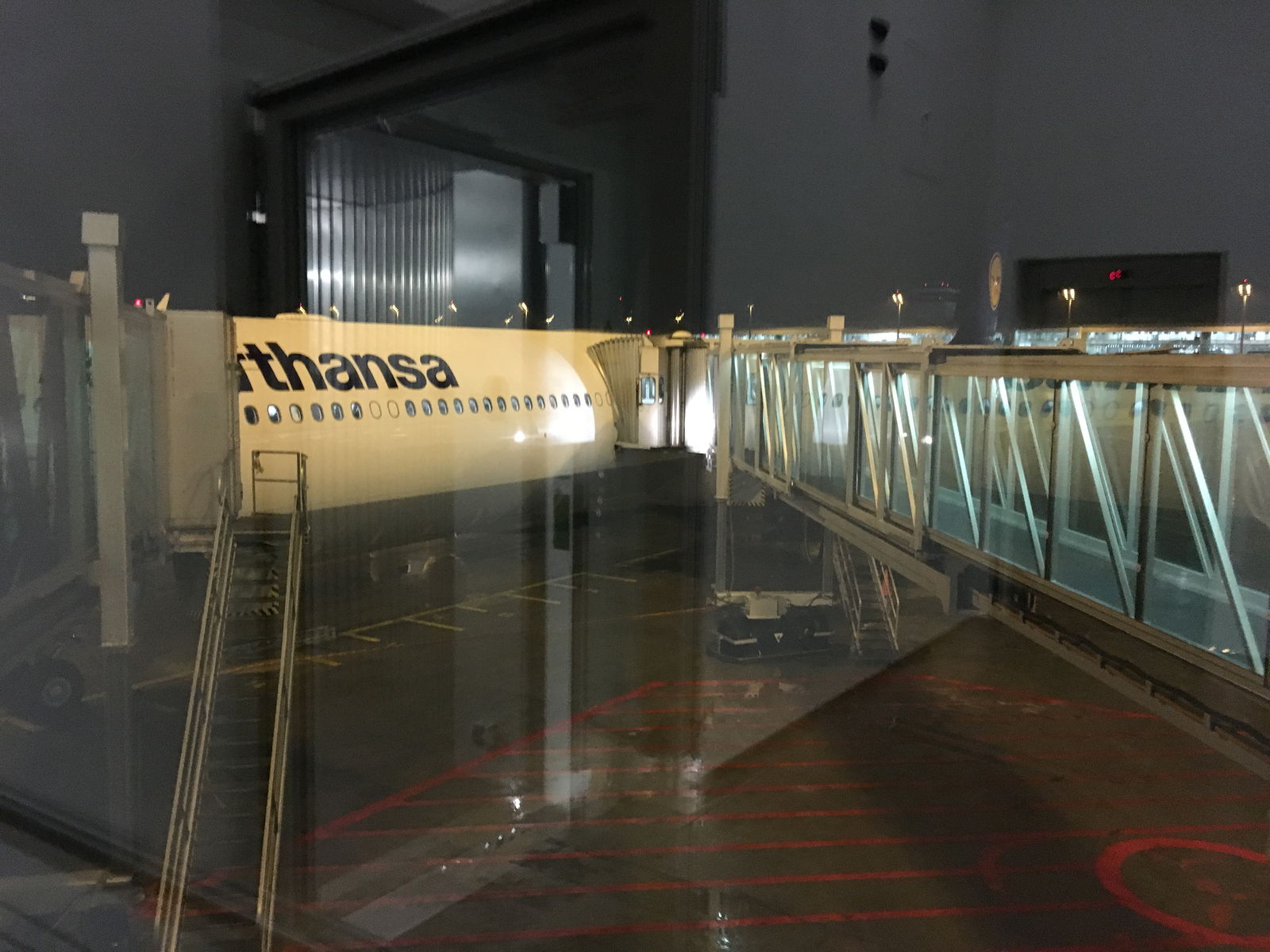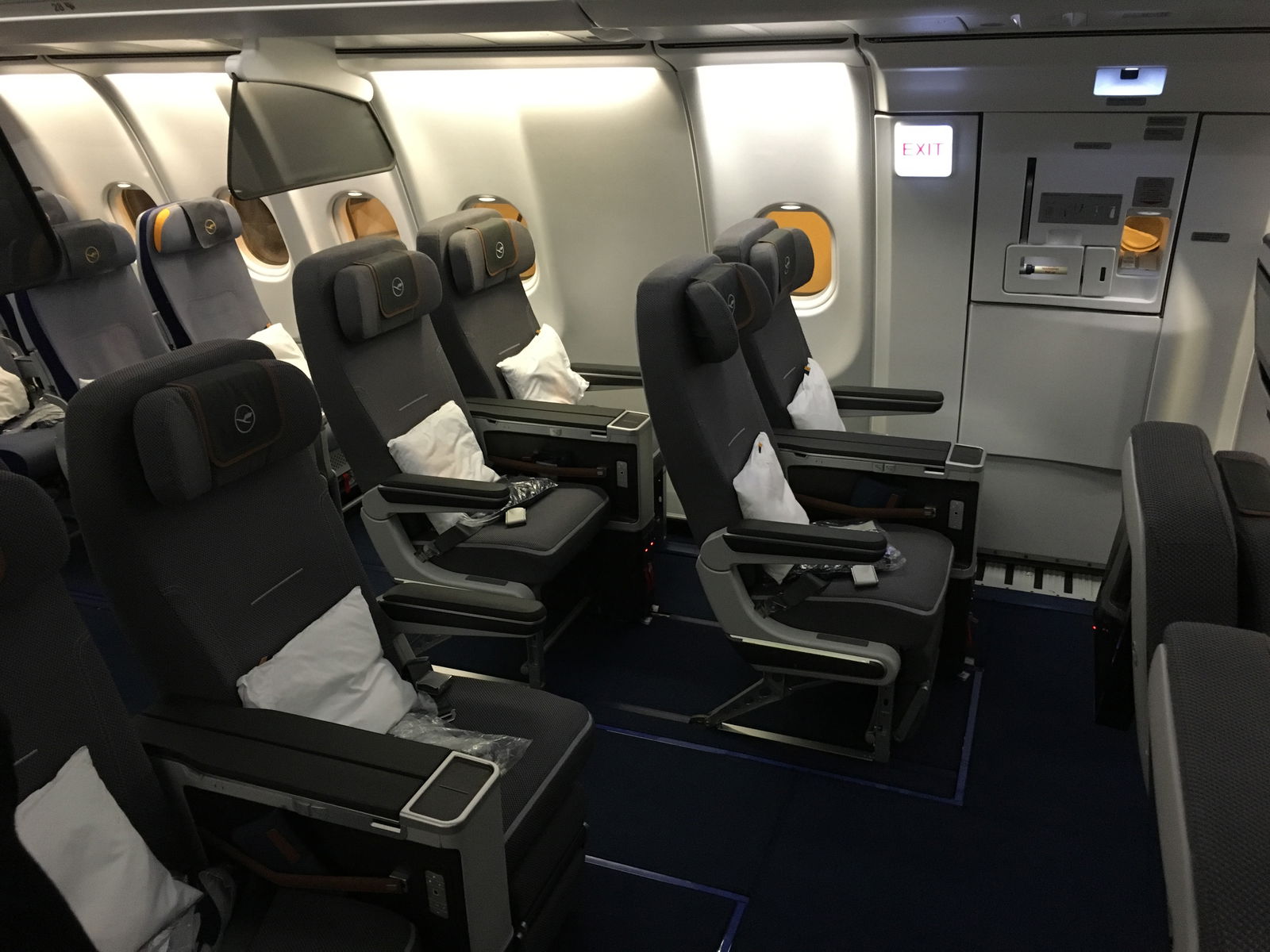 My initial thought was that the cabin looked incredibly stylish, especially when placed in front of infinite rows of blue and yellow economy seats. The premium economy cabin is rather small, with only 32 seats. There is no real divider between the two cabins, so there is a slight loss of intimacy. As opposed to the back of the bus though, there is one less seat per row, but the seat width still only measures up to Airbus' 18-inch economy standard. As for leg room, it seems about equivalent to the extra leg room seating on US airlines.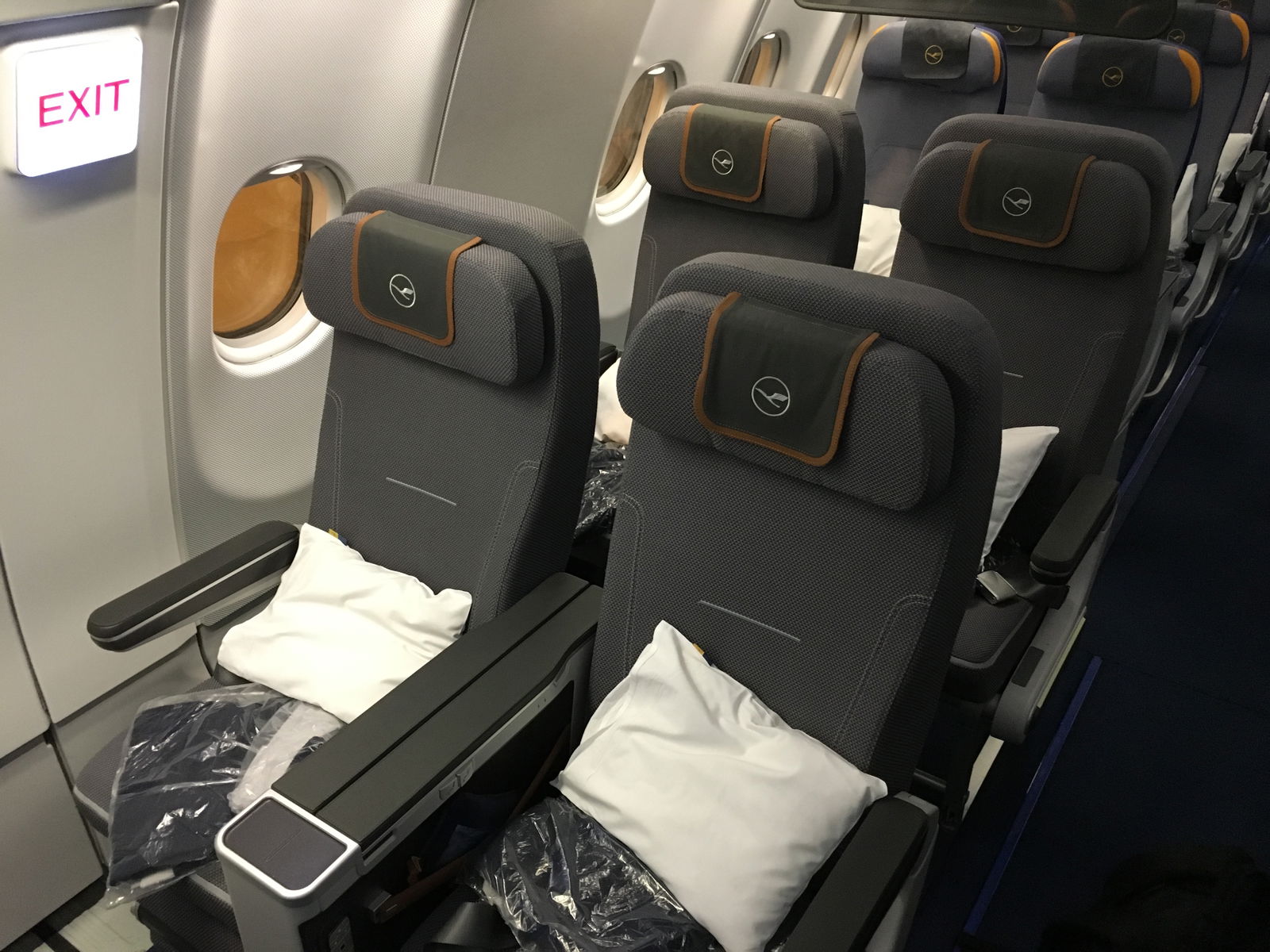 Awaiting us at each seat was an amenity kit, headphones, a blanket and a "larger" pillow. As soon as we sat down we were asked if we'd like a pre-departure beverage. While I thought I'd chosen orange juice off the tray, it turns out I had a more exotic orange and mint mix, which was so delicious I was devastated when they didn't have it on my return flight.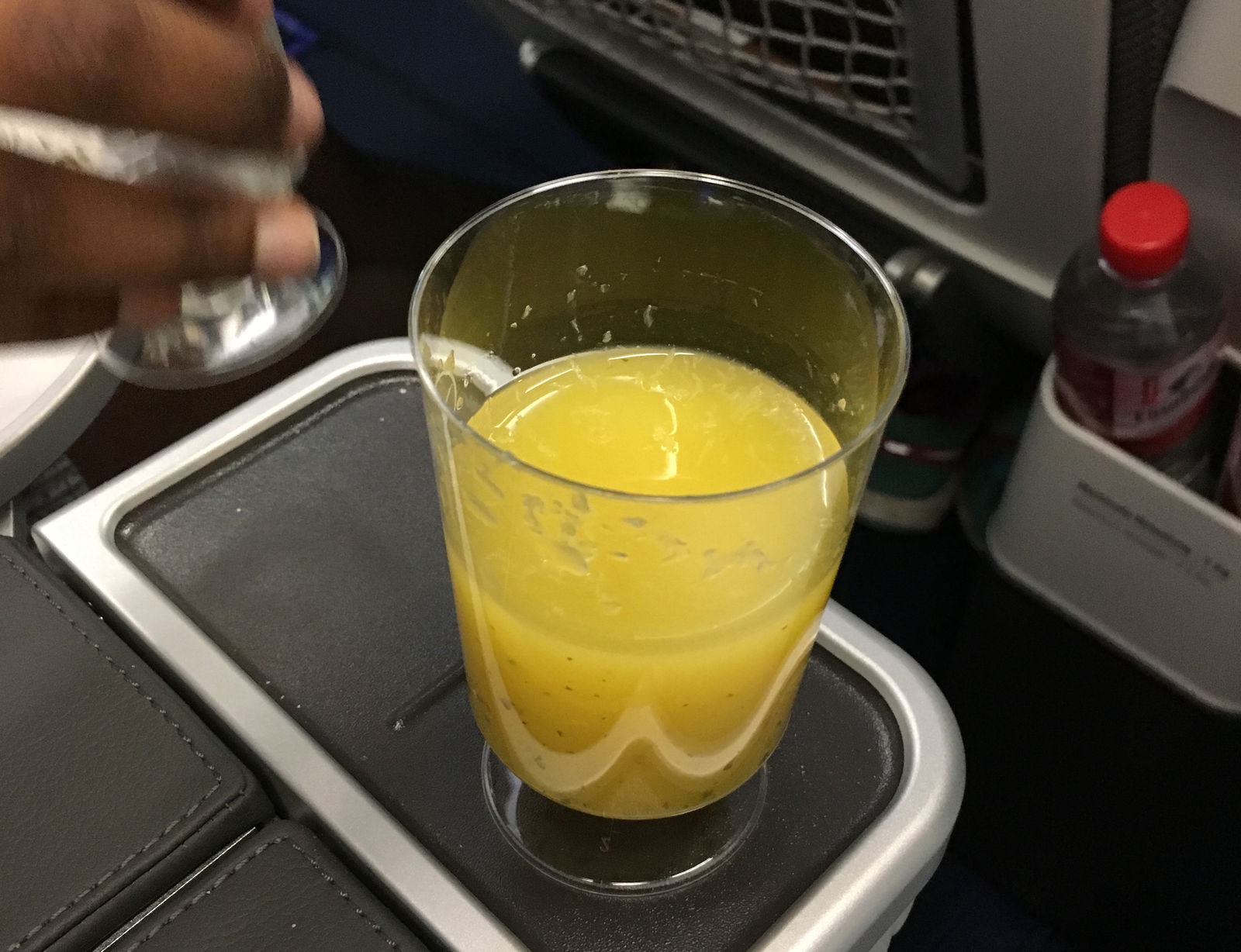 I was positively surprised by the amenity kit as well, which came in a nice little bag, which my friend Julia, as the nerds we are (were 😉 ), suggested we use as pencil cases upon our return to school after Christmas break. It contained all the essentials, plus some extras…
Onboard
The flight was full in all cabins but first and at 10:40pm the purser came on the PA and welcomed us onboard, telling us our flight time would be six hours. We pushed back shortly thereafter and were soon on our way out of a dark and cold European winter.
Shortly after departure, a small snack along with a beverage was served. I opted for the delicious orange juice again, which came with a pretzel mix.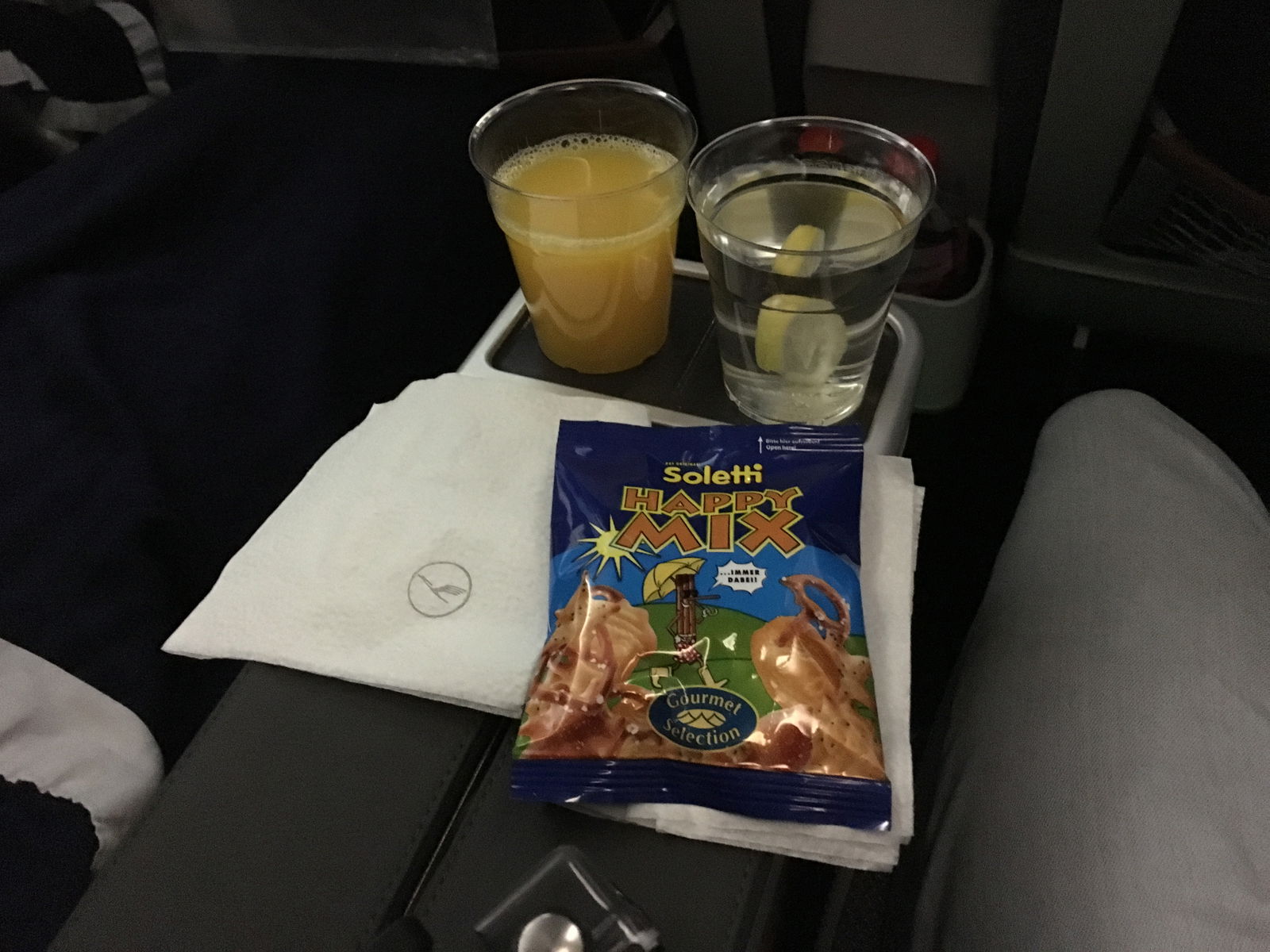 A warm dinner was served about an hour into the flight. Premium economy flyers are usually provided with menus, but as it turned out the menus we'd received were only valid for the previous flight of this aircraft. If you're still interested in what that might look like, it's in my video review!
I chose a spinach and ricotta cheese ravioli with mushroom sauce, which came with a basic salad and an apple pie dessert. It was all served with real cutlery, bowls and plates, which was a nice touch. The absence of a menu means that I can't speak for the other meal options, although I can say that mine was great.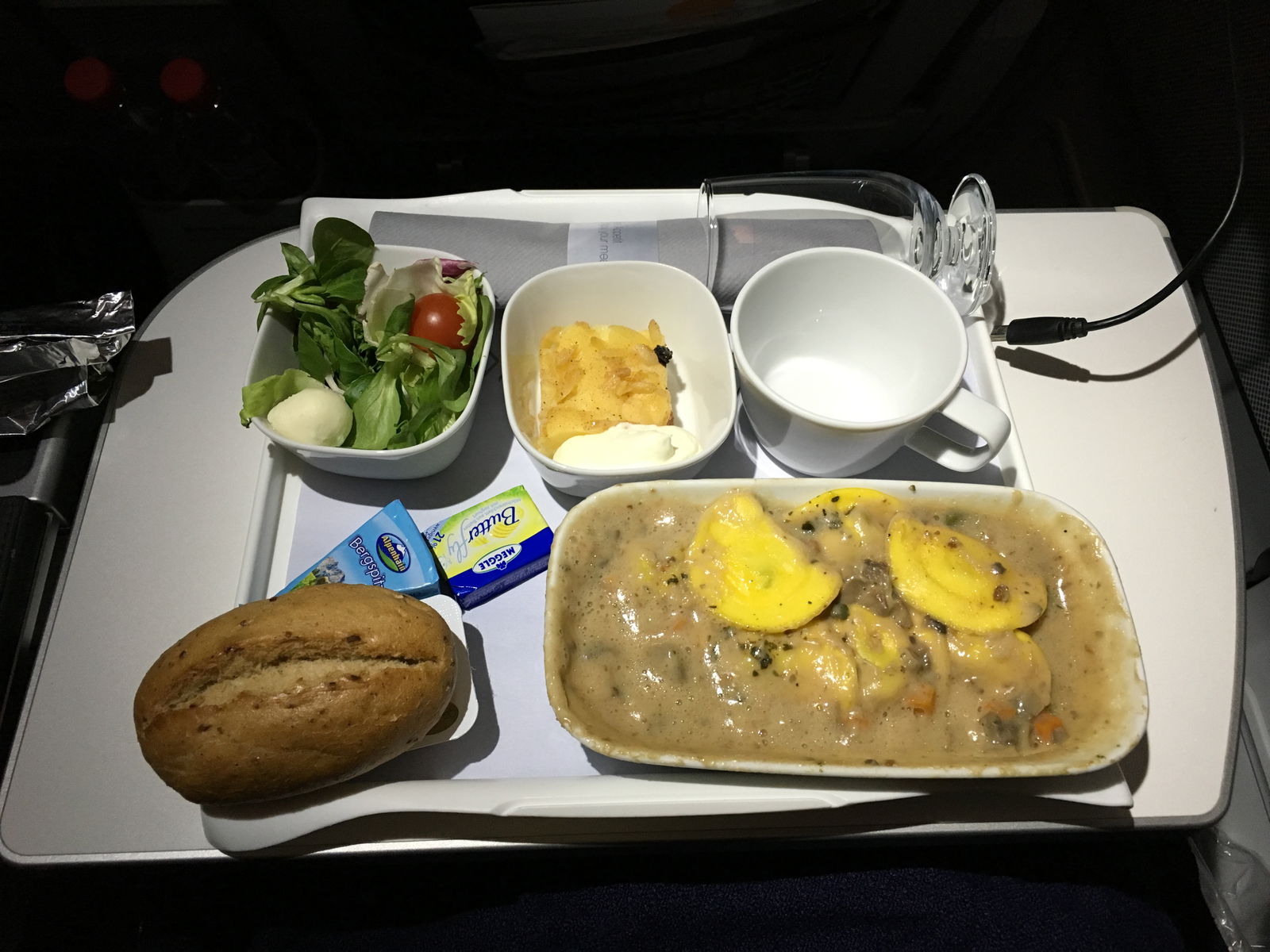 Before the meal, and during the meal, and after the meal, I enjoyed my go-to inflight TV show: Parks and Recreation. Once I'd exhausted the offering of five or six episodes, I decided to call it a night. When I reclined, I had a strange feeling I was in a recliner at home. Lufthansa's economy class recline usually feels pretty generous. The additional premium economy recline, combined with my tiredness and the late departure of the flight, ensured I slept like a baby.
When doing a six-hour redeye, i.e. NYC-LON, it's hard to get a good night's sleep. Even after sleeping three hours, I felt exhausted. Obviously, this was no fault of Lufthansa, but a daytime departure (Lufthansa has a 1pm flight out of Frankfurt to Dubai) could always be worth considering.
The purser woke us up around two hours before landing telling us it was time for our tour of the crew rest. There was no way I could object to that!
Upon returning to our seats, the breakfast service had started. Everyone in premium economy received the same cheese wrap. Few foods are appealing when it's 4am at your origin, and I rarely find an airplane breakfast that excites me.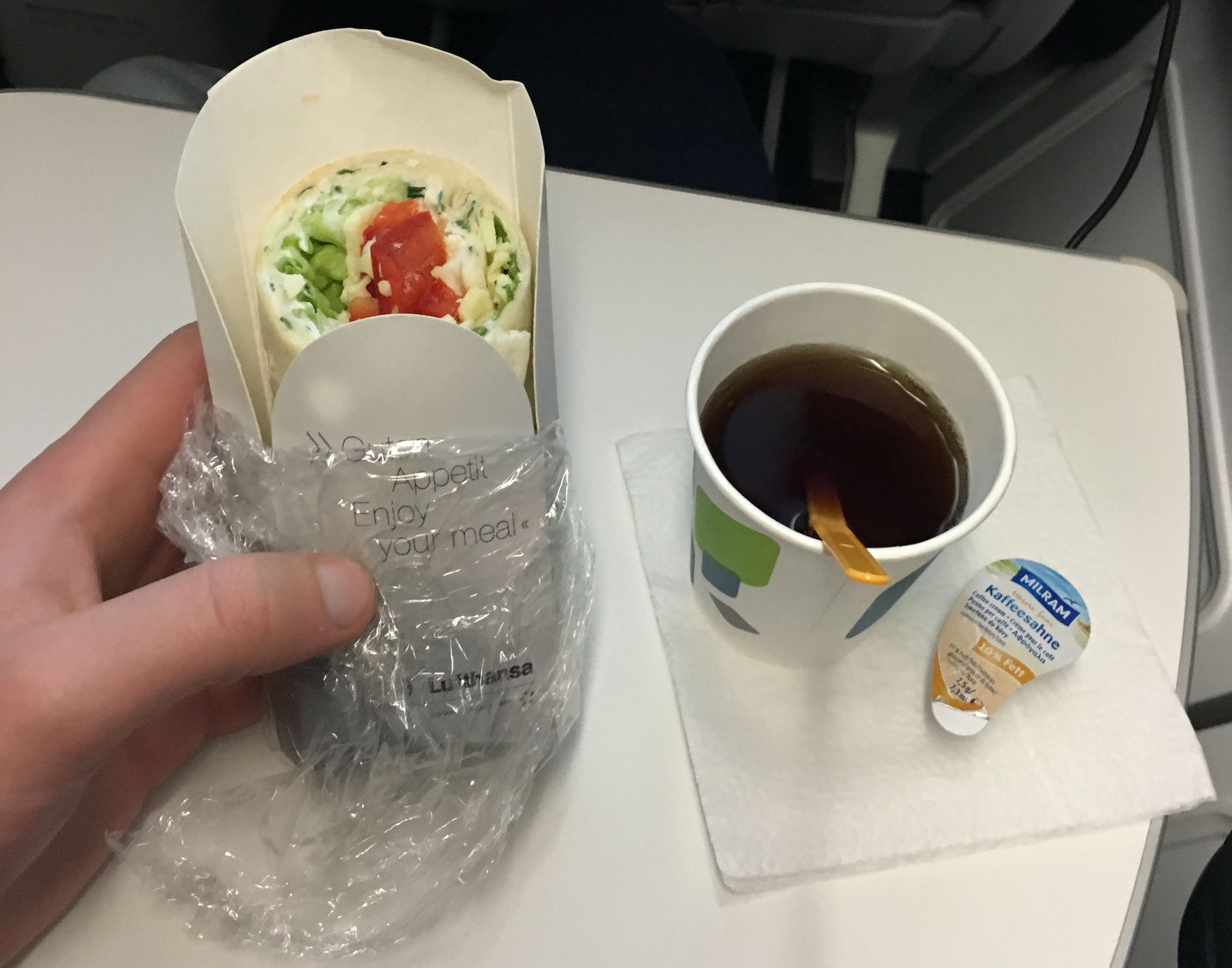 That's when I opened my window blind and saw this – WOW!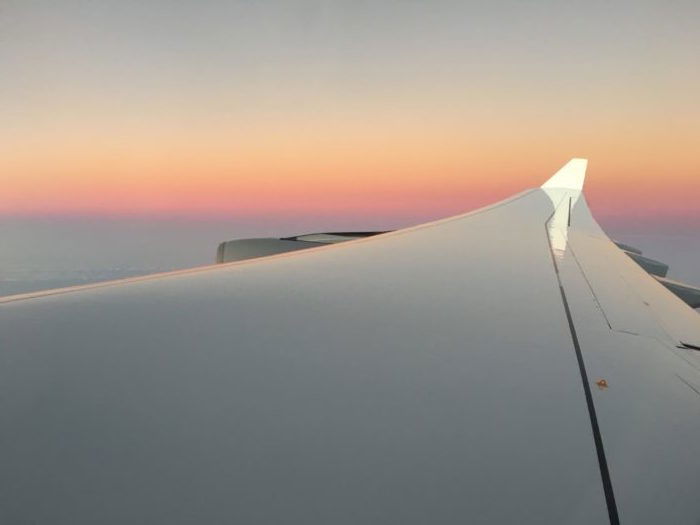 Suddenly, I was in the magical Middle East and my morning snack became the perfect wake-up companion.
We slowly started our descent into Dubai International Airport. The views on approach were magnificent, and I couldn't have had a better welcome to this desert region.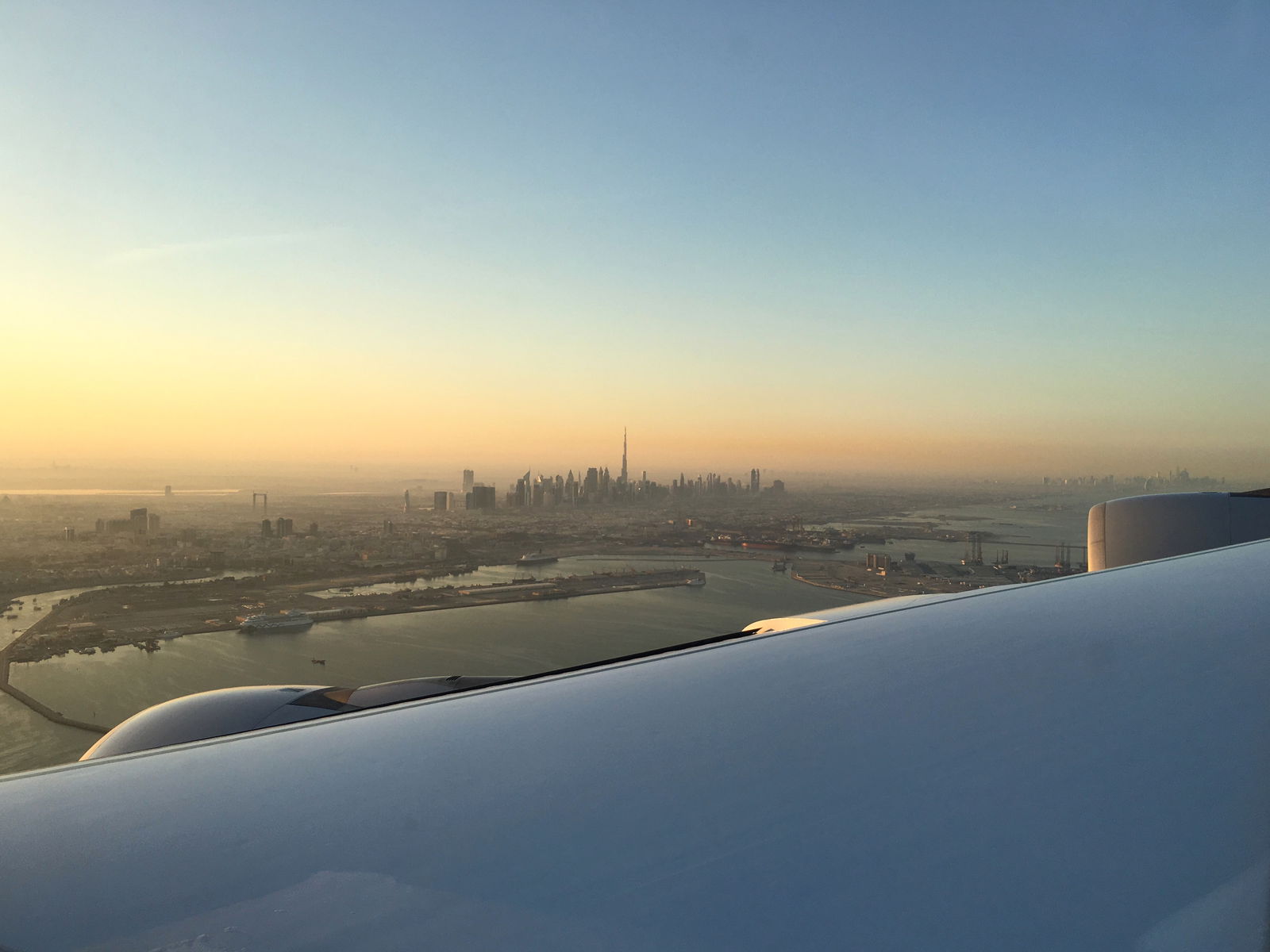 The taxi to the gate took about 10 minutes, and we were on the stand right on schedule. It's worth noting that when people praise Dubai Airport, they're most likely talking about terminal 3, not terminal 1, which is used by most foreign carriers.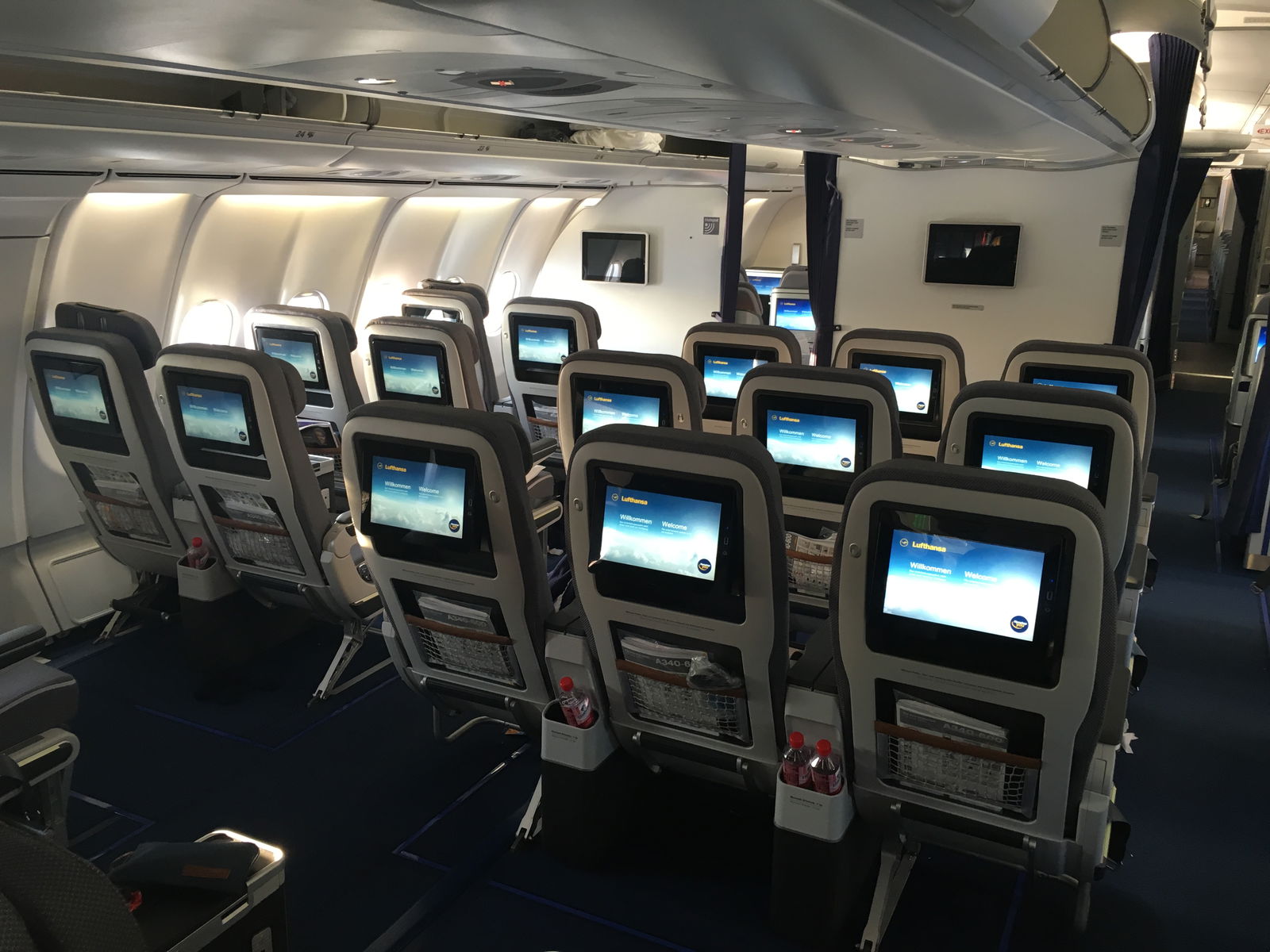 We bid goodbye to the crew and left for immigration. After a 15 minute walk, we were greeted by a bunch of immigration officials in traditional Arab dress. All I can say is that New York immigration officials should take a hospitality lesson from these guys…
Bottom Line
Overall, I'd say Lufthansa premium economy class is exactly what you would expect from one of the best airlines in Europe. The service was amiable, the food was great and the seat was very comfortable. The biggest benefit is the cost-benefit ratio of this new cabin. As opposed to business class upgrades, which at the cost of €500 each way, would give you a "real" premium experience, upgrades to premium economy start at half that amount. I definitely wouldn't hesitate to book Lufthansa premium economy again.
For those interested, here's my full video review of the flight.
Have you flown Lufthansa premium economy before? If so, on which route/aircraft and did you enjoy it as much as I did? Leave your thoughts in the comments below!