This is an awesome development. In the US lately we've seen a couple dozen airport restaurants added to Priority Pass. Now we're seeing a pretty solid lounge added at an airport that doesn't currently have a Priority Pass location.
The Lufthansa Business Lounge Detroit Airport has been added to the Priority Pass network. This will be the first Priority Pass location at the airport. Priority Pass members have access to the lounge during the following hours:
Monday through Saturday: 5AM until 1PM and 4PM until 6:30PM
Sunday: 11AM until 1PM and 4:00PM until 6:30PM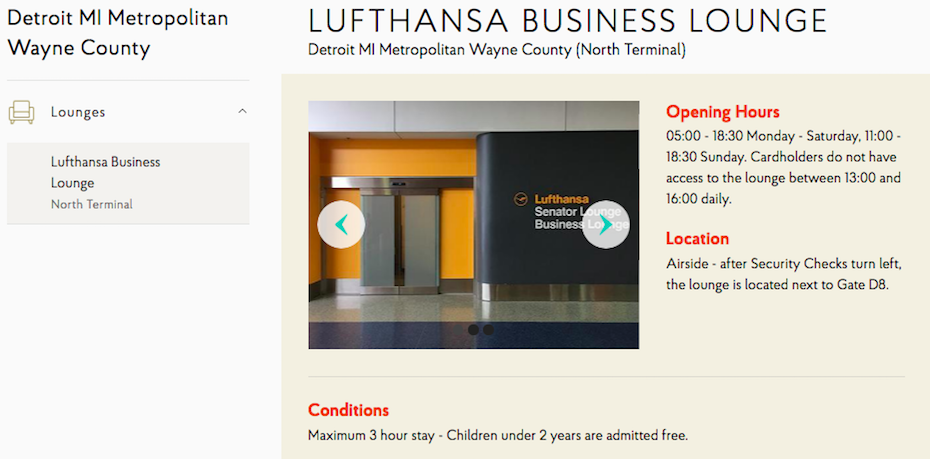 The break in the middle of the day is because that's when the Lufthansa flight departs, so clearly the intent is that they're expanding access to the lounge to accommodate Priority Pass members, without diminishing the experience for Lufthansa passengers, which is a smart strategy.
The Lufthansa Lounge is located airside in the North Terminal, next to gate D8. The North Terminal is used by just about all airlines except SkyTeam airlines, as you might expect.
Travis reviewed this lounge a while back, so take a look for a sense of what you can expect.
As a reminder, the following are some of the most popular US credit cards to come with Priority Pass memberships:
To my knowledge this is the first Lufthansa Lounge to join Priority Pass, so I hope that this is a trend we see continue, because it seems like a win-win. The airline can generate more revenue during periods when it otherwise wouldn't be used (or at least not widely used), and Priority Pass members have access to more lounges.
I would guess that the lounge will feature watered down food and drinks during the hours where Priority Pass members have access, just as you'll find at the Virgin Atlantic Clubhouse LAX during Priority Pass hours, for example. That's fair enough, since Priority Pass doesn't give lounges much of an incentive to offer a superior experience, since as far as I know that doesn't impact how much lounges are compensated.
However, that's still better than nothing.
Will anyone benefit from the addition of the Lufthansa Lounge DTW to Priority Pass?
(Tip of the hat to Doctor Of Credit)
The following links will direct you to the rates and fees for mentioned American Express Cards. These include: The Business Platinum® Card from American Express (Rates & Fees), and The Platinum Card® from American Express (Rates & Fees).