Let me take you back to where this booking adventure began.
Reason for the destination
As some of you may recall I gave away 60,000 Starpoints earlier in the week courtesy of the Starwood American Express. This was in conjunction with my stay at the St. Regis Bal Harbour a few weeks ago. I really love St. Regis hotels, given that they're not only on the same level as Ritz Carlton and Four Seasons, but also belong to one of my favorite loyalty programs, Starwood Preferred Guest. While I was running the contest I noticed that a lot of you said you would redeem the 60,000 Starpoints at the St. Regis Mauritius. I hadn't really looked into the resort before that, though the entries made me take a look. As it turns out, it's opening on September 15, 2012 (though they only seem to be accepting reservations from October 1 onwards) and looks stunning.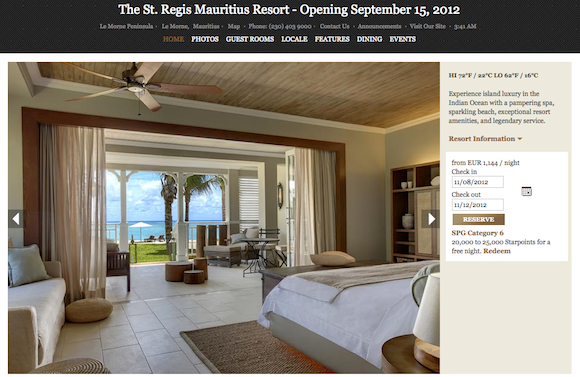 St. Regis Mauritius picture
Unfortunately the hotel is outrageously expensive, and I mean outrageously expensive. It might just have the highest rates I've seen of any major chain hotel. The lowest rate I see for any date is 1,144EUR ($1,400USD) on a prepaid rate.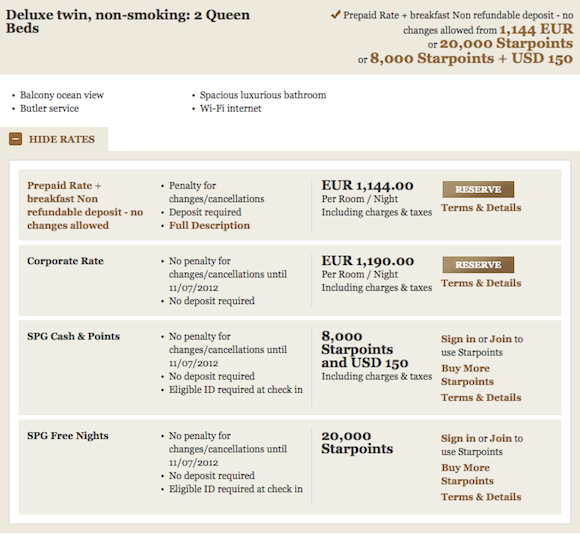 Rates for St. Regis Mauritius
What's both shocking and delightful is that every single day has cash & points availability. This is a category six hotel, making it $150 and 8,000 Starpoints per night. Usually I wouldn't be thrilled at the prospect of paying $150 plus 8,000 Starpoints per night for a hotel, but when it's usually $1,400+ per night I'm all over it.


Cash & Points available every day
Will my SkyMiles finally be useful for something?
Then the challenge was getting there. Initially I thought this would be a great opportunity to redeem some Delta SkyMiles (in place of a potential trip to Asia). The plan was to fly the Air France/Air Maritius codeshare service between Paris and Mauritius, and to get to Europe on KLM in one direction and Alitalia in the other direction. My goal is to review as many new airlines as possible for you guys, and that seemed like a nice way to do so.
Unfortunately I literally couldn't find any business class award space from Paris to Mauritius. Oddly enough ExpertFlyer actually showed some business class award space, though Air France's website didn't show the same space. When I called Delta they didn't see the space either, even after trying to manually request it. So it seems that ExpertFlyer is showing some space that isn't actually bookable via Air France or Delta. I'm not sure why, though I'd love to hear theories.


ExpertFlyer showing three business class award seats


No dice with Air France!
Guess I'll go with good old Star Alliance!
As tempting as it is to do another award on one of the "premier" Star Alliance airlines, the reality is that I've flown them all and I get just as much enjoyment out of sharing a new experience with you guys as I would getting pampered in first class on Lufthansa. So once you rule out most of the Star Alliance carriers that offer a first class cabin — ANA, Asiana, Lufthansa, Singapore, Swiss, Thai, etc. — you're left with the less exciting airlines. So the goal was to use 110,000 US Airways miles (the number of miles needed for roundtrip business class to Africa) to book an award exclusively on airlines I've never reviewed before. After much back and forth I came up with a routing on Ethiopian Airways, South African Airlines, and Brussels Airlines, as follows:
Ethiopian Airways 503 Toronto to Addis Ababa departing at 9:15AM and arriving at 6:25AM (+1 day)
Ethiopian Airways 809 Addis Ababa to Johannesburg departing at 8:50AM and arriving at 1:30PM
South African 190 Johannesburg to Mauritius departing at 9:40AM and arriving at 3:50PM
South African 191 Mauritius to Johannesburg departing at 4:50PM and arriving at 7:15PM
South African 236 Johannesburg to London departing at 9:35PM and arriving at 7:20AM (+1 day)
Brussels Airlines 2094 London to Brussels departing at 10:25AM and arriving at 12:35PM
Brussels Airlines 501 Brussels to New York departing at 10:30AM and arriving at 1:05PM
Let me explain the longhaul segments:
Toronto to Addis Ababa — Ethiopian Airlines recently joined the Star Alliance, so I'll "take one for the team" and try them. The flight is operated by their brand new 777s, so I figured it can't be that bad.
Addis Ababa to Johannesburg is operated by the 787. There's something kind of ironic to me about my first 787 flight being on Ethiopian Airlines, not an airline usually known for being a pioneer in the airline industry.
Johannesburg to London is operated by South African's fully flat bed business class product, which I've heard great things about.
Brussels to New York is operated by Brussels Airlines' brand new fully flat business class product, and they just started service to New York over the summer.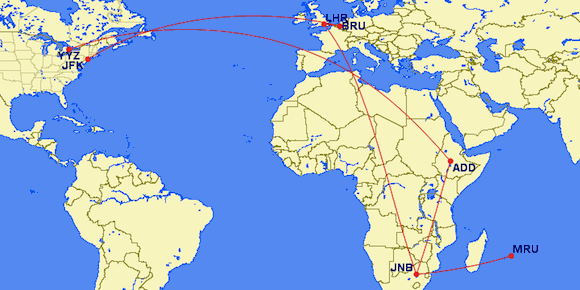 Should I do it?
I have the ticket on a three day courtesy hold, so let me know in the comments section whether or not I should pull the trigger on this, or if there's anything you'd like me to change about the ticket to make it more interesting for you guys. For the last segment, for example, I could fly Austrian, Brussels, or SAS, and I went with Brussels since they're the only ones with a fully flat product. I'd love to hear if there's anything you guys would change, though. Or am I totally nuts for even considering this, and I should instead spend the money to get a mental evaluation?
And one last question — has anyone been to Addis Ababa? Is it safe? I doubt I'd ever return, so I'm tempted to have a stopover there for a couple of days. Is it safe to just roam around on the streets there, or should I just skip it and avoid giving my mom a heart attack?