Yesterday I took the world's longest flight — SQ 22 from Singapore to Newark — in business class. Shorty after the flight I shared my impressions of the odd meal service flow on the flight, which I thought was worthy of a separate post, given what a complex issue it is.
In this post I wanted to share my overall takeaways from this flight, in no particular order:
Solid food, not great service flow
This is just a short recap of the point I made in the previous post. I thought the food itself tasted pretty good, I just though the service flow was poorly designed, in particular with the main meal being served right in the middle of the flight. I think the main meals should be served at the beginning and end of flight, with a more optional service in the middle of the flight.
Some aspects of the menu also didn't make sense, like that only two items on the entire menu were breakfast options.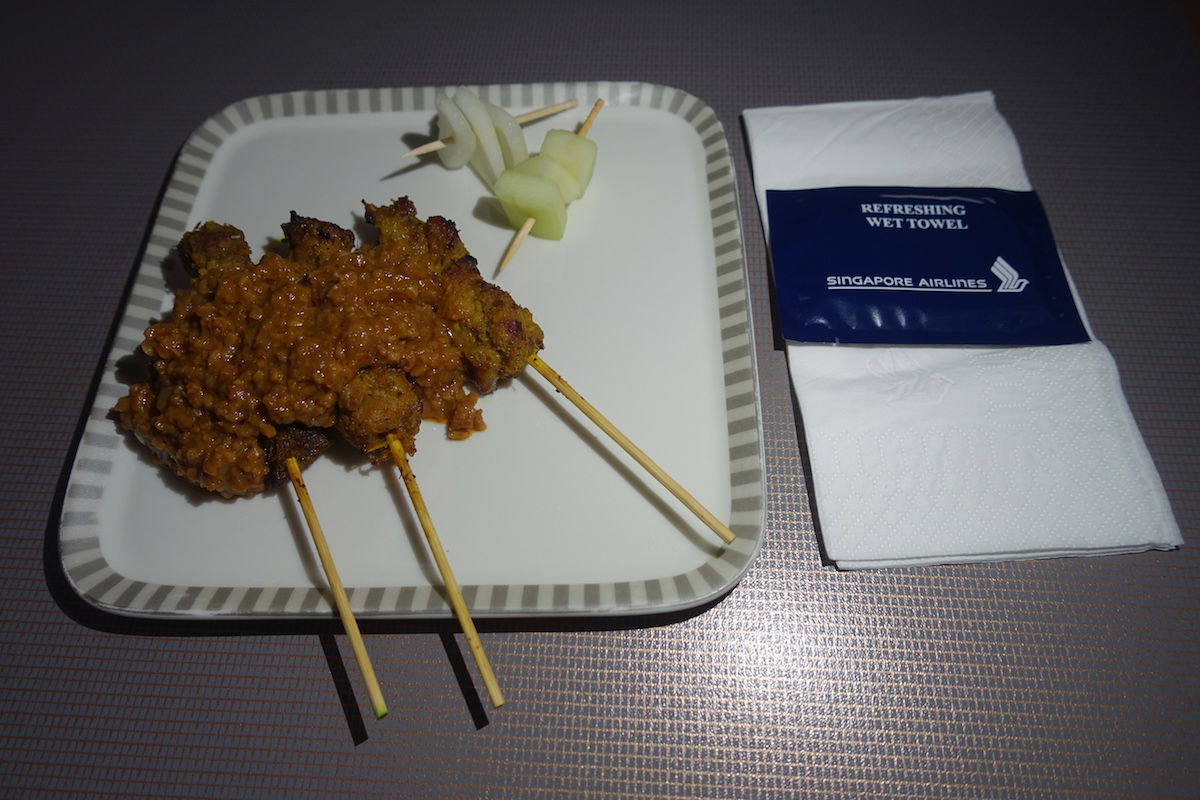 The A350-900ULR is one sleek plane
This is such a beautiful plane, with only 161 seats spread across business class and premium economy. You have a forward business class cabin, that's the size you'd usually find on most planes.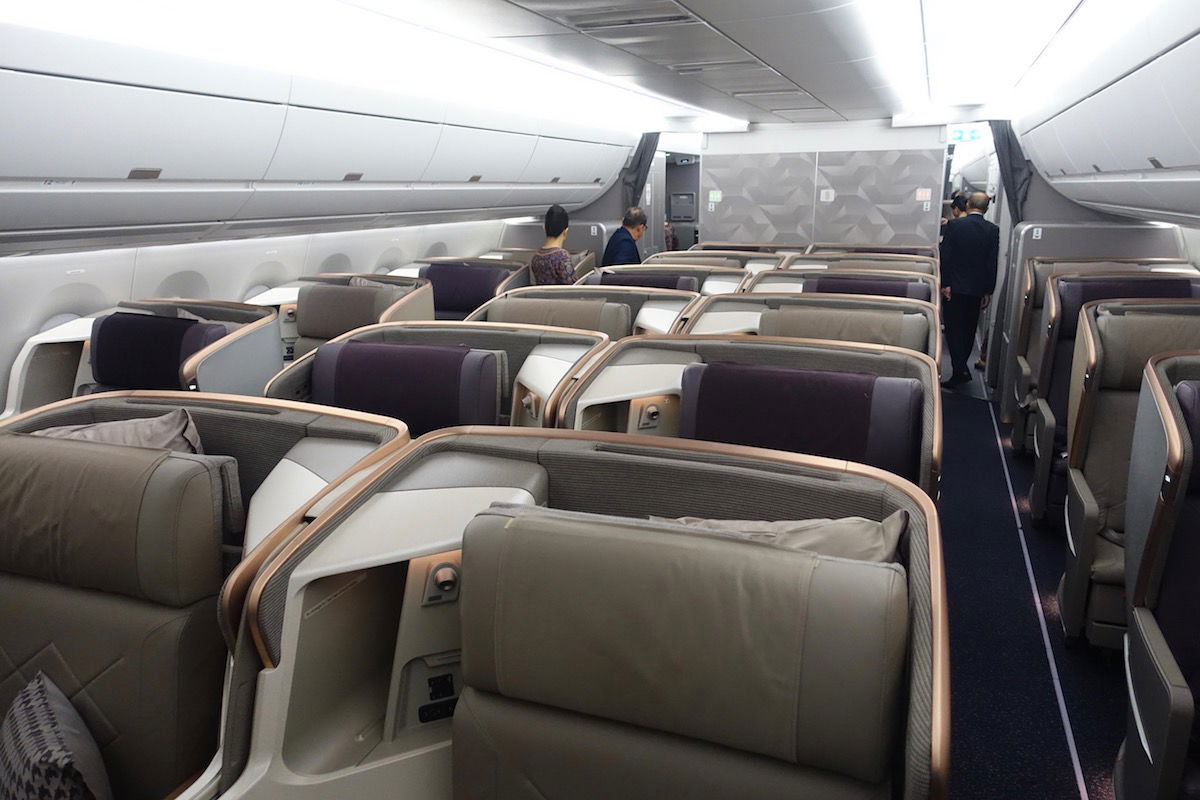 Then you have a massive business class cabin behind that.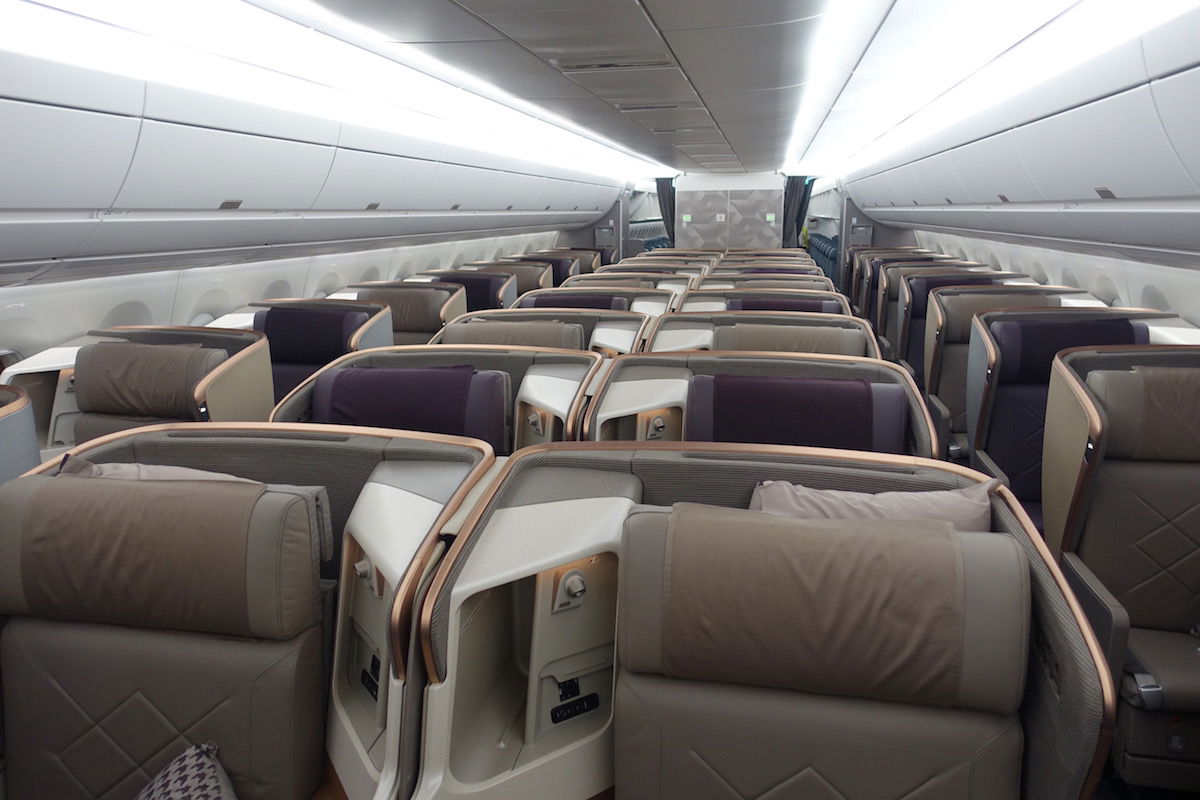 Then you have an intimate premium economy cabin in the back.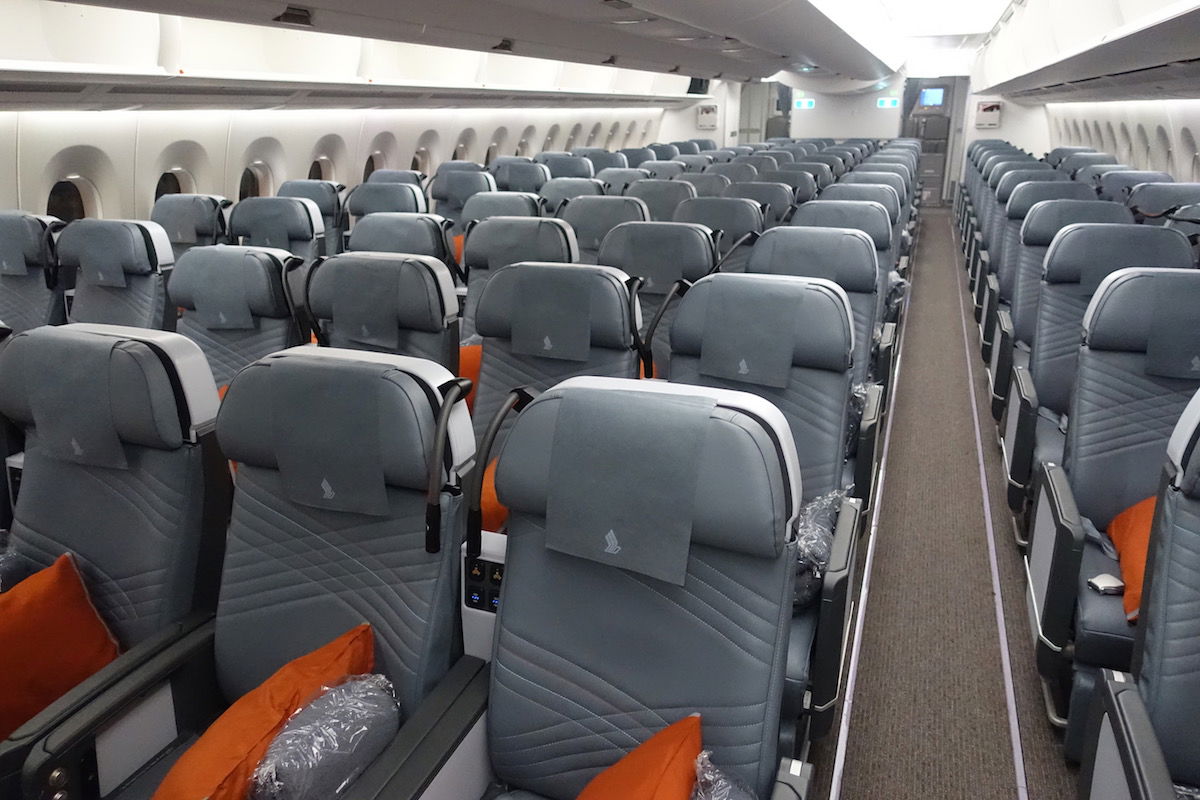 What a cool plane!
Excellent bedding, not excellent bed
I appreciate some good airline bedding, and that's an area where Singapore Airlines delivers on this flight. Business class passengers get three pillows (all of which are excellent), plus a nice blanket. That's impressive.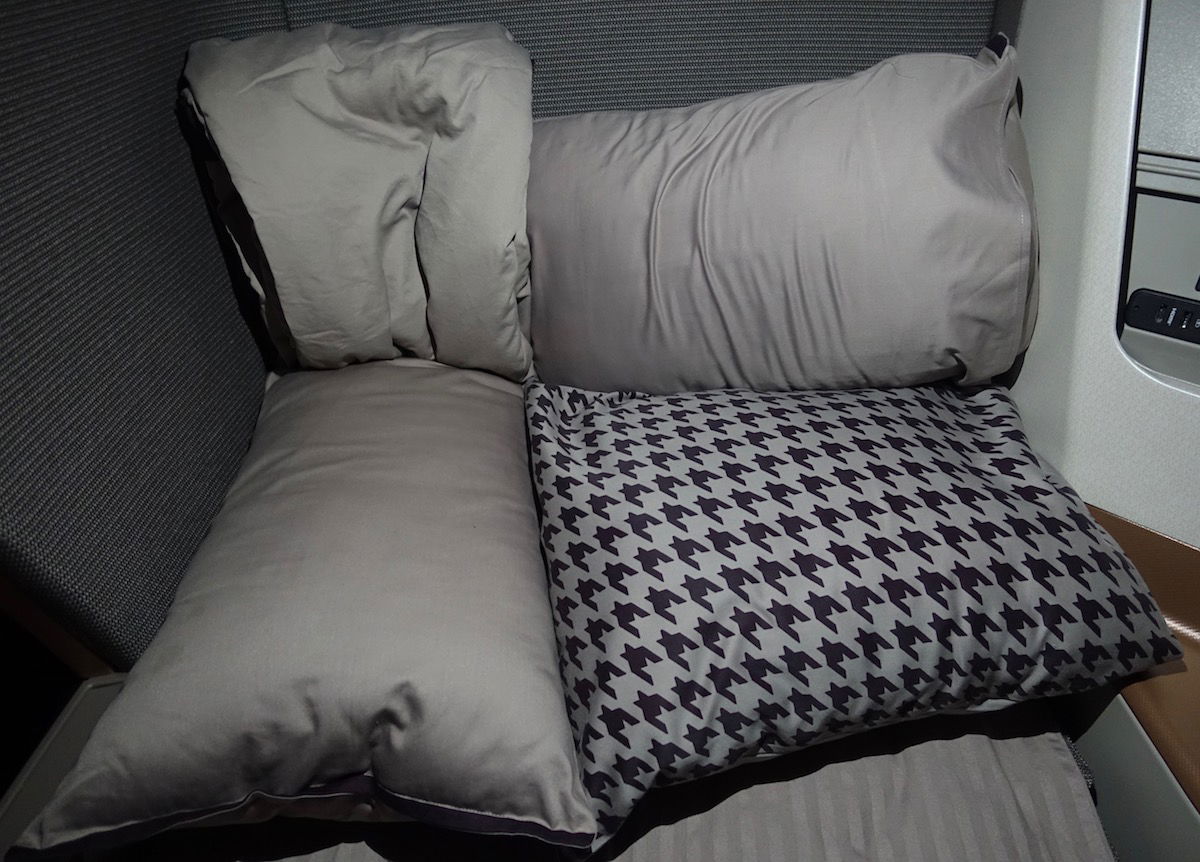 Unfortunately the bed as such isn't great. I've written about my issues with the Singapore Airlines business class seat in the past, and how it's hard as a rock in bed mode. So in the end I was able to nap, but I've had better sleep on planes.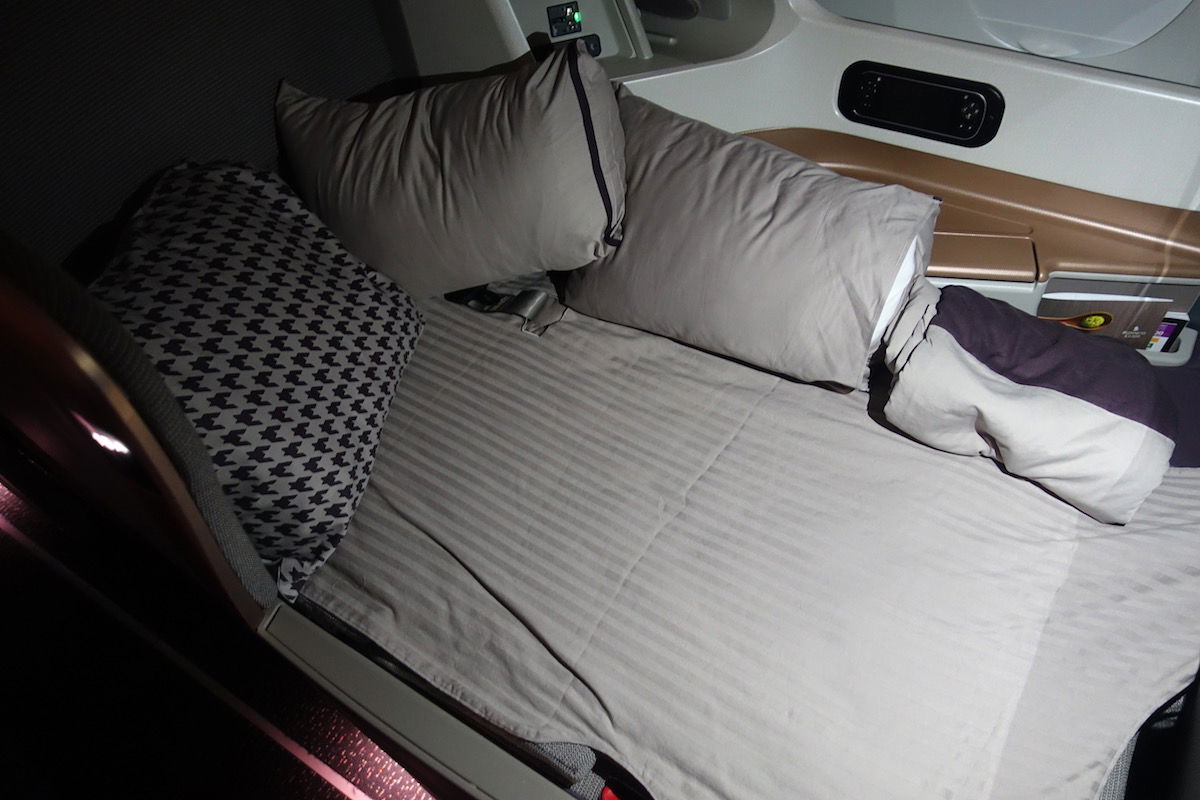 The flight has the same old Singapore business class seat
Beyond the bed, I have to specifically call out that I really don't like Singapore Airlines' seat. I feel like Singapore Airlines used to be so innovative, but that's simply not the case anymore with their hard product.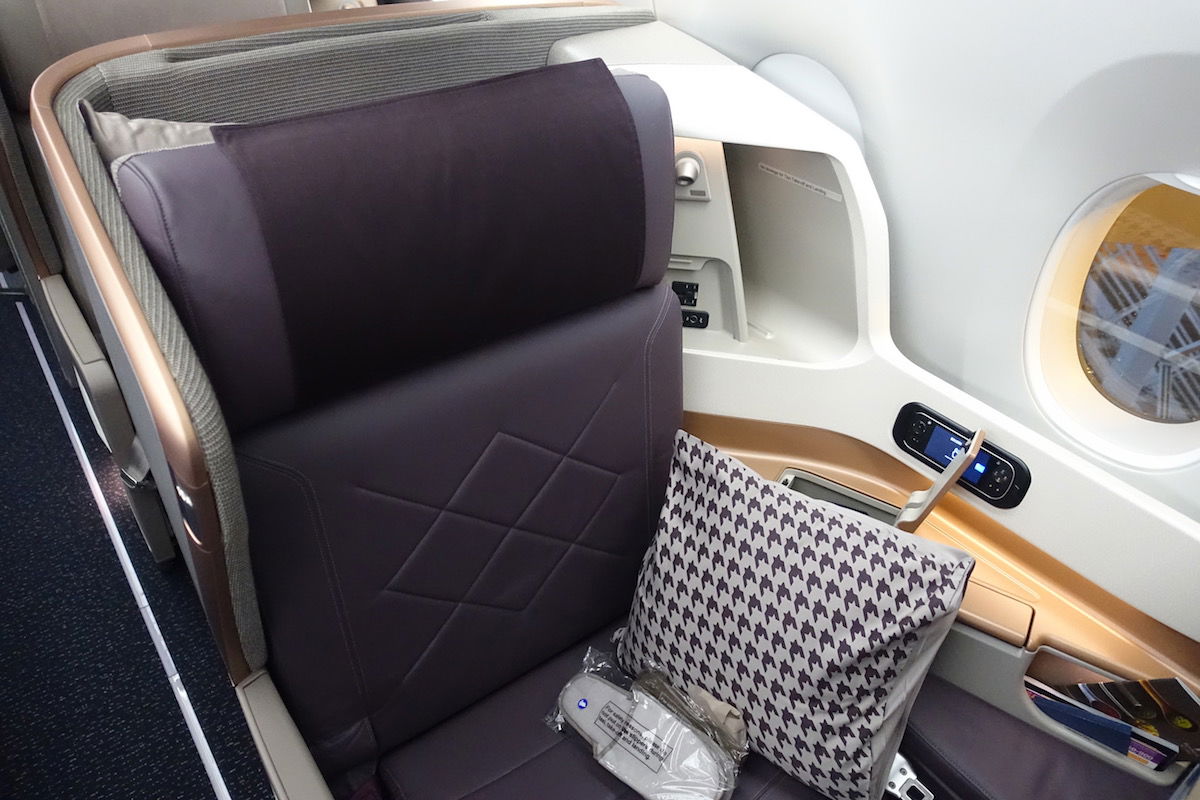 Their business class hard product is fine, though I don't even rank it in the top five of business class seats. The seat is hard, if you want to stretch out you have to do so in a footwell to the side, and you also have to get up to flip your seat over between bed mode and relaxing mode, which is a bit annoying, given that you might do so several times during an ultra longhaul flight.
Wifi is good but expensive
Wifi is an important feature when you're in the air for more than two thirds of a day. The good news is that Singapore Airlines chose Wi-Fi that's as high speed as it gets.
The downside is that Wi-Fi is expensive, and the cost is based on data usage rather than time. Business class passengers get 30MB of free Wi-Fi, though you'll run through that pretty quickly. Otherwise the biggest option is a 200MB package for $28.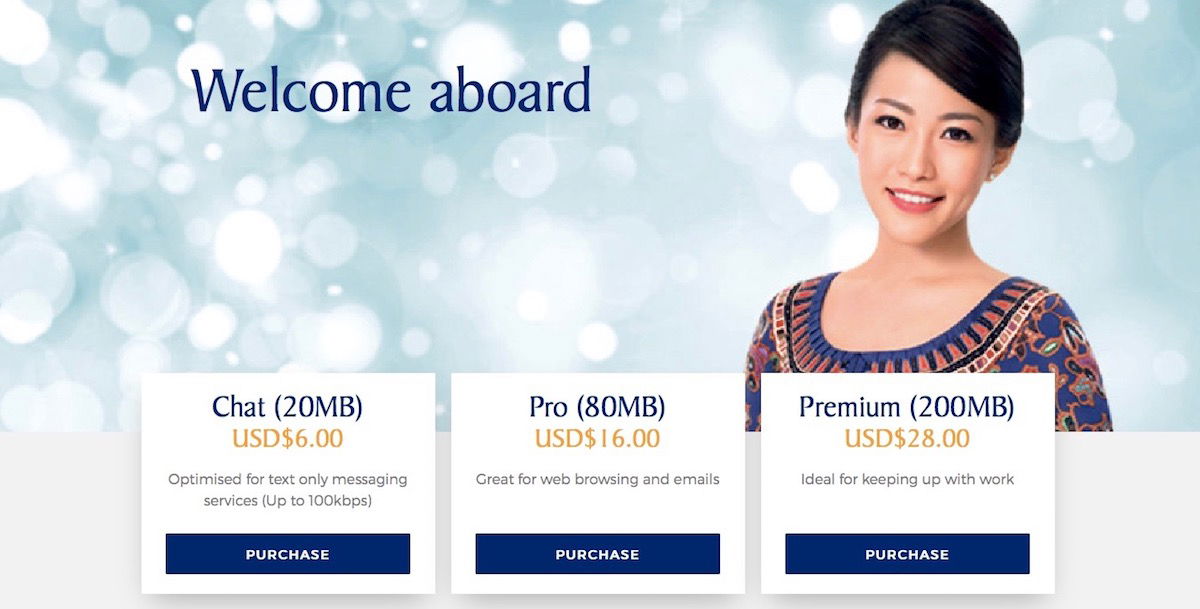 I ended up buying four packages, so I spent over $100 for Wi-Fi on the flight. That's a lot of money to spend on Wi-Fi, though at the same time, it allowed me to essentially have a truly productive workday while onboard, which I'll take over an airline with a garbage OnAir Wi-Fi system that's much cheaper, for example.
Still, I'd much rather they offered a pass for the entire flight at a more reasonable cost.
The crew was incredible and hard working
Singapore Airlines crews range from good to exceptional (unlike most other airlines, where they might range from very bad to very good). The crew working the flight couldn't have been kinder, especially as they had a lot of passengers to take care of.
I couldn't help but feel like it's kind of cruel to work a flight like this. The flight leaves at 1AM, so presumably most crew members boarded the plane tired. And then they have to work for 17 hours. The crew did get five hours of rest (there are two "shifts," and they get a three hour nap in the first half of the flight and a two hour nap in the second half of the flight), but still, this is such a tough route to work.
Despite that, they were constantly smiling, attentive, and even looked every bit as put together when we landed as when we took off (while I looked like a mummy at that point).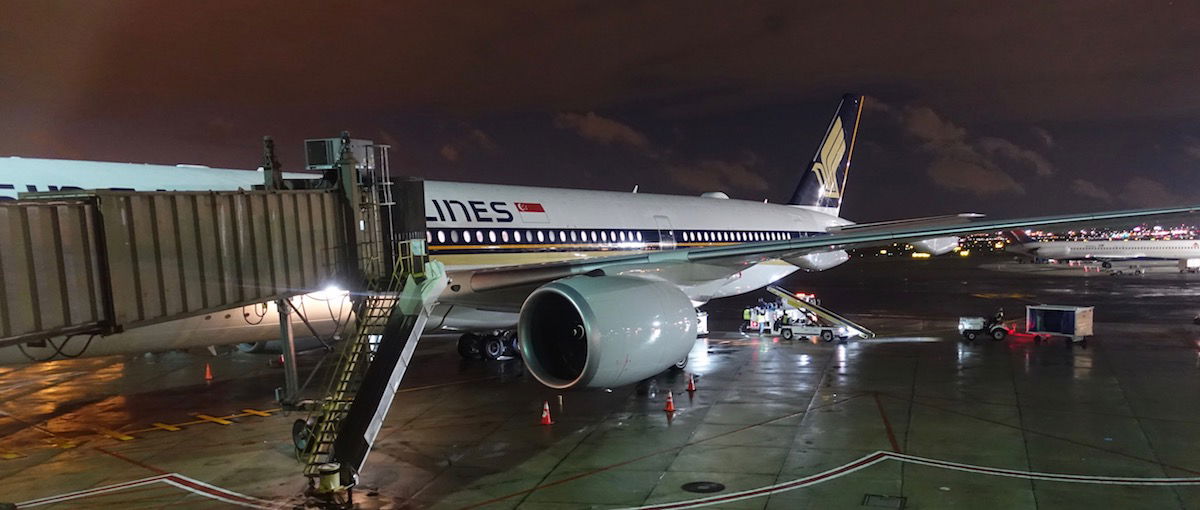 18 hours of light deprivation is tough
As I hinted at in the previous post, the challenge with this flight is that everyone is on a different schedule.
For a flight in late October, it was dark outside for about the first six hours of the flight, then it was light outside for a few hours, and then it was dark for the rest of the flight. The entire time all windows in the cabin were lowered, and the cabin lights were completely dark with the exception of the first hour or so, the last two hours, and a roughly two hour period in the middle of the flight.
It makes sense that this is the case, though the lack of light for 18+ hours (especially if you were in Singapore before, where it was already dark for six hours by the time you boarded) was tough on my body, and drained my energy.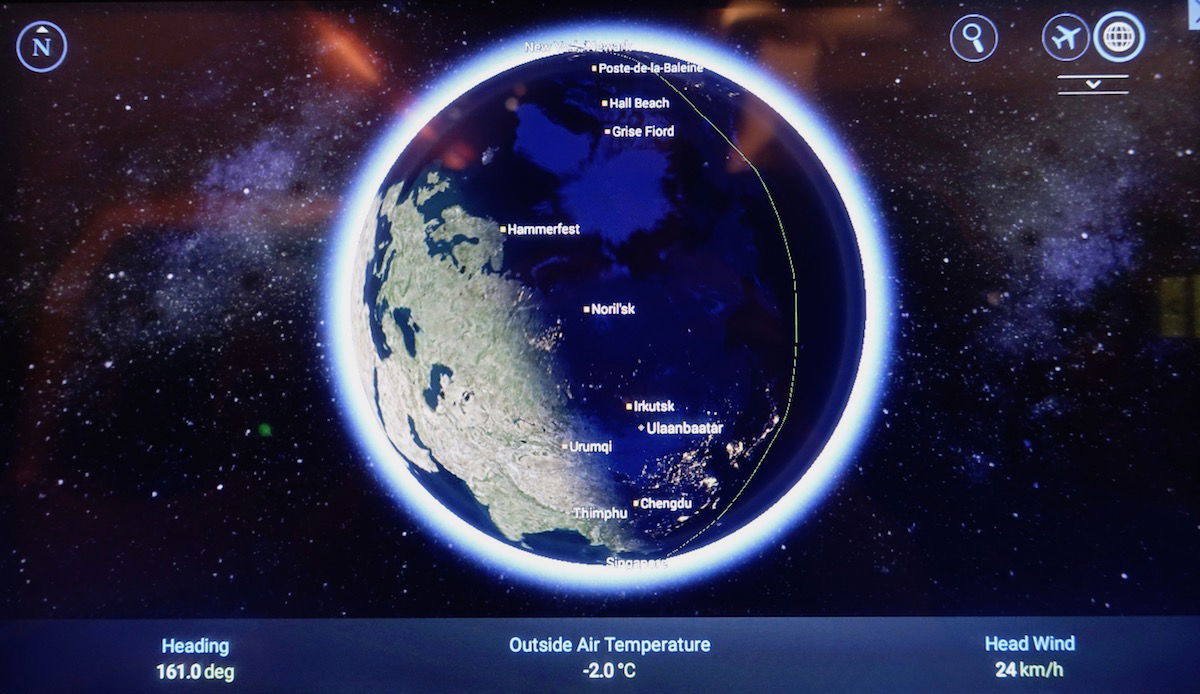 There's nowhere to stretch your legs
While some other airlines have an onboard bar and social area, the A350-900ULR doesn't. On one hand I get it — operating an ultra longhaul flight is expensive, and they need to have as many premium seats as possible to make the economics work. On the other hand, I don't — if there's one flight in the world that needs some sort of a space to stretch your legs, it's this one.
It's not the lack of a social area that bothers me, per se, but rather that there's nowhere to stretch your legs, as even the areas around the bathrooms are quite small. I felt like I had no choice but to just sit the entire time.
No amenity kits and no pajamas (sort of)
While Singapore Airlines is known for their excellent soft product, the airline doesn't offer amenity kits or pajamas in business class.
That's mostly still the case, even on this flight. They don't offer pajamas — you'd think they would, but nope.
The airline does offer a quasi-amenity kit, though. First they offer slippers, eyeshades, and socks, as they do on most longhaul flights.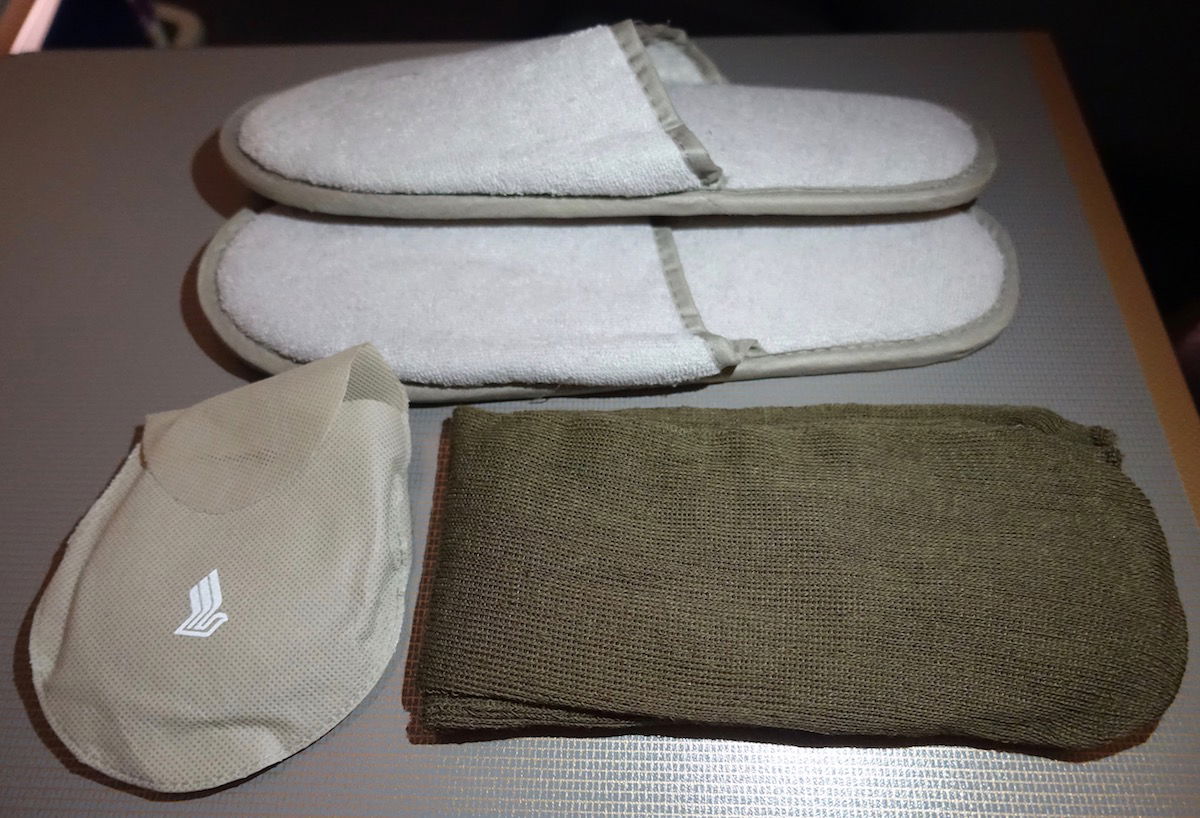 In addition to that they come around with a basket containing several types of amenities, and they even have a leather pouch you can put them in. I don't get why they don't just fully offer an amenity kit at this point, but Singapore Airlines tends to be a bit stubborn.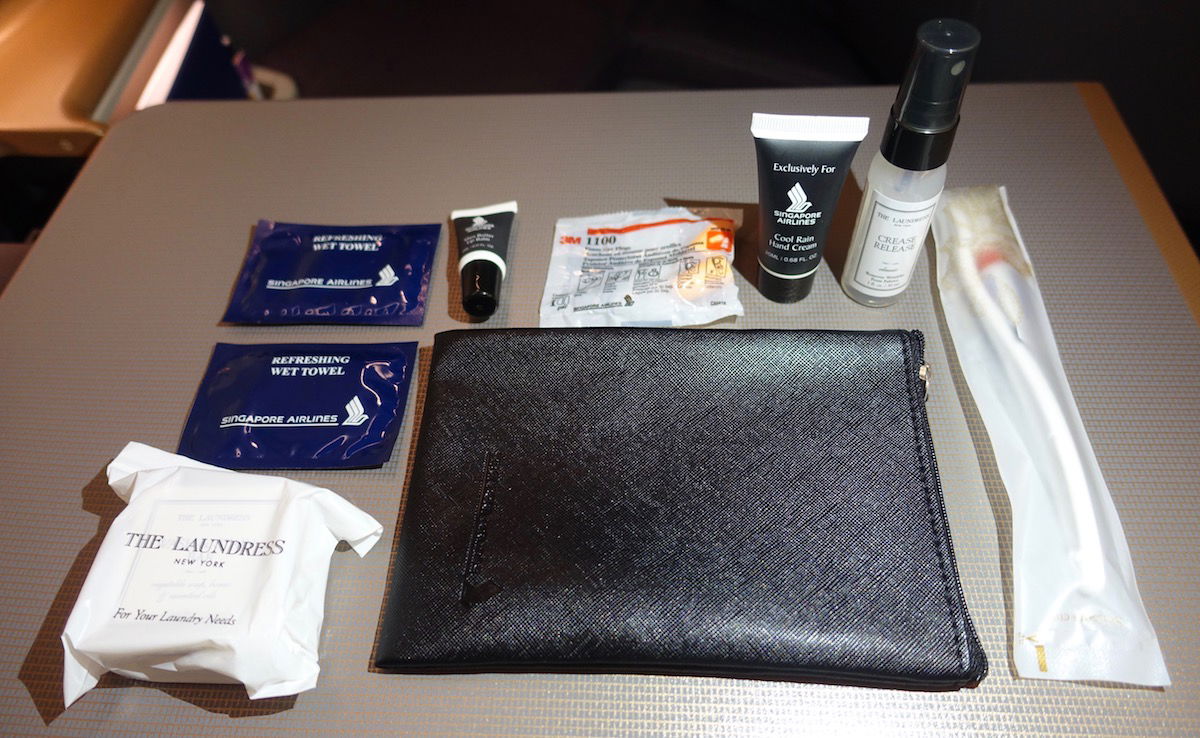 18 hours flies by, but also doesn't
The flight time was 17hr15min, so in the end you spend over 18 hours in your seat. I take flights all the time in the 12-15 hour range, so I wondered if this would feel significantly different. The answer is yes and no.
When I had supper, took a nap, and worked for a couple of hours, and still has 12 hours to go to Newark, yes, it felt long. But by the end of it I'm not sure it actually felt significantly longer than my usual ultra longhaul flight.
I guess it's like many things in life, where the days are long and the years are short. In the case of this flight, the minutes were long but the hours were short, I guess. 😉
So no, I can't say it felt that much longer than other flights.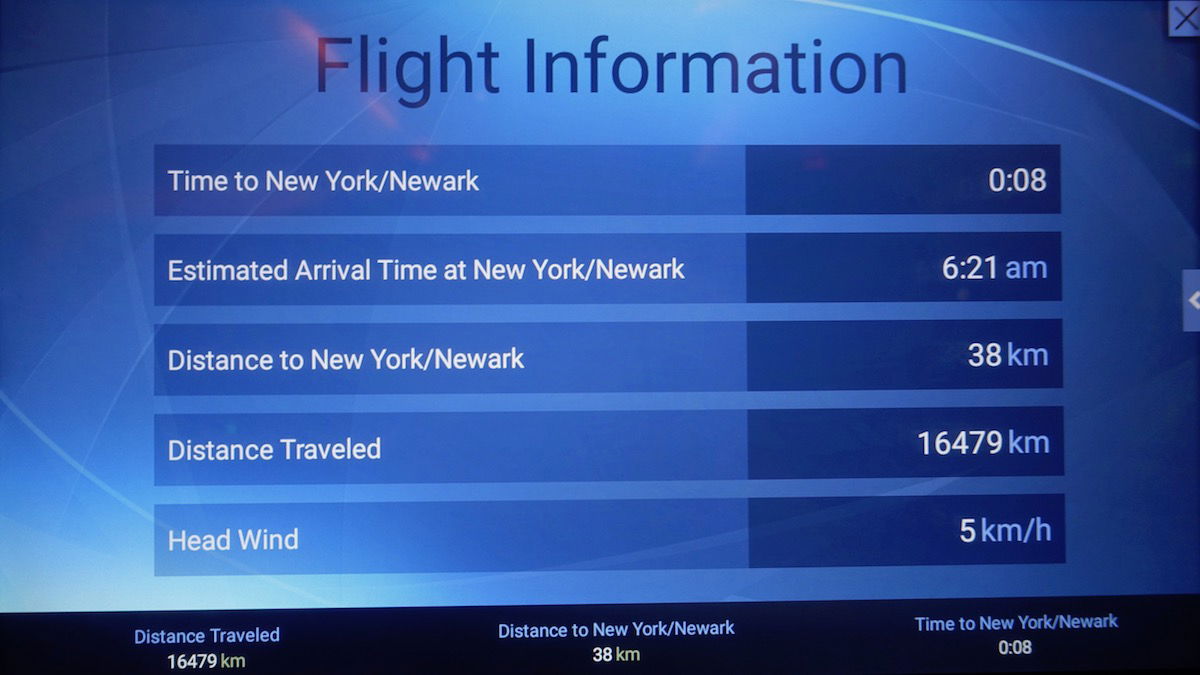 What do you make of this flight — does it sound like pure bliss, pure hell, or something inbetween?